Can't access Netflix in China? My Netflix does not work now! I can't log into my account to watch my favorite TV series. It said "This Video is not available in Your Country". I've never met such a problem. How does it happen? I want to check something information about this issue, but I can't even access my Google. In addition, some apps and websites that I usually visit even can't access. I ask some questions on those websites that I can visit, and someone tells me that Netflix has not been available in China. Netflix service has not open in China. So, how to watch Netflix in China? People say using a VPN will get it worked?

Why You Can't Watch Netflix in China?
Do you want to know how to watch Netflix in China without any problem? Netflix, an international provider of on-demand Internet streaming media, is the most famous and popular streaming video site around the world. On Netflix, you can watch movies, TV shows online or stream right to your smart TV, game console, PC, Mac, mobile, tablet, smartphone and more. However, in China, you can't watch Netflix directly, which upsets many Netflix fans and audience. The main reason is that Netflix has not opened its service to China yet. Currently Netflix is available to viewers in many countries and regions including North America, South America, New Zealand, Australia and most countries in Europe. Netflix uses a geo-blocking technology to detect which country you are currently in and block you to access it if this country is not supported yet. So if you visit China or stay in China, you can't watch Netflix directly as you did in your home country. The other reason for not being able to access Netflix in China is that China creates internet censorship called Great Firewall to block overseas websites including Tor anonymity network and all public relays, news and social-media websites and free hosting services owned by foreigner. So how to watch Netflix in China?

How to Watch Netflix in China?
The best way to access Netflix in China is to use a VPN service which can help you bypass Chinese internet censorship to enter any websites. What's VPN and how can it help access any blocked websites due to geo-restrictions? VPN is actually a type of Internet connection that allows users to establish a secure connection between a computer, a Mac or a mobile device and a server. The most awesome aspect of  this secure connection is that all traffic is "tunneled" through a cryptographic system that makes it almost impossible even very difficult for hackers or people who want to take a peek at your Internet traffic to access your data. In a word, the main concept of VPN is that through a secure connection multiple computers and devices can stay on the same local "virtual network". So How to Watch Netflix in China? For example, if you're in China but want to access streaming media like Netflix, Hulu, Pandora or BBC iPlayer, you just need to connect to UK server on a VPN, and then it will assign you a proxy IP address, which seems like you're from United Kingdom. All your Internet traffic is route to that server where you'll be provided with a proxy I.P. address. So, if you're based in China and are surfing the web, websites won't see a China based I.P. address, but they'll see a UK one. It has a strong ability to bypass geo-restrictions and help internet users to access any abroad websites successfully. With a VPN, you can experience faster internet speed, playing game with no hang and watching HD movies & TV shows online on Netflix, match event and live streaming video and so on.

How to Choose a Good Quality VPN Service to Access Netflix in China?
How to Watch Netflix in China? – By using a VPN for China! But how to choose a suitable VPN tool to help yourself to watch Netflix in China successfully. There are paid VPNs and free VPNs online. It may be hard for someone especially VPN beginner to choose. There are some solid VPNs like ExpressVPN, NordVPN, Ivacy, PureVPN, HideMyAss!, IPvanish, VyprVPN, Strong VPN ect. But when it comes to select VPN tool, what crucial aspects should you consider? You may compare their price, functions, speed and others. Here we list some important aspects to help customers:
Price: Compare the price of the VPN you want with other competitors and see if the price is reasonable
Speed: Check if the speed of VPN is fast and stable
Supported Device: Check if a VPN works with devices based on such popular and major systems as Windows, macOS, iOS, Android, Linux, Windows Phone and other platforms like Routers, Apple TV, Smart TV etc.
Number of server locations: If VPN provider offers numerous server locations, and popular server locations like USA, UK, Canada, Hong Kong, Australia are must-haves. The more the better if you want to switch to many different server locations.
Number of simultaneous connections: Check how many simultaneous connections the VPN provider allows. Some just give 1 device login simultaneously, but others allow up to 3-10 simultaneous connections.
Free Trial and Money-back Guarantee: Free Trial or Money-back Guarantee is the best way to test and experience a VPN service's feature, function, performance and other technologies. It can help users to decide if a VPN is fit and helpful for them, and can check if a VPN is really worth the money they sell.
Privacy: If the VPN provider gives Non-logging policy (never log online activities, browsing histories, traffic data or DNS queries or anything that could be used to identify you)
Security: If the VPN employs strong security measures or technologies like AES-256 encryption, Kill Switch, Split Tunneling, Double-VPN, and more
VPN Protocols: Check what sorts of VPN protocols a VPN employs. VPN protocols are strong and important bridge connecting between your devices and the servers. The most common VPN protocols include OpenVPN, OpenVPN over UDP, OpenVPN over TCP, SSTP, L2TP/IPSec, PPTP and more.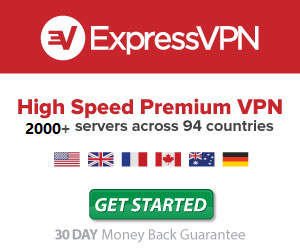 Kindly Prompt: if you are confused about How to Watch Netflix in China and don't know which VPNs you should choose or have any other questions about VPN, you're welcome to contact our Yoosecurity online technical team by clicking Start Live button bellow:

How to Watch Netflix in China? Step-by-Step Guides to Set Up A VPN Service on iOS device?
First, you should register and sign up with a VPN service, and next you should install its apps into your iPhone or iPad or android device, and then move on some set-up on your device, last you can smoothly use the VPN internet successfully, here below is the guide on how to set up a VPN on iPhone. This guide is also applied to iPad. If you now are not familiar with all steps or can't finish processes by yourself, you can contact our online support!
Step 1: Tap Settings >>> General >>> Network >>> VPN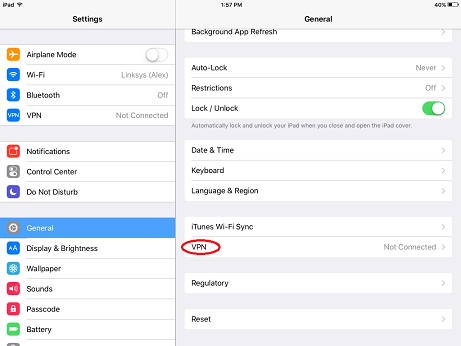 Step 2: Click Add VPN Configuration, select type of configuration (IKEv2, IPSec, L2TP or PPTP) depending on the type of VPN you want to connect to, and click then Back.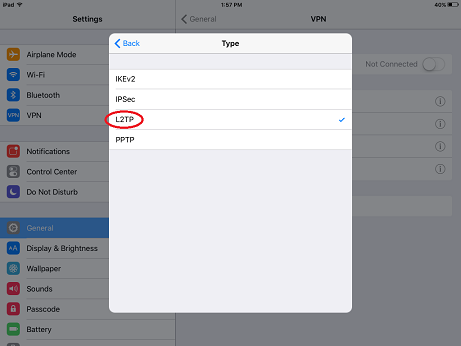 Step 3: Enter your VPN's account information on this screen to connect-server, account and password. You get these data from the VPn service in the e-mail after your ordering the VPN. Fill the Secret field – secret (small letters). If your VPN is provided by your workplace, it should provide you with these details.Enter the information for your VPN in the corresponding fields. If you used a proxy, make sure to enable it towards the bottom of the settings page.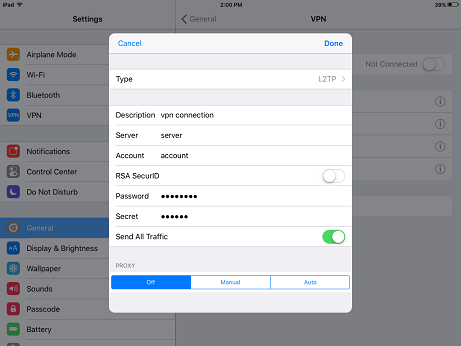 Please note: Server address must be exactly as in your account data (without http://, www or any other symbols)
Step 4: Tap Done to save the settings.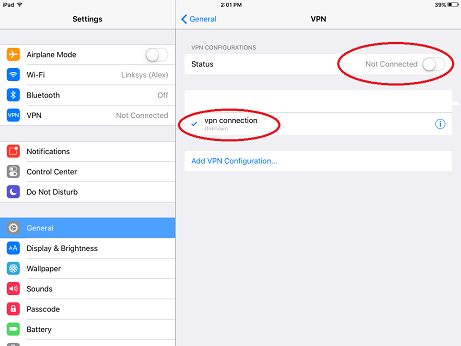 Step 5: After finish setting up your VPN, go back to homescreen, tap Settings, then see a VPN option which will appear only when you have a VPN installed. Toggle the switch to On.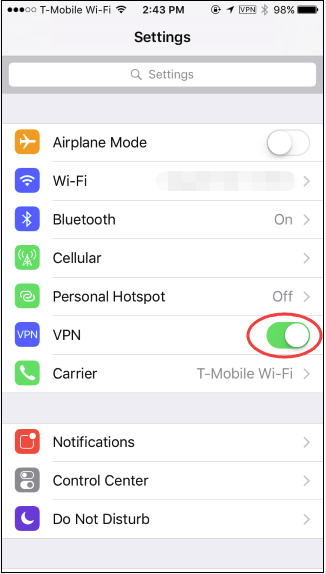 Step 6: Then iPhone will connect to VPN server. If an error message pops up, go back into your VPN settings and make sure all your settings are input correctly. Besides, if you want to set up multiple VPNs on your iPhone or iPad, you can switch between them by heading to Settings >>> General >>> VPN – on the same screen where you added those VPNs.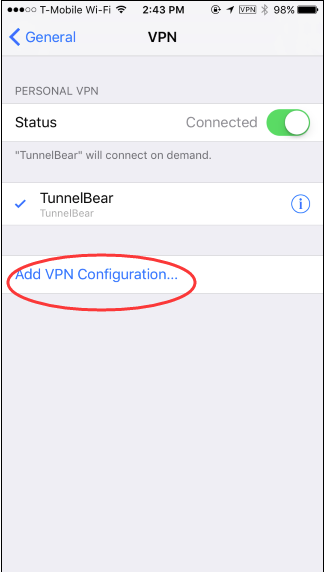 Video Guide on How to Watch Netflix in China
Conclusion (How to Watch Netflix in China)
Netflix service has not open in China, but many internet users also want to watch Netflix videos when they go to China and other countries. So, how to watch Netflix in China? You should use a strong and reliable VPN tool to access Netflix when you are in China. Netflix website uses geo-restriction to restrict people in only specific location to use their service. VPN has a strong ability on security, encryption and privacy and can prevent hackers spying on your online activities. A VPN app can be installed and compromised with different devices with various system. The most important function of a VPN is to unblock websites which are restricted by censorship or geo-restrictions. You should choose the strong and reliable VPN tools like ExpressVPN, NordVPN, IPVanish, PureVPN, PIA, VPNArea, VyprVPN, and more to stream Netflix and other popular social media apps. A VPN not only can bypass the China's Great Firewall but also go around the geo-blocking restrictions to make internet users surf online anonymously and securely.
Top recommendation of VPN tool working in China: ExpressVPN, NordVPN, Avast SecureLine VPN. Or you can select one of your favorite one from the tablet as following to access any websites and stream Netflix in China.
Top 10 + Best VPN Services Worldwide
View More Top 10 Best VPN Services Here »
Netflix (NFLX) is an American company that provides on-demand streaming services in the United States and Canada. Founded in 1997 and headquartered in los gatos, California, the company started its subscription service in 1999. In 2009, the company offered as many as 100,000 DVDS and had 10 million subscribers. On February 25, 2007, Netflix announced that it had sold its billionth DVD. In 2010, Netflix began moving out of the United States, launching television and streaming services in Canada and building markets in Latin America, the Caribbean and Europe. In the same year, Netflix officially entered the AppStore, which greatly facilitated the followers of Netflix TV series and expanded its market and influence in the streaming industry. By 2014, Netflix had successfully launched its service in more than 10 European countries, including the UK, France and the Netherlands. According to Netflix's annual report released in early 2015, the company has more than 57 million subscribers in nearly 50 countries. However, Netflix is blocked in mainland China, if you want to access Netflix in China then a VPN service is necessary. ExpressVPN and NordVPN are the top recommended with high ratings.

Warm Prompt: If you want to watch Netflix in China, a VPN service is required. Live chat with Yoosecurity Online Expert for instant help!


Published by Tony Shepherd & last updated on February 12, 2020 5:18 pm