Can you use Instagram in China? Instagram is a must-have app in one's mobile like android smartphone, tablet, iPhone and iPad. It is a useful app for photos and videos sharing. It is a necessary app for people who travel and want to share pictures or videos with friends and families even other followers. Millions of people are using this popular platform to share pictures and video. Instagram app is blocked by internet censorship in some countries and regions. Many people travelling to China complain that Instagram can't be accessed. They always ask for help about how to use Instagram from China. The Great Firewall bans many popular foreign social networking and photo sharing apps like Instagram. Since Instagram is banned in China, it won't be able to use Instagram to upload and share any awesome even simple pictures with others from China. How to use Instagram in China?
Why Many People Love to Use Instagram?
More and more people have been spending a lot of time on Instagram, the app for sharing photos and videos. Instagram is a simple way to capture and share the world's moments. On Instagram, you can post photos and videos, edit them with filters and creative tools and add numerous clips into the video. The most enjoyable moment is when you share your photos and videos to your story. You can bring photos and video to life by using Instagram's text and drawing tools. You also can follow your friends and family to see what they're up to, and discover accounts from all over the world that are sharing things you love. It's also easy to send disappearing photos and videos, text messages and posts from your feed to groups and friends with Instagram Direct. Anyway, Instagram is an interesting way to express yourself by sharing all the moments of your day and experience the joy and sorrow of friends, family even people around you too. This is the reason why so many people choose to use Instagram and increasingly spend more and more time on it. But When travelers comes to China, they will be frustrated by a problem 'How to Use Instagram from China.

Why Instagram Can't be Accessed from China?
It's reported that, in order to preserve China's 'cyberspace sovereignty', Chinese government creates and operates its filtering system dubbed the Great Firewall (GFW) to censor its Internet. This sophisticated net censorship system both limits the places people can go online and what they can search for and discuss. All contents and communication that incites or potentially incites a violence or give rise to a revolt against the Chinese government will be blocked and even people involved with the issue will be punished by law authorities. The GFW system severely restricts access to certain websites, blocks the Tor anonymity network and all public relays, prevents news and social-media websites like Bloomberg News, the New York Times, Twitter, Instagram and Facebook and free hosting services owned by foreigner. Therefore, Chinese people or people travelling to China won't be able to access Instagram in a normal way.
So How to Use Instagram from China? Why a VPN Can Help Access Internet-censored sites like Instagram?
How to use Instagram from China? I believe many internet users should be troubled by this problem for a long time. To access Instagram from China, you first should unlock China's Great Firewall as Instagram is strictly blocked by GFW. And VPN for China is specifically designed to unblock internet-censored websites and apps like Instagram, Facebook, Twitter or YouTube etc. Therefore, the best way to access Instagram is to use VPN service which can help you get around Chinese internet censorship.  A VPN for Instagram has a strong ability to bypass net censorship and help internet users to access any abroad websites successfully. Websites blocked in some specific countries will be unlocked if using a VPN. A VPN client provides a secure and encrypted network which is created over the public internet connection to enable the users to hide their identity over the worldwide web. A VPN not only help you access internet-censored websites like Instagram, Facebook, Twitter or Youtube but also can strongly protect your privacy and personal data. A VPN hides your internet activity from your ISP and government, allows you to escape from censorship controlled by school, work, your ISP, or government, enables you to 'geo-spoof' your location. A VPN also protects you against hackers when using a public WiFi hotspot, prevents websites spying on and monitoring you by hiding your data that could identify you. So in reality, if you use a VPN on you handy phone to access Instagram, all information and privacy on Instagram will not be hacked and stolen.

How to Choose a Good Quality VPN Service to Access Instagram?
How to use Instagram from China? – By using a VPN for China! Now more and more VPNs for China (such as ExpressVPN, NordVPN, Ivacy, PureVPN, HideMyAss!, IPvanish, VyprVPN, Strong VPN ect.) are created and flood in online market. And more and more internet users are using VPNs to unblock geo-restricted websites and service online. The most important reason why they choose VPN client is its strong ability to protect personal privacy and data safety. However, for many internet user especially beginner, it's hard to choose the best VPN for China one to use to access Instagram. Some of them even don't know how to compare among various VPNs. In reality, it's not easy to figure out a VPN service is the best one just by reading its brilliant introduce and description on their provider's websites. The best way to check if it's safe, fast and stable is to test it on your device. So what important aspects or factors should we consider when we select one VPN server?
Price: Compare the price of the VPN you want with other competitors and see if the price is reasonable
Speed: Check if the speed of VPN is fast and stable
Supported Device: Check if a VPN works with devices based on such popular and major systems as Windows, macOS, iOS, Android, Linux, Windows Phone and other platforms like Routers, Apple TV, Smart TV etc.
Number of server locations: If VPN provider offers numerous server locations, and popular server locations like USA, UK, Canada, Hong Kong, Australia are must-haves. The more the better if you want to switch to many different server locations.
Number of simultaneous connections: Check how many simultaneous connections the VPN provider allows. Some just give 1 device login simultaneously, but others allow up to 5-8 simultaneous connections.
Free Trial and Money-back Guarantee: Free Trial or Money-back Guarantee is the best way to test and experience a VPN service's feature, function, performance and other technologies. It can help users to decide if a VPN is fit and helpful for them, and can check if a VPN is really worth the money they sell.
Privacy: If the VPN provider gives Non-logging policy (never log online activities, browsing histories, traffic data or DNS queries or anything that could be used to identify you)
Security: If the VPN employs strong security measures or technologies like AES-256 encryption, Kill Switch, Split Tunneling, Double-VPN, and more
VPN Protocols: Check what sorts of VPN protocols a VPN employs. VPN protocols are strong and important bridge connecting between your devices and the servers. The most common VPN protocols include OpenVPN, OpenVPN over UDP, OpenVPN over TCP, SSTP, L2TP/IPSec, PPTP and more.

Kindly Prompt: if you are confused about How to Use Instagram from China and don't know which VPNs you should choose or have any other questions about VPN, you're welcome to contact our Yoosecurity online technical team by clicking Start Live button bellow:

How to Use Instagram from China? Step-by-Step Guides to Set Up A VPN Service on iPhone or iPad?
First, you should register and sign up with a VPN service, and next you should install its apps into your iPhone or iPad or android device, and then move on some set-up on your device, last you can smoothly use the VPN internet successfully, here below is the guide on how to set up a VPN on iPhone. This guide is also applied to iPad. If you now are not familiar with all steps or can't finish processes by yourself, you can contact our online support!
Step 1: Tap Settings >>> General >>> Network >>> VPN >>> Add VPN Configuration.
Step 2: Select type of configuration (IKEv2, IPSec, or L2TP) depending on the type of VPN you want to connect to. Enter your VPN's connection details on this screen to connect. If your VPN is provided by your workplace, it should provide you with these details.
Step 3: Enter the information for your VPN in the corresponding fields. If you used a proxy, make sure to enable it towards the bottom of the settings page.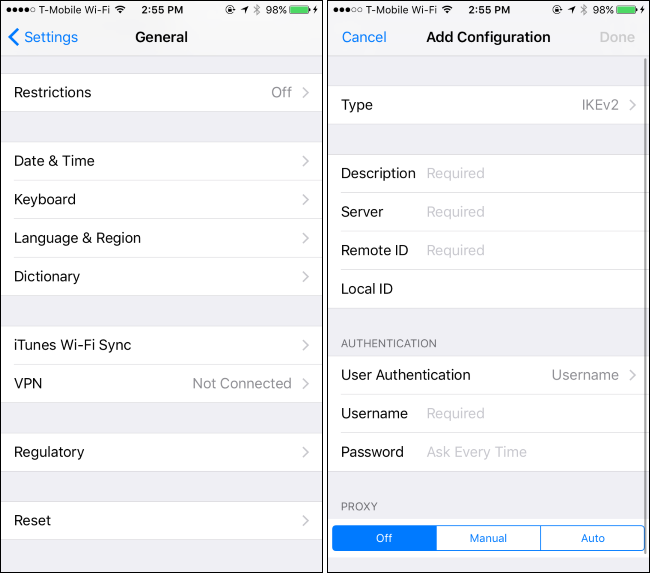 Step 4: After finish setting up your VPN, go back to homescreen, tap Settings, then see a VPN option which will appear only when you have a VPN installed. Toggle the switch to On.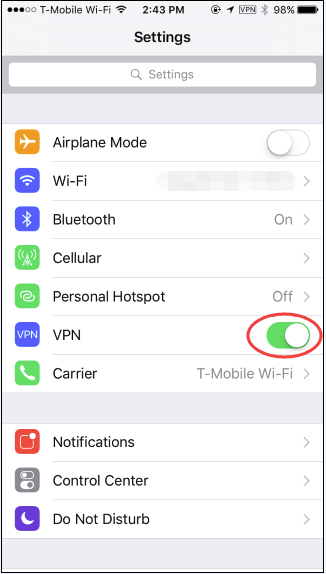 Step 5: Then iPhone will connect to VPN server. If an error message pops up, go back into your VPN settings and make sure all your settings are input correctly. Besides, if you want to set up multiple VPNs on your iPhone or iPad, you can switch between them by heading to Settings >>> General >>> VPN—on the same screen where you added those VPNs.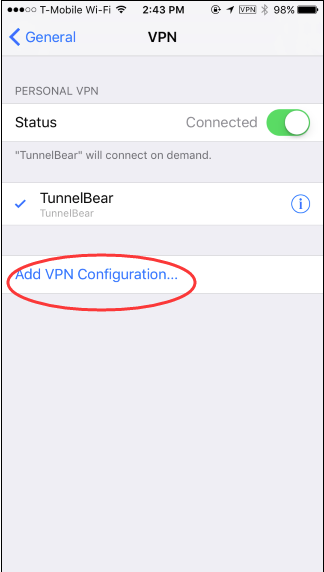 Video Guide On How to Use Instagram in China
Top 10 + Best VPN Services Worldwide
View More Top 10 Best VPN Services Here »
Conclusion (How to Use Instagram from China)
Instagram can't be used from China? How to Use Instagram from China? The best way to use Instagram from China is to use a VPN service. More and more VPNs for China are published on the Internet for internet users. A VPN for China is specifically designed to unblock websites blocked by China's GFW and help internet users to access internet-censored websites. High-quality VPNs have a high level of and best-in-class security, encryption and privacy and can prevent hackers spying on your online activities. A VPN app can be compromised with different devices with various system like Windows, macOS, iOS, Android, Linux and other platforms. A VPN usually has a concise design and easy-to-use interface. With a good quality VPN, you can smoothly browse whatever overseas websites you want even hen you're travelling abroad or just at home. VPNs also can defeat geo-restriction and make people access blocked websites. Therefore, it's very convenient to use a VPN client for social interaction, job management, work, and communication.
What's the best recommended VPNs in China? ExpressVPN and NordVPN are recommended VPNs for people to use in China. Both VPN tools have strong performance to defeat internet censorship in China and make themselves survive from the Great Firewall. They offer large number of server locations, fast speed and stable connection. Internet users can use them to access any websites and apps from anywhere around the world. They are both trusted and used by millions of users worldwide. ExpressVPN $6.67/Month (Save 49%), NordVPN $3.49/Month (Save 70%) are stable with high ratings and still work in China.

Tips: If you still don't know how to use Instagram from China and don't know what is the Best VPN for you, or how to set up VPN on Mac, PC, android smartphone, tablet, or iPhone/iPad device, you're recommended to live chat with Yoosecurity Online Expert for instant help!

Published by Tony Shepherd & last updated on February 12, 2020 5:07 pm