BullGuard Antivirus failed to uninstall cleanly? Why can't I permanently uninstall BullGuard Antivirus? Nowadays, data breaches are on the rise, so many people had at least one third-party antivirus or security software installed on their computer to protect themselves safely and avoid getting attacked by cybercriminals. But, the problem is anti-malware software can be a tad trickier to uninstall when you don't need it. Even though you can uninstall it from Program and Features, it still leaves a lot of files and configurations in the registry. Without cleaning all this, you won't be able to install another new antivirus program. If you are using BullGuard Antivirus and cannot uninstall it properly, follow the steps below.
BullGuard Antivirus Overview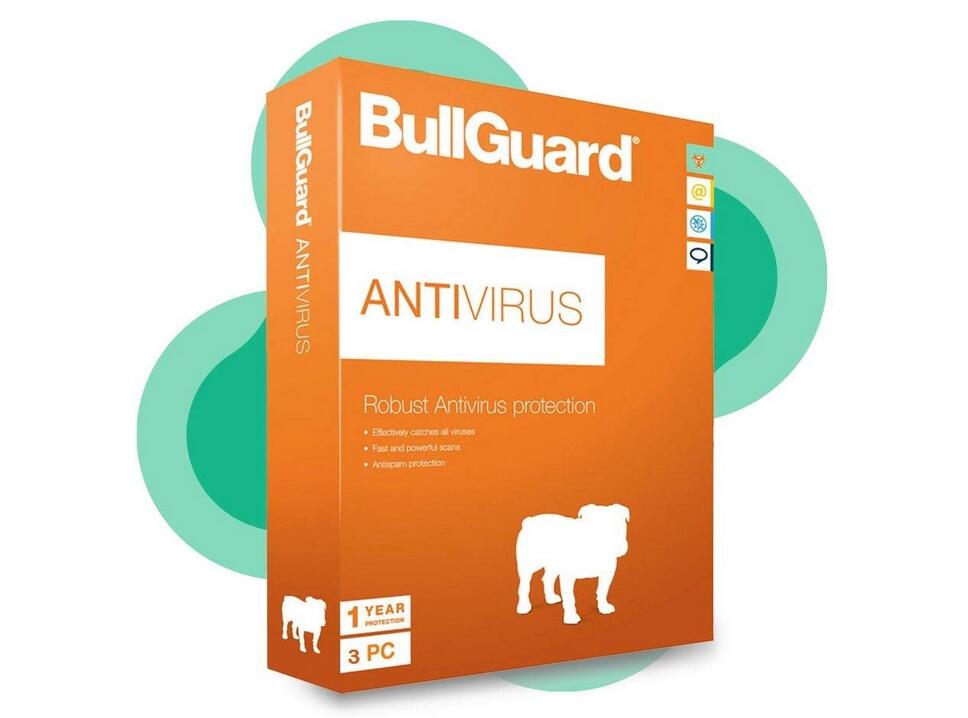 BullGuard is a London-based cybersecurity company which has been developing consumer antivirus software since 2002. BullGuard Antivirus is the most basic product of BullGuard's new 2020 security suite. Although it only works for Windows PC, it still provides consumers with the advanced protection they need and safeguards their online privacy in a fast, easy and seamless way. BullGuard Antivirus features multiple layers of defense, providing an impenetrable protection system to customers. It offers real-time virus protection, malicious URL filtering, a vulnerability scanner, and next-gen antimalware which gives you intelligent triple layer protection. In addition, its award-winning Game Booster feature allows you to game in complete safety so you don't have to sacrifice security for performance. BullGuard Antivirus empowers consumers to confidently perform sensitive online transactions in absolute safety and rest assured knowing cyber threats are stopped dead in their tracks. This product is coupled with Advanced Machine Learning, so it is able to evaluate and categorize new threats directly on the endpoint device, even when offline. This keeps you safe from any new, emerging and advanced threats, without any impact on your computer resources.
BullGuard Antivirus is designed to be easily used and it is user-friendly. Installation is straightforward and the dashboard is very informative, therefore you can easily customize BullGuard Antivirus to suit your needs. BullGuard customer support is also great. Whenever you need help, you are backed by BullGuard's highly acclaimed 24/7 live customer support. They will reply to you quickly and there is a big FAQ section on the BullGuard website which will help you out with easy, straightforward guides.
BullGuard Antivirus's price is competitive. For $29.99/year, you get full protection for one single device. You will get anti-ransomware, the vulnerability scanner, and Game Booster. For those who don't need additional features, BullGuard Antivirus package may be a great pick. But if you have multiple devices to protect, or you need a higher level of protection on your device, you had better uninstall BullGuard Antivirus and try something else. BullGuard Antivirus doesn't include firewall, parental control and PC tune up etc.
What Could Be The Reasons That People Uninstall BullGuard Antivirus?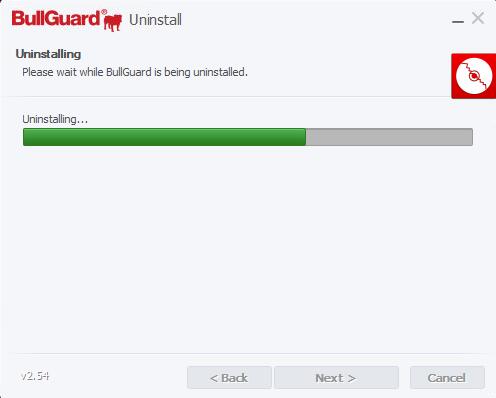 Trying to uninstall BullGuard Antivirus and thoroughly delete all of its files out of your PC? BullGuard Antivirus is helpful when it comes to protecting your computer from viruses and threats, but it is not the best one on the market. It's just a basic security product and not full-featured. Therefore, some people will choose to uninstall the product and look for some better alternatives. The most common reasons that people uninstall BullGuard Antivirus include:
BullGuard Antivirus cannot catch or remove the virus/malware they want.
The program reduces PC performance.
BullGuard Antivirus lacks product features they need.
They only need BullGuard Antivirus for trial or testing.
They want to switch to other security products.
Whatever the reason might be, uninstalling BullGuard Antivirus is not a simple job. Generally speaking, the correct procedure to uninstall BullGuard Antivirus is from the Program and Features window in control panel. This method does not require you to install or start additional applications, and it will launch the BullGuard Antivirus uninstaller which then will proceed with the uninstallation. However, this method could leave many traces and junk files behind. Those residual files and settings that it leaves behind will cause trouble for you and even stop you from installing another new antivirus program. So, you are recommended to uninstall BullGuard Antivirus and remove all of its files using the following methods.
How to Completely Uninstall BullGuard Antivirus on Windows 10?
Typically, there are two methods to uninstall BullGuard Antivirus completely. You can either use a manual approach that carries out a standard uninstallation and then manually deletes its associated files and registry without spending a penny. Or instead, you can utilize a professional uninstall utility like Uninstallor to make it quite easy to remove all BullGuard products and its traces from your computer at once. Please note that the first method requires you to have some expertise in editing the registry because if done improperly it can cause problems with your computer. Also, make sure to back up before deleting anything from Windows Registry so that you can restore it later if something goes wrong.
Here are the steps you need to go through:
Uninstall BullGuard Antivirus Manually on Windows 10 (For Advanced Users Only)
Step 1: Uninstall BullGuard Antivirus program itself. (Choose one of the three options to follow)
a) Open the Start Menu -> Locate BullGuard Antivirus in All Apps. Right-click on BullGuard Antivirus and choose Uninstall from the drop-down menu that appears.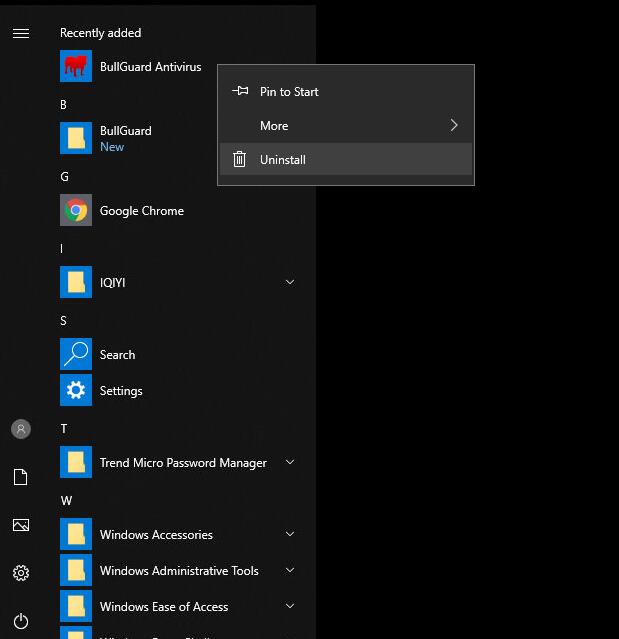 b) Or you can click Start menu -> choose Settings (the gear in the left) -> Choose System -> Click Apps & features. In the right pane, locate and click on BullGuard Antivirus to select it, then click on Uninstall. You will see a pop-up window informing you that the app and its related info will be uninstalled, then you just need to hit Uninstall to confirm the removal and go through the uninstallation utility by following the onscreen instructions.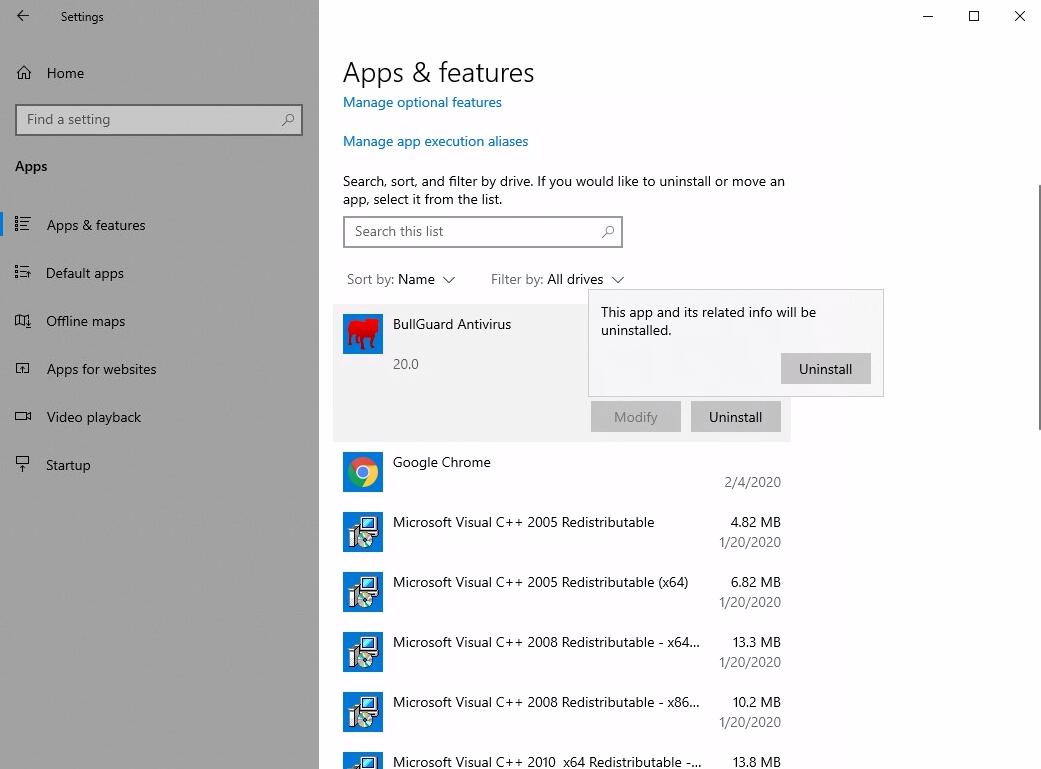 c) You also can uninstall BullGuard Antivirus using Add/Remove Programs feature in Control Panel. To do this, Right-click on the Start button -> click Control Panel -> Click Programs and Features (or Uninstall a Program if your Control Panel is in the category view) -> Select BullGuard Antivirus and Click on Uninstall in the resulting context menu. If you are prompted for confirmation, click Yes, then BullGuard Antivirus will be uninstalled.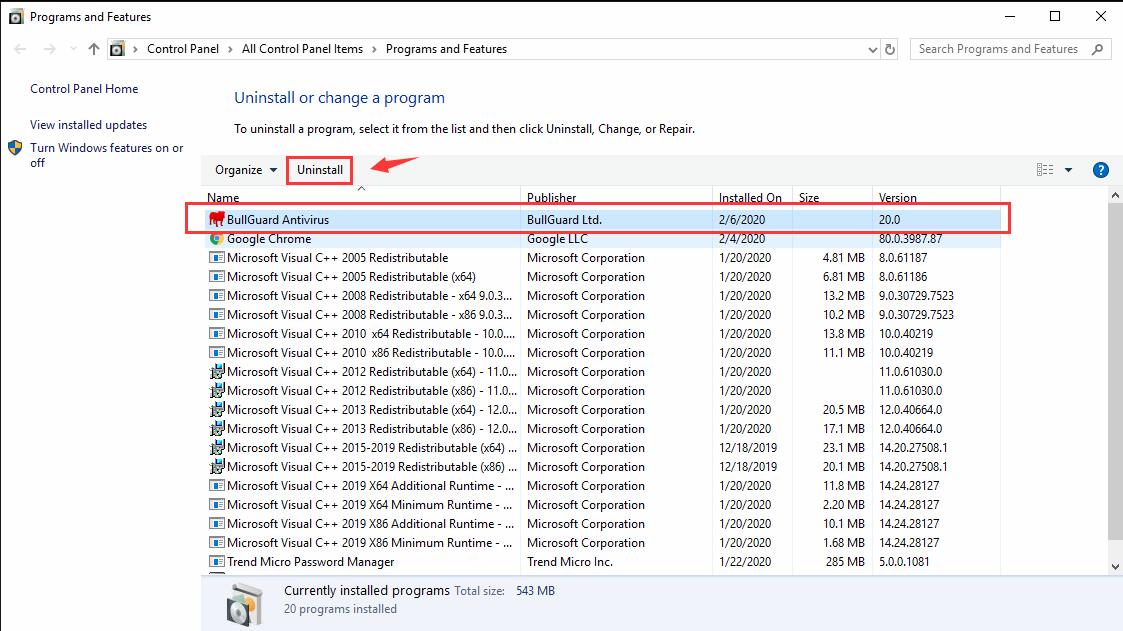 Step 2: Get rid of BullGuard Antivirus leftovers manually. (IMPORTANT STEP)
The difficult part for uninstalling BullGuard Antivirus completely is to get rid of all the residual files it leaves behind when it is uninstalled. All you need to do is:
1. Open the Start menu, type %programfiles% and %appdata% into the search bar – strictly one at a time – and hit enter.
This will open system folders where you can find the related folders for BullGuard Antivirus. Delete the ones with the name of BullGuard from both system folders.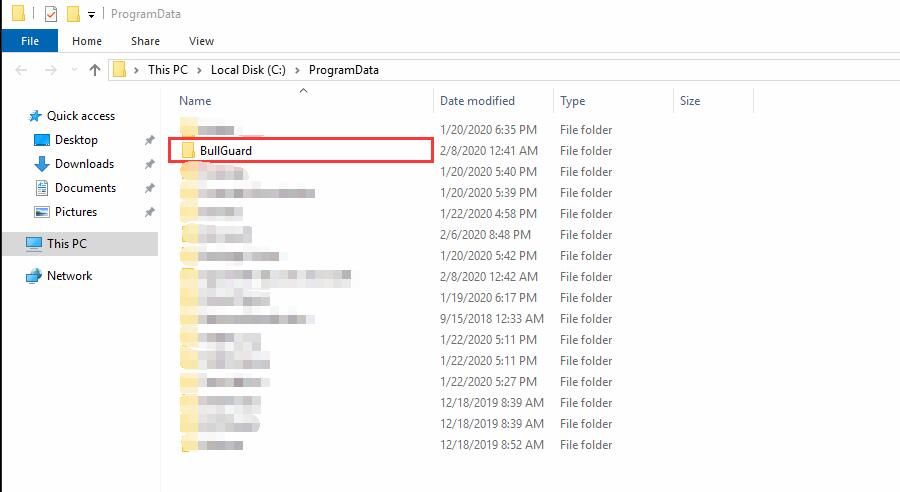 2. Next, you have to delete BullGuard Antivirus entries from Windows registry.
Press Windows + R, and type in regedit in RUN box, then press Enter. It'll open Registry Editor.
Now navigate to the following registry key and expand it:
HKEY_CURRENT_USER\Software\BullGuard
HKEY_LOCAL_MACHINE\Software\Microsoft\Windows\CurrentVersion\
HKEY_LOCAL_MACHINE\Software\Wow6432Node\Microsoft\Windows\CurrentVersion\
If these branches have registry entries that are responsible for BullGuard Antivirus, delete them. To do this, right-click on the desired file and click Delete.
That's all. You've successfully uninstalled BullGuard Antivirus on Windows 10. If you are unable to do this, or you suspect the program is not removed entirely, you also can follow the automatic method listed below. Feel free to contact Online Experts for any assistant.
Uninstall BullGuard Antivirus Automatically Using Uninstallor (Highly Recommended)
Uninstallor is the most powerful uninstaller that can remove any unwanted software for you completely in one click, including its associated files, folders, and registry entries in various locations. So, you don't have to bother to manually find them out and remove them. It is perfect for anyone who wants to make sure they leave nothing behind on their system when they uninstall a program. The program is easy to use and the installation is straightforward. So, this automatic method is suitable for everyone, even if you are not very computer literate.
1. Analyze.
Once you launch Uninstallor, you just need to select BullGuard Antivirus, and click on "Analyze Now" button, then it will analyze all the data and files associated with BullGuard automatically.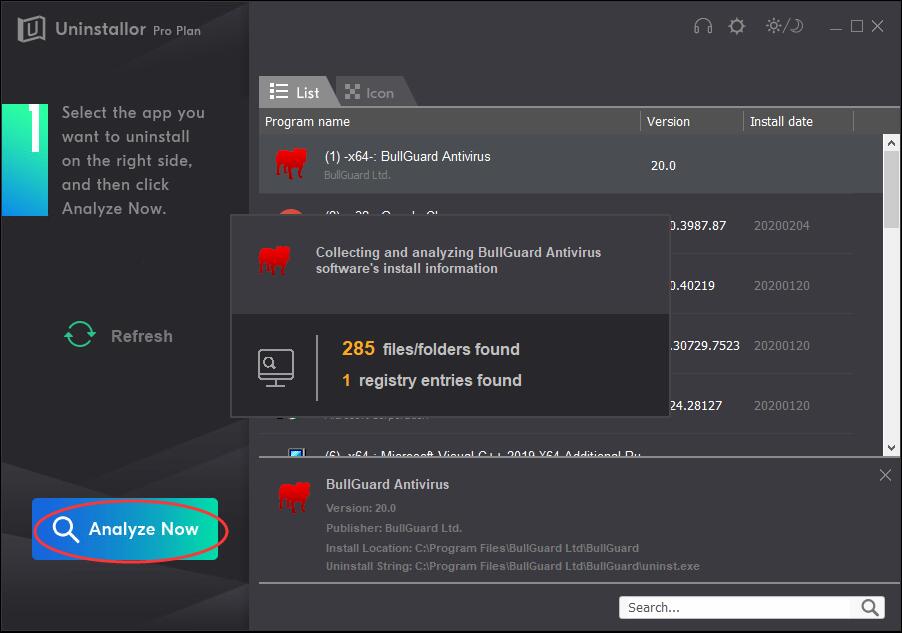 2. Uninstall.
Next, click on "Uninstall Now" button to uninstall BullGuard Antivirus completely. If you are prompted for confirmation, click Yes, then go through the uninstallation utility by following the on-screen instructions.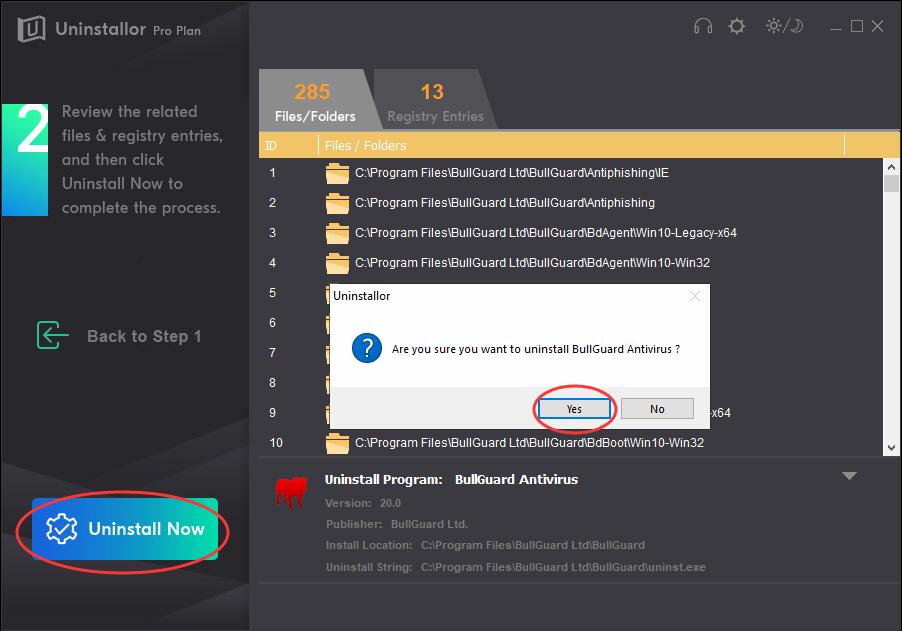 3. Remove.
Click Remove to clear all the leftover files and registry entries for BullGuard Antivirus. You also need to click "Yes" for confirming the removal.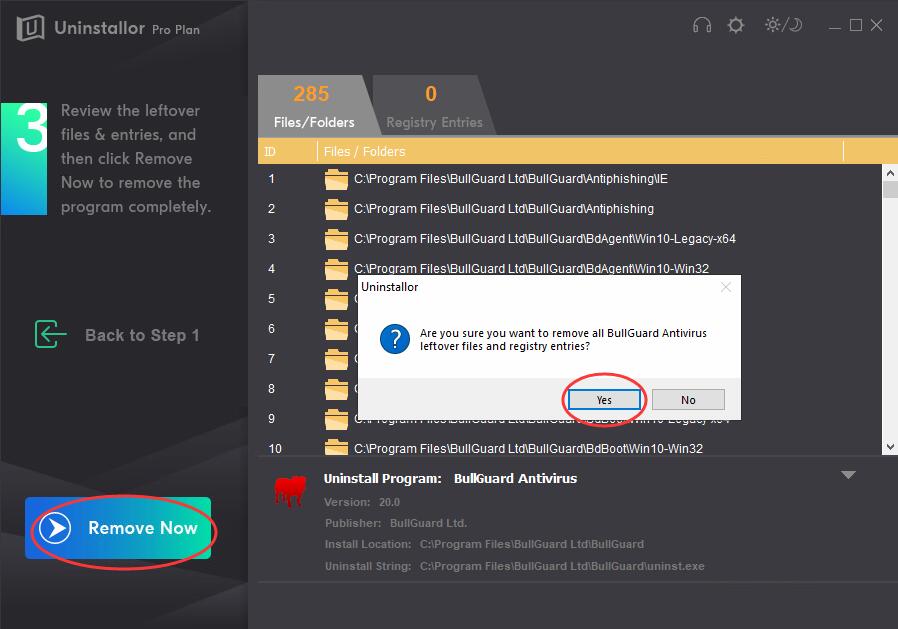 4. All Done.
When BullGuard Antivirus is completely uninstalled, you'll see the message telling you how many items of BullGuard Antivirus have been completely removed. Roboot your computer to take effect.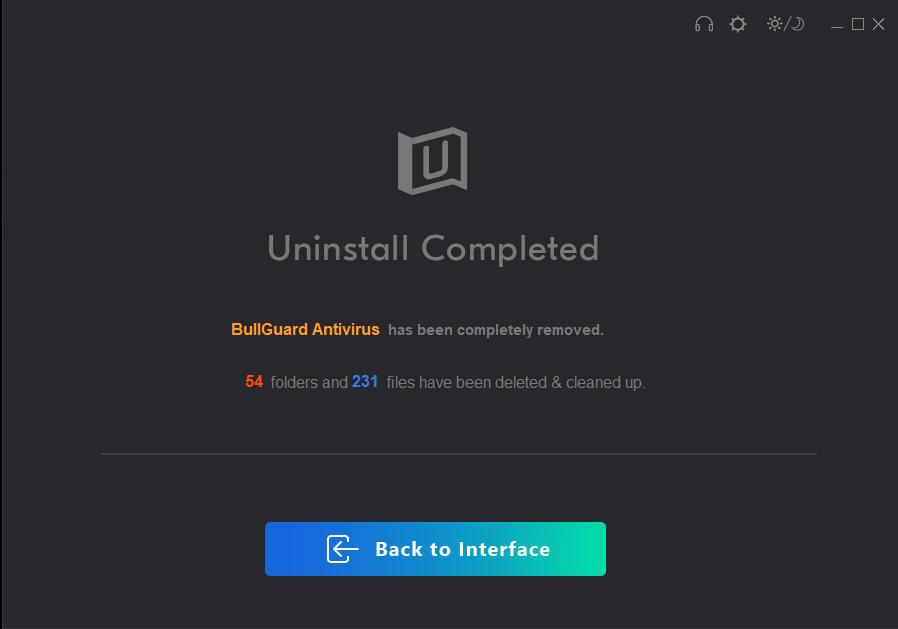 Conclusion:
Now you've managed to uninstall BullGuard Antivirus completely yourself by following the above two methods. No matter which the method you choose, one thing you should be noted that any traces of BullGuard Antivirus and its database, including its program files that contain any scripts, plugins, and configuration files that you may have added, and its registry entries, dll files should be removed cleanly. If not, an incomplete uninstallation could affect the functioning of your computer and won't let you install other security products. Again, the manual uninstallation of BullGuard Antivirus requires computer know-how and patience to accomplish. If you are not an advanced user, it's recommended that you uninstall BullGuard with a trusted third-party uninstaller like Uninstallor, which can scan your system, identify all files of BullGuard Antivirus and completely remove them with only a few clicks. Uninstallor is now available for Windows and Mac. Give it a whirl now! 30-Days Money Back Guarantee. For any further questions in uninstalling BullGuard Antivirus, you are welcome to contact us and let us know.
Published by Tony Shepherd & last updated on February 10, 2020 11:53 am