What is "Your Mac has been blocked error #268D3" warning mean? I got a pop up appeared on my Mac screen and said that I had received a virus and that it was error #268D3. It told me to call +1 855-712-8551 so I did and talked through it with a guy. In the end he wanted me to purchase a Microsoft warranty and when I said no, he hung up. I called back and asked if he had fixed it and he said that he couldn't remove the viruses if I didn't purchase the warranty. The error page is still up and I am unable to close that tab, I have tried to restart my Mac, and it just keeps coming up. What do I do? Will popup affect other devices? I got this US marshal service pop up and I have been reading online that it is a virus. Can you tell me how to remove it from my Mac? I know it's a scam but need help removing.
What is Error #268D3 on Mac? Is it real?
Your Mac has been blocked error #268D3 is a ransomware for teach support scam. It pops up on your computer and said that your computer has been infected with a virus and spyware. Then scare you do not close that warning page and tell you to call a number for teach support. They will pretend to the Microsoft's technical staff to defraud your trust, once they've gained your trust, they might ask for your user name and password, purchase a Microsoft warranty or ask you to go to a legitimate website (such as www.ammyy.com) to install software that will let them access your computer to fix it. If you call them, the scheme will induce you to buy some unnecessary services, and then you will be get in bigger trouble. Once your computer is infected with Error #268D3, your browser will be hijacked. When you run the browser, you will be redirected to the pop-up message supported by the fake tech support. When you try to run antivirus program to remove the virus, it reminds you that the program is infected with virus and is not available.
Screenshot of Error #268D3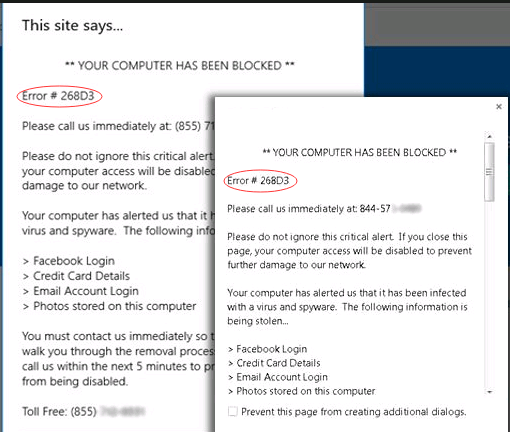 These messages Your Mac has been blocked error #268D3 often invades your browser and then forced the pop-up. You can't get rid of that fake window, even if you exit the end malicious processes on the task manager or restart your computer. but is it the only way to call that number to fix the problem? No! in fact they don't work for Microsoft. please note even if they did, there's no way they could possibly know you've got a virus. But you also need to know that fake warning are threatening the security of your computer. it will bring changes in your essential system's settings including security, default browser's settings without your permission. What's more worse, it will mix up its code in the startup section to get added every time after its start up. Error #268D3 will gather your banking and personal details by tracking your online activities including user name, contact number, passwords and so on. If you get trapped in its scam then you not only lose your money but even left empty handed and even get in worst situations. So you have to get rid of the Error #268D3 completely from your infected computer as quickly as possible before more damages.
Suggestion: In order to get rid of the scheme as soon as possible, please contact YooSecurity 24/7 Online Experts to help you.

Will Microsoft ever call me?
Microsoft has made it clear that you will never receive a legitimate call from Microsoft or their partners to charge you for computer fixes. There are some cases where Microsoft will work with your Internet service provider and call you to fix a malware-infected computer—such as during the recent cleanup effort begun in their botnet takedown actions. These calls will be made by someone with whom you can verify you already are a customer.
How did I get the Error #268D3?
1. It will install on your device stealthily when you click on those potentially unwanted pop-ups.
2. It is also can complete a self-installation through drive-by downloads. Drive-by downloads refer to those freeware, shareware, web plugins, toolbar, and more offered by third-party stores.
3. It will install on your device stealthily when you opening unknown e-mail attachments.
Manual Removal Guide of Error #268D3 on Mac
For Safari:
1. Select "Preferences"from Safari window.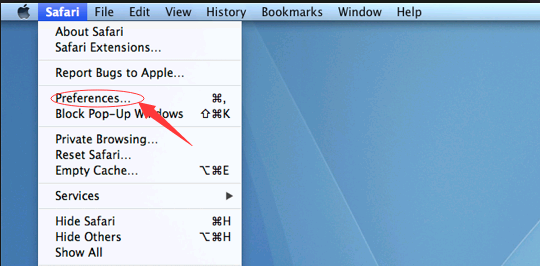 2. Click the "Extensions" tab in the Safari Preferences window. Find the suspicious plugin, and then click on the "Uninstall" button. This infection can add more than one extension. If you haven't sufficient expertise in dealing with plugin, it may lead to mistakes damaging your system. Professional and technical personnel can help you fix the problem and protect your Mac security.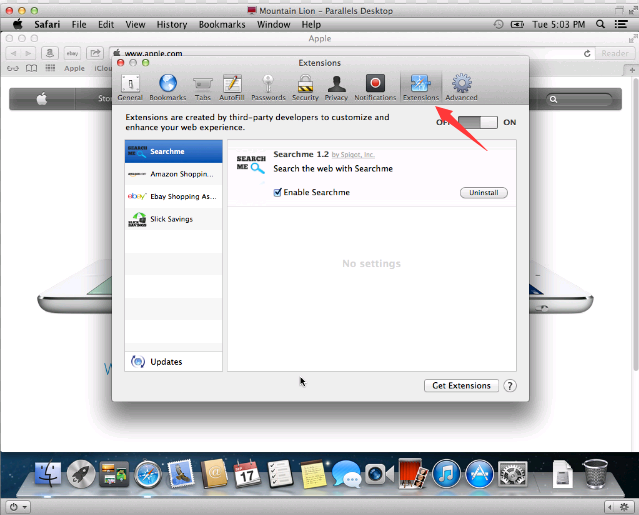 For Google Chrome:
1: Open the menu options, and click "Settings".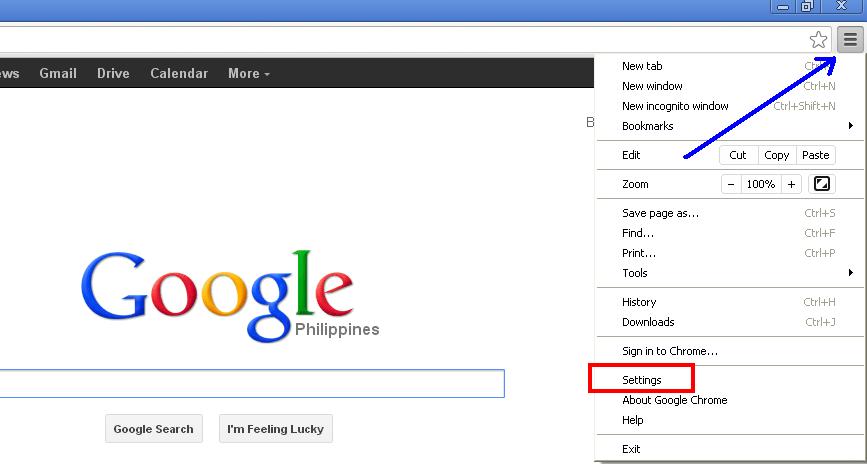 2: click "Set pages".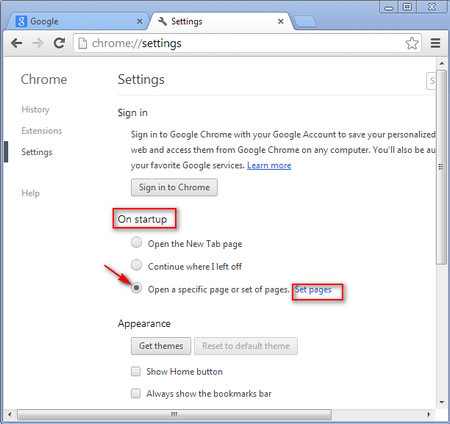 Steps3: Select "Use current pages", then delete suspicious web sites.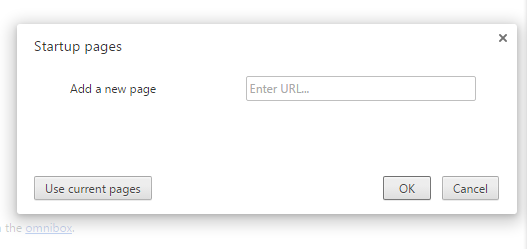 Conclution
Your Mac has been blocked error #268D3 will pretend to be your system administrator or technical support and guide you to dial a phone number. They will try to gain your trust by pretending to Microsoft technical personnel, and ask you to perform a series of complex tasks on your computer. Sometimes, they target legitimate computer files and claim that they are viruses. Their tactics are designed to scare you into believing they can help fix your "problem." Once you do this, you will be required to pay a large sum of money for them. But this is a big scam. You also can't solve the problem of your computer while you pay, but your computer and personal information will be in danger. So please be cautious when you get this fake technical support, don't give them a call and you just need to remove it on your Mac as soon as possible.
Note: If you got the Error #268D3 on Macbook and have no idea how to perform the removal, please contact Yoocare/Yoosecurity Online Expert for further help.


Published by Tony Shepherd & last updated on January 18, 2017 3:44 am