Where can i get the Win 7 Security Cleaner Pro registration key to register the software to get a full version? Or it is just a fake AV? I think my computer has fake firewall alert – "Win 7 Security Cleaner Pro Unregistered Version" How to get rid of Windows 7 Security Cleaner Pro virus from my brand new laptop? I just got it 6 moths ago. I like to kick it off my system. But when i started to try the solutions online and found it is hard for me to do that because it has stopped your access to the internet? When i opened my browser it disappeared very soon. And i can't run any programs as it disabled or stopped almost everything on the infected computer, so i only can seek for help from my wife's computer. What do you suggest?

How to Remove Win 7 Security Cleaner Pro Firewall Alert?
Win 7 Security Cleaner Pro virus firewall alert is a fraudulent anti-virus application that tricks PC users into paying money for a "licensed" version of the software that does not work. It is Vista Security Cleaner Pro virus if your system is Windows Vista and there is XP Security Cleaner Pro Virus in Windows XP.  A true anti-virus program works to protect the user from viruses, malware, and spyware, but this attack does the complete opposite. It makes its way into the users system and then pops up as if it was an original program that cam with the computer. Referred to as a "Rean Baravix" virus, because it appears in several different names, all claiming to be real anti-virus and anti-spyware programs. They will continue to post warning messages of possible threats and list off fake virus names in an attempt to scare the user into purchasing a license in order to run the program and remove the threats.
Have the Win 7 Security Cleaner Pro virus right now and I'm stuck and i'm trying to get rid of it, i was on a word doc, and it suddenly reverted back to my desktop with only the background picture and then the screen appeared that i cant get down.  yeah I tried that yesterday with another solution but it wasn't working out for me but I tried to to get into safe mode with a command prompt but I didn't know the admin password. That drives me mad, why so many people hacked by this rogue software?
The Win 7 Security Cleaner Pro virus is a fake warning attack that attempts to trick the computer user into buying virus removal software after displaying fake virus detection messages. It displays a message that claims to have detected malware on the computer and if the option to remove these threats is selected it will state that the full version of the virus removal software needs to be purchased in order to complete the clean up. The fake scan results are also further enhanced with fake warning messages warning the user that the PC is infected with many different threats.
Even real virus scanning tools have a hard time detecting the spyware, so many times the user isn't aware that there is a problem until the warning messages pop up, but these often trick some users into thinking that they are legitimate warnings and they pay for the license activation only to realize that they have been scammed by hackers. We are having a problem with Win 7 Security Cleaner. We have not paid to install it, but we must have run a scan. Now it blocks everything. I worked through the online instructions, but it will not let me run regedit. This virus apparently got loaded on my laptop and I need to remove and also was concerned with the information that it will completely destroy my computer.
Each time to computer is started the Win 7 Security Cleaner Pro virus will trigger the fake virus scan and then there will be pop ups that warn of virus detections. The virus will even disable some programs so they will not work, further making the users believe that they are indeed infected with a virus, and out of fear they will quickly "activate" the fake software. The warning screen looks like an authentic anti-virus program, making it easier for the hackers to convince unsuspecting users to pay the activation fee for the software.
None of the messages that the Win 7 Security Cleaner Pro virus displays are real and the hackers have these messages pop up in order to scare the user into "purchasing" the full version of the fake software. This enables them to steal credit card details form thousands of users daily. To the average computer user the warning messages look authentic and the entire virus looks like real software. Many people submit their payment information because they do not want to risk their PC health but in reality they just handed over their credit card information to criminals that will use it to commit fraud.
To save your computer, Live Chat with YooSecurity Expert Now. You can follow the manual removal guide below to get your problem fixed. (For advanced computer users)


Win 7 Security Cleaner Pro Unregistered Version Screenshot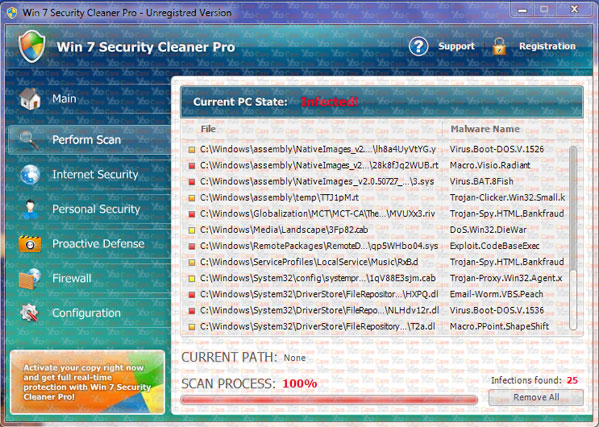 This Firewall Alert has blocked a program from accessing the internet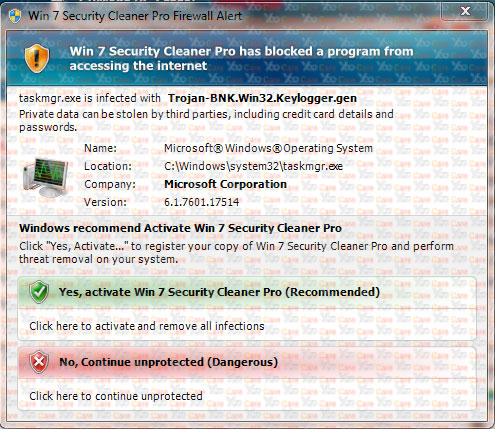 How Did Fake AV Attack Your Computer And Block The Internet?
The Win 7 Security Cleaner Pro firewall alert virus is spreading through free downloads throughout the Internet. The things will hide this attack in video and audio downloadable files, freeware, shareware, and also email attachments. Once user opened or clicked on the links, then it activated the rogue application. So we suggested users should not trust those file sharing sites, as they are usually set up and run by cyber criminals aiming to access computers through virus attacks. All it takes is one wrong click and the computer froze down.
"Attention: Danger!
Alert! System scan for spyware, adware, Trojans and viruses is complete. Win 7 Security Cleaner Pro detected 31 critical system objects. These security breaches may be exploited and lead to the following:
Your system becomes a target for spam and bulky, intruding ads
Browser crashes frequently and web access speed decreases
Your personal files, photos, document and passwords get stolen
Your computer is used for criminal activity behind your back
Bank details and credit card information gets disclosed"
"Click Register to register your copy of Win 7 Security Cleaner Pro  and perform threat removal on your system. The list of infections
and vulnerabilities detected will become available after registration"
"Computer security is at risk! Your PC is still under malware attack. Dangerous programs were found to be running in the background. System
crash and identity theft are likely. Remove malware now and get real time intrusion protection?"
"Win 7 Security Cleaner Pro ALERT
System integrity threat!
Warning! Sensitive data may be sent over your Internet connection right now!
Details Attack from 252.211.92.28 port: 20928
Attacked port: 35268
Threat: Trojan-Proxy.Win32.Agent.x
Do you want to block this attack?"
Once a link containing the virus is clicked it will alter the settings to make this fake virus alert automatically trigger at the startup or reboot. This will continue to pop up as long as it is still installed on the computer. The only way to get rid of it is to fully remove all of the files linked to it from the computer.
How to Remove Win 7 Cleaner Pro 2013 Malware Manually?
If you have tried some tools to get rid of this rogue anti-spyware program, i must understand there is not a nice antivirus software can fix it well, manual removal is the best way. Then how do you do that? Following is the guide.
Before you begin to get in safe mode with networking or safe mode with command prompt, please remember to keep hitting F8 key before Windows launches.

1. Restart your PC before windows launches, tap "F8" constantly. Choose"Safe Mode with Networking" option, and then press Enter key.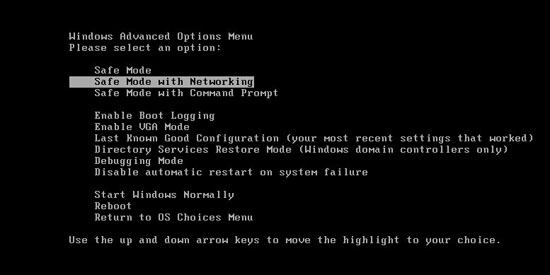 2. Press Ctrl+Alt+Del keys together and stop Windows 7 Security Cleaner Pro virus process in the Windows Task Manager.

3. Delete associated files of the Win 7 Security Cleaner Pro virus from your machine absolutely:
%AppData%\Random character
%AppData%\result.db
%TEMP%\Random character
%DirDesktop%\Random character
4. Search for all related registry entries infected by virus and wipe them out in no time:
HKEY_CURRENT_USER\Software\Microsoft\Windows\CurrentVersion\Run\Random
HKEY_CURRENT_USER\Software\Microsoft\Windows\CurrentVersion\Policies\System "DisableRegistryTools" = 0
HKEY_CURRENT_USER\Software\Microsoft\Windows\CurrentVersion\Policies\System "DisableTaskMgr" = 0
HKEY_LOCAL_MACHINE\SOFTWARE\Clients\StartMenuInternet\IEXPLORE.EXE\shell\open\command "(Default)" = '"%LocalAppData%\random"'
5. Reboot the computer to normal mode when the above steps are done.
Video Guide to Remove Win7 Security Cleaner Pro Virus Step by Step
Summary:
"I'm not an expert in computers, and i am scared that if i reboot using safe mode i am going to completely destroy my computer." said by one of the victims. This virus targets Windows users, so anyone running Mac's and iOS software will not have to worry about the possibility of being infected by the Win 7 Security Cleaner Pro virus. Since it is not easily detected by real virus software the user will need to be able to detect early signs of possible infection, such as slow or sluggish response times when opening programs, or some programs failing to open. If this is the case it is important to run a system scan and also look for suspicious files. If the virus does activate and the warning popup surfaces then you will have to manually remove all the files. That is the only way to remove the Win 7 Security Cleaner virus fully.
Note: If you are not good at computer virus Win 7 Security Cleaner Pro removal and to avoid making things worse, please don't hesitate to contact YooCare PC experts 24/7 online for assistance.


Published by Tony Shepherd & last updated on July 1, 2013 2:39 am