I have been hit with the  Win 7 Security 2013 Virus on my PC- how do I get rid of it? (I'm writing on my uninfected laptop). I have received the Win 7 Security 2013 spyware! As I am not very computer savvy I have been unable to get rid of it using some of the 'solutions' online……I already have Norton virus protection, although I don't know why it didn't block this virus. can you help? I am typing this on a notepad with main computer beside me?

Win 7 Security 2013 – Unregistered Version Description.
Win 7 Security 2013 firewall alert warning Virus is defined as a dangerous fake anti-virus program by YooSecurity Lab. It is very similar to Win 7 Defender 2013 thing. The invasion method of Win7 Security 2013 firewall alert seems ignominious, just like a thief slips into a room surreptitiously. However, this is just the first part of its work. Secondly, it will pop up on compromised computer desktop once it is installed. According to the pictures provided by some user, we can find that Win7 Security 2013 virus has an extremely similar interface as security software. Many users may be cheated just by its friendly appearance. Few people can realize it is a fake security program.
Most of the people may think it should be a normal windows utility and never think to remove it. If so, this rogue security software is successful to get the trust of innocent computer users. At this time, if Win 7 Security 2013 scam cannot be found by computer user, it will become very savage since it is able to do its performance without any prevention. Thirdly, Win7 Security 2013 fake alert will start to do its work as mad as a hatter. It pretends to start a system scan for user's computer. But the user may be confused, how can it run the scan by itself? Yes, Win 7 Security 2013 virus is able to run itself automatically once it is installed. Actually, the fabricated scan is just a pretense for its real purpose. Win7 Security 2013 spyware just uses this way to make innocent user to fall into its trap step by step. Actually, Win7 Security 2013 malware tries its best to deceive innocent users by terrible results. And then it asks user to buy the so-called full version of Win7 Security 2013 firewall alert. It states that the full version is multi-functional. It can help you get rid of those terrible viruses and help you repair all the system problems. What are you going to do at this time? Some innocent users are scared by those inexistent problems and purchased the full version to activate the rogue Win 7 Security 2013 thing. What a bad decision! But I think this way can only cheat naïve user. If you get more knowledge about rogue, you may not fall into the trap of Scam. Kick it off immediately.
To save your computer, Live Chat with YooSecurity Expert Now. You can follow the manual removal guide below to get your problem fixed. (For advanced computer users)


Picture of Win7 Security 2013 Virus: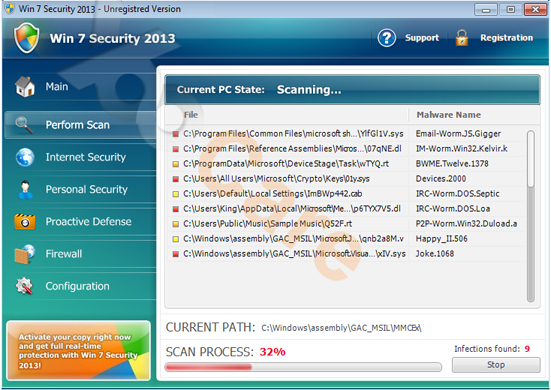 Win 7 Security 2013 Rogue Warning Alert: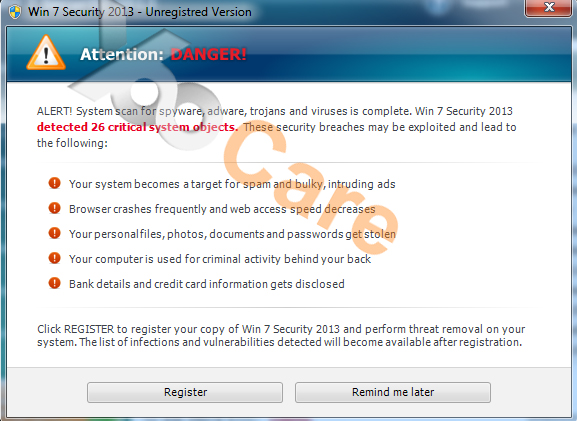 Win7 Security 2013 Firewall Alert: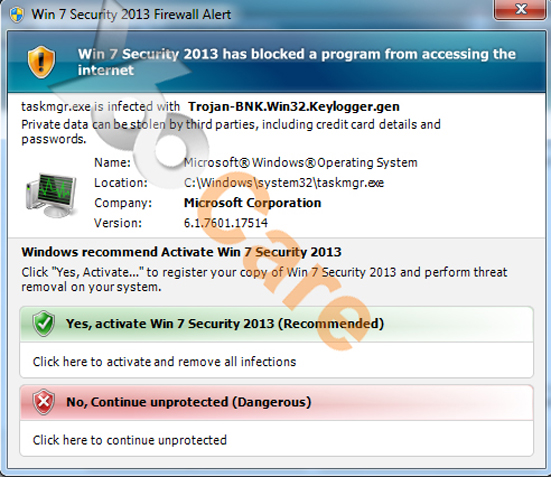 How Do You Know If Your Computer has been effected by Win7 Security 2013 virus.
Do you know what will happen after it finish the scan? Yes, Win7 Security 2013 virus will show you a fictitious scan result. It will alert you there are many critical system problems on your computer. For instance, it may tell you that "there are 32 errors detected!" or it may show you there are millions of viruses are existed in your computer. Although this tricky virus can escape the scan of legitimate antivirus program, it also can be picked up by its symptoms of fake alert.
1.Your system becomes a target for spam and bulky, intruding ads.
2. Browser crashes frequently and web access speed decreases.
3. Your personal files, photos, documents and passwords get stolen.
4. Your computer is used for criminal activity behind your back.
5. Bank details and credit card information gets disclosed.
What is The Best and Easiest Way to Uninstall Win7 Security 2013 Virus?
Considering the consequences mentioned above, and the common fact that most of the viruses and malware cannot be removed successfully by antivirus programs but must be deleted manually, it is best to fix the problems with excellent skills or you may lead to more damages. But there are several things you can do before receiving helps from experts.
–         Stop some processes of Win 7 Security 2013 virus from running from the Windows Task Manager.
–         Do not download unauthorized antivirus programs and try to remove it as you may be exposed to the risks of losing data or system crashing.
–         Do not open any links or ads that pop up since you could only be infected with more viruses.
But if you don't feel confident to solve the problems alone and there's no friends with enough knowledge around to help you at the moment, it is strongly recommended that you go for helps from PC experts who can help you safely remove Win 7 Security 2013 virus.
Instructions On Removing The Rogue Antispyware Program Safely:
1. Restart your PC before windows launches, tap "F8" constantly. Choose"Safe Mode with Networking" option, and then press Enter key.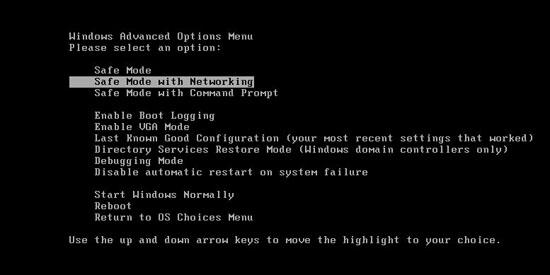 2. Press Ctrl+Alt+Del keys together and stop Win 7 Security 2013 alg.exe process in the Windows Task Manager.
3. Delete associated files from your PC completely as follows:
%AppData%\random-
%AppData%\random-
%AppData%\result.db
4. Search for all related registry entries infected by Win 7 Security 2013 virus and wipe them out:
HKEY_CURRENT_USER\Software\Microsoft\Windows\CurrentVersion\Internet Settings "WarnOnHTTPSToHTTPRedirect" = 0
HKEY_CURRENT_USER\Software\Microsoft\Windows\CurrentVersion\Policies\System "DisableRegedit" = 0
HKEY_CURRENT_USER\Software\Microsoft\Windows\CurrentVersion\Policies\System "DisableRegistryTools" = 0
HKEY_CURRENT_USER\Software\Microsoft\Windows\CurrentVersion\Policies\System "DisableTaskMgr" = 0
HKEY_LOCAL_MACHINE\SOFTWARE\Clients\StartMenuInternet\IEXPLORE.EXE\shell\open\command "(Default)" = '"%LocalAppData%\kdn.exe" -a "C:\Program Files\Internet Explorer\iexplore.exe"'
5. Reboot the computer to normal mode when the above steps are done.
Best and Easiest Video Guide to Remove Win7 Security 2013 Virus Scam
To sum up, you should learn more about Win 7 Security 2013 virus after reading the above content. Do you understand how to remove it now? Perhaps no, but at least you should realize how dangerous it is. If you find your computer have the same symptom, please try to get rid of the Win7 Security 2013 virus spyware as quickly as possible. Otherwise it will cause irrevocably damage on your computer. Not Alarmist. Win7 Security 2013 blocked all you programs and files. And it will prevent your antivirus software from working normally. What's more, it will introduce other viruses into your system and make chaos on your computer. Again, one of the victims said:"I was so scared, I got the credit card and entered it right away. But nothing happened when I did it." Well, the only way to save the compromised computer is to eliminate/ uninstall Win 7 Security 2013 virus manually and completely as soon as possible. Manual removal is a complex and risky process, so please consult YooCare PC experts 24/7 online to help you uninstall the fake Win7 Security 2013 virus from your computer completely.
Note: If you found it difficult to follow the removal guide above, please contact YooCare PC experts 24/7 online will help you remove Win 7 Security 2013 Virus from your computer completely.


Published by Tony Shepherd & last updated on April 10, 2014 4:49 am