What is PC Defender Plus Firewall Alert? Is it real or fake thing? Well, it is a fake firewall alert. Have you been spammed by PC Defender Plus Virus? Your computer has been infected by the PC Defender virus and need help removing it, as  you are not confident following the online instructions? You can deal with the malware by following the guide below.

Are you familiar with PC Defender Plus Firewall Alert?
"PC Defender Plus Firewall Alert" is a fake program that displays false security alerts which alarm your computer is encountering serious security programs. This fake program will scare you into the specific website which contains Trojan or guides you to send the money to them so that they will release your computer from the blocking. If you follow the guides you will absolutely lost your money and other important information. This virus infection is promoted through hacked sites that use exploits to install this program onto your computer without your own permission. Once you install this fake program you will keep receiving fake warning message on the infected computer. What to do next? Kill it?
Actually, PC Defender Plus Firewall Alert Virus lurks in malicious websites, advertising pages or some malware for your visiting or download. It will do a fake scan on your computer and prompt you to remove those so-called infections and problems. However, you will fail to remove those infections unless you follow every steps presented by the virus. The fake warning alert is scripted to show you these fake scan results regardless of the computer you are on. Therefore, again, please do not be concerned by any of the scan results which are used to scare you into the scam sites. Furthermore, this virus will also configure Windows to use a Proxy Sever. This Proxy Sever will accept all the Internet requests. That is a huge risk for your computer. You do have anti-virus programs installed, but they found nothing. So the best efficient way to save your computer is manually remove PC Defender Plus Firewall Alert Virus and unlock your computer.
To save your computer, Live Chat with YooSecurity Expert Now. You can follow the manual removal guide below to get your problem fixed. (for advanced computer users only)

Screenshots of PC Defender Plus Virus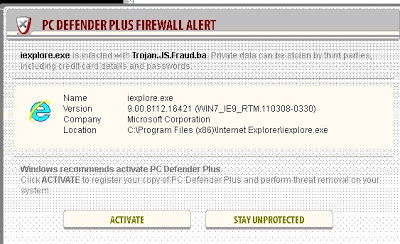 Symptoms or Harmfulness of the Warning Message Scam
Iexplore.exe is infected with Trojan.IS.Fraub.ba. Private data can be stolen by third parties, including credit card details and passwords.

Name iexplore.exe
Version 9.00.8112.16421 (WIN7_IE9_RTM.110308-0330)
Company Microsoft Corporation
Location C:\Program Files (x86)\Internet Explorer\iexplore.exe

Windows recommends activate PC Defender Plus
Click ACTIVATE to register your copy of PC Defender Plus and perform threat removal on your system.
What will the Warning Alert do on a target computer?
Once your computer has been suffered from this virus, then it runs weird. Continually pops up fake alert to threaten you pay ransom which is really annoying. Bring in much more other Trojans or malware for vicious purpose. These viruses can gradually destroy your computer operating system. The virus can block your computer and you can't run normal applications. If you have no anti-virus programs installed on your computer, download and install one kind of the security programs right away. Some "free" software would contain spyware or Trojan in it and inject them into your PC system. So please make sure the application you are going to download is from the trusted website or the product official website. Moreover, do not visit the illegal website like: gambling, porn and other suspect website. Recently, there is no anti-virus can handle this latest scam malware therefore the only effective solution is manual removal. So manual removal is the best way to remove PC Defender Plus virus permanently from your PC.
Best Way to Remove PC Defender Plus Scam Efficiently
Up to now you realize that there is not a perfect anti-virus program can fix this problem, so what to do if you get caught in a PC Defender Plus Firewall Alert Virus? Well, YooCare experts can plan out a solution to access your computer in safe mode with networking at first. When it's possible to do that, their experts will do as follows:
Step A: Restart computer in safe mode with networking. To do this, just need to press F8 key before the system is started like this: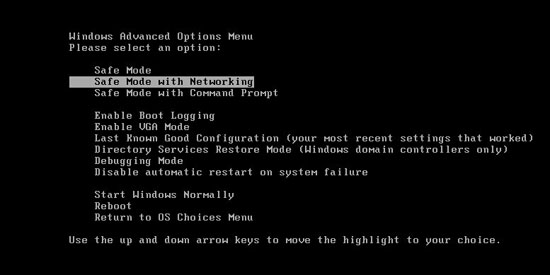 Step B: Press Ctrl+Alt+Del keys to open the Task manager to stop the progress of PC Defender Plus Firewall Alert Virus. Because the name will be changed fast, it will be show with different name.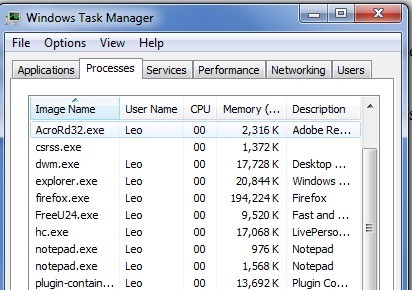 Step C: Delete all the files related to fake PC Defender plus Scam.
Step D: Delete Fake PC Defender Plus Warning Message register entries created in computer system.
By the way: Haven't heard of PC Defender Plus Firewall Alert and I don't think it's legit or is it? It is fake. Manually remove this virus is a rather difficult work, if you are not a professional computer expert. We recommend you to get YooCare online service 24/7 in time. This is the real fastest and safe way to remove it.
Similar Video Guide to Remove Registry Entries That is Related to the PC Defender Plus Warning Alert
NOTE: This PC Defender Plus Firewall Alert is a hoax on the internet. It displays your iexplore.exe has been infected with Trojan viruses, and you have no choice but activate the the program to keep your computer from unprotected. In other words, you need to send money to it so that you can free of the warning alert. But it is a scam, although you paid for the thing your problems still persist, and what is more it is a crash lost case then. Since no anti-malware application can handle the pesky thing and you have followed the steps as far as the task manager but you are not sure what files to delete as the virus changes fast. So an efficient way is necessary to avoid further damage.
Special tips: Spending a lot of time fixing your computer with no success and don't want to make things worse? Contact experts now to unlock your computer and remove PC Defender Plus Firewall Alert Virus safely and completely.

Published by Tony Shepherd & last updated on June 4, 2013 3:39 am