My iPhone6 has been locked. I have reported receive pop-up notifications told me to immediately call a number because I could have someone trying to hack my phone. I called and no business name was mentioned it just told me to wait for the next available associate. Someone came on about 5 minutes later and told me they could help me. Told me to go to settings general and then about. When I got to there they told me to read the serial number on my phone. That's when I knew something wasn't right. Why do they need my serial number? I argued with them and he told me to pull up their website if I don't believe them. Should I trust them? Any suggestions to fix this problem on my Phone?
Picture presentation about IOS Crash Report Warning Scam: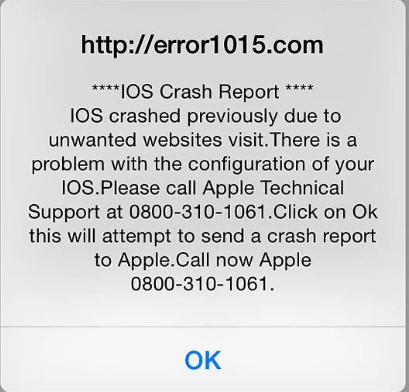 What is IOS Crash Report Warning Scam?
IOS Crash Report Warning Scam is a malware on their device that is stealing data, the operators demanded credit card details in order to solve the issue and eliminate the malicious code. The Tech Support pages are usually malicious websites which is used by cyber criminals to promote their remote support services. The Tech Support Scam bogus pop-up ad will state that the IOS crashed and that you need to call their paid support service to remove the infection. This warning pop-up is particularly difficult to close. It can collect the information include IP address, geographical location, browse information, credit card details, and so on. The collected information is sent to the developer's server, and then shared with the third party. This is a high probability, your data will be shared with cyber criminals, and it can lead to serious privacy issues, and even result in identity theft. In order to protect your data and personal information, we strongly recommend that you delete it as soon as possible.
Suggestion: Since paying the so-called fine won't help you remove this scam virus, manual removal is an effective solution for this. Processing manual removal is supposed to have a certain level of tech skill. If you are not sure how to start and are afraid of making any critical mistakes damaging the cellphone, please live chat with YooSecurity Expert now.


How do I get IOS Crash Report Warning Scam on my iPhone?
We used to think that Apple iOS gadgets were pretty immune to viruses and malware. Sadly, over the past year hackers have turned their attention to our mobile gear. It can invade the apple users' Safari or Google Chrome. It is comes to you unconsciously when you click some links on the website, opened unknown e-mail attachments, or download unknown "free" software and so on. Freeware download websites encourage users to use small download programs (called 'installers', 'download managers', 'download tools', 'download clients', and so on) to download the chosen software. Download apps supposedly ease the download process. However, they offer installation of third party applications with the chosen software. When you land on websites that have been got the IOS Crash Report Warning Scam what can be instantly spread onto your device. Some of the emails will not contain the link, but they will instead have an attachment and that attachment can spread the virus on your phone. Hence, it is a wise idea to ignore email from unknown people.
Why hackers need my serial number?
Serial number as the only global logo, it is equivalent to each person's ID card. Since the apple system upgrade to IOS7, you have to activation if you want to refresh the device or restore the factory Settings. If apple user login up and opened "find my iPhone" before, they have to login the original account to activate the device. Recently, some technical staff found a loophole in the apple devices that hackers can open you activates lock from your imei or serial number. It means they can steal your apple ID account and password, and then binding his ID account, so that they can control the whole of your device. It is dangerous of your phone book, personal data and password. So please be careful and note that a real teach support never ask your serial number.
Is it safe even though I didn't provide serial numbers?
It's crystal clear that the IOS Crash Report Warning Scam is harmful to your system. It can block your browser and does not allow you to access the Internet. Besides, how is trouble if you cannot use the browser? The worry is the virus can monitor your online activities for sensitive information thus helping the cyber criminals make illegal money. Never give the criminals any chance to access your precious information. This is quite a valuable if your private information is sold to the black market. We don't know what the criminals will do with them. The most important thing you need to keep in mind is that the IOS Crash Report Warning Scam can't be trusted. The real threat is the malware behind it. Please never give the iCloud credentials, financial information over the phone, neither dials a given number.
Note: Can't remove the virus and are afraid of making any critical mistakes damaging your computer? Please contact YooSecurity Expert for further removal help.


Published by Tony Shepherd & last updated on September 13, 2016 6:41 am