Can the FBI Wal.mart Money Card Virus lock your mobile device? I got the FBI warning on my iPhone safari app and it said that my phone would be locked in 72 hours it was followed by an alarm. I just want to unlock my phone, in the page this virus has all my information, my name, my contacts phone, and said that if I don't pay, my situation will be transferred at the tribunal, I'm so scared, how can I do?
What is FBI Wal.mart Money Card Virus?
FBI Wal.mart Money Card Virus is defined as a ransomware and attempts to trick the user into thinking that the message is from the FBI or United States Department of Justice and that a fine of $300 must be paid immediately or there will be additional fines as well as legal action initiated and criminal charges filed. This kind of virus is eyeing the apple devices and locked your Safari, Chrome or Firefox immediately and said:
"You have been violating Copyright and related rights Law(Video, Music, Software) and illegally using or distributing copyrighted content, thus infringing Article I, Section 8, clause 8, also known as the Copyright of the Criminal Code of United States of America. If it is PCEU Virus then this is thus infringing Article 128 of the criminal code of Great Britain."
"You have been viewing or distributing prohibited pornographic content (Child Porno/Zoofilia and etc.), Thus violating article 202 of the Criminal Code of United States of America. Article 202 of the criminal provides for deprivation of liberty for two or twelve yours."
"Fines may only be paid within 72 hours after the infringement. As soon as 72 hours elapse, the possibility to pay the fine expires, and a criminal case is initiated against you automatically within the next 72 hours! (Sometimes it shows you within 24 hours or 48 hours)."
Look, they imitate the tone of the police, and use the right color, logo and contact information of law enforcement agencies in order to make it look as real as possible. This entire FBI Wal.mart Money Card Virus has been constructed by hackers to extort money from the user it infects by scaring them into thinking that they will be in serious trouble if the fine is not paid. Some innocent users believe that even completed the payment, and think it is worthwhile to pay hundreds of dollars to avoid the trouble of the government. But after payment, the FBI warning screen still on the device. These virus scams just want to extort and waste your money, don't be a victim to pay the ransom fine, a real police agency never send money through the computer.
Screenshot of FBI Warning Scam Message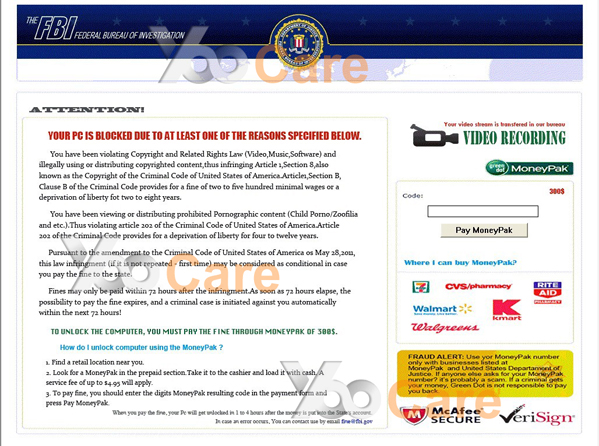 The FBI Wal.mart Money Card Virus is trying to intimidate you to complete the payment through Moneypak or MoneyGram within a limited time; some of the victims don't have enough time to consider whether this is a scam because of the FBI warning is let them fear, and then rushed to complete the payment. The Moneypak and MoneyGram is convenient for the hackers, because these method offers no protection for the consumer and when they realize that they have been scammed there is no way to dispute the payment or file a charge back like could be done with a credit card. It also allows the hackers to stay anonymous while stealing money from their victims. After victims regret to pay a fine on the Moneypak or MoneyGram, there is no effective way to redeem your money and save the loss. So please be cautious when you meet related viruses.
NOTE: Being afraid to do any wrong operation during the process of removing this browser hijacker? Please contact YooSecurity Online PC Experts, we are here to help you:


How Do I Get Fake FBI on iPhone/iPad?
We used to think that Apple iOS gadgets were pretty immune to viruses and malware. Sadly, over the past year hackers have turned their attention to our mobile gear. Usually, the installation of FBI Wal.mart Money Card Virus can be completed in a short time and then it pops up immediately to lock your iPhone or iPad without signs if you visit a phishing site, open a junk e-mail attachment, click on an unknown link or download an application from an unsafe source. You will be easily get infected by this virus after you jailbreak your device.
Characteristic of Fake FBI warning scam:
It will block your Internet access once it is downloaded.
It will pretend itself as a legitimate warning to lock you out of Safari or Chrome browser.
It will not let you exit the blocked page even you have restarted the device a million times.
It can block all types of antivirus apps.
How to Prevent Your Apple Devices from warning scam?
Since viruses are quite inevitable, there are some tips you can avoid being fallen into FBI Wal.mart Money Card Virus Warning Scam in the future:
1. Be careful of downloading applications in the internet because many of them are just cloned applications. Visit legitimate app stores like Apple Store because it filters out the reliable application from what's not reliable. Most viruses are from gaming and anti-virus applications which are forged. Before downloading an application, try to read some customer reviews so that you will be assured that it is truly a trusted app. Stick with apps from App Store and don't jailbreak your device and install apps from third-parties.
2. Be cautious at opening attachments thru MMS, SMS messages and e-mails because you might open an unknown attachment from unknown sender. Never open any attachments which are suspicious to you.
3. Don't open your Bluetooth connection when not in need. It would be easy for the virus to go inside the phone's application and destroy the phone's performance.
4. Read the permissions. Every app you install has to declare its permissions, meaning the app lists what it will have access to on your phone. Don't just click OK without reading what the app will do.
Summary
The FBI Wal.mart Money Card Virus like a bandit who was going to run on apple system, it can prevent users Internet access and Surf the Internet. Unfortunately the antivirus software can't detect or remove the malware so far and the virus will not disappear completely, unless you have removed all the relevant components. Even in some cases it may disappear for a period of time to let you get to the Internet, but your device is still not safe, and all of your contact information and your online banking payment information will be in danger, so you have to get rid of the virus as soon as possible. As long as you take actions to effectively remove virus from your iPhone or iPad, you won't get any further damages.
Suggestion: To completely get this off iPhone or iPad, you can contact YooSecurity Online PC Experts for help right now.

Published by Tony Shepherd & last updated on September 13, 2016 7:04 am