Is your computer infected by File Recovery Virus and all your icons are gone? What you can see is a black screen on the background, all programs from Start Menu are empty. How do you remove the  File Recovery Virus and recovery all your data? Well, you can save your computer here.
What is the File Recovery Virus?
File Recovery Virus is a hacker-designed malicious computer virus that imitates useful system optimization and security tools, although the actual purpose of this malware is a scam. The virus works by pretending to scan your hardware for viruses and then sends users a constant series of pop-ups and warning boxes that indicate the user's hard drive is riddled with errors, and then prompts users to purchase the full version of their virus-removal system. In the meantime, computers infected with File Recovery will run very slowly (in order to give the impression that there really is something wrong) and users will be unable to access their own files. A continuous series of pop-ups and cascading boxes will fill the screen and cannot be removed, making it extremely difficult to remove File Recovery virus. The entire purpose of this virus is to lure users into buying the full version of their virus removal system, which does not actually exist, just as the user-victim's "hard-drive errors" do not actually exist. Computers infected with this virus will see bogus alerts such as these:
System blocks were not found
This is most likely occurred because of hard disk failure
This may also lead to a potential loss of data
Hard Drive Boot Sector Reading Error
During I/O system initialization, the boot device driver might have failed to initialize the boot device. File system initialization might have failed because it did not recognize the data on boot device
Screenshots of Fake File Recovery Virus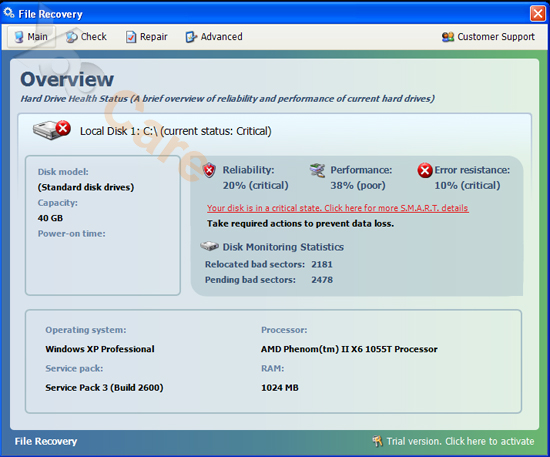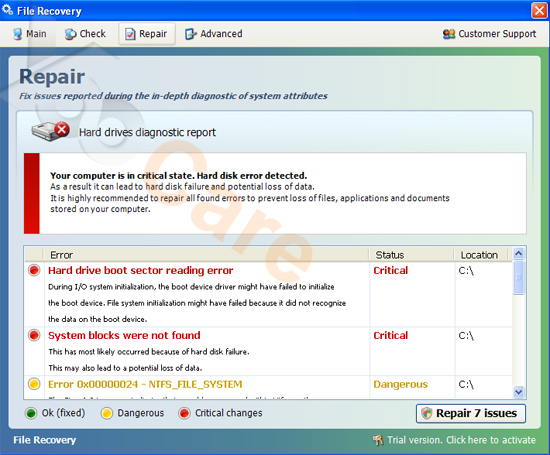 In addition to sending fraudulent alerts, File Restore will disable the Windows system utilities, including Windows Task Manager and Registry Editor, and will block users from running any legitimate security software that would allow them to remove the malicious program. Users desktop background will be changed to a solid black color and the virus will also cause browser redirects, so using the internet is not possible.
It is very important to ignore the error messages and to take no further steps or follow any prompts to purchase virus removal software, as this is the ultimate goal of the scam.
To save your computer, Live Chat with YooSecurity Expert Now, or you can follow the manual removal guide below to get your problem fixed. (For advanced computer users)

How does the virus infect users?
Careless internet usage can result in users unwittingly downloading this malicious, rogue virus. Computers users in the thousands have become infected by the File Recovery Virus by clicking on unknown links, banners or pop-ups while using the internet, or by opening unknown links in spam emails. Usually a Trojan is installed on the computer after clicking the malicious banner, or it comes bundled with codes or other various freely shipped programs. The virus is then downloaded and installed on the victim's computer, and is especially adept at infecting computers that run older versions of Java, Flash or PDF reader. The infection does not require the user's permission and are installed silently.
How is the virus removed?
If this dangerous and debilitating virus does infect a user's computer, it is possible for advanced computer users to manually remove the malware from the computer by following the steps below. It is important to note, however, that although it is possible to remove File Recovery virus manually, such activity may damage your computer as advanced parasites such as File Recovery can repair itself if not removed properly. Manual removal is recommended for experienced users only. For other users, we recommend malware and spyware by contacting our online agents for step-by-step instructions.
As an option, users can use the following license key to register the File Recovery virus and stop the series of fake alerts and error messages:
File Recovery activation code:
5672348913409287486724578923598
Please keep in mind that entering the above coed will NOT remove the virus from the computer. Rather, it simply stops the fake alerts and bogus errors so that the user will be able to proceed with manual removal of the virus more easily.
First, start computer in Safe Mode with Networking.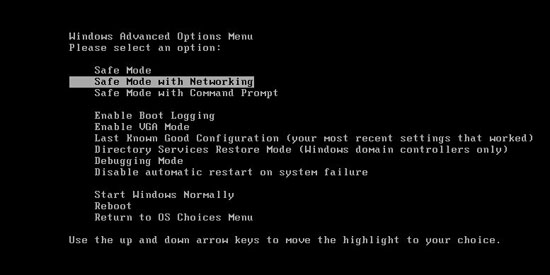 Remove all CDs and DVDs from the computer and restart computer while holing down F8 key (or, with some computers, by repeatedly pressing F8 key). It is necessary to hold down the F8 key before the Windows start-up logo appears. On the Advanced Boot Options screen, use the arrow keys to highlight Safe Mode with Networking and press enter.
Remove these processes:
%CommonAppData%\[random]
Remove these File Recovery Registry Entries:
HKLM\SOFTWARE\Microsoft\Windows\CurrentVersion\Run\random
HKLM\SOFTWARE\Microsoft\Windows\CurrentVersion\policies\system\DisableTaskMgr
Remove these File Recovery virus files:
%AppData%\random
%Desktopdir%\File_Recovery.lnk
%Programs%\File Recovery\File Recovery.lnk
%Programs%\File Recovery\Uninstall File Recovery.lnk
File Recovery is classified a Rogue Application. After infection, it proceeds to scare users into thinking their computers are riddled with errors and that the purchase of a (fraudulent) virus removal system is required. Again, users will know if they have been infected by Virus Recovery by these symptoms:
Numerous annoying and irremovable pop-ups and warnings: The entire point of a Rogue Application is to create the appearance of a serious system failure (after pretending to scan the computer for problems) and to lure users into purchasing rehabilitating software that they don't actually need and that does not actually exist. Error alerts will appear on user's browser or Windows screen.
Computer slowness and inability to access files: This is designed to make the user think that there actually is a problem with their computer. The computer will look different and the user will be unable to run programs or discs, or browse the internet; all in an attempt to trick the user into thinking there are serious issues with his or her computer.
Video Guide to remove File Recovery malware
Tips: It is possible to manually remove File Recovery virus by following the steps above. If, however, you have been unable to remove File Restore Virus by yourself, please contact the online agents at YooSecurity seven days a week, 24 hours a day. Our agents are completely knowledgeable and highly experienced at dealing with and removing this stubborn and damaging infection from your computer. Online support is also available to help guide you through the full removal process of this File Recovery virus and allow you to restore your computer to its condition prior to becoming infected.

Published by Tony Shepherd & last updated on June 4, 2013 2:50 pm