Jesus Christ! My Samsung S4 has been suffering from this DOJ virus for two days? I have to commit, I made a mistake, the reason which caused my phone to get this virus is because I read a "bad" news from my phone at night before I went to sleep, well, actually not a "bad" new as a huge new. So far, I believe half of people around the world already knew the new. That's the nude picture and video got leaked out from icloud few days ago, they are all celebrities, can you image that, it's covering singer, actress, model, female athlete, and you will be even surprised when you heard those names, Jenifer Lawrence, Rihanna, Avril, Hope Solo, Kate Upton etc, just name it, the name of the list is over 100. However, I guess most guys like me, after read this new will start searching more information through the internet, and maybe that's because I try to download some pictures from some unknown website, boom! "The Department of Justice" came out on my phone's screen. Oh, come on, the Adult sites could still put Jenifer Lawrence's on the site even she claimed to sue the sites, however, they stroked back by saying only the owner with these pictures could let them remove the pictures according to law, apparently, Jenifer is not the one who press shutter. And now, I just downloaded some pictures that got me the warning form DOJ? I don't think so, this is probably a scam. Anyway, I already tried every mean to work it out, but nothing changes, my phone is completely locked, so please, could someone who is the expert in this filed help me out from this DOJ virus thing, otherwise my phone is totally useless, I just bought it a week ago. Please help!
Brief Introduction to DOJ Virus on Phone
DOJ Virus is just a scam designed for deceiving money from PC and Mac users, and now it's working up to smartphone already, maybe the scale and speed of DOJ virus can't match with FBI and Ukash virus right now, however, there already have some phone users suffered from it. It's only matter of time for more people have their phone infected by DOJ virus if they don't pay enough attention. Okay about 2 minutes ago i was on ebay on my Samsung galaxy tablet and something popped up saying I must pay 200$ or i will be sent to court. I found out it is a scam what should i do to unlock my tablet? My android phone is locked by cyber police scam demanding 200 dollars how do I regane my phone? Phones which get infected by this virus will get a special warning message, something like, "Your phone has been blocked. The work of your computer has been suspended on the grounds of the violation of the law of the United States of America…" After that, it will list which articles you broke, such as "Article 274-copy right", and it will threaten you with "A fine or imprisonment for the term of up to 4 years. (The use or sharing of copyrighted files-movies, software)" to let you pay some money and avoid from being imprisoned. Anyway, like I said in many other article, this is a scam, please don't be fooled by that. Some people already have similar experience with other kind of scam like FBI virus and Ukash virus, so their first respond is " another scam, there's no way I will pay for the money".
You may get this virus through several ways, just like computers, cell phones could also get infected with DOJ virus by visiting malicious websites, once you phone get this virus, your phone will be completely locked and you can do nothing about it.The Department of Justice virus will display a bogus notification that pretends to be from a law enforcement agency, and states that your phone has been blocked due to the reason it is involved with the distribution of pornographic material, SPAM and copyrighted content, and if you want to unlock the DOJ page from your phone screen, you will need to pay $300 for a so-called code to unlock your phone which is actually also fake, your phone will still be locked even you paid for it. That's the whole nine yard; they got to make it looks more real. Facts prove that, people got fooled by that on and off no matter what! And that's also the point we keep writing blogs about new virus in the internet, if you happen to read this paper, at least I could save one more person from being deceived by the scam. Another way you may get this is that you downloaded some unknown Apps while you surfed the internet on your phone, these Apps are not from the proper resource such as Android market.
DOJ Virus may also infect your phone by using spam email messages to spread a copy of the malicious code. These emails may contain many malicious links which you don't know they are dangerous, and they will pretend to be some normal or interesting sites providing boon to convince innocent user to open them. Once you follow the instruction, it automatically runs a script that forces affected phone to download and execute malware from a remote server. Most of the users got this virus is because they can't resist being curious as to what the email is referring to – and click on a link embedded inside the email. For example, there is a customary trick, after you click the links, the website will trick the users into install some disguised regular Apps, but they are actually bogus update for Adobe Flash Player or another piece of APP. And with that, your phone is infected with the DOJ virus.
However, what you should do is always maintaining vigilance, some people may consider virus on phone could be removed simply, easy-peasy, because they think, comparing with computer, phone is small, not that complicated, and probably have many solutions in the internet.With this idea, it's totally safe for phones to download whatever Apps from the internet, and do whatever they want. Well, for that, I might tell these people, they are totally wrong, if they still hold this conception for long, your phone is not far from infection, what's worse, your phone will end up being taken advantage by cyber criminals.
Internet will always be the most effective way and only way to spread virus, no matter the device you surf internet is PC, phone or tablet. Anyway, few people would understand where these virus come from, why there devices could get infected by them? That's because the inventor who made them will hide infection into many websites that have been hacked, and mostly phone will get infection by illegal or edge ball websites, such as porn material, online poker game, unknown Apps. Of course, men who browse these kinds of website may know they are risk danger for doing it. They still open it, they just can't help themselves. However, even you are the one who behave himself very strictly may also lead your computer or phone to the same situation, because sometimes the normal sites they regularly visit may have been hacked, but they don't know.
The properties of Infected Phones
-Completely lock the phone screen, you can't do anything about it.
-Provide you using Moneypak or some other ways to avoid from any copyright disputes or being punishment for against the law by visiting illegal information online.
-You are charged by so-call illegal act in the internet which you didn't do that.
-You have been warned by recording your phone activities and encrypting your files.
-You can't power off your phone and your phone system may be harmed.
Your phone will be infected by DOJ Virus if you see those traits. Please contact YooSecurity Online Experts for manual removal guide.
NOTE: Being afraid to do any wrong operation during the process of removing this scam? Please contact YooSecurity Online PC Expert, we are here to help you:

Manual Removal Guide of DOJ Lab Virus 
Note: There is a removal guide provided here; however, expertise is required during the process of removal, please make sure you are capable to do it by yourself.
Step 1: Try to access the safe mode on the infected phone.
What is safe mode on an android phone?
Just like the safe mode on Windows computers, the safe mode on android phone is a diagnostic mode. It is intended to fix the issues that happen on the problematic phone. In safe mode, the phone will reduce functionality. Typically, the safe mode loads as few executable modules as possible and disable all the non-core components to run. In one word, safe mode only runs the system without the third-party software.
How to get the safe mode on an android phone?
There are too many brands of android phones in the world, so the way to get the safe mode can be various. We will only take a group of them as examples, if you can't follow the tips to get the same mode on your phone, please go online to find the right way to access the safe mode as the safe mode is premise to remove this infection from your phone.
For Samsung Galaxy S4: 1. Power down. 2. Turn on and repeatedly tap the soft-button for "Menu."
For Samsung Galaxy S3 and others: 1. Power down. 2. Turn on, then press and hold Volume Down (Galaxy S3 and others), Volume Up (HTC One and others), or Volume Down and Volume Up together (various Motorola devices) when the vendor's logo appears.
If you have managed to select Safe Mode, you will see the text "Safe Mode" at the bottom left corner of the screen.
Step 2: If you can find "Safe Mode" on the left hand corner, that means your phone is in safe mode already, please contact our expert for further removal instruction.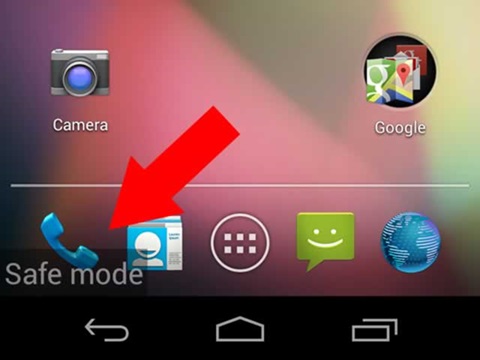 Conclusion:
Your whole phone will be useless if it got infected by DOJ virus, it's nothing else but a brick. By living in a information era, you can't be too careful. Stay away from unreliable resources which provide unknown App, and never open attachment from strangers, it could be a virus. Fortunately, at present, manual removal will still be the most effective way to get rid of this kind of ransomware virus or other similar kind of virus from Android phone. If your phone gets infected, then virus can lock the whole system you cannot even use anti-virus program. Do not get scared by this false warning, it is a scam. Manual removal will be the best way to get rid of the DOJ virus Lab from Android phones.
Suggestion: To follow removal guide that mentioned above, a level of Android phone knowledge is needed. Still can't get out of this virus? Contact online experts for help now!


Published by Tony Shepherd & last updated on June 23, 2016 3:57 am