Infected with the fake Disk Antivirus Professional virus when surfing online? My laptop has been blocked by a Disk Antivirus Professional screen and i have read that it could be a virus so i tried following some of the ways shown to remove it but could not find the shell that may be infected how can i remove this if it is a virus. Can you advise please?
Is Disk Antivirus Professional a Scam or Real?
Disk Antivirus Professional (Disk Antivirus Professional 3.7.25) is the latest fake AV we have detected in YooSecurity Labs. It tells there are critical disk errors and your computer is at high risk by showing you there are 38 infections or WARNING!38 infections found. Look what i found, 38 threats showed up 2 malicious programs, 26 viruses, 2 adware, 2 spyware. Disk Antivirus professional popped up and did the scan but you never downloaded that program. It is a classical example of a rogue anti-virus application that should be removed as soon as they are noticed on a computer system. The Disk Antivirus Professional virus is spread through free downloads throughout the Internet. They will hide this attack in video and audio downloadable files, freeware, shareware, and also email attachments. This is how most viruses are spread, and this one is no different. This is a perfect example of why users should not be trusting these file sharing sites, as they are usually set up and run by cyber criminals with the goal of accessing computers through virus attacks. All it takes is one wrong click and the computer can become infected. This fake application belongs to a family of viruses called Baravaix that are designed to look like genuine anti-virus applications when they are not. These fake security programs are designed to deceive the unsuspecting computer user into paying for something that they don't need or that does not exist.
Disk Antivirus Professional is a scam-ware that scares the PC user into believing that their computer has been besieged by large quantities of malicious virus and threats. This it does by generating fake system scans and virus detected alerts. The fake application will reduce the speed and efficiency of the computer system to make the user really believe that they are under threat. The application can also be used by hackers to track your keystrokes and browsing history.
DiskAntivirusProfessional virus pops up on my windows OS. I exited out of the installation process, but I am not sure if my computer is infected with a virus or not. It was i opened my laptop telling me the DiskAntivirusProfessional has detected a couple of threats on it and its completely freaked down. It looks completely legit and even has a version number on it saying "Disk Antivirus Professional 3.7.25" I love in Monroe and I was looking at porn last night I'm 19 ifk if its real and I'm about to get arrested or if its fake,It says for child porn but I was looking at teens to be honest clicking away at links and links stupidly.
Once the PC user tries to use the application to clear off all the fake threats as claimed to be detected by the Disk Antivirus Professional rogue program, they would be directed to purchase a licensed version. The problem with this is that the application itself is faked and all the scans, alerts and reports are all fabricated. The application doesn't have a virus database and so lacks the capacity to scan, detect or manage virus or other forms of malware. There is no licensed version and the aim of the application among other things is to scam the PC user into paying for what does not exist.
To save your computer, Live Chat with YooSecurity Expert Now, or you can follow the manual removal guide below to get your problem fixed. (For advanced computer users)

Fake Disk Antivirus Professional Virus Screen Shot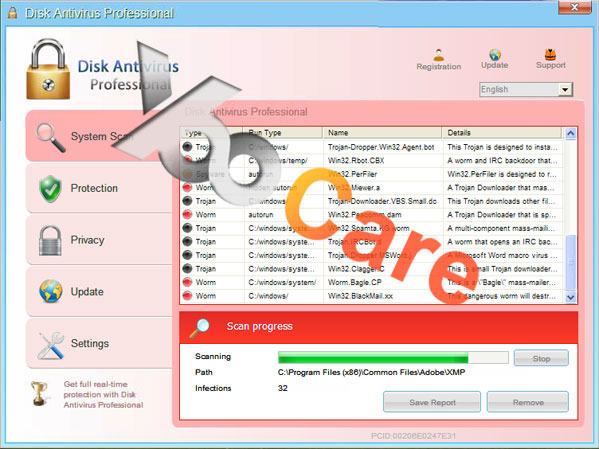 Have you encountered with Fake alert before? How DiskAntivirusProfessional gets on a computer system?
Disk Antivirus Professional is a malicious program that sneaks unto the computer system. It is packed along with a Trojan virus and then sneaked into downloadable online content such as freeware, shareware, video codec and many more forms of content. Hackers and fraudsters are always looking for ways to spread their malicious programs.
Once the system succeeds to get on the computer, it begins to alter the registry and other settings. It adjusts some settings to program itself to activate at next reboot. Once the computer gets rebooted, the program will activate and begin to send the annoying system scans and fake virus detected alerts. It would also prevent some programs from running properly or not at all. One of its targets is the genuine anti-virus on the system which it would try to disable.
Symptom of Fake Disk Virus
Security Monitor: Warning!
Attention! System detected a potential hazard (TrojanSPM/LX) on your computer that may infect executable files.Your private information and PC safety is at risk. To get rid of unwanted spyware and keep your computer safe you need to update your current security software. Click Yes to download officail instrusion detection system (IDS software).
Disk Antivirus Professional Warning
Intercepting programs that may compromise your privacy and harm your system have been detected on your PC. Click here to remove them immediately with DiskAntivirusProfessional
Warning!
Application cannot be executed. The files firefox.exe is infected. Please activate your antivirus software
Warning: Your computer is infected
Detected spyware infection! Click this message to install the last update of security software…
What is the best efficient way to eliminate Disk Antivirus Professional ransomware if anti-virus software didn't work?
Disk Antivirus Professional is a malicious program that alters the computer system settings so that it is difficult to root it out. It would disable the genuine anti-virus program running on your computer and would prevent several other programs from working properly. Removing the fake application is not easy but not too difficult if you know how. So manual removal is the best efficient way to eliminate the virus. Manual removal of Disk Antivirus Professional Virus step by step guide is below.
Guide on how to get rid of the Disk Antivirus Professional virus:
Step1: Restart your computer. As your computer restarts but before Windows launches, tap "F8" key constantly. Use the arrow keys to highlight the "Safe Mode with Networking" option, and then press ENTER(Just for Windows XP, Vista and Win 7). (If your OS is Windows 8, please click here for details).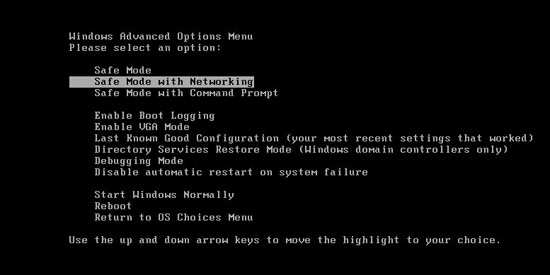 Step 2: Open Windows Task Manager to end [Disk Antivirus Professional Virus]. To do that, press Ctrl+Alt+Del keys at the same time or right click on bottom Task Bar.

Step 3: Go to Folder Options from Control Panel. Under View tab, select Show hidden files and folders and non-select Hide protected operating system files (Recommended) then click OK.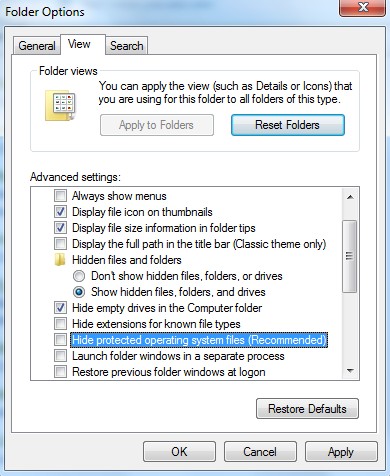 Step 4: Go to Registry Editor. First press Windows+R keys and then type regedit in Run box to search.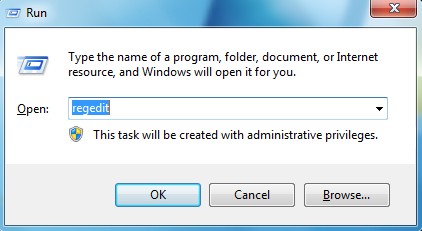 Manual Removal Step by Step Instructions
Press Ctrl+Alt+Del keys together and stop all processes of Disk Antivirus Professional fake AV in the Windows Task Manager.
Open the Registry Editor, search and remove registry entries related to the Malware as we described.
All associated files of the evil virus should be deleted absolutely.
%Desktopdir%\Disk Antivirus Professional.lnk
%Programs%\[random]\[random].exe
%AppData%\[random]\[random].exe
Manually clean out all registry entries created by the Scam
HKCU\Software\Microsoft\Windows\CurrentVersion\RunOnce\[random] %AppData%\[random]\[random].exe
HKCU\Software\Microsoft\Windows\CurrentVersion\Uninstall\[random].exe
HKCU\Software\Microsoft\Windows\CurrentVersion\Uninstall\DiskAntivirusProfessional\DisplayIcon %AppData%\[random]\[random].exe,0
HKCU\Software\Microsoft\Windows\CurrentVersion\Uninstall\DiskAntivirusProfessional\ShortcutPath "%AppData%\[random]\[random].exe" -u
Video Guide on How to Remove Disk Antivirus Professional Virus
Up to now, you must realize once Disk Antivirus Professional Virus sneaks into a computer system it affects efficiency and performance of the system as it would continue to block several executable programs and label them as being infected with malicious programs. This fake antispyware would perform fake scans and periodically pop up fake alerts to scare the PC user into thinking that their PC is facing serious threats. And you can remove it from your computer by following the guides above. But if it has changed all infections on your computer then it is more hard to deal with the hoax. So double thoughts before the play.
Tips: If you haven't any knowledge about computer and don't want to make things worse, please contact YooSecurity PC expert 24/7 online in time for help to completely get rid of Disk Antivirus Professional virus from your laptop or desktop.

Published by Tony Shepherd & last updated on March 8, 2013 8:21 am