Can't remove "AVASoft Professional Antivirus" Firewall alert from Windows 7 and Windows 8? Antivirus applications belong to computer tools which provide services to prevent viruses from attacking computers. It's very common that there are antivirus programs on computers from different areas. However, does it mean that the more antivirus programs you have, the better protection your computers will be receiving? Do you not care at all when there's unfamiliar antivirus showing up on your computer like this AVASoft Professional Antivirus? One should know that there is a kind of PC software that has the appearance of antivirus but doesn't protect computers from viruses. It's fake antivirus software and is here to scam money! One should get rid of this rogue antispyware ASAP!
What is "AVASoft Professional Antivirus"? Real Or Fake?
AVASoft Professional Antivirus may look like a legit antivirus software to you but it isn't friendly at all! Even though this application has the similar look with other real antivirus programs, it's indeed created by PC attackers in order to scam money from its victims all around the world. This unwanted software can be categorized as a rogue antispyware which will bring many troubles to the infected computers and annoy the PC owners from different aspects. Similar to Win 7 Security Cleaner Pro Virus, it has managed to tricked lots of computer users with its deceitful appearance even if it's just been released for a couple weeks. Also, there hasn't been any antivirus software that can successfully get rid of this stubborn program. For one reason, AVASoft Professional Antivirus virus is created by PC hackers who are very good at computers and programing. Even though it's been out there to attack computers for a while, it hasn't been caught by real antivirus due to its abilities to change and update as time goes by. Why do we say that this rogue software is out there to help PC hackers scam money? Dressing up like a legit antivirus, AVASoft ProfessionalAntivirus tries to force its victims to purchase it's registered version in order to help them remove all the detected troubles in their computers. However, there isn't any registered version of it!

Have you ever wondered why this AVASoft Professional Antivirus unwanted software appears on your computer? Did you ever get permission for its installation? It is believed that this infection can be caused by several reasons including: 1) viewing porn sites or movies online which have been hacked by PC hackers; 2) sharing files or programs from removable devices; 3) installing unfamiliar free software that might have been bundled with this nasty program; and 4) being redirected online to hacked web sites where viruses are hidden beneath. In other words, the infection of this AVASoft Professional Antivirus is due to your non-behaved online activities. Computers easily get compromised by these activities and viruses will be able to seize their chances to sneak inside without consent from the PC owners.
Once this rogue software manages to get into a computer, it will pop up out of nowhere and start a scanning process automatically which you can't seem to stop successfully. During the scanning process, it will report many kinds of errors, viruses and security loopholes ect. to you trying to convince you that your computer is not in a very good situation. However, you won't be able to get the same or similar detections from other antivirus applications you have also installed on the same computer. Without any hesitation, you might want to get rid of these problems using this AVASoft Professional Antivirus software. This is when this software will require you to sign up and pay for its registered version so that it can provide the full removal and future protection as well. One may think that it's okay to have another antivirus software in his/her computer. And besides, this antivirus can help get rid of these detected problems. But the fact is, you won't get any registered version of antivirus software once you pay; neither can you remove all these detected problems because they don't even actually exist! These scanning reports are believed to be created together with this AVASoft Professional Antivirus program. They do not tell the truth about your computer. Therefore you don't have to believe anything this program tells you. All it tries to do is to force you to pay online for its unreal registered version.
Notice: Have no idea on how to remove this unwanted software from your computer since real antivirus programs have failed to do the job? Cannot seem to stop this program from popping up constantly? Contact YooSecurity Online PC Expert right away for some assistance if you don't know how to remove AVASoft Professional Antivirus rogue program. Manual removal will be suggested here as it's guaranteed on a complete removal (advanced computers skills required).


AVASoft ProfessionalAntivirus Rogue Screen-shot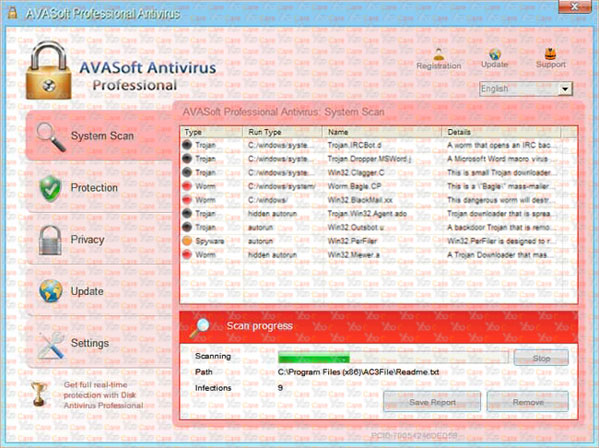 Warning! The site you are trying to visit may harm your computer!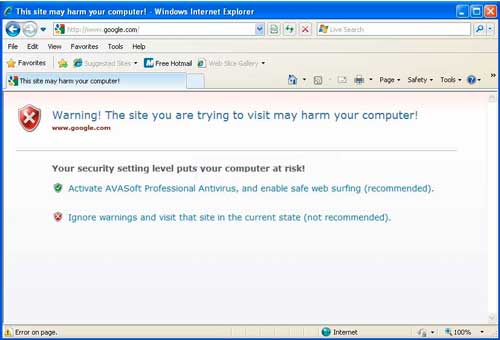 AVASoft Professional Antivirus Firewall has blocked a program from accessing the internet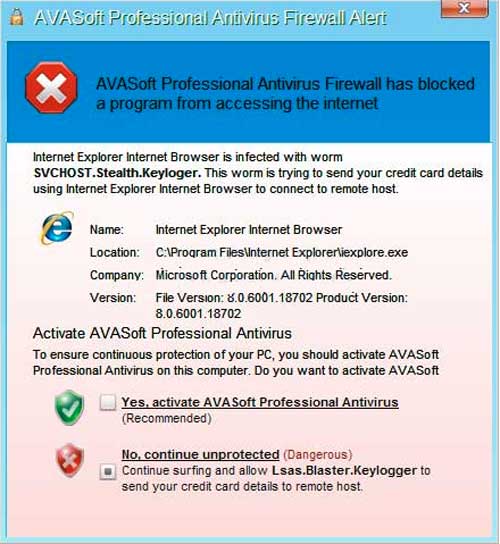 AVASoftProfessionalAntivirus Rogue Antispyware is Hard to Remove
The hackers distribute this virus through a variety of different methods. They infect several sites with the virus and place the virus within download links making it take just one click for the visitors PC to become infected. These sites include file sharing sites and other sites that they build claiming free downloads, but the downloads only contain the AVASoft Professional Antivirus computer virus. Another popular way that they spread the virus is through mass email campaigns. The SPAM millions of emails and each message contains an attachment that contains the virus. If the recipient opens the attachment the virus will become installed on their computer. When they send out the huge volume of emails they are bound to get some unsuspecting individual that will open the attachment because they simply do not know any better.
Consequences brought up by this nasty program:
A) AVASoft Professioinal Antivirus virus will change the operating environment for its own good which might at the same time disable some functions of the computer;
B) One may not be able to access the computer when it's running a scan through the computer forcibly;
C) False reports and fake security alerts will keep popping up on the screen making it impossible to use the computer properly;
D) System will become more vulnerable as the program stays longer and other viruses and malware could be brought inside;
E) Personal privacy may be affected as well.
Immediately after the AVASoft Professional Antivirus computer virus is installed it unpacks in a folder and configures itself to launch right at the start up. If the computer is shut down and restarted the message will pop up again and continue to do so until all of the virus files are removed. The message that the virus displays is:
Security Monitor: WARNING!
Attention! System detected a potential hazard (TrojanSPM/LX) on your computer that may infect executable files. Your private information and PC safety is at risk.
To get rid of unwanted spyware and keep your computer safe your need to update your current security software.
Click Yes to download official intrusion detection system (IDS software).
Spyware.IEMonster activity detected. This is spyware that attempts to steal passwords from Internet Explorer, Mozilla Firefox, Outlook and other programs.
Click here to remove it immediately with AVASoft Professional Antivirus.
AVASoft Professional Antivirus Firewall Alert
AVASoft Professional Antivirus Firewall has blocked a program from accessing the Internet.
Internet Explorer Internet Browser is infected with worm SVCHOST.Stealth.Keyloger. This worm is trying to send your credit card details using Internet Explorer Internet Browser to connect to remote host.
AVASoft Professional Antivirus Warning
Some critical system files of your computer were modified by malicious program. It may cause system instability and data loss.
Click here to block unauthorised modification by removing threats (Recommended)
AVASoft Professional Antivirus Warning
Your PC is still infected with dangerous viruses. Activate antivirus protection to prevent data loss and avoid the theft of your credit card details.
AVASoft Professional Antivirus Warning
Intercepting programs that may compromise your privacy and harm your system have been detected on your PC.
Click here to remove them immediately with AVASoft Professional Antivirus.
Are you still looking online for a better software hoping to remove this unwanted AVASoft Professional Antivirus virus? It is believed that this rogue software could stop real antivirus from functioning well. Hence, one should stop searching online for another program while having the risks to come into another malware. What's more, it blocked your access to the internet.
Easy Way to Remove AVASoftProfessionalAntivirus Spyware
There is a way to stop the fake alerts from popping up and locking the computer. Type in the activation code: AA39754E-715219CE and this will stop the alerts, although the virus will remain. It is important that all of the AVASoft Professional Antivirus computer virus files are removed manually to make sure that the system is completely cleaned out. Follow the manual removal instructions located below in order to get rid of this attack.
Step 1: Try to plug out the internet cable then restart your computer normally. After you can see the desktop, plug in the cable again. If the virus doesn't pop up, you can continue from step 3. (If it's wireless connection, turn off/on instead of plugging in/out cable)
Step 2: If you can't seem to be able to access any applications under regular mode instead of getting this unwanted pop up constantly, please restart the infected computer and put it into Safe mode with Networking before processing step 3. To do this, please keep pressing F8 key before windows launches until you get there shown as below(If your OS is Windows 8, please check here for details).: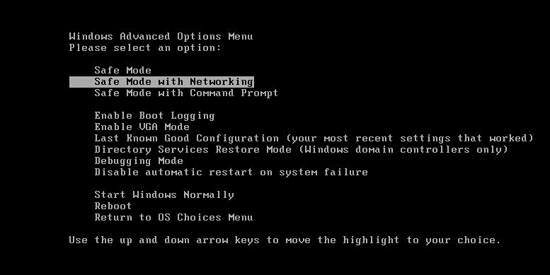 Step 3: Press Ctrl+Alt+Del keys to open the Task manager to stop the progress of Fake AVASoft Professional Antivirus Virus. Because the name will be changed fast, it will be displayed with different names with random letters.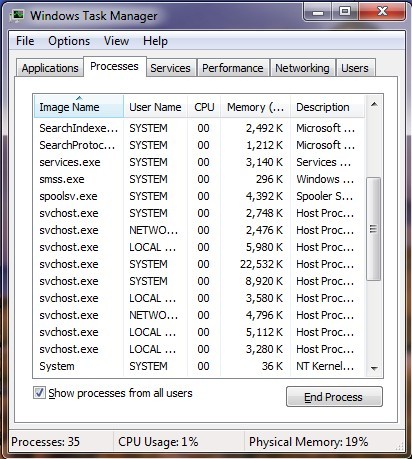 Step 4: Delete all the files related to AVASoft Professional Antivirus malware
%AppData%\Programs\[]"rnd"
%AllUsersProfile%\Application Data\""
%AllUsersProfile%\Application Data\""[]
HKEY_CURRENT_USER\Software\Microsoft\Windows\CurrentVersion\Run "[rnd].exe"
HKEY_CURRENT_USER\Software\Microsoft\Windows\CurrentVersion\Settings "rnd"
HKEY_LOCAL_MACHINE\SOFTWARE\Microsoft\Windows NT\CurrentVersion\Winlogon\Shell ""
Step 5: After you are done in searching for the registry items, the next step you need to do is to reboot your personal computer back to regular mode. This is the time where you can already use your computer free from AVASoft Antivirus Professional rogue software. Once you notice that there are still some registry entries related to malware that haven't been detected, this is also the time you need to do the entire process all over again.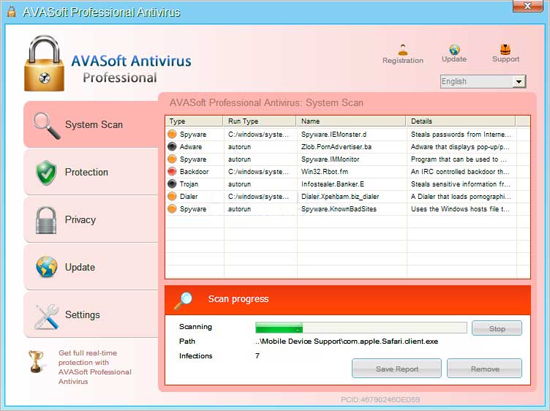 Video Guide to Remove AVASoft Professional Antivirus Fake AV From Registry Editor
Please bear in mind:
The AVASoft Professional Antivirus computer virus is an attack that disguises itself as a real antivirus program that claims that it has detected potentially harmful malware on the PC. It will list several fake viruses and label them as threatening, causing the computer user to want to immediately remove them from the computer! It then tells the user that they must pay money to register the anti-virus software before it will remove the detected PC threats. Knowing that this is a virus attack, it is obvious that this is an attempt to extort money from unsuspecting computer users by scaring them into believing that they have a security threat that needs to be addresses right away.
The AVASoft Professional Antivirus computer virus is a complete scam and it should not be taken seriously. The alerts and viruses that it warns the user about are completely false. The hackers are attempting to get credit card details from the user and this can lead to identity theft and fraud. If for some reason you were scammed and submitted payment information it is important that you contact your credit card company ASAP to dispute the charge and make sure that they cancel that card and issues a new one. It would also be a good idea to contact the major credit bureaus and place an identity theft warning on your file. These precautions could help prevent a potentially bad situation in the future.
Special Tips: If you have no idea to get rid of AVASoft Professional Antivirus virus completely from your computer, contact YooSecurity experts 24/7 online in time for professional service to make your computer green.


Published by Tony Shepherd & last updated on April 2, 2013 6:09 pm