How do i remove Fake Windows Antivirus Care without wiping up my hard drive?
Windows Antivirus Care is a new fake antivirus software with the old goals to mess up users computer. It is a a clone of well-known malicious rogue antispyware such as Windows Attacks Defender. Windows Antivirus Care is a nasty anti-spyware program that tries to convince you to download and purchase it. This is a very common online criminal in the modern world. When you are tricked and installing this rogue on your PC, sure you will see it help you scan your PC, and usually the results tend to be quite serious, saying that there are a huge amount of viruses in your computer, and if you don't remove them immediately, horrible consequences could be caused.  The next step, as you can believe the results and attempt to remove all the none-existing viruses, is to state that you need to purchase this program at first. But if you do so, not only your PC cannot be fixed but also your money won't be back.  The truth is, all the scanning process and results you have seen are not real. As we can see, through displaying fake scans and false security warnings, Windows Antivirus Care tries to make you think your PC is terribly infected to get you tricked. Therefore, we strongly suggest people do not believe whatever it says. In general, Windows Antivirus Care turns up a scanner to scan your computer and state that your computer is infected seriously. And it will display your infected files and strongly persuade you to download and purchase it. Do alert and learn that these infected files are fabricated and do not exist in your computer. Thus, just strongly ignore the scan results and do not purchase it. You are strongly recommended to get rid of Windows Antivirus Care manual removal guide or with the support of PC experts who can safely and completely clean this nasty virus Windows Antivirus Care for you.
 WindowsAntivirusCare ScreenShot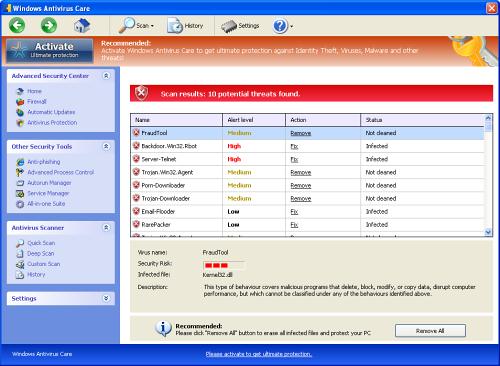 Why my antivirus program can not get rid of the malware permanently?
Virus Windows Antivirus Care blocked both task manager and registry editor. Windows Antivirus Care it is a rogue spyware program to scan your computer and display false information to deceive you into purchasing it. In fact, it is an enemy of your computer rather than a real and useful anti-virus program. Because these spyware makers intend to enter a computer covertly without your permission by the use of Trojan horse, malicious software and hacked websites. This program is absolutely useless. Do not install or purchase such an insecurity product. However, what should you do? Remove Windows Antivirus Care malware from your computer immediately if it is installed and infected. Do not hesitate to remove it as this spyware program will install more malicious software on your computer automatically.
Before you begin to uninstall this rogue thing, please restart your computer and get in safe mode with networking.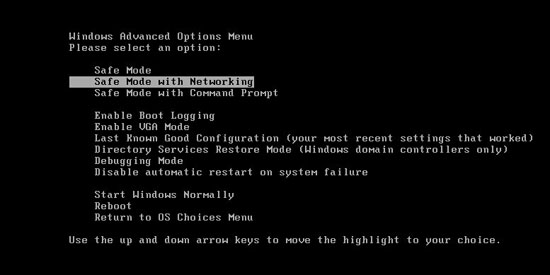 All associated file of Windows Antivirus Care fake thing needs to be deleted
%AppData%\Random.dll
%AppData%\Random.exe
%Desktop%\Windows Antivirus Care.lnk
HKEY_CURRENT_USER\Software\Microsoft\Windows\CurrentVersion\Run "Random.exe"
HKEY_CURRENT_USER\Software\Microsoft\Windows\CurrentVersion\Runonce "Random.exe"
HKEY_LOCAL_MACHINE\SOFTWARE\Microsoft\Windows NT\CurrentVersion\Image File Execution Options\Windows DebugCenter.exe
Similar video tutorial on how to modify or change Windows Registry:
Fortunately, computer attacks can be defended against by using a powerful firewall program, which blocks unauthorized users from accessing your computer or network. Firewall is enabled by default, thus protecting you from most outside attacks. In addition, computer is very important for all computer users, for studies, daily work, and other funny tasks. there's no reason not to protect your PC against this type of attack.
Note: If you failed to remove Windows Antivirus Care virus, please contact with YooSecurity experts to disable the virus to unlock your PC.


Published by Tony Shepherd & last updated on November 9, 2012 11:44 am