Have you heard of Ministère de l'Intérieur Ukash Virus? Your computer has been locked by France Ministère de l'Intérieur Virus? Can the France Ministère de l'Intérieur Virus lock my computer until i pay 100 euros by Ukash or Paysafecard? Of course, it can. All of a sudden this morning I received a bunch of mail failure emails and someone has been using my address to send spam email,is this from that virus? How to remove Ministère de l'Intérieur ransomware  from computer and unlock it completely?

France Ministère de l'Intérieur Scam Blocked Computer and you are asked to pay €100 to unlock it via Ukash or Paysafecard?
France Ministère de l'Intérieur Virus is variant of the infamous Ukash virus family. You keep getting the warning pop-up that blocks your computer once it loaded onto your system. Recently, quite a lot PC user receive alerts on the computers like this: "The computer is for violation of the laws of the Federal Republic of French has been blocked." Or "Ministère de l'Intérieur ransomware". If you receive such message on your computer then it must be affected by virus. It is strongly recommended that you do not follow any instructions in the message and clean up the virus immediately. This virus is going to block your PC screen even PC system in order to cheat people for its evil purpose—money, important personal information, bank account and more.
Normally, France Ministère de l'Intérieur Virus lurks in malicious websites, advertising pages or some malware for your visiting or download. When you drop into these traps, they will ransom you for money time and time again until you are collapsed. It seeks for all sorts of means to access people's computer. Therefore, to prevent attacking from France Ministère de l'Intérieur warning Virus, you had better cultivate a good habit of surfing the Internet. Please remember that do not visit any porn, gambling or drug website. The computer that is infected with the virus isn't even really working at this point. When you sign in, the virus automatically pops up and it won't let you go anywhere. You do have anti-virus programs installed, but they found nothing. So the best efficient way to save your computer is manually remove Ministère de l'Intérieur Virus and unlock your computer.
To save your computer, Live Chat with YooSecurity Expert Now. You can follow the manual removal guide below to get your problem fixed. (For advanced computer users)

ScreenShot of Ministère de l'Intérieur Virus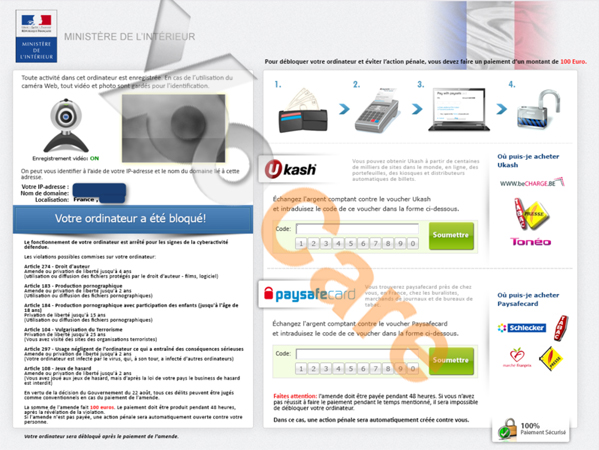 Symptoms or Harmfulness of France Ministère de l'Intérieur Virus Scam
1. To unlock your computer you are obliged to pay a fine of 100 euro within 48 hours.
2. The fine must be paid with the help of Ukash or Paysafecard system.
3. To pay the fine you should enter digital code which is located on the back of your Ukash or Paysafecard in the payment form and press OK (if you have several codes, enter them one after the other and press OK).

4.  Ministère de l'Intérieur lock screen virus can lock your computer and you can't run normal applications.

You can buy card at the nearest stores: Walgreens, Kmart, Walmart, CVS/pharmacy, SevenEleven, Rite Aid and etc.
Ministère de l'Intérieur Virus Locked Your Computer Asking For 100 Euros?
Have got this  French police virus warning on my screen telling me i have to pay 100 euro within the next 48 hours or else ill have criminal charges against me. is this true? Any idea how i got this french ukashVirus? When viruses install on your computer, they always add some entries into the Registry of your system. When i first got this infection i was stupid enough to pay the fine that it told me because i freaked out and did not want a criminal charge on me. I thought this thing was legit. It looks so real I did not want to take the chance. That is really pain many people gave money to the scam. Recently, there is no anti-virus can handle this latest scam malware therefore the only effective solution is manual removal. So manual removal is the best way to remove Ministère de l'Intérieur virus permanently from your PC.
Best Way to Remove France Ministère de l'Intérieur Ransomware Malware Virus Scam Efficiently
I have got the ukash virus on my computer when i was trying to watch live cricket, it has locked my computer and is asking for payment of euros 100. What to do if you get caught in a French Police Ukash Virus? YooCare experts can plan out a solution to access your computer in safe mode with networking at first. When it's possible to do that, their experts will do as follows:
Step A: Restart computer in safe mode with networking. To do this, just need to press F8 key before the system is started like this: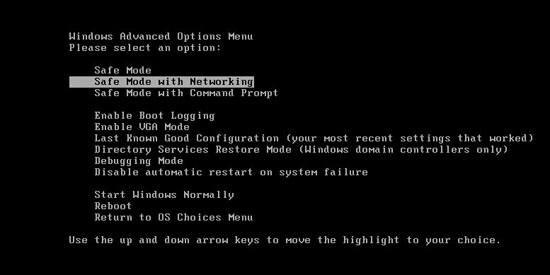 Step B: Press Ctrl+Alt+Del keys to open the Task manager to stop the progress of French Police Ukash Virus. Because the name will be changed fast, it will be show with different name.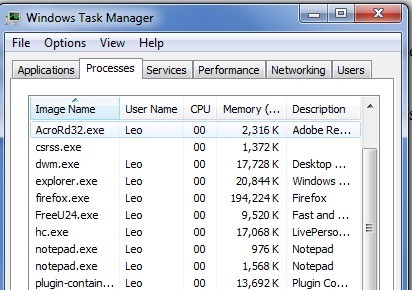 Step C: Delete all the files related to French Police Ukash Scam.
Step D: Delete French Police Ukash Scam register entries created in computer system.
By the way: Woke up to find out France Ministère de l'Intérieur Virus screen saying to pay a fine of 100 euro within 48 hours? I don't think it's legit or is it? It is fake. Manually remove French Police Virus is a rather difficult work, if you are not a professional computer expert. We recommend you to get YooCare online service 24/7 in time. This is the real fastest and safe way to remove it.
Video Guide to Remove French Police Warning Virus
NOTE: This is a big virus that locked your computer asking for 100 euro payment to unlock your computer. I had that lovely France Ministère de l'Intérieur Virus hit a computer I was on and I need assistance going through this. One of the victims said:"I was on youtube watching some videos and an ad popped up so i clicked X or i thought i did and then a white screen popped up then it said FBI locked your computer you have 48 hours to pay 100€ on Ukash or Paysafecard, i was scared so i immediately shut down my computer and havent turned it on since. do you know what i should do?" I don't exactly know the removal steps so i just looked it up and seek for help after i turned it off. Well, it is a fake french police ukash virus must be removed manually with expertise as it totally locked up your computer.
Special tips: Spending a lot of time fixing your computer with no success and don't want to make things worse? Contact experts now to unlock your computer and remove France Ministère de l'Intérieur Virus safely and completely.

Published by Tony Shepherd & last updated on June 4, 2013 3:37 am