Why i got this "Sorry, Netflix is not available in your country yet" alert? I recently traveled to China on a business trip and I found a lot of websites that we take for granted in all other parts of the world are blocked in China including Netflix. Each time I opened the Netflix app or Netflix website in China, I just got a notice like "Sorry, Netflix is not available in your country yet" on my screen. Why Netflix is not available in China? How can I fix the error and access my favorite Netflix series in China? Any help will be highly appreciated.

About Netflix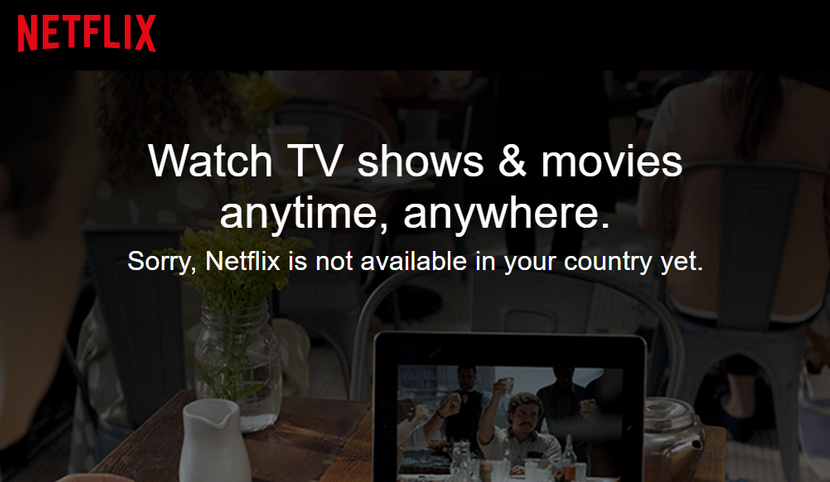 Netflix comes out on top in the battle of the streaming video services. Found in 1997, Netflix has started its service for over 20 years and now it has become one of the biggest names in entertainment, producing critically acclaimed TV shows, movies and hosting original comedy specials. The reason why Netflix is popular is it is a good platform providing plenty of movie resourses and offering up a wide range of content across every genre you can imagine. Netflix's library always contains a broad range of hit movies and shows from major networks. From full seasons of today's hottest TV shows to classic movies, Netflix has more entertainment than you could ever possibly watch. On top of that, Netflix is available on virtually any device that has an Internet connection, including personal computers, tablets, smartphones, Smart TVs and game consoles, and automatically provides the best possible streaming quality based on available bandwidth. As the world's leading Internet television network, Netflix has nearly 150 million subscribers in over 190 countries nowadays. Therefore, whether you're commuting to work, traveling the globe, or moving to a new home, you can make Netflix a part of your journey and watch as much as you want, anytime, anywhere, on nearly any Internet-connected screen.
Is Netflix Available in Every Country?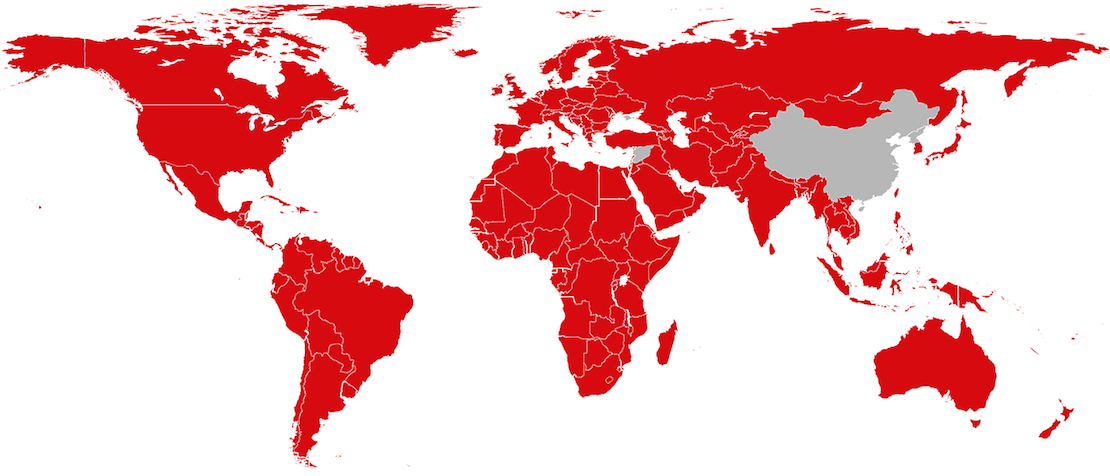 Unfortunately no. Netflix was previously available in 60 countries. The company's expansion in global territories started with Canada and has accelerated across Europe, Asia and Latin America during the past few years, coinciding with the dramatic increase in the volume of original programming it serves up. Until now, Netflix has brought its Internet TV network to nearly 200 countries and territories around the world. However, Netflix hasn't been available in China yet, though the company continues to explore options for providing the service. It is also unavailable in Crimea, North Korea and Syria due to U.S. government restrictions on American companies. As a result, watching Netflix in these countries is virtually impossible because of Netflix's geo-restricting policies. Any attempt to access the Netflix library of shows will be met with the following error message:
"Sorry, Netflix is not available in your country yet"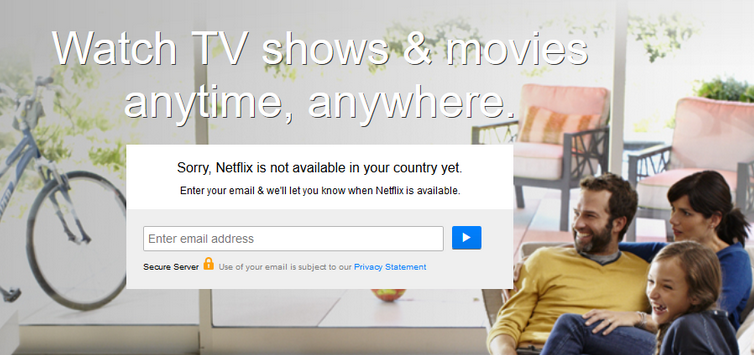 Due to the "Sorry, Netflix is not available in your country yet" message, you cannot access your favorite movies and TV shows as usual whenever you open Netflix website or its app. The page only leaves you the only option to enter your email address and Netflix will let you know when its service is available in your country. Actually this error message appears because your IP address doesn't correspond with one of the countries where Netflix is available. If you are searching for the best way to bypass the message and access Netflix from anywhere of the world, just keep reading and you'll soon discover all the solutions available on how to fix "Sorry, Netflix is not available in your country yet" message.
How to Fix "Sorry, Netflix is not available in your country yet" Message?
If you're a fan of Netflix and you want to access TV shows and movies that are not viewable in your own country, the only thing you need to do is to trick Netflix into thinking you are in a different region where Netflix is available, such as the US, which allows you to access a better variety of content. To do this, you need to change your IP address first. The most common ways that help you change the IP address is to use a proxy or a VPN. They both allow you to appear as if you are connecting to the internet from another location.
Use a Proxy:
The simplest way to access Netflix in unavailable countries is to use a proxy server. This method is free of charge. Basically, a proxy server is a server that acts as a middleman in the flow of your internet traffic, so that your internet activities appear to come from somewhere else. For example you are physically located in China and you want to watch videos on US Netflix that is geographically restricted to only people located in the United States. You could connect to a proxy server located within the United States, then open Netflix again. The traffic from your web browser would appear to originate from the remote computer and not your own. Proxies are ideal for basic functions like anonymous web browsing and managing (or circumventing) content restrictions. They hide your IP address so that Netflix does not realize that you have a restriction in your region. Unfortunately, as always, you get what you pay for. Most proxy servers won't have encryption, so your data can be intercepted, and using a proxy may lead to poor performance. High ping times and other traffic on the proxy server can cause web pages to load slowly. And the worse is this method sometimes doesn't work because Netflix can detect you are using a proxy and give you another warning message like this: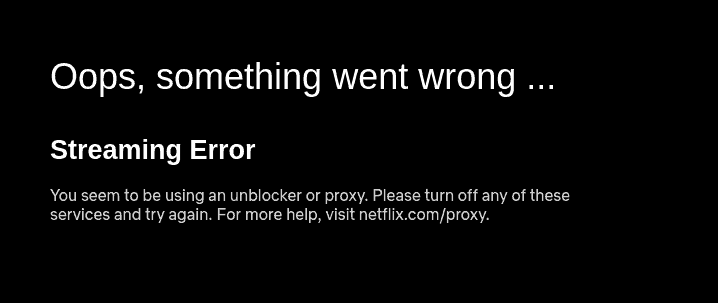 Use a VPN: (Recommended)
Unlike a proxy, which only secures your web browser or BitTorrent client, a VPN (Virtual Private Network)  will capture the traffic of every single application on your computer, from your web browser to your online games to even Windows Update running in the background. It provides end-to-end encryption and gives you a higher degree of privacy. VPN services allow you to use servers in different locations to work around content restrictions. With a VPN enabled, Netflix can't recognize your real location and all the incoming and outgoing data are encrypted while you are watching Netflix video is your country. Therefore, you can easily fix "Sorry, Netflix is not available in your country yet" message. In addition, it gives you complete anonymity so you never have to worry about crappy Wi-Fi/network security practices at coffee shops or that the free internet at your hotel is full of security holes. You'll get additional security features like private DNS, DNS leak protection, and NAT firewalls from some top VPNs.


Best VPNs that Works with Netflix
In the recent years, Netflix started cracking down on the use of VPNs and proxies to access its streaming content. As a result, many VPNs no longer work with Netflix. That's a headache for most expats or travallers who are living in a country where Netflix is not available. However, thankfully there are still a few top VPN services that work well with Netflix, and now have a proven track record of circumventing Netflix's blocks regularly. In this article, we'll list those working VPNs and help you choose the right one to fix "Sorry, Netflix is not available in your country yet" error on Netflix.
1. ExpressVPN
If you want the assurance of your VPN always working with Netflix in any country, ExpressVPN is the safest bet. It offers 24/7 access to Netflix, along with the best performance (speed and reliability) for HD streaming. It also does very well in the areas of security and online anonymity, with maximum encryption and excellent privacy features like Split tunneling, Kill switch, DNS/IPv6 leak protection, Zero-knowledge DNS, No Logging Policy, 256-bit AES encryption and more.  ExpressVPN has 3,000+ VPN servers in 160 VPN server locations in 94 countries. Among such a huge number of networks, there are a handful of servers that work well with Netflix. With ExpressVPN, you can get rid of "Sorry, Netflix is not available in your country yet" message even when you are in China. ExpressVPN provides access to American Netflix, UK Netflix, and Canada Netflix. You also can rest assured that your data won't be read, hacked, or stolen by your ISP, the government, or malicious entities.
The price of ExpressVPN starts with $12.95 per month, which is a bit higher than their competitors. However, the service is offering a flat 49% discount on its yearly plan with further 3 months free now. Concisely, ExpressVPN is offering 15 months package at the price of $99.95, equivalent to paying $6.67 per month. Even better, ExpressVPN offers a 30 days money-back guarantee. If you are not satisfied with the service, you can always get a refund. No questions asked. Get the best all-round Netflix VPN for security, speed, and unblocking!


2. NordVPN
NordVPN is another good choice for accessing different Netflix regions around the world thanks to its ease of use, excellent security and wide server network. The service is based in Panama which has some of the best privacy laws in the world, ensuring the no-logs policy can be adhered to. Currently, NordVPN provides over 5600 VPN servers in nearly 60 countries across the world. As one of the top VPNs, it gives you advanced security features like Kill Switch, CyberSec, DNS Leak Protection, Double VPN, Onion Over VPN, SmartPlay to protect your privacy. Our testing has indicated that NordVPN gives you access to American Netflix, Canadian Netflix, and UK Netflix through country-specific servers without showing you any proxy error. Additionally, NordVPN provides access to Netherlands Netflix and France Netflix with some servers.
NordVPN pricing is quite flexible. Their 1-month plan is available for $11.75, but if you pay a year upfront, you will get a significant discount. NordVPN also offers 2-Year Plan and 3-Year Plan. The longer you pay, the better value you get. You can get its 3 years plan with a price of $2.99 per month. That means you can enjoy online anonymity for 3 years by paying $107.55 only. NordVPN offers a 30 day money-back guarantee. This gives you plenty of time to test NordVPN with Netflix to make sure everything works well. Don't hesitate to give it a shot now!


3. VPNArea
VPNArea is a Bulgarian VPN provider with hosting in Switzerland. It is not as large as ExpressVPN or NordVPN, but it also has a great selection of servers around the world, providing dedicated Netflix server hubs to give you full, unrestricted access wherever you're located. It's also a great VPN for torrenting, with numerous P2P-designated servers that offer excellent performance for large downloads. VPNArea has applications available for every single major device, including Windows, Mac, Android, and iOS, and includes detailed setup guides for routers and other devices. Whatever device you are on, you can enjoy a lengthy list of appealing features. VPNArea comes with self-hosted DNS, covers ad-blocking, kill switch and supports for six simultaneous connections.
VPNArea prices are reasonable at around $9.90 per month, $4.92 a month if you pay for 12 months upfront, or $2.99 a month with a 36-months contract. The company has a 'dedicated IP' option which it says provides your own private VPN server from $20 a year extra. There is a 30-Day money-back guarantee on the yearly plan and a 14-day money back guarantee on 1 month plan. No questions asked, try VPNArea risk-free to fix "Sorry, Netflix is not available in your country yet" message.

Top 10 + Best VPN Services Worldwide
View More Top 10 Best VPN Services Here »
Conclusion:
Most people complain that they got "Sorry, Netflix is not available in your country yet" message while they are travelling and they don't know how to fix it. If you are one of the victims who are suffering the problem, you can try the above recommended VPNs to solve the problem. But please remember if you are trying to bypass the message in highly censored countries like China, you should set up your VPN before you go to China. Most VPN company websites and even Netflix official website are blocked in China.

Published by Tony Shepherd & last updated on January 17, 2020 7:27 am