Hi, I have received a worrying notice on my phone and saying "Your device has been locked for illegal pornography, Send email to [email protected] for unlocking'. I'm really worried that its a virus and I don't know how to get rid of it?
With the development of technology, more and more people are using smart phone nowadays. Therefore, those greedy hackers seize the chance and then produce another Ransomware that is mainly used to attack the phone or tablet. This virus can hack to your phone for any reasons. You may get it by clicking malicious code or unsafe advertising pop-ups, visiting pornographic website or opening attachment from spam emails because this virus usually disguises itself as Flash Player app to trick users into downloading. Once downloaded, it rapidly takes over your phone and scrambles your data unless you pay a fee. However, don't be scared for [email protected] virus is just a scam. You will not get any trouble from the real Police Central E-crime Unit, but you have to get rid of it from your phone immediately once upon detection.
When [email protected] Scam Virus attacks Android device, it completely locks your phone or tablet, and then it displays an alert stating that your phone has been blocked up for safety reasons such as viewing or storing prohibited pornographic content (child porn, zoophillia). It also says you must pay a fine about 100 pounds or US Dollar, or you will be accused, also data in your phone will be deleted. In a word, as soon as you power on the phone or whenever you try to unlock your phone, it will not allow you to do that and display this fake message to further scare you to death. Beware that currently there are dozens of Ransomware like that, using a name of police of other institutions to scare computer users and get their money like the Australian Federal Police, Metropolitan Police, U.S. Department of Justice and FBI Virus. They can lock up either a computer or a phone depending on what device you are using. Furthermore, the virus can turn on your camera on your phone automatically as if someone is watching you at that moment but actually no one is really watching you at that moment. To protect against this ransom virus, be careful what you are going to download and open. Also it is necessary to install antivirus app to your phone to block this virus. If your android phone has been locked, please follow the removal guide below.
Kindly Prompt: Please Contact YooCare 24/7 Online PC Expert now if you don't know how to start the removal on your phone.


Similar Screnshot of [email protected] Scam Virus on Mobile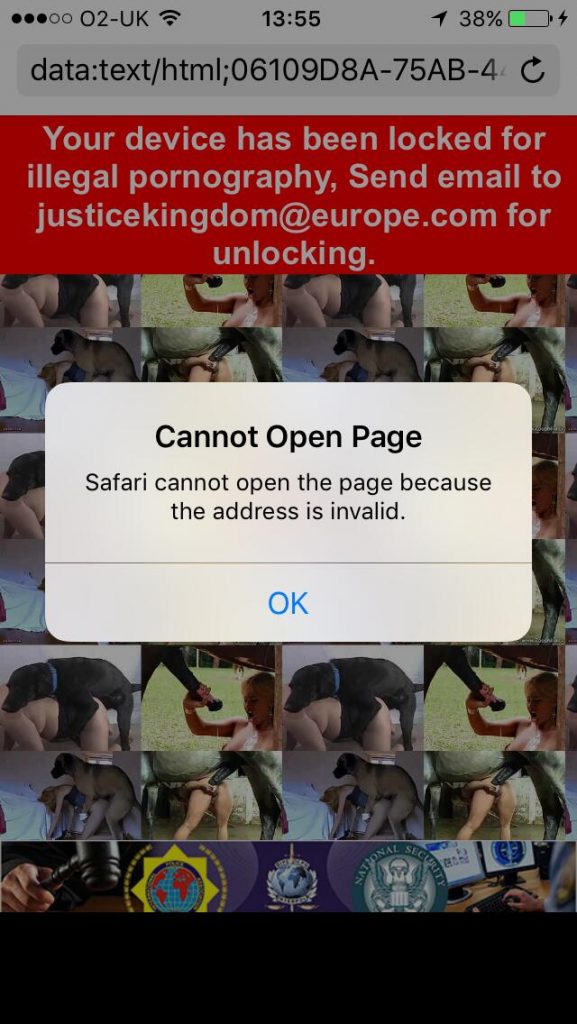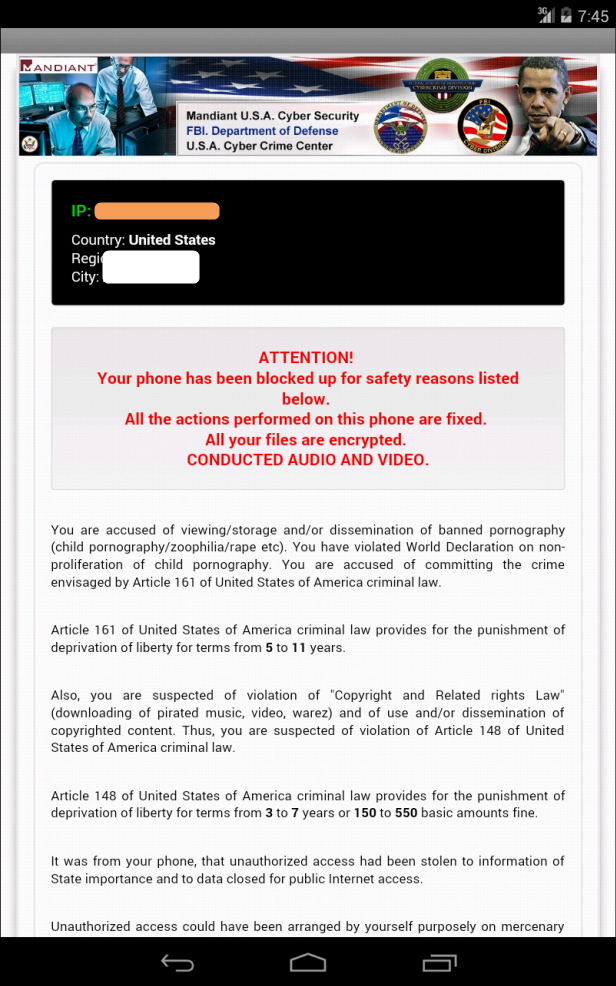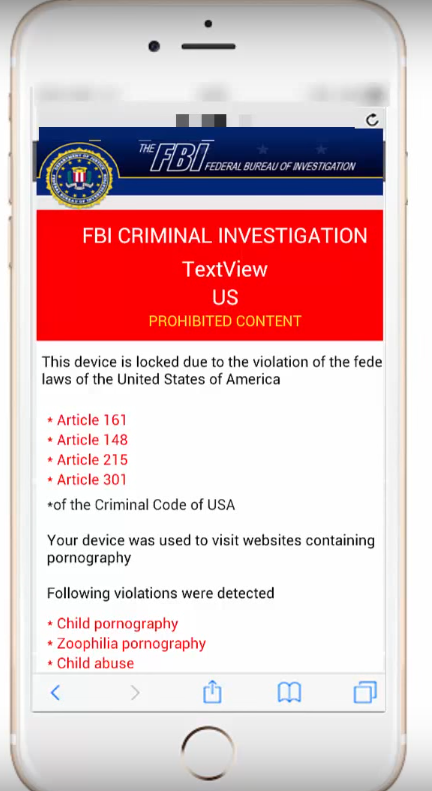 Basic Symptoms and Potential Risks of This Virus
1. It can be added to Internet browser, safari or Google Chrome browsers without your notification.
2. Your browser has been blocked and you can't do anything on it.
3. It can be installed on your mobile phone or tablet slightly.
4. This virus can introduce various infections and unwanted programs onto your system.
5. It can investigate your browsing behavior and gather your input information online.
6. It is also responsible for collecting mobile user's private information like IP address and online traces for unethical using of online marketing.
Note: If one of symptoms mentioned above is found in your device, then you must know that your device is being attacked by the virus. Since the virus is so dangerous, once your phone is infected, you should take actions to delete the hijacker. If you are not a mobile expert, in case you lose your important data or damage your system, please welcome to contact Yoocare/Yoosecurity Online Expert for help now!
Manually Removal This Virus
Step 1: Put your Android device into safe mode. This prevents any third-party apps running, including any malware.
There are too many brands of android devices in the world, so the way to get the safe mode can be various. We will only take a group of them as examples, if you can't follow the tips to get the same mode on your device, please go online to find the right way to access the safe mode as the safe mode is premise to remove this infection from your device. (If these doesn't work for your device then you should Google 'How to put [your model name] into Safe mode' and follow the instructions. When in Safe mode you'll see 'Safe mode' at the bottom left of the screen.):
Turn off your device, and then turn it on. When you see a logo appear during boot-up, hold down both the Volume Up and Volume Down buttons at the same time. Continue holding the two buttons until the device boots up with a Safe mode indicator at the bottom-left corner of its screen.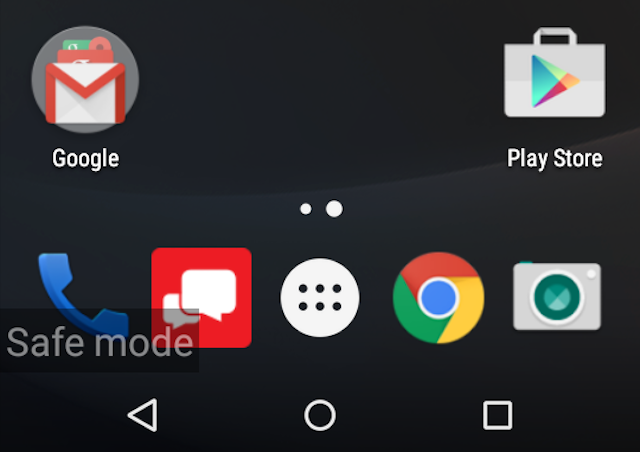 Note:You'll only have access to the apps that came with your device in safe mode. Apps you've installed will be disabled and any widgets you've added to your home screens won't be present, and the virus still keep on your phone and talblet.
Step 2: Remove suspicious file (the file is random change, In order to avoid mistakes damaging on your phone, please ask YooSecurity Online Experts for help). In most cases, this is all you need to do to remove the virus, but occasionally you might find the Uninstall button is greyed out. This is because the virus has given itself Device administrator status.
Step 3: With the virus now off your Android phone or tablet, all you need to is restart the device to take it out of Safe mode. Now that it's working correctly it's a good time to back up whatever important data you have stored on the device.
Now mobile threats are on the rise and [email protected] Scam Virus is considered as one of the most horrible threats that spreads rapidly nowadays. It may come from app downloads or corrupted web pages. Once it is installed, it locks your device and presents you with a message claiming you have committed a crime and therefore must pay a fine to unlock your phone. The hackers have used the same way to trick many innocent users by locking their computers before. Now they turn their eyes on the growing mobile markets and want to get money from mobile phone users. Do not follow the instructions if you see the virus message on your phone, because even if you pay the cyber criminals you will not regain access to your device. Remove [email protected] Scam Virus from Android phone and learn how to protect yourself from this malware are the necessary things you have to do after being hacked.
Note: Manual removal is a skillful and risky job, if any mistakes are made in the process, you may damage your phone/tablet immediately. If you are not sure how to do, please contact YooSecurity PC experts 24/7 online for help right now.

Published by Tony Shepherd & last updated on April 8, 2017 6:30 am