Can your computer be locked by the Politiet Norge Ukash Virus scam asking for 100 euros to unlock PC? Can Politiet Norge Ukash Virus lock my computer asking for 100 euros? Yes, it can. Warning your computer has been blocked for violation of Politiet Norge law. How to stop the Politiet Norge scam?
Your PC is blocked by Politiet Norge Ukash Virus and have to pay 100 euros to unlock it?
 Politiet Norge Ukash Virus is the new variant of the infamous Ukash virus family. It works very similarly like the previous ransomware West Yorkshire Police Ukash virus, RCMP Ukash Virus, PRS for Music Ukash virus and Metropolitan Police Ukash (PCEU). It claims that the alert information is originated from the state organs and blocks your computer so that you can neither search with browser nor run any antivirus to scan your computer to kill it. Every time you start your computer, it launches itself automatically showing you a fake report to confuse you. One situation is like this: the report accuses that you have visited some illegal websites like child pornography websites and your IP address now is under official investigation, such activities violate the law. The purpose of this ransomware is demand for your ransom to unlock the computer.
It is easily to get infected when you are visiting illegal websites and it usually comes with other Trojan viruses. Once your computer is infected, fake alters will keep popping up the screen, warning you the police of Norway has detected through your IP address that you are logging in websites on child pornography and others that are against the law. Therefore the computer has been locked in order to prevent you from visiting illegal pages and you should accept the penalty and pay for it. Since this ransomware is run in the name of the police of Norway, most people will fall for it. But unfortunately, even though you are willing to pay for the fake penalty without any doubt, your computer won't be getting better as you wish. So the only best way to save your computer is manually remove Politiet Norge Ukash virus and unlock your laptop/desktop with expertise.
To save your computer, Live Chat with YooSecurity Expert Now. You can follow the manual removal guide below to get your problem fixed. (For advanced computer users)

ScreenShot of Politiet Norge Virus – Fake Ukash Warning Virus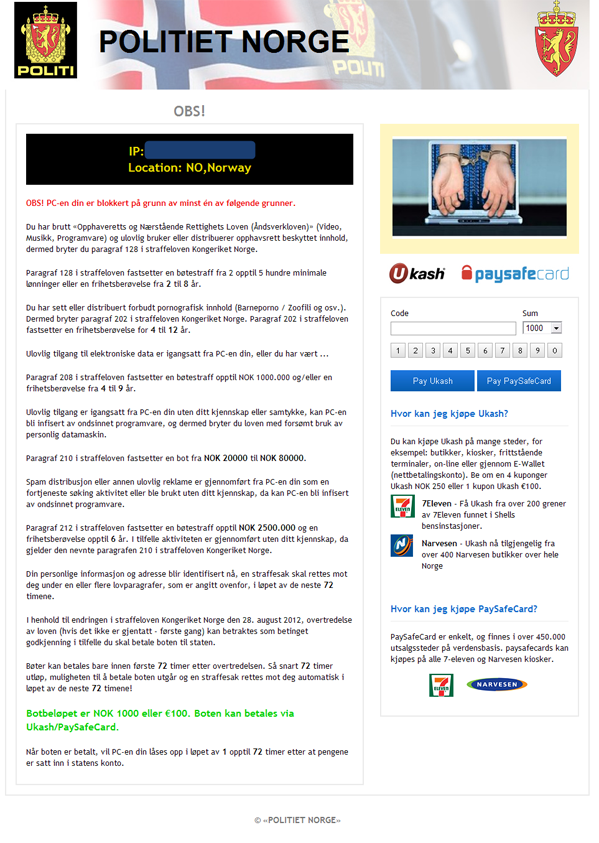 Symptoms or Harmfulness of Politiet Norge Ukash Virus
Attention! IP blocked by the fake Politiet Norge virus. Your PC is blocked due to at least one of the reasons specified below.
? Warning that you have been violating Copyright and related rights Law(Video, Music,Software) and illegally using or distributing copyrighted content, thus infringing article 128 of the Criminal Code of the Norway.
? It can lock your computer and telling you have been viewing or distributing prohibited pornographic content(Child Porno/Zoofilia and etc). Thus violating article 202 of the Criminal Code of Norway. Article 202 of the criminal provides for deprivation of liberty for 4 or 12 yours.
? Illegal access to computer data has been initiated from your PC,or you have been…. Article 210 of the Criminal Code provides for a fine of up to NOK $100,000 and/or a deprivation of liberty for 4 to 9 years.
? Illegal access has been initiated from your PC without your knowledge or consent, your PC may be infected with malware, thus you are violating the law On Negiectful Use of Personal Computer. Article 210 of the Criminal Code provides for a fine of NOK $2,000 to NOK $8,000.
What can Politiet Norge Ukash Virus Scam do on my computer? Keep getting locked up by a police warning and asking me to pay.
Politiet Norge Ukash Virus mainly spreads via Trojan on unsafely websites, email virus, and other malicious software. Such kind of virus spreads in one country at the beginning, then from a country to another with a clone version. Politiet Norge Ukash Virus has an interface with Belgium official style and language.  It accesses your computer via various routes to capture your computer. It results in improper function of system to ransom you for money. Some PC owners who have little experience may be deceived by such malware. Even if you pay for the ransom, you will get nothing but just lose your money and make a chance to enable cyber criminals to gain remote access to the compromised PC system. It must be remove as soon as possible in order to protect your system performance getting to be worse. Recently, there is no anti-virus can handle this latest scam malware therefore the only effective solution is manual removal. So manual removal is the best way to remove Politiet Norge Virus virus safely and completely from your PC.
Best Way to Remove Politiet Norge Ukash Malware Efficiently
Politiet Norge Ukash Virus comes from the dangerous group of ransomwares which is designed to lock your computer. Since Politiet Norge Virus captures your computer system, no antivirus can remove it safely and completely. In this situation, you have two normal choices to solve your problem. If you are confident enough about your computer skills, you can remove it by yourself. The fastest and best way is to maintain your computer online via expert workers. YooCare/YooSecurity provides the most professional online PC service. YooCare experts can plan out a solution to access your computer in safe mode with networking at first. When it's possible to do that, their experts will do as follows:
Step A: Restart computer in safe mode with networking. To do this, just need to press F8 key before the system is started like this: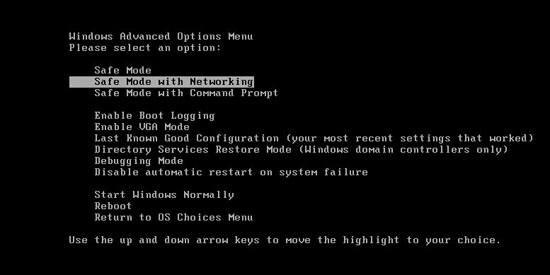 Step B: Press Ctrl+Alt+Del keys to open the Task manager to stop the progress of Politiet Norge virus. Because the name will be changed fast, it will be show with different name.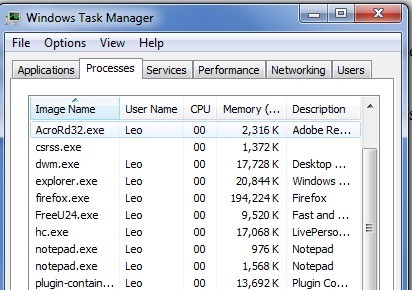 Step C: Delete all the files related to Politiet Norge  Virus.
Step D: Delete prs for music Virus register entries created in computer system.
By the way: Woke up to the locked Politiet Norge screen saying to pay 100 euros within 72 hours? I don't think it's legit or is it? It is fake. Manually remove Politiet Norge ukash virus is a rather difficult work, if you are not a professional computer expert. We recommend you to get YooCare online service 24/7 in time. This is the real fastest and safe way to remove it.
Video Guide to Remove Politiet Norge Ukash Warning Virus
NOTE: Struggled with Politiet Norge Ukash Virus Scam that with kangaroo and peafowl icons on the right top side? Up to now, maybe you have the right choice. By the way, no matter in what condition, please be careful when you are using your computer, be cautious of multifarious virus. Keeping a good habit in usage of your computer is the best way to keep away from virus. If you still cannot fix the problem by the above guidance, and considering the fact that viruses do change constantly time by time and may do more harm to your computer system, it is better that you get it fixed as soon as possible via online PC support.
Special tips: Spending a lot of time fixing your computer with no success? Contact experts now to unlock your computer and remove Politiet Norge Ukash Virus safely and completely.

Published by Tony Shepherd & last updated on January 18, 2013 1:44 am