Have been infected with fake Windows Abnormality Checker virus? Have no idea how to uninstall the nasty virus?
Description of WindowsAbnormalityChecker
Windows Abnormality Checker is a new published fake anti-virus software, the rogue thing looks like a computer optimization master. Indeed, its nature is completely another fake antivirus program from the rogue family called "FakeVimes" like Windows Sleek Performance and Windows Pro Solutions. Windows Abnormality Checker is a malicious anti-spyware which aims at tricking people into purchasing the full version of the fake program. There are two major ways to be infected with this rogue. 1) When you are visiting hacked webpages, the fake anti-spyware will sneak into your computer without noticing and take over the place of the your authorized antivirus program in order to let itself install in the computer and do further harms to your PC system. 2) The other way to be infected is coming from the pop-up online fake scans when you visit illegal pages, and the scan result is so severe that people will easily fall into the trap. Windows Abnormality Checker malware then will ask you to download and install this program for the removal of the viruses. But don't fall for that! Once you have downloaded and installed onto your computer, Windows Abnormality Checker virus will create lots of useless files hidden in your disks, and when the scan is finished, these created files would be the results instead of real viruses. In the next step when you want to delete all these non-existing viruses, you will be asking for a certain amount of money to purchase the full version of this fake program for the final and complete removal. And that's just the purpose of it. Your computer is in damage when being infected. Once you get this program installed on your computer, it will also infect your computer's other functions. For instance, when you are attempting to run a program on the infected computer, the rogue program will force stop it automatically without any of your permission. Other damages like losing data and important files could be caused as a result of not removing it fast.
To save your computer, Live Chat with YooSecurity Expert Now, or you can follow the manual removal guide below to get your problem fixed. (For advanced computer users)


Windows Abnormality Checker  ScreenShot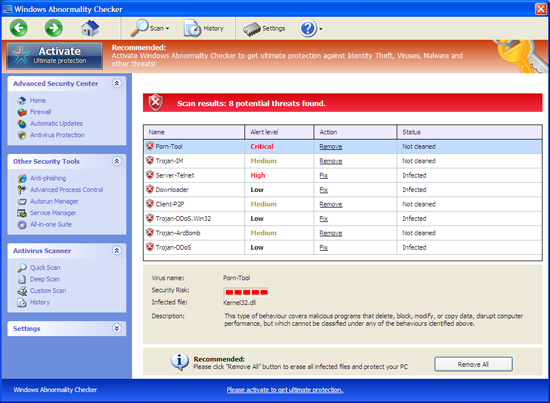 Windows Abnormality Checker fake alert ScreenShot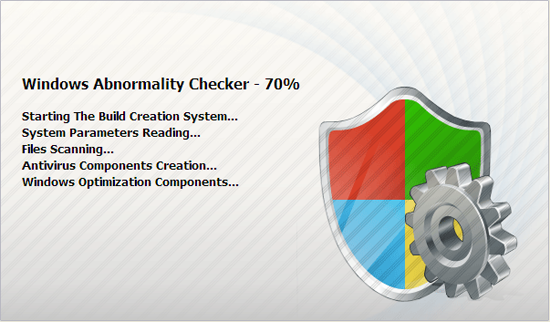 Fake security alerts may be like this:
Microsoft Security Essentials Alert
Potential Threat Details
Microsoft Security Essentials detected potential threats that might compromise your private or damage your computer. Your access to these items may be suspended until you take an action. Click 'show details' to learn more.
System Security Warning created by Windows Abnormality Checker scam
Attempt to modify register key entries is detected. Register entries analysis is recommended.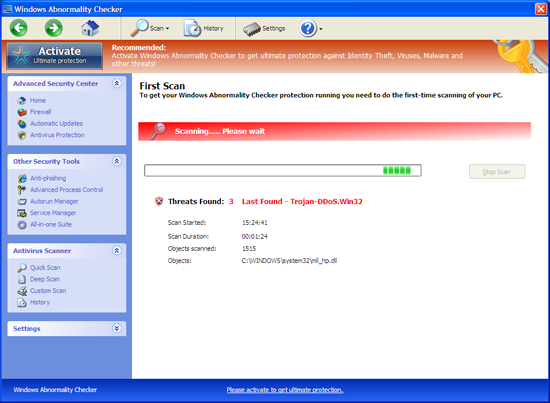 What to do when your computer keeps popping up warnings of severe threats and they show a Trojan, have u ever been charged by the Windows Abnormality Checker internet porn?
Special tips: Many computer users don't know the name it says the Windows Abnormality Checker have found out there are lots of viruses, Trojan horses and spyware in their computers and they have to pay like £100 to clean all infections. Otherwise, your computer will crash or corrupt.  If your computer has been attacked by the terrible virus and you are trying to figure out how to get rid of "Windows Abnormality Checker" malware, you're not having any luck opening any .exe file, despite renaming and running as admin. You can't delete any automatic malware removal because all .exe gets shut down. Windows Sleek Performance Trojan affecting network connection. Then you can refer to detailed guide of how to get rid of Windows Abnormality Checker virus manually as follows. But please be careful of your operation. If you're not an expert with abundant computer skills, your any activity may cause information loss even System crash. Contact online computer professional technician for assistance.
Similar Video Guide On How to Remove Windows Abnormality Checker Virus
Manually remove Windows Abnormality Checker malware
1.Delete associated files of Windows Abnormality Checker malware:
%AppData%\NPSWF32.dll
%AppData%\Protector-[rnd].exe
%AppData%\result.db
2.Delete registry entries related to Windows Abnormality Checker malware:
HKCU\Software\Microsoft\Windows\CurrentVersion\Run\Inspector %AppData%\Protector-[rnd].exe
HKCU\Software\Microsoft\Windows\CurrentVersion\Internet Settings\WarnOnHTTPSToHTTPRedirect 0
HKLM\SOFTWARE\Microsoft\Windows\CurrentVersion\policies\system\ConsentPromptBehaviorAdmin 0
HKLM\SOFTWARE\Microsoft\Windows\CurrentVersion\policies\system\ConsentPromptBehaviorUser 0
HKLM\SOFTWARE\Microsoft\Windows\CurrentVersion\policies\system\EnableLUA 0
HKLM\SOFTWARE\Microsoft\Windows NT\CurrentVersion\Image File Execution Options\Tray.exe
Note: If you have spent several hours to combat Windows Abnormality Checker virus but no luck, please contact PC experts for further help.

Published by Tony Shepherd & last updated on November 9, 2012 12:54 pm