Got a strange Win 7 Antivirus Pro 2013 Firewall Alert Message from the screen? The fake runs automatically scanning your computer and report a mass of threats are found within your system? Have no idea should this odd so called antivirus be trusted or not? Want to have it get off from your computer but really don't know what to do? Learn more about this rogue by reading the article below.
What is Win 7 Antivirus Pro 2013 Firewall Alert Thing
Win 7 Antivirus Pro 2013 Firewall Alert could be recognized as a scam message from fake antivirus program. It's rather similar to the Microsoft Essential Security Pro 2013 Virus. This kind of fake is special designed and created by hackers aiming to rip off your money easily. Most of computer users have a variety of antivirus within their computer so they may think this program is also a powerful one but some other users have proven this idea is definitely wrong. They found this program is installed in their system without any authorization and then become very difficult to be removed. Normally you will get it from pornographic sites, gambling sites or video game sites, a simple click on malicious page or attachment of spam emails may cause its invading as well.
This fake seems to be extremely legal because its interface looks quite like a powerful antivirus that can help you solve all kinds of virus issue. The truth is just opposite because you will find it's the really threat than anything else. Win 7  Pro Antivirus 2013 virus is created to urge computer users to buy its product key so that you can use its full version to kill those innumerable virus found by it. An unnoticed user may trust this and hand over the money but he will soon find out the result will get even worse because the damages caused by this fake. Please don't trust on this fake at all and don't ever buy its key as well because this will do no good to your computer at all but can only be a waste of money. Win 7 Antivirus Pro 2013 virus provides full function modules such as Perform Scan, Internet Security, Personal Security, Proactive Defense, Firewall, Configuration, Complete PC Protection, Automating Updating, Protection against bank account fraud, Self-protection from malware, Update Now, Scan Now etc. All of these look so real and powerful but actually none of them cannot protect the computer from any kind of malware.
To save your computer, Live Chat with YooSecurity Expert Now. You can follow the manual removal guide below to get your problem fixed. (For advanced computer users)


Screenshot of Win 7 Antivirus Pro 2013 Virus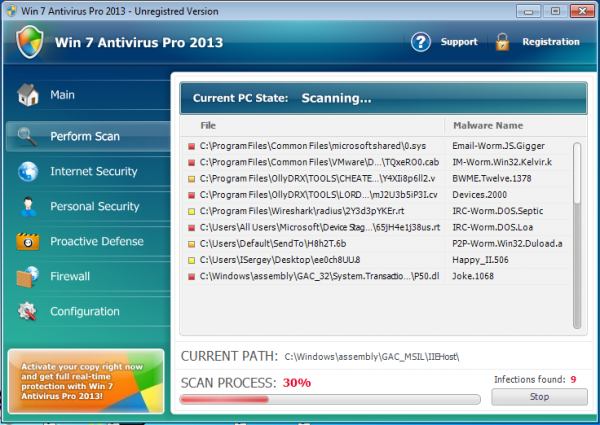 How Can I Find Out Whether My Computer Is Infected By Win 7 Pro Antivirus 2013 Virus?
1. A dangerous triangle mark with the words "Attention: danger!" is visible on a page and there is a message as well telling you that the threat with your system will exploit and bring the following affection.
2. Every time you restart your computer you will find Win 7 Antivirus Pro 2013 running automatically with unregistered version in the title and start a perform scan automatically then brings a scan result of alert listing there are a lot of threats detected in your system.
3. Continuous pages popping up stating that Win 7 Antivirus 2013 has blocked a program from accessing the Internet and your computer has been infected by some kind of virus so that you need to activate it to remove all infections.
Is it true that more antivirus programs mean more strong protection for your computers? How many antivirus tools do you have currently? And how many more are you going to install continuously? First of all, computers will not be safer as the number of antivirus tools increases. In the opposite, antivirus software may come into conflict on one system. PCs could suffer from more problems. Besides from that, install too many PC protection programs may get you to be infected by fake malicious programs like this Win 7 Antivirus Pro 2013 virus which is categorized as a rogue anti-spyware program. It shows up on your computer as a legit antivirus software. If you do think it's a real program, you are about to get tricked by this virus! Beneath the nicely dressed cover, Win7 Antivirus Pro 2013 is in fact a fake program created by hackers. Unlike authorized antivirus tools, it will automatically start scanning through your computers upon startup. What's even ridiculous is that you can't stop this scanning activity. It will forcibly go through to the end and report to you that there are many critical problems inside the systems. Other legit programs cannot detect these problems? That's right. The reporting results are believed to be set-up fake statements. What this rogue program tries to do here is to convince you that only Win 7 Antivirus Pro 2013 software can deal with these detected "troubles". If you do go along with this thought, money will be required to pay for the full version of this fake program in the next step. That's where hackers collect money from lots of PC users. Be careful! Once the money is spent, you will not get a return!
How was your PC be infected with the tricky virus as your antivirus program works proper
Win 7 Antivirus Pro 2013 Firewall Alert gets into your computer when you download a free software or media codec for your Windows media player from an unsafe file sharing website. The virus can get onto your computer when you install the downloaded free programs. Once Win 7 Pro Antivirus 2013 virus installed onto your laptop it changes your computer settings and will show many unwanted pop-up windows. The stubborn virus will run virus scanning by itself and will report that your computer is infected with dangerous viruses, Trojan horses and Spyware. Next, Fake Win 7 Pro Antivirus 2013 Firewall Alert will force you to buy the license to register to get the full version of the so called legitimate program to remove all infections from your computer.
Best Way to Remove Win 7 Pro Antivirus 2013 Virus With Manual Removal Guide
Do not do what the fake 2013 Firewall Alert asks you to. If you click on "activate" button, you will redirected to the payment site and you are likely to lose your money and reveal your financial information to a third party, which will result in a further loss of your financial funds. You have to acquire a powerful computer virus removal guide in order to get rid of Win 7 Antivirus Pro 2013 Alert from your computer for good. You can also try removing it manually by yourself, but it is not recommended for users who are not computer experts. YooCare/YooSecurity provides the most professional online PC service. YooCare experts can plan out a solution to access your computer in safe mode with networking at first. When it's possible to do that, their experts will do as follows:
Step A: Restart computer in safe mode with networking. To do this, just need to press F8 key before the system is started like this: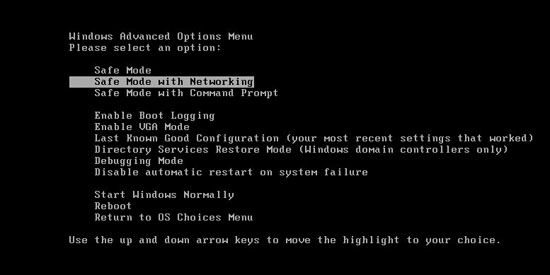 Step B: Press Ctrl+Alt+Del keys to open the Task manager to stop the progress of Win 7 Antivirus Pro 2013 Rogue. Because the name will be changed fast, it will be show with different name.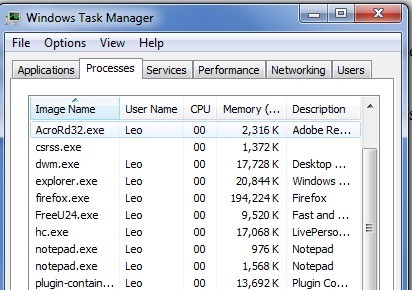 Step C: Delete all the files related to Win 7 Antivirus Pro 2013 Virus
Step D: Delete Win7 Defender 2013 Virus register entries created in computer system.
KEY_CURRENT_USER\Software\Classes\.exe\shell\open\command "(Default)" = '"random'
HKEY_CLASSES_ROOT\.exe\shell\open\command "(Default)" = '"%LocalAppData%\" -a "%1" %*'
HKEY_LOCAL_MACHINE\SOFTWARE\Clients\StartMenuInternet\IEXPLORE.EXE\shell\open\command "(Default)" = '"%LocalAppData%\kdn.exe" -a "C:\Program Files\Internet Explorer\iexplore.exe"'
By the way: Just be attacked by Win7 Defender 2013 rogue antispyware? I don't think it's legit or is it? It is fake. Manually remove Win 7 Defender 2013 rogue thing is a rather difficult work, if you are not a professional computer expert. We recommend you to get YooCare online service 24/7 in time. This is the real fastest and safe way to remove it.
Similar Video Guide to Remove Win 7 Pro Antivirus 2013 Virus Scam
Never seen a virus like this one. its stuck on this screen with a Win 7 Antivirus Pro 2013 logo and says i must pay $$$ to remove the viruses that my computer was "trying to view illegal music or something"? Yes, all you received from it are false. You need to uninstall the pesky thing away. The instructions above require certain levels of computer skills. Any mistakes during the process may lead to system crash immediately, if you need any further help, please live chat with YooSecurity Expert for instant help. It is fantastic!
Special tips: Spending a lot of time fixing your computer with no success? Contact experts now to unlock your computer and remove Win 7 Antivirus Pro 2013 virus safely and completely.

Published by Tony Shepherd & last updated on June 4, 2013 6:33 am