FBI locked my phone for downloading child porn. I was watching porn and I really liked the video so i was going to download it so watch it anytime even without data and then a pop came up saying my phone has been locked by the FBI and I have to pay $500. I need your help. My Android phone was locked by FBI for illegal pornography this morning. I swear I didn't watch illegal porn. I was looking for a present for my girlfriend and the FBI warning just popped up. It demanded $500 to unlock. I was scared and about to pay, but I read your blog and know that it is a scam virus which actually locks my phone. The problem is I still don't know how to fix the problem to get rid of the FBI lock. I am not any sort of tech savvy. Please help me get rid of this horrible FBI warning. So my phone popped up with a website that had porn on it and automatically started downloading a porn file on it. I thought I deleted the file right after the phone downloaded it, but then an FBI warning popped up. I started freaking out and tried to read everything but then I found a spelling error. I was wondering if it were a hack, and it was, according to a post on your site. I was wondering if you could help me get rid of the file that is inducing the hack? Please and thank you! My ZTE grand x4 is saying something having to do with the FBI but its just hackers i heard about this happening so i need help. I did not download any child porn. I looked on the Internet to see how to remove this but it says to go to safe mode first. I can't get into my settings because of this fake FBI virus, i tried to power off but failed, what can i do?
Android Device is Locked by FBI for Illegal Pornography. Is It Real?
Do you get popup about FBI warning on mobile device? Is your Android device locked by FBI warning for watching porn? Do you receive a fine notice popup on mobile device? Is your mobile device acting weirdly? If you have any experience like this, it means your device is infected with a serious virus. The FBI warning on your device is not real. It is not sent by the FBI or any other legit law enforcement agency. Though it shows logo and seal of FBI or Cyber police, it has nothing in common with the real police warning. Behind this FBI lock, it is the hackers who use virus to lock your device for illegal money in the name of FBI. In order to scare you into paying the fine, it accuses you of watching illegal porn or downloading files illegally, threatening that you will get bigger trouble if you don't pay the fine.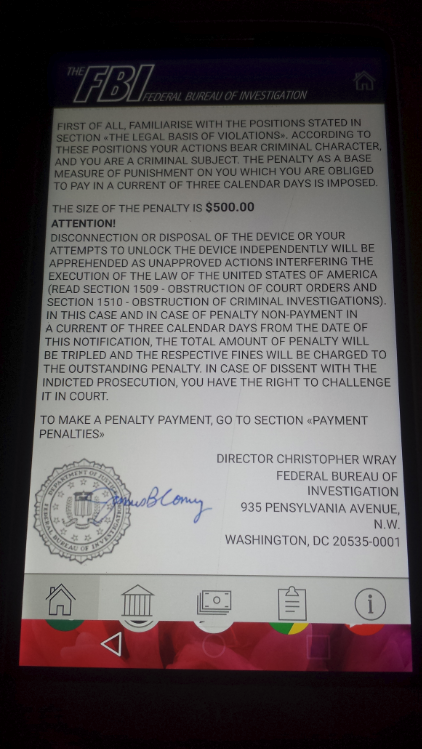 In fact, the FBI warning about illegal porn is a nasty virus developed by the hackers to swindle your money. Do not try to unlock your device from this FBI illegal pornography warning by paying the fine. On one hand, you are not paying a fine to the FBI, but sending money to the hackers instead. On the other hand, paying the fine does not help you fix the problem. Lots of victims said that they had waited for 3 days after paying the fine. Unfortunately, the FBI warning was still on there, locking their devices. Nothing had changed. The hackers only want money. They don't care about your device, letting the harmful virus corrupt your system for valuable information. Therefore, we suggest you remove the FBI illegal pornography virus manually.
How FBI Virus Works?
In order to make users believe that the FBI warning is real, the hackers make use of advanced tech to fake the warning. They develop and spread ransomware to attack various mobile devices and desktops. Once the FBI ransomware is activated on your device, it locks the screen, taking your device hostage for non-existed fine. It is able to block your security program and change settings to make it difficult to remove the malicious files. This ransomware will not disappear until you uninstall it. Not like a normal popup, it appears every time you turn on the device and blocks everything. You can't text, call or run any program to stop this complicated virus. The FBI virus collects your basic information, such as your name, contacts, location, IP address and device os etc. with the help of GPS and wireless data on your device. It has the capable of launching the cameral and taking a picture of your face exactly. The evil virus claims that your profile has been added to the FBI database for porn violations. The copy of logo and seal of FBI and specific laws make everything look like authentic. Plus, some of the victims might be downloading an app, a song or video. You might believe that it was the reason why you violated the laws. Being afraid that you would be blamed for illegal download, you would just do what it wanted you to do.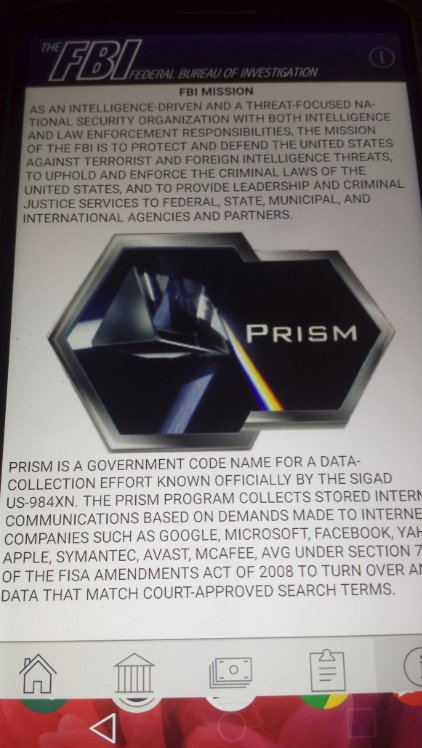 This virus threatens that your illegal actions will be shared via the text message or email. All of your friends and family will know you "violated" the laws. In order to unlock your device from this FBI warning, you are supposed to pay a $ 300 of penalty. It usually demands that the penalty must be paid via Moneypak, Paysafecard, vanilla card, iTunes voucher or other prepaid card. The cyber criminals ask you to send money via prepaid card because it is very difficult to trace where your money is going to. To put you in panic, it displays countdown. It gives you 72 hours to prepare and pay the fine. Looking at the countdown, you must be very nervous. You may think, "Will you go to jail? Will they delete your important files? Will the FBI come to you?" This series of questions will drive you crazy. In this case, many victims chose to pay the fine to end the trouble quietly. Unfortunately, the hackers would not give what you want. They did not take the FBI lock away though users paid exactly what they demanded. You have to remove the FBI ransomware to unblock your device and end information leak.
Some specialties of this fake police Scam

Lock you out of your phone/tablet, and you just can turn your device off and turn it on.


Saying that you have visited some illegal websites or watched porn or something like that, but you never did before.


Asking for payment to unlock your device in a limited amount of time. And says if you don't pay, you might get police trouble.


It can remotely access to your phone/tablet and get your personal information.
If you find any symptoms listed above showing on your cellphone or tablet, then your device must be suffered with a malware infection(which can be United Kingdom Police virus scam, FBI scam virus, Mandiant U.S.A. Cyber Security virus, FBI Moneypak virus, Prism virus, U.S.A Cyber Security virus, AFP Crime Commission virus and GVU Ukash Virus etc.) that blocks your access to your smartphone or tablet. Welcome to contact YooSecurity Online Experts for manual removal guide. Also, we will provide a short removal guide below for phone and tablet literate.
Screenshot of Fake FBI Warning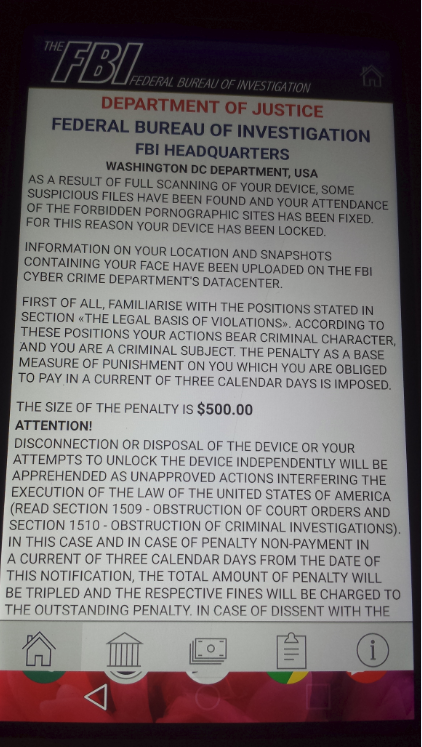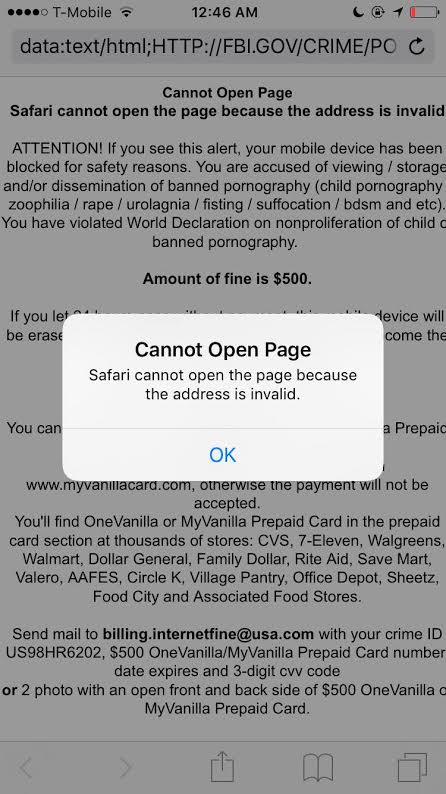 NOTE: Being afraid to do any wrong operation during the process of removing FBI Scam on tablet or phone? Please contact YooSecurity Online Experts, we are here to help you:


Android Device is Locked by FBI for Illegal Pornography?-How to Fix? Here are the guides
1st. Since your phone or tablet is blocked by this malware, you will need to get your phone or tablet first then turn it on to safe mode. By this way, you are capable to carry out malware removal steps on your device. Here is the example for you to put the android phone or tablet to safe mode. The method mentioned below is also applied to most android tablets.
Take LG Phone as an example: 1) Power down. 2) Turn on till you see the LG's logo, press and hold Volume Down key till you access to safe mode.
Note: Zte, Sony, Samsung and other brands' phone users can also try the same way as LG's to put your phone to safe mode. If you have put your phone to safe mode successfully, you should see a text "Safe Mode" at the bottom left corner.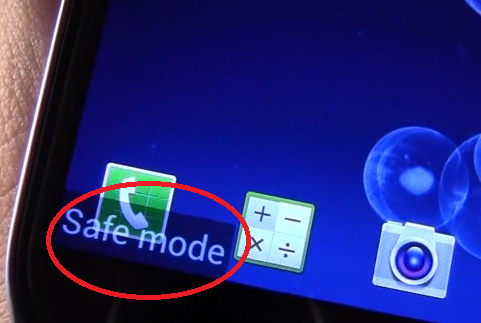 2nd. Once you have put your phone in safe mode, you are capable to uninstall malicious apps of your phone. However, the manual removal process of harmful apps requires sufficient expertise. To safely deal with this kind of ransomware and other hazardous apps, you had better contact an expert online for further removal help.
Conclusion
In a word, the FBI lock on your device is brought by a piece of ransomware which is very aggressive and dangerous. The police alert is fake which is made up by the cyber police to trick you into paying a fine. No police will collect fine in this way. You didn't violate the laws and you are not in trouble with the FBI. You can calm down and ignore this fake police threat temporarily. Besides, we have to tell you that it is very necessary to remove the FBI illegal porn ransomware as soon as possible. According to security experts, almost all ransomware are interested in getting personally identifiable information about the victim. Most often, this information includes credit card details, logins, and passwords. Other version of similar virus causes less damage, such as sharing victim's contact list, recording conversations, delivering unwanted pop-up ads, initiating redirects to various websites or infecting the device with other malware. One was watching a movie online and a virus popped up and then its locked with some FBI thing he cant power off his phone. and he cant get the battery out cause he need a small screw driver help? In order to protect your precious information and fix your device, you must remove the FBI illegal porn virus completely. For virus removal, manual removal is most effective and safe way. Locate related malicious files and remove them one by one.
Suggestion: Have spent a lot of time but can't get out of Fake police Message on your mobile device? Contact online experts for tech support now!


Published by Tony Shepherd & last updated on June 10, 2019 8:47 am