I used to read Wall Street Journal every day, and now I need to live in China because of work. The problem is that I can't access Wall Street Journal in China, how do I do?
Wall Street Journal Description
WSJ. is The Wall Street Journal's luxury lifestyle magazine. Its coverage spans art, fashion, entertainment, design, food, architecture, travel and more. And launched as a quarterly in 2008, the magazine grew to 12 issues a year for 2014. The magazine is distributed within the U.S. Weekend Edition of The Wall Street Journal newspaper, the European and Asian editions, and is available on WSJ.com. Each issue is also available throughout the month in The Wall Street Journal's iPad app. You will encounter the problem like the following pictures show: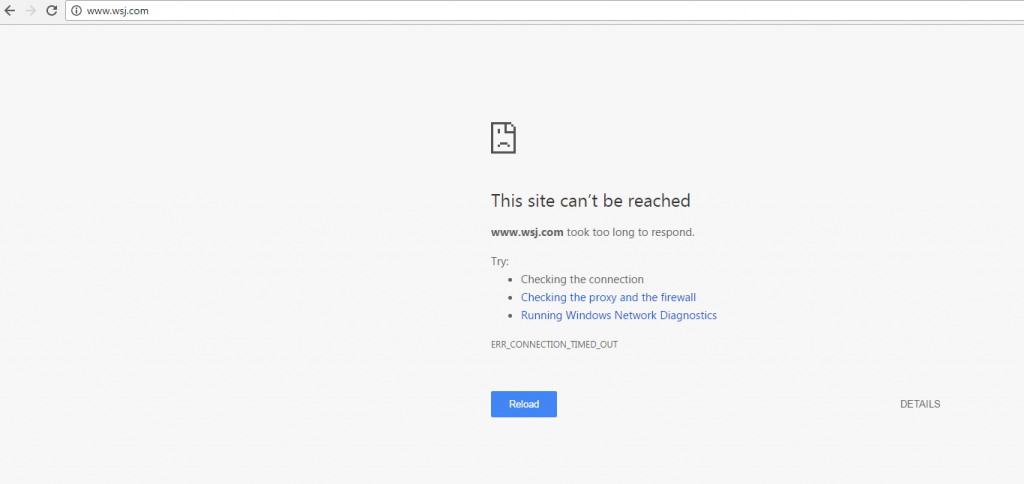 Why I Can't Access the Wall Street Journal in China? How to Fix?
The Chinese Government is building up their game in restricting certain foreign websites in their country, and this does include certain world news and controversies that they want to hide from their citizens. This may lead to frustration for the citizens who belong to the largest populated country in this world. They may demand news about the world from a different country's point of view which is often available on the internet. China has the strictest internet security which is being guarded by a specific firewall developed solely for China called the Great Firewall of China, to protect China's cyberspace. This firewall holds a censorship to the nation's internet and has created restrictions for a lot of foreign websites. This firewall has prevented the access of foreign websites like Facebook, Gmail, Instagram and online new portals like New York Times, Bloomsbury News and more.
One such website is the Wall Street Journal, one of the most popular news providers of this world. It is the biggest newspaper in the United States and caters news to many countries including Asian countries like India. The web version is more popular due to the world being run on the internet. But the Chinese people are unable to do so according to the government, but there is indeed a way out.
The Wall Street Journal can easily be accessed by using a VPN or Virtual Private Network.We shall proceed to know how easy it is to be done.
What essentially is a VPN?
The network of VPN lets its user browse a website or use an app through a private network, which is done by creating an almost untraceable proxy IP address not belonging to the country of the user or the device used. The IP can be from anywhere around the world, the person residing in China may find the IP to be from the UK, which in turn will let them access the desired website. VPN are not considered illegal in most countries and anyone can go ahead and start using a VPN service. The act of surfing through another IP is legal, and is something even the biggest companies in the world do all the time. VPNs help enable users working at home, on the road, or at a branch office to connect in a secure fashion to a remote corporate server using the Internet. From the users perspective, the VPN is a point-to-point connection between the user's computer and a corporate server. The nature of the intermediate network, the Internet, is irrelevant to the user because it appears as if the data is being sent over a dedicated private link. When used for legal purposes, VPNs are not considered illegal in most countries and anyone can go ahead and start using a VPN service. The act of surfing through another IP is legal, and is something even the biggest companies in the world do all the time. If you however hide behind a VPN service to perform illegal activities, then you're of course violating the law.



Suggestion: If you don't know how to access the Wall Street Journal China, you're welcome to contact our Yoosecurity online technical team by clicking Start Live button bellow: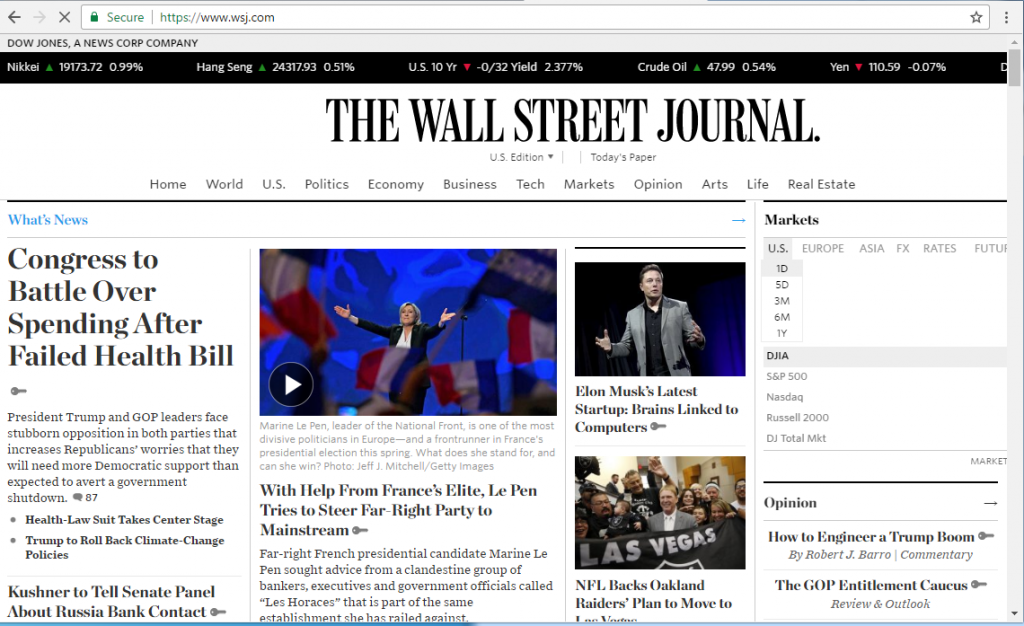 Tips to Access Wall Street Journal in China With VPN
• To smoothly run a VPN one needs to install a VPN Protocol.
• Downloading and choosing procedure for a VPN provider.
One should first evaluate their need, as the Wall Street Journal is a website they should look for a VPN service provider with the format of OpenVPN which is fast and runs smoother than older versions. There are essentially two types of providers, one being free and the other being paid. The free format may limit a person and may not work in China. The paid version will definitely be smoother and provide one with certain choices for servers which a good VPNprovider should. One should pay safely and look out for scammers.
It is very easy for any user to download a VPN connection, even being in the country of China. One just has to search on the web through any other search engine and links to download their preferred VPNs will pop up in numbers. If by any chance no links are shown, or the links are broken, one can always download the VPN file from any of the torrent websites available. Navigate to the website for your desired VPN. You should see a download button on the homepage, or a link in the page's navigation bar for downloading. Click the download button and follow the prompts to download the version for your operating system. Once you have downloaded your VPN software to your computer, locate the downloaded file. Open it and follow the prompts to install and start. Some VPNs like CyberGhost are ready to use right away without creating an account. Other VPNs require you to sign up with an email address.
• Installation of VPN
Installing is fairly simple it can be either done by searching for websites or through Torrent if the desired VPN provider is not found. One would need to fill their credentials and created a login id for future use. Payment should be made safely.
• Choosing a Location for access
According to ones need one should choose a location where the website isn't blocked, like in this case one can choose the USA where the Wall Street Journal can be accessed. The VPN's will provide one with an array of locations after lone logs in. One should use a high-speed broadband or Wi-Fi to run VPNsmoothly.
• Log in your VPN and access to Wall Street Journal
Enter your new acount and password and bigin running your VPN to protect your identity, access protected files on a network, or access websites and content not available in your country. You can also change your settings to allow your VPN to launch automatically and connect to a random network, or you can choose when and how you connect.
Video Show You How to Access Wall Street Journal in China
Top 10 + Best VPN Services Worldwide
View More Top 10 Best VPN Services Here »
VPN is very important in network construction to access the Wall Street Journal in China. And VPN technology will be the best solution for the construction of wide area network, it not only can greatly save the construction of WAN, save maintenance cost, enhance the reliability and security of the network. At the same time, the VPN can speed up the construction of enterprise network, makes the group put the branch network throughout the country together quickly, and give full play to the role of the entire network. VPN is a very important role in promoting the electronic commerce and electronic trade.



Warm prompt: If you don't know which VPN service is the Best for you or how to set up VPN on Mac, computer, laptop, android smartphone, tablet, or iPhone &ipad device, you're recommended to live chat with Yoosecurity Online Expert for instant help! Yoosecurity Online Expert will take care everything for you!? Please live chat with YooSecurity Experts for tech support.

Published by James B. Gonzalez & last updated on February 11, 2020 5:06 pm