In today's digital world, malware and cyber attacks have become ubiquitous. If you are thinking of purchasing a security product to protect yourself from ransomware, spyware, keyloggers, and various new forms of malware, ZoneAlarm is one of the best options for you. Its products combine multiple layers of protection to help you block online threats and ransomware, tune up your system and even secure your transactions. Check out ZoneAlarm Review 2019 here and discover why 100 million users worldwide choose ZoneAlarm. Take cyberattack protection to the next level now!

ZoneAlarm Brief Introduction:

ZoneAlarm is a complete security protection that makes your digital world safe by offering excellent protection for your computer and mobile. Whether you are home users or small businesses, the product is tailored to your needs. ZoneAlarm was acquired in March 2004 by Check Point Software Technologies Inc, which is the largest network cyber security vendor that protects over 100,000 organizations of all sizes. ZoneAlarm is the World's No. 1 Firewall Powerful antivirus that covers advanced anti-phishing, Ransomware protection, mobile security and identity protection, as well as threat emulation. It secures people from latest cyber threats with the same next-generation technology trusted by the world's largest companies.
While using ZoneAlarm products, you will get no more viruses, hacking or phishing attacks, and you'll be shielded from hackers and protected with unsurpassed online security because the company's mission is to offer top-tier solution that keeps you fully protected 24/7. As an award-winning Internet security product, ZoneAlarm is trusted by over 100 million users nowadays. If you haven't had any antivirus product yet, get started with ZoneAlarm now! Protect both your PC and mobile devices with such powerful antivirus software, firewall and additional virus protection solution!
ZoneAlarm Products: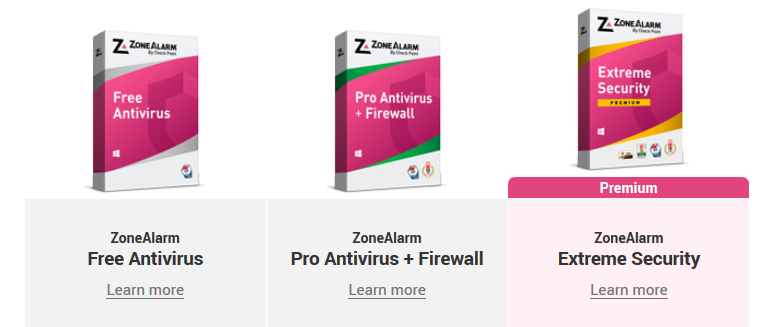 ZoneAlarm products are made for you, your family, your company, and the people you care about. All its products are designed to protect subscribers from online threats and create safe web experience for their peace of mind. Check out the details here and choose the best for you:
ZoneAlarm Free Antivirus 2019: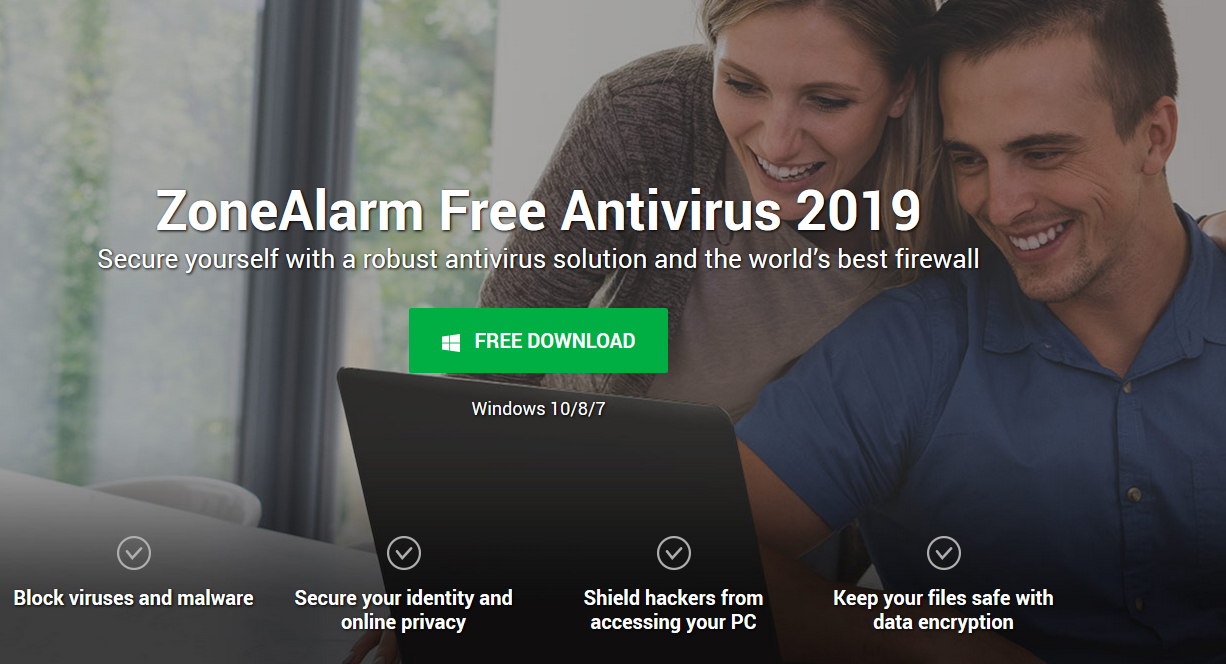 ZoneAlarm's free security solution has always stood out from its competitors by integrating its own firewall for optimal protection. It is great for securing your privacy and ensuring that you're protected from viruses, malware, spyware, and other cyber threats. However, the free Antivirus only covers the most basic services like Antivirus and anti-spyware, advanced firewall, two-way firewall and identity protection. If you need a comprehensive protection with more advanced security features, then consider an upgrade. Experience the world's best firewall & Use ZoneAlarm Free Antivirus to browse online with complete confidence now!
ZoneAlarm Pro Antivirus + Firewall: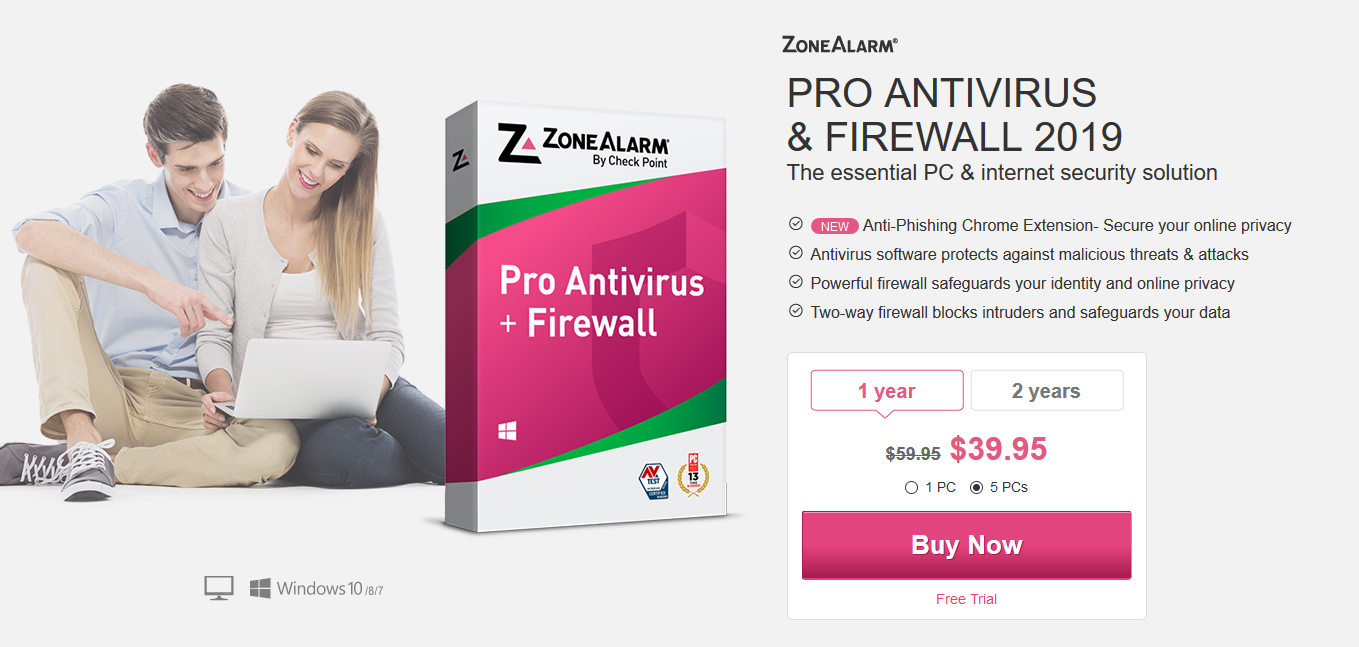 ZoneAlarm Pro Antivirus + Firewall is an essential PC and internet security solution that supports on Windows 7, Windows 8 and Windows 10. It covers all the basic features that ZoneAlarm Free Antivirus has, and adds Anti-Phishing, Real-Time Cloud Security and Online Support to its subscription. Plus, you can get ZoneAlarm's advanced firewall which monitors behaviors within your computer to spot and stop even the most sophisticated new attacks that bypass traditional antivirus and security suites. With ZoneAlarm Pro Antivirus + Firewall, you can better safeguard your identity and online privacy and protects against newly emerging threat. The product also can analyze the potential danger of a downloaded program and authenticate when and where a website was registered and whether it is dangerous or safe.

ZoneAlarm Pro Antivirus + Firewall starts at $39.95 per year for a single PC. If you want to protect up to 5 PCs, the price will be $59.95 (with the current offer packages cost $24.95 and $39.95 respectively). The ZoneAlarm Pro Antivirus and Firewall offers 30-day money-back guarantee so you will get enough time to test out this all-in-one security package. Overall, the product is a good choice for an average user looking for reliable and not expensive antivirus solution. Get the combined power of ZoneAlarm's firewall and anti-virus technology!
ZoneAlarm Extreme Security – Up to 70% Off (RECOMMENDED)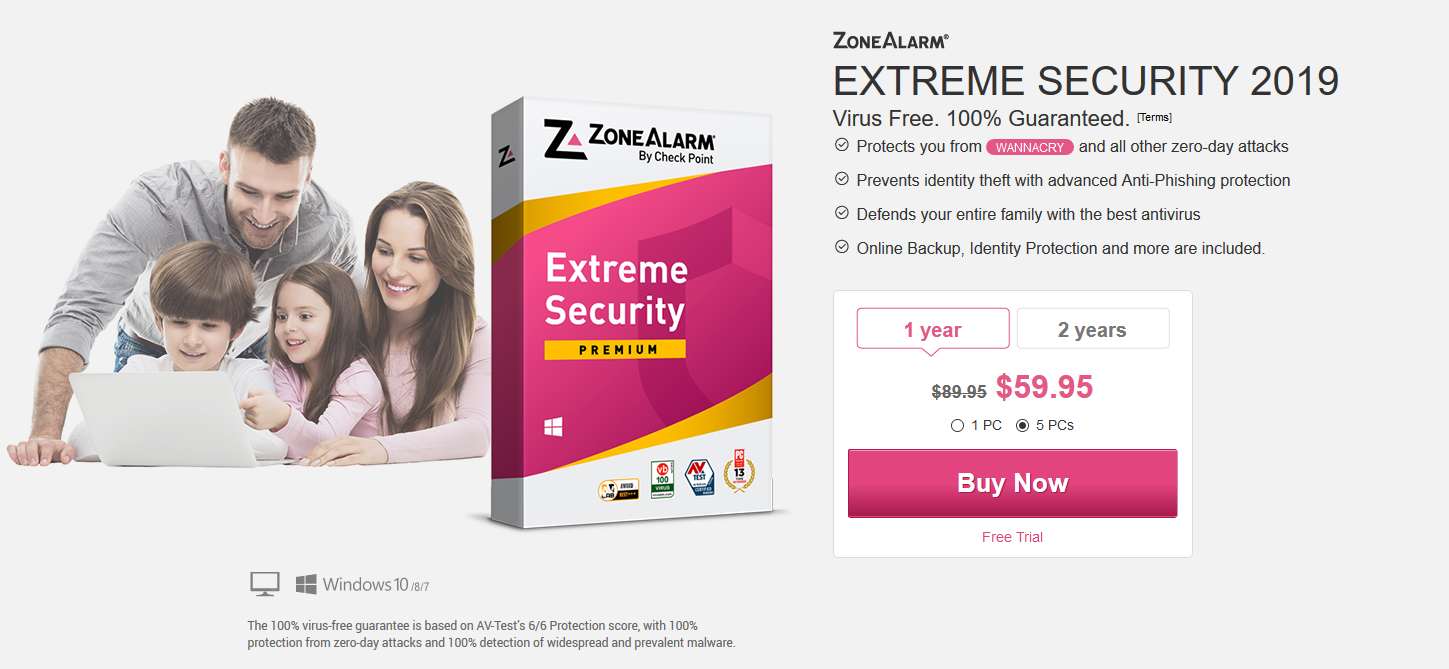 For people who are concerned about online security and looking for a good product with all their security solutions in one package, ZoneAlarm Extreme Security is the best option. It is the most comprehensive security solution for internet security, firewall protection and an advanced antivirus filtering. ZoneAlarm Extreme Security owns up-to-date antivirus database that not only protects you from newly discovered viruses, spyware, Trojans and worms, but also protects you from zero-day attacks. In addition, ZoneAlarm Extreme Security offers excellent firewall capabilities, top-notch parental controls, encryption for the entire hard-drive and advanced browser virtualization. With two-way firewall, virus and spyware removal, real-time antivirus, threat emulation, zero day attack prevention, Anti-Keylogger, and find my laptop feature, ZoneAlarm Extreme Security scores above average in all categories.
ZoneAlarm Extreme Security combines high performance with a wide-range of features for protecting your computer and keeping you safe while browsing the web. Check some key features it offers:
Anti-phishing: Phishing scams are one of the easiest and widely used mechanisms for cyber frauds. ZoneAlarm Extreme Security is able to protect against phishing attempts by filtering URLs that were blacklisted for phishing attempts on Google Chrome, without slowing down the PC performance. Ensure your identity is protected online and be cautious of potential phishing attempts. Don't get phished in!
Identity protection: Identity theft is a serious problem today. If you don't install any security tool, your personal information can be stolen in numerous ways. Hackers can steal your identity through hacks, viruses, and malware. They can even manipulate you into giving up your personal data without you even knowing that you're doing it. Delivers superior PC-based protection and exclusive data encryption. ZoneAlarm ensures a 100% virus-free PC and protection against phishing attacks and identity theft.
Zero-Day Attack Prevention (Threat emulation) – ZoneAlarm Extreme Security protects you from unknown virus and firewall threats, including zero-day attacks by opening and inspecting attachments and files in a cloud-based environment.
Laptop locator ("find my laptop") – If your laptop is lost or stolen, you can use ZoneAlarm Find My Laptop to locate your laptop on a map, or even remotely lock out or recover important files. You are able to send a message to the finder and even get notified when the battery is about to die.
Two-Way firewall: A two-way firewall proactively protects against inbound and outbound attacks while making you invisible to hackers.
Antivirus and anti-spyware: Detects and removes viruses, spyware, Trojan horses, worms, bots and more.
Advanced real-time antivirus: Provides access to the up-to-date database of Antivirus signatures to protect against newly emerging threats.
Advanced firewall: Monitors all incoming and outgoing communications to block hackers, trackers and spyware.
Anti-Keylogger – The Extreme Security program includes an anti-keylogger feature which detects and prevents keyloggers, thus you can prevent identity thieves from stealing your passwords and keystrokes.
PC Tune Up – Speeds up your PC and optimizes its performance by removing errors and bad files.
Online Backup – ZoneAlarm generously offers users 5 GB of storage space in which users can hold their most system-critical data. Therefore, you can protect your personal files in case of loss, theft, accidental deletion or any hardware malfunction.
Price:
Currently ZoneAlarm is offering a massive discount which you can save up to 70% off ZoneAlarm Extreme Security.
1 PC/1 Year $79.95 $34.95
5 PCs/1 Year $89.95 $59.95
1 PC/2 Years $109.95 $59.95
5 PCs/2 Years $139.95 $99.95
Compared to ZoneAlarm Pro Antivirus + Firewall, the Extreme Security package adds $20 more. However, it is still a great deal with added features including system optimization, online backup, parental controls, laptop locator, zero day protection, a 100% virus free guarantee and more. As the industry pioneer in network security, ZoneAlarm provides you 30-day money back guarantee. Risk-Free!

ZoneAlarm Anti-Ransomware: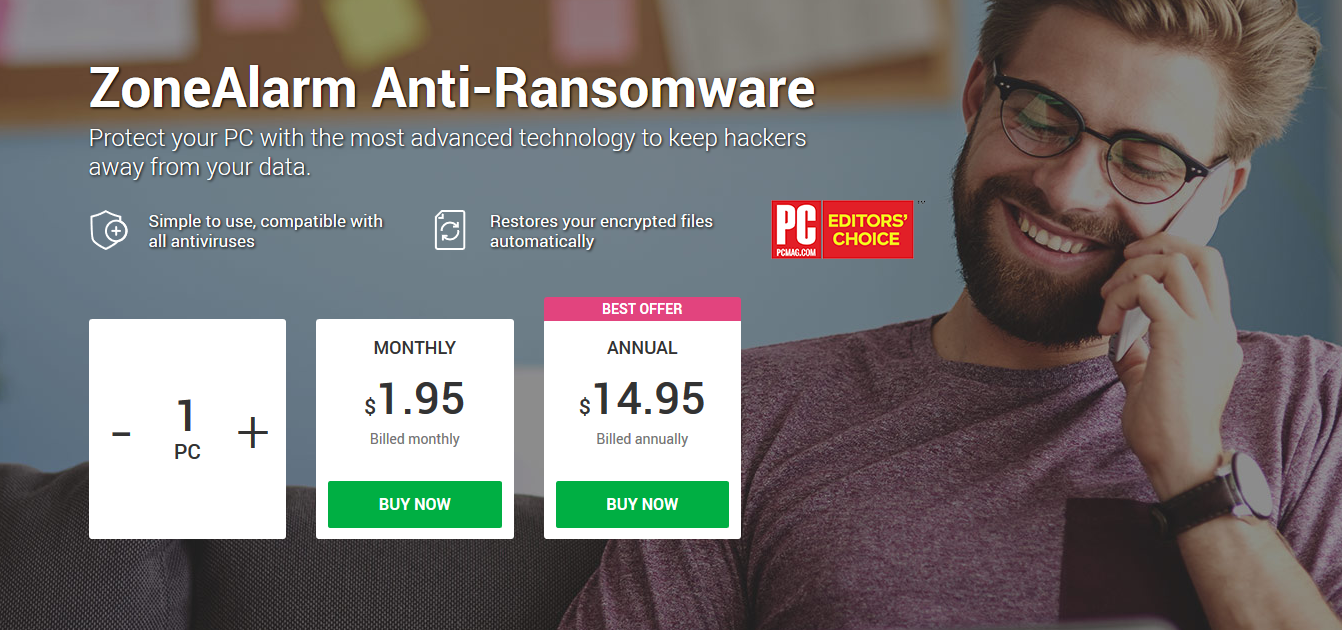 Ransomware has been all over the news recently. This malware usually sneaks into your PC or mobile device secretly. Instead of destroying your PC or mobile, it targets your files, photos as well as your precious data. It locks up your desktop or browser on system and encrypts your files until you pay for a ransom. Criminals often use high pressure techniques to get victims to pay the ransom. If there is no payment, the price of the ransom could rise or the hackers could destroy your files. Thankfully, ZoneAlarm has released its Anti-Ransomware solution, which is regarded as an essential tool in protecting computer users against ransomware attacks. It traces the steps of every application on your PC, looking for any sign of threat. It can detect the newest and most sophisticated types of ransomware, as well as providing an auto-restoration of files in the rare chance that an attack occurs before detection. Moreover, ZoneAlarm Anti-Ransomware is fully compatible with all antivirus solutions. Installation is quick and easy, with your PC or device protected inside a couple of minutes. Get the best Enterprise-Grade protection against Ransomware threats now!
Price:
1 PC $1.95/Month, $14.95/Year
3 PCs $4.95/Month, $39.95/Year
10 PCs $11.95/Month, $94.95/Year
ZoneAlarm Mobile Security: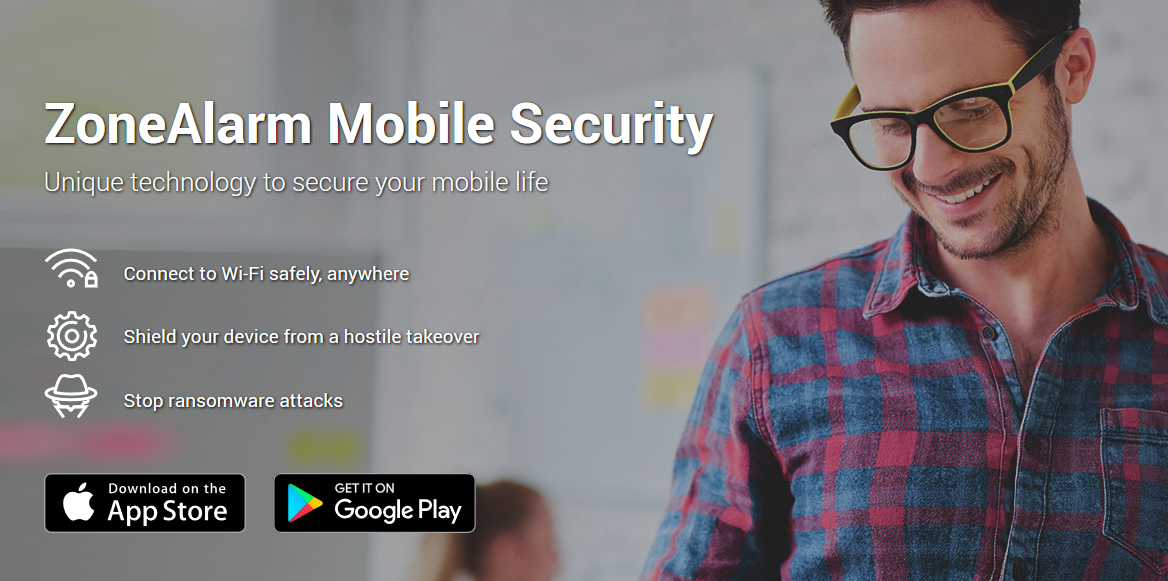 Risks have grown significantly around cyberattacks, information breaches from third-party vendors and information theft. And smartphones are the main target of cyber criminals. Therefore, it is necessary to have a security tool on your mobile so you can get the essential layers of defense you need. Check Point released the first version of ZoneAlarm Mobile Security for Android and iOS, aimed to give the same kind of protection they offer in their premium PC version. The ZoneAlarm Mobile Security uses unique technology to secure your mobile life. It automatically scans apps in the background, and notifies you if an app is safe or not. The same scanning goes to Wi-Fi connections. ZoneAlarm Mobile Security protects you against different malware including ransomware, and allows you to connect public Wi-Fi safely anywhere. Using the mobile app is not free, however. Nonetheless, you're going to get a 7-day trial to see if it's the app for you or not. Rest assured that your mobile device has layered security right out of the box!
ZoneAlarm Help and Support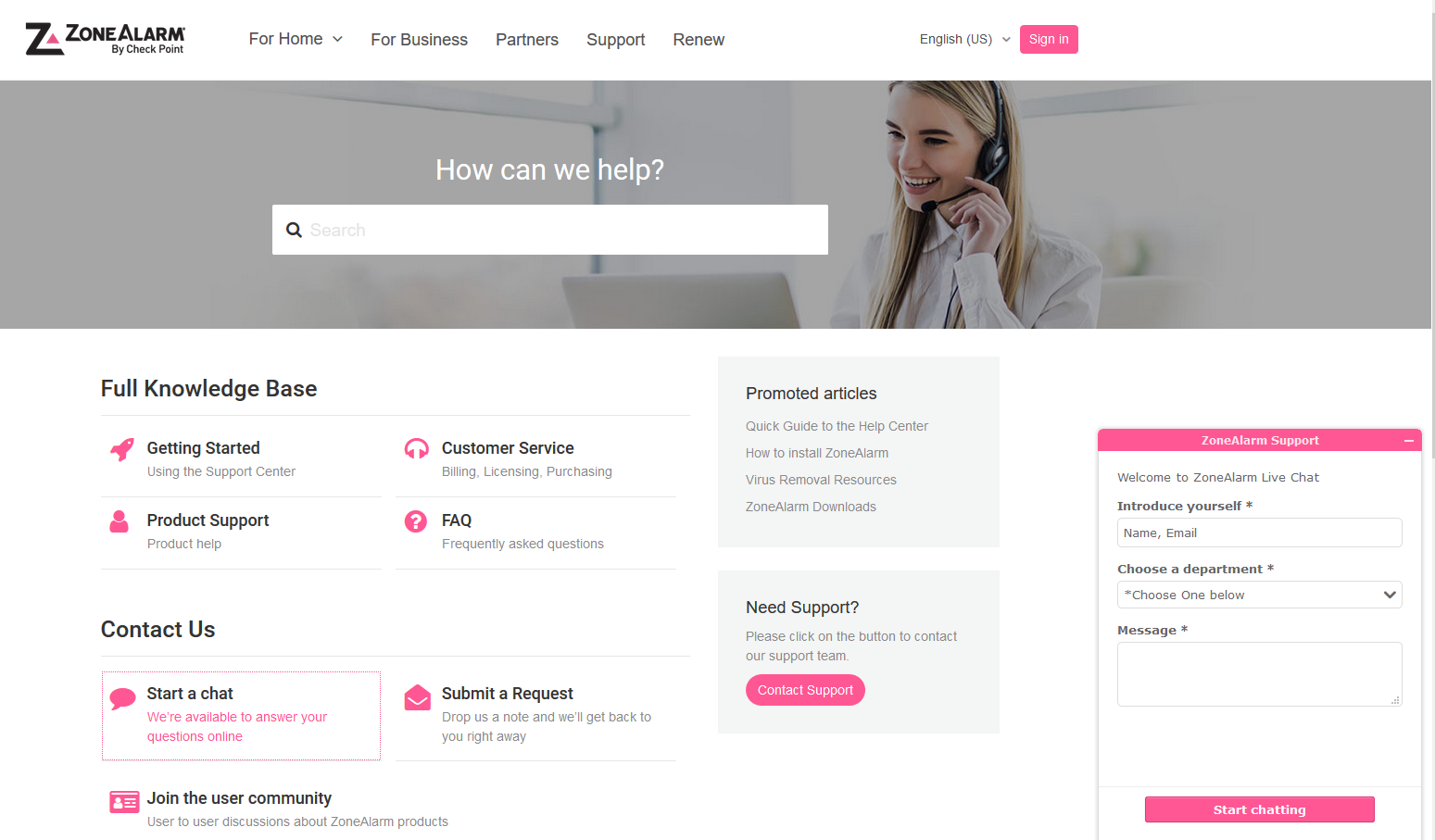 ZoneAlarm covers the basics when it comes to customer support. It includes an extensive knowledge base and frequently asked questions section where you can find answers for most queries and tutorials to walk you through the system. If your query requires further assistance, you can contact customer support via live chat available right from their website or submit a help ticket online and wait for a customer service representative to contact you. Normally the support team will reply within 24 business hours. Do remember the free customer support, including an in-depth knowledge base, forums, and 24/7 Live Chat is only available on paid products. If you haven't purchased from ZoneAlarm website or you are using ZoneAlarm Free Antivirus, you can upgrade your plan first.
Conclusion:
ZoneAlarm is mainly known for their cutting-edge firewall security products. However, over the years, they have explored to offering antivirus products as well. Over 100 million people trust ZoneAlarm to protect their PCs and mobile devices with powerful anti-ransomware, antivirus software, firewall and additional virus protection solutions. ZoneAlarm products are all designed with people's cyber safety in mind, while using industry-leading solutions. They come with many excellent features such as Advanced Real-Time Antivirus, Advanced Firewall, Anti-Spyware to keep people away from all kind of online threats like phishing attacks, viruses, malware, spyware, Trojan horse, ransomware, malware, exploits, adware, scareware and other forms of online attacks. It is worth introducing the anti-phishing technology, which is available for ZoneAlarm Extreme Security, ZoneAlarm Pro Antivirus+Firewall and ZoneAlarm Pro Firewall users, that protects your private information from a phishing attack while browsing online, and will secure your personal information from hackers and malicious websites, giving you maximum security with optimal browsing performance. With ZoneAlarm, you can shop and do online banking safely with the best anti-phishing technology.
Among all the products, ZoneAlarm Extreme Security is the most powerful all-inclusive PC security suite that protects your home PC with the same technology that protects the world's largest banks, governments and organizations. It's the ultimate multilayered solution for internet security and firewall protection, ensuring a 100% virus-free PC. You are recommended to shield your credentials with ZoneAlarm Extreme Security or download ZoneAlarm Security Mobile to secure your mobile device from cyberattacks. ZoneAlarm is providing a big promotional sale. So, you can use the ZoneAlarm coupons, promo code to get up to 70% savings. Don't miss out such as great offer!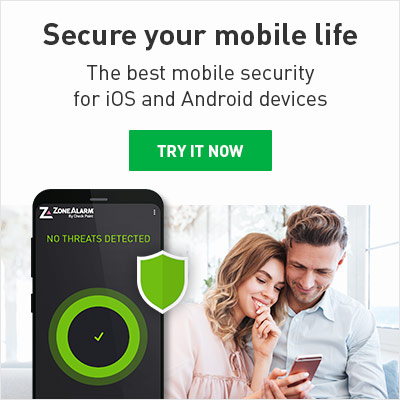 Published by Tony Shepherd & last updated on July 22, 2020 2:06 pm