Please help! My computer is locked by "Your Windows Has Been Banned" Screen Locker. I can't do anything on my computer now and it says I could call a number for help. I do call the number, but they said I need to pay first. I don't have that money. It is too much. Please help me. Please tell me how to remove it and unlock my computer. It also says my computer has been infected by a virus. Is it real? Or is it a scam? If it is real, how can I remove the virus then? My computer has been locked completely. I can't get into my computer. How can I remove the virus with this locked screen?
Something about "Your Windows Has Been Banned" Screen Locker?
When you find that your computer has been locked by "Your Windows Has Been Banned" Screen Locker, then the malware has been installed in your computer and has taken effect. Once this malicious malware is installed in the computer, the windows settings will be changed then the computer screen will be locked. Once this malware locks the computer, computer user will have no ability to access the computer and can do nothing. Moreover, this malware pretends to be Microsoft tech support to trick computer users into thinking this message is real and their computers are really infected by some virus. It offers a fake Microsoft tech support number. Once you call the number, you will be asked to pay money. And if you do pay the money, finally you will be told that it is a scam and it is not Microsoft. It will be wise to remove the Screen Locker manually instead of calling the number and paying to the Screen Locker.

What does this Screen Locker say exactly?
Your Windows Has Been Banned

This PC has been banned for terms of use violations. To protect the windows service and its members. Microsoft does not provide details about specific PC bans.

Your PC has been banned because we detected an unusual activity on your computer. To protect the windows service and its member your PC maybe has been infected with viruses that do an usual activity like botnet,ddos,etc to grant access back to your computer please pay some fee to trusted Microsoft Technician and the Microsoft Technician will give you a code to unlock to get a code please click button down to below to contact the nearest Microsoft Technician.
If you pay to this malware, then you will get this message.
Thanks for buying the unlock code from me! You are fooled i am not microsoft To Remove My Virus Follow the Instructions 1) Enter "123456" as a Unlock Code 2) Open Start Menu 3) Go to Start Up 4) Delete the exe file "AdvancedRansomware1.exe"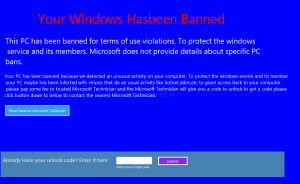 How the computer get this Screen Locker?
-1- You may get this virus by downloading and installing the freeware packed with virus
-2- You may get "Your Windows Has Been Banned" Screen Locker by opening the spam email attachments
-3- You may get this virus by visiting the porn and illegal websites or legitimate website that has been hacked by virus
-4- You may download and install the software which is this virus but you don't know like update for Adobe Flash Player.
Warm prompt: It's complicated for people who are not computer savvy or not familiar with the virus to remove the "Your Windows Has Been Banned" Screen Locker virus. You can contact YooSecurity PC professional online service for help:


How to unlock the infected computer and remove this virus?
There is a removal guide of Malware provided here. However, expertise is required during the process of removal. Please make sure you are capable to do it by yourself.
1st If you want to get into your computer after your computer gets infected by this "Your Windows Has Been Banned" Screen Locker virus, you will need to get safe mode. To get safe mode: Restart your computer >> Tap "F8" key constantly before the Windows logo appears on the screen >> Use the arrow key to highlight the "safe mode with network" option >> Tap "Enter"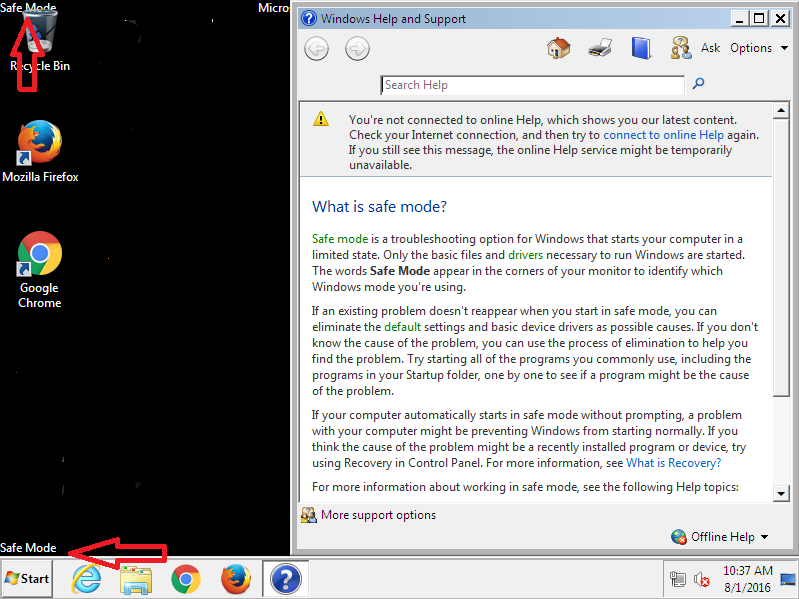 2nd Press Ctrl, Shift and Esc keys at the same time to open the Windows task Manager. Then click the "Processes" tab at the top to find the suspicious processes to stop them.
3rd Go back to desktop and then click "start" at the left hand angle then type "regedit" in Search programs and files box, then press Enter key and you will open the "Registry Editor"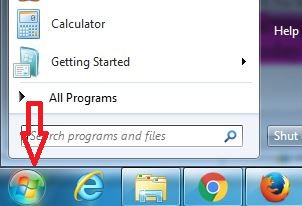 4th In Registry Editor, please find the suspicious registry files related to this "Your Windows Has Been Banned" Screen Locker virus. They are usually in HKEY_LOCAL_MACHINE > SOFTWARE. If you can't find the suspicious registry, you are welcome to contact our expert for help.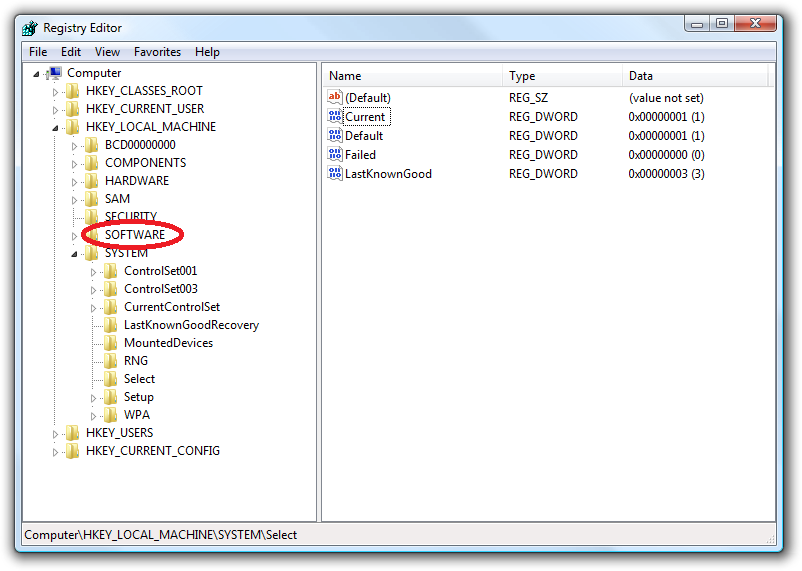 5th After you find the suspicious registry files, you need to find the location of the .exe files of the Trojan virus. In general, they will be located in operating system drive. Click start >> Computer or My computer. Usually, the operating system drive is Local Disk (C:)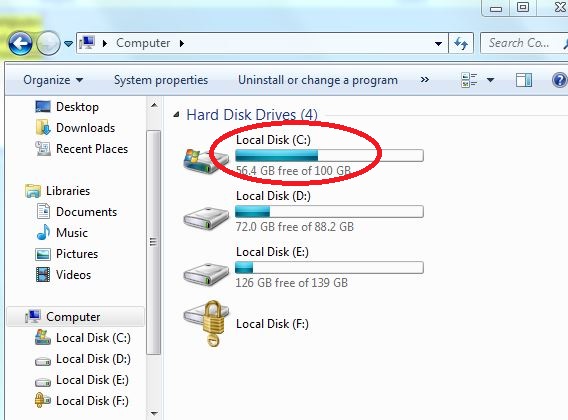 6th All the files related to the Trojan virus will be in Windows >> System 32. Find all the related files of Trojan virus and then delete them. Just make sure that what you delete is not the operating system or your computer system will crash. If you are not good at it, we are welcome you to ask for an expert for help.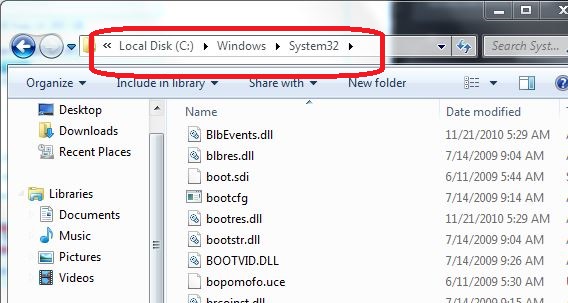 Video of Key Steps on How to Modify or Change Windows Registry:
Conclusion
Once your computer gets infected by this "Your Windows Has Been Banned" Screen Locker, please completely remove it from your computer without delay. Please don't be fool to call the number and pay to the hacker. It may look like the real Microsoft but actually it is not, please don't believe what it says. Microsoft will not lock their customers' computers in this way. What you should do it to restart your computer to safe mode then find the virus and remove it completely. Next time, please don't download and install freeware on the unknown or unsafe websites. Please think twice if you want to update the Adobe Flash Player.
Kind Remind: If you are not computer savvy or not familiar with the virus to remove "Your Windows Has Been Banned" Screen Locker virus. You can contact YooSecurity PC professional online service for help:

Published by Tony Shepherd & last updated on December 28, 2016 3:53 am