Fail to run some normal programs on your computer but have no idea what the reason is? Keep getting warnings and alerts from anti-virus programs like AVG, MSE and Norton but no luck to remove the virus Worm.Java.Autorun.C? Do you want to know what this thing is on the earth and get rid of it completely from your computer? How could this virus get into your computer when you have kept a rather good habit of using computer or even inaccessible to the internet for a few days but when you scan it you get the alert?
Description of Worm.Java.Autorun.C
This Worm.Java.Autorun.C virus is categorized as a worm virus. It is good at self replication which will lead to a less usable space in your hard drives. Based on that, you will fail to run some large games at first and the situation is getting worse because you are unable to run even some little CPU-occupy programs. You feel your computer is a snail trying to get to the top of a pyramid when you try to open a browser or run some programs. It is not hard to tell what will happen at last—your computer will finally stuck and fail to open almost anything. Since it has the outstanding ability to copy itself and most files in your computer are infected you may fail to delete this worm with the help of anti-virus software.
As it is so stubborn to get rid of, it is more dangerous to keep it in your computer. It has gained so much incredible capability to infect and spread without network, it is more excellent when there is network with the infected computer. It will acts like a stealer slipped into a house. Your privacy will be collected by it and sent to the remote hijackers to make some illegal profits. Your accounts identities as well as the passwords of some websites or even your bank information and credit card number will be kept by Worm.Java.Autorun.C. You are no longer have your own space to surf with your computer. How weird and uncomfortable it is!
Ways Java.Autorun.C Infects Your PC
Way for worm.Java.Autorun.C is similar to many Trojan viruses but much worse than you could imagine. It excels in the ability of infecting. It do have the ability to spread through the internet. But more than that, it is enabled to spread from one computer to another without network but a removable device. That means you're your computer was fine and had no network connection but it can be infected with this worm if you ever plug some removable devices such as a thumb drive or a CD to view the files in them. Then the worm will be able to move from the removable device to your computer. That is why you get this virus without any ideas about it.
Day by day, you will have a hard time while use the computer which is infected with this worm. And you computer will one day crashes. But don't worry. There do exit a way to delete it completely. The following is a manual removal guide which up till now is the most efficient way to deal with this worm virus.
Tips: If you are upset with all the efforts you have done, please contact YooSecurity PC online professional service. You can save much time and don't have any risk to remove Worm.Java.Autorun.C. Don't get around much anymore. Just click on the button below to get immediate help!


Some Obvious Symptoms of Infection with the Worm
A. Something is not normal with your computer such as it runs rather slow.
B. Some of your computer functions are unavailable or some normal legal programs can't run or they are in unusual conditions.
C. It can always happen when your system has errors somewhere.
D. It can mess up your computer system day by day.
E. The space of your disks is reduced all the time but you may not put that large amount of documents there.
Remove the Worm Virus Manually
If you have tried all ways you know but still cannot delete Worm.Java.Autorun.C successfully. Please follow these steps to get rid of this Trojan virus manually:
Step A: Press CTRL+ALT+DEL or CTRL+SHIFT+ESC(this operation varies by different operating systems). Open the Windows Task Manager.
If that didn't work, try another way by pressing the Start button and click on the Run option. This will start the Run tool. Type taskmgr in the box and press OK. This is going to start the Windows Task Manager for you.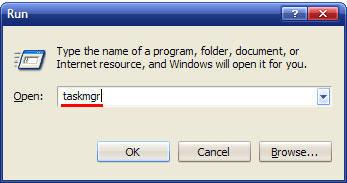 Step B: In the window of Task Manager, click on Processes tab. Find the process by the name of random.exe. Then scroll the list to find required processes. Select it with your mouse or arrow keys on the keyboard and click on End Process button. The process will be killed in this way.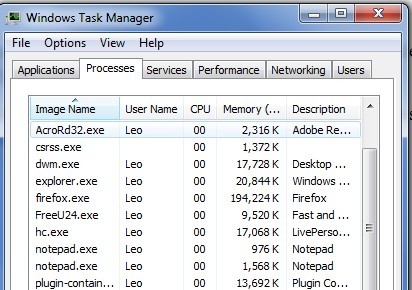 Step C: Go to Folder Options from Control Panel. Under View tab, select Show hidden files and folders and uncheck Hide protected operating system files (Recommended), and then click OK. Remember to back up beforehand.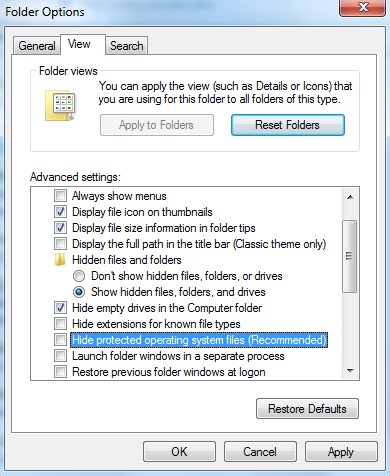 Step D: Press Windows+ R keys and type regedit in Run window. Delete associated files and registry entries related to the virus.
%Desktopdir%\Java.Autorun.C.lnk
%Programs%\Java.Autorun.C\Java.Autorun.C.lnk
HKEY_CURRENT_USER\Software\Microsoft\Windows\CurrentVersion\Uninstall\Java.Autorun.C\DisplayIcon %AppData%\[RANDOM CHARACTERS]\[RANDOM CHARACTERS].exe,0
HKEY_CURRENT_USER\Software\Microsoft\Windows\CurrentVersion\Uninstall\Worm.Java.C
HKEY_CURRENT_USER\Software\Microsoft\Windows\CurrentVersion\Uninstall\Java.Autorun.C\UninstallString "%AppData%[RANDOM CHARACTERS][RANDOM CHARACTERS].exe" -u
HKEY_CURRENT_USER\Software\Microsoft\Windows\CurrentVersion\RunOnce\[RANDOM CHARACTERS] %AppData%\[RANDOM CHARACTERS]\[RANDOM CHARACTERS].exe
HKEY_CURRENT_USER\Software\Microsoft\Windows\CurrentVersion\Uninstall\Autorun.C\ShortcutPath "%AppData%\[RANDOM CHARACTERS]\[RANDOM CHARACTERS].exe" -u
HKEY_CURRENT_USER\Software\Microsoft\Windows\CurrentVersion\Uninstall\Java.Autorun.C
Step E: Reboot the computer normally to take effective when the above steps are done.
This Video Shows You How to Safely Modify Windows Registry Editor:

Summary: Worm.Java.Autorun.C is a very dangerous infection of virus. It will cause a disaster in your computer and lead it to death if not removed completely and in time. Once the virus is executable on your computer, it will get started to replicate itself and adds its malicious copies to the system folders with random file names. This worm will bring many malicious changes in the system and installs more infections. What's more, the unpredictable ways of its spread and infection are even frustrating.
Kindly Reminder: If you fail to remove this worm virus with the methods you found from the internet, please consult YooSecurity certified professionals to remove it completely. For all the above operations need computer expertise and any wrong operation may lead to damage of your vulnerable computer system.

Published by Tony Shepherd & last updated on July 11, 2013 4:48 am