Are you annoyed by a site www.totalrecipesearch.com? Is it impossible to be removed from your computer? Is there anything you can do to fully remove it from your computer safely? Maybe this article will give you a better answer.
To Have a Better Understanding of Totalrecipesearch.com Redirect Virus
Some young people like playing online MMORPG game World of warcraft. However, recently, some players found that they computers got a redirect virus www.totalrecipesearch.com. It is a very normal URL like other webpages such as Google.com. So what's the difference between them? As far as we know, Google.com is a very famous search engine site which has a large quantity of users all over the world. It's legit obviously to all. And using Google or not is completely decided by yourself. However, www.totalrecipesearch.com is not like this one.
According to the survey, almost every one is unwilling to use such search engine site. They are forced to use it. What does this mean? In fact, it is a website with some virus that change your homepage and redirects you to the site www.totalrecipesearch.com, replacing your searching results. It comes with many viruses includes Trojan horses, malware or cankered links,very similar to Isearch.babylon.com and Mystart.Incredibar.com virus. it's nothing different from those famous search sites with a virtuous interface. When you get infected by this browser hijacker, it may not bring you to the forefront because you may think that it just changed your homepage and even you will regard it as one assistant for you to do some search more easily. If you really think so, you are all wet. The offensive Internet Browser Hijacker will drag you into the abyss of pain. The redirect virus may not just change your homepage to www.totalrecipesearch.com, but also can bring in much other virus such as Trojan, malware and fake virus. What I have to mention is that the redirected websites are all full of danger and even if you use Compare.us.com to search for something, you can't get what you need. It just shows some malicious links to you. When your browser is hijacked by redirect virus, your computer will always pop up some strange things. Of course, the browser hijacker mainly promotes www.totalrecipesearch.com to you. If you're overtax your nerves on this matter, it's time to get it expelled away from your computer forever.
To save your time and for a easy solution, you can contact YooCare/YooSecurity for help here:


Let's have a look at www.totalrecipesearch.com redirect virus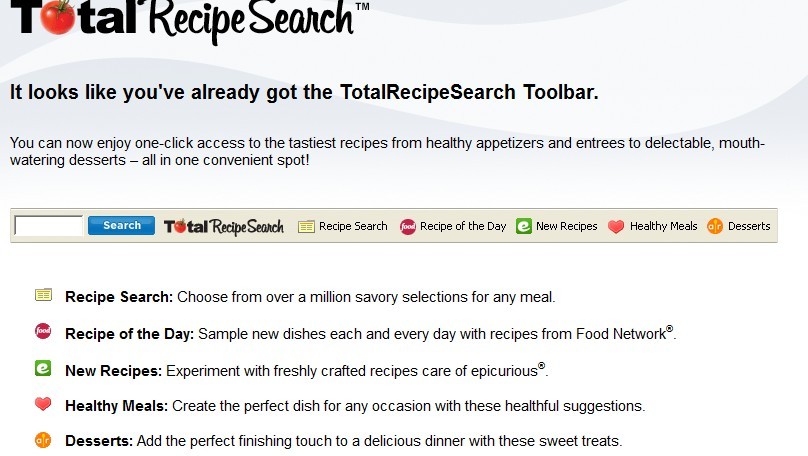 How to identify www.totalrecipesearch.com infection is in your computer?
Your browser settings and browser home page will be changed by Search.us.com.
It may show numerous undesirable and annoying pop-ups.
This virus will connect to the internet without your permission.
The virus keeps track of your internet browsing data and sends your browsing history data to remote location servers, owned by hackers that use this information to advertise their products via numerous pop-ups and hijacked browser homepages, new icons.
It can install unwanted programs to a victim's computer without user's knowledge and consent. This can make your computer slower in performance and stability.
The Trojan may produce many fake alert warnings, stating that your PC is infected with Trojans or other malwares that do not actually exist.
How to safely remove www.totalrecipesearch.com hijack virus?
Step 1: Press CTRL+ALT+DEL or CTRL+SHIFT+ESC. Open the Windows Task Manager.
If that didn't work, try another way. Press the Start button and click on the Run option. This will start the Run tool. Type in taskmgr and press OK. This should start the Windows Task Manager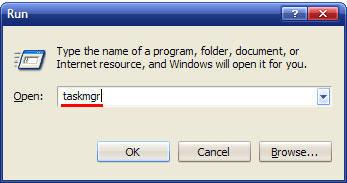 Step 2: In the Windows Task Manager click on the Processes tab. Find the process by name. random.exe. Then scroll the list to find required process. Select it with your mouse or keyboard and click on the End Process button. This will kill the process.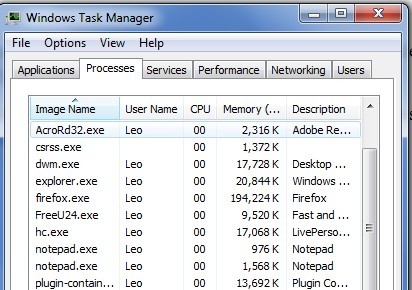 Step 3: Delete malicious registry entries related to www.totalrecipesearch.com browser hijacker virus.
HKEY_LOCAL_MACHINE\SOFTWARE\Microsoft\Active Setup\Installed Components\random
HKEY_LOCAL_MACHINE\SOFTWARE\Microsoft\Windows\CurrentVersion\run\random
HKEY_CURRENT_USER\Software\Microsoft\Installer\Products\3KRZBAD62HRGSRT675 "(Default)"="1?
HKEY_CURRENT_USER\Software\Microsoft\Windows\CurrentVersion\Uninstall\"UninstallTTRP" = "'%AppData%\[RANDOM]\[RANDOM].exe" -u
HKEY_CURRENT_USER\Software\Microsoft\Windows\CurrentVersion\Uninstall\"ShortcutPath" = "'C:\Documents and Settings\All Users\Application Data\3KRZBAD62HRGSRT675.exe" -u'"
HKEY_CURRENT_USER\Software\Microsoft\Windows\CurrentVersion\RunOnce "3KRZBAD62HRGSRT675" = "'C:\Documents and Settings\All Users\Application Data\3KRZBAD62HRGSRT675.exe'
Step 4: Remove malicious files of www.totalrecipesearch.com virus
C:\WINDOWS\assembly\OTF_64\Desktop.ini
C:\Windows\assembly\OTF_32\Desktop.ini
C:\WINDOWS\system32\ping.exe
Video of Key Steps on How to Modify or Change Windows Registry:
At last but not least, never believe those so called free software! Don't download to install those stuffs in your computer. They can not only remove the www.totalrecipesearch.com virus for you, but also bring you much more other virus such as ransomware, scam virus even fake things. You may not be aware that those so called free software can be another cheater, which will make you gain just more loss. Please don't take a chance to have a try. It's nonsense. There is no free lunch! If you really can't remove Start.Search.us.com yourself, please find an expert for assistance. This is the best choice.
Note:If you failed to remove www.totalrecipesearch.com with the method above, please consult YooSecurity certified professionals to remove it completely.

Published by Tony Shepherd & last updated on October 12, 2012 3:12 am