Hello, may I ask some question here? Why does a white screen keep coming up on android? A few minutes ago, I browsed a video on webpage about porn thing, and then that white screen warning some porn illegal actions start to keep popping up to block me to do anything on my android Samsung tablet. But actually I didn't watch banned porn video. It says I break some United Stated laws! It blocks my internet access on tablet totally. I can't see the settings, photos , contacts and can't make phone call or text message. Is it really from the FBI police department because it also demands a fine amount of 500 dollars to unlock my android?
Why Does A White Screen Keep Coming Up on Android?
You're now frustrated with a white screen blocker on your android device and don't know what it's and how you could get this white screen warning notice. Actually popping up white screen blocker is caused by a malware which is classified as ransomware. This kind of ransowmare now is common and targets worldwide android users to extort money. This ransomware should be those like FBI warning scam virus, NSA virus, Interpol virus, British Police virus, RCMP Interpol virus, ICSPA virus, or AFP virus. The main feature of these ransowmare has a white screen warning saying your mobile is blocked up for safety reasons. In white screen, the content is written in detail saying 'You are accused of viewing /storage and or dissemination of banned pornography (child pornography/zoophilia/rape etc.)…' and you are suspected of violation of 'Copyright and Related rights Law' as you perform such illegal actions as watching porn material and downloading and distributing pirated music, video. Some victims are confused why they got this scam thing as they didn't do anything as it mentioned in the white screen warning. However, many innocent victims are still scammed by this nasty ransomware and even summit money as it demands. That's because that white screen warning masquerades as the solemn looking of FBI, NSA, Cyber Police, Interpol Police, ICSPA or AFP etc to accuse you and demand a fine or $100-$500 or £100-£250 paid by a prepaid card like moneypak, itune gift card,paysafecard  or ukash within 24/48/72 hours as a punishment.

Masquerading as the legitimate and authentic looking and logo of government department, law enforcement agency and police office is the tricking tactic created by cyber scammer to design this kind of ransomware, as that looking will look like more genuine. And many people who get this white screen blocker will believe that fact more. People will believe they really do something wrong and has been broken the law even though they clearly know they didn't do anything falsely. The cyber scammer also can detect your real location, ID or IP address then show those information together with our photo, contacts and country on that white screen warning, which will make victims believe more that the warning notice is from police office. And victims also are threatened that they will be prosecuted or put into prison for 5-8 years if they can't summit the fine within limited time. Victims are worried and scared so in order not to get any trouble with lawsuit and even be caught into prison, they soon fall into scam trap and submit money. The goal of ransomware is to extort money from people. So scammer must design the malware looking genuine to scare and convince people.
Screenshot of the White Screen Warning on Android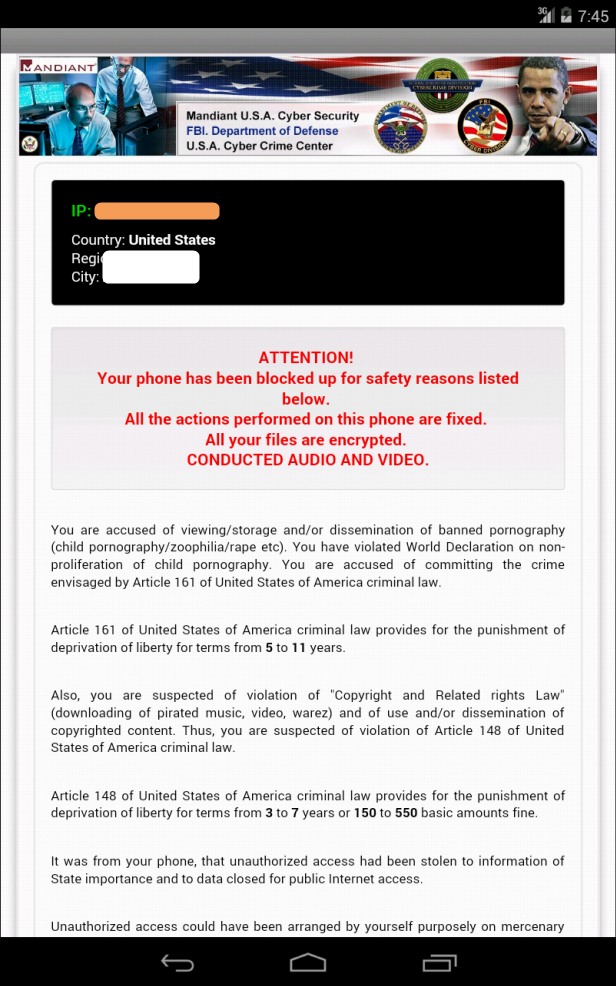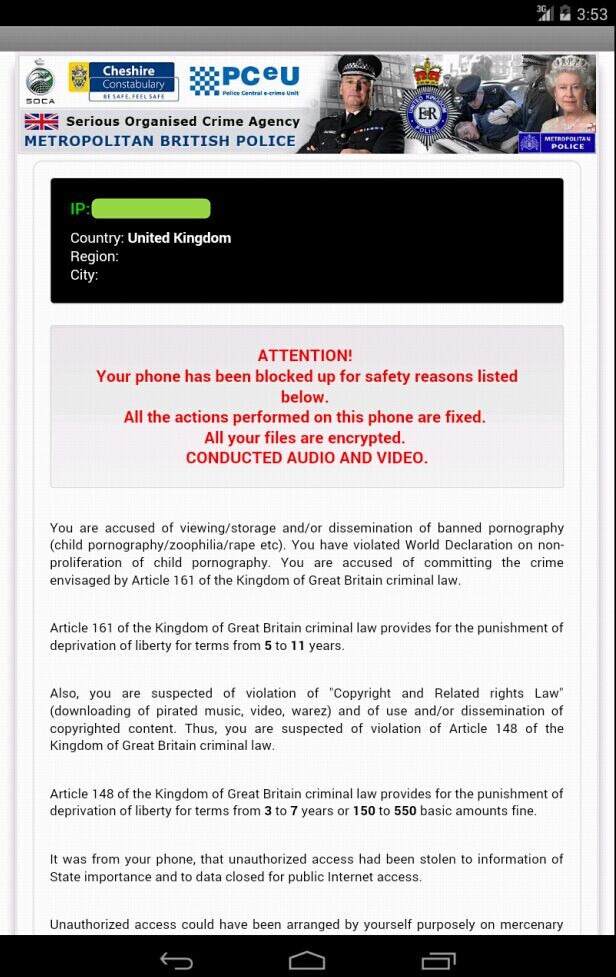 What'll Happen to Your Android If A White Screen Keeps Coming up on Android?
1. The white screen warning scam is designed to lock your phone and tablet asking that you need to pay for a fine $100-$500 to unlock your android device. In fact, it is just a big scam.
2. It locks your android phone or tablet, claiming that you've violated the law of local office by visiting illegal information online.
3. Soon as the white screen warning scam targets your android phone or tablet, it blocks your android device and prevents you from doing anything there.
4. It allows remote access to your android phone or tablet for your personal information and other sensitive information.
If you find any symptoms listed above showing on your android  cellphone or tablet, then your android device must be suffered with a malware infection(which can be NSA $100 iTunes Gift Card Scam, United Kingdom Police virus scam, FBI scam virus, Mandiant U.S.A. Cyber Security virus, FBI Moneypak virus, Prism virus, U.S.A Cyber Security virus, AFP Crime Commission virus and GVU Ukash Virus etc.) that blocks your access to your android phone/tablet. Welcome to contact YooSecurity Online Experts for manual removal guide. Also, we will provide a short removal guide below for android phone and tablet literate.
NOTE: Being afraid to do any wrong operation during the process of removing white screen warning scam from phone or tablet? Please contact YooSecurity Online Experts, we are here to help you:


What You Should do if a White Screen Keeps Coming up on Android? (Ransomware Manual Removal Guide for Android Phone/Tablet)
1. Since your android phone or tablet is blocked by this white screen warning scam malware, you will need to restart your android phone or tablet into safe mode which starts up without loading any third-party add-ons. By this way, you are capable to carry out malware removal steps on your android phone/tablet. Here are two examples for you to put the android phone and tablet to safe mode. The method mentioned below is also applied to most android phone. Take Dell Tablet as an example:
For Dell tablet: 1) Power down. 2) Turn on till you see the Vendor's logo, press and hold Volume Down key till you access to safe mode.
Note: Samsung, Sony, HP and other brands' tablet users can also try the same way as Dell's to put your tablet to safe mode. If you have put your tablet to safe mode successfully, you should see a text "Safe Mode" at the bottom left corner.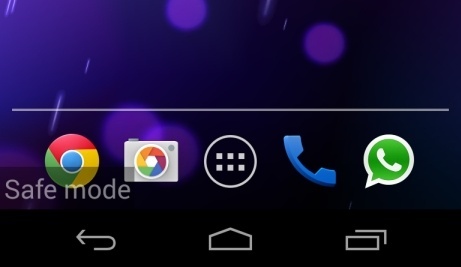 2. Once you have put your tablet in safe mode, you are capable to uninstall malicious apps of your android phone/tablet. However, the manual removal process of harmful apps requires sufficient expertise. To safely deal with this kind of ransomware and other hazardous apps, you had better contact an expert online for further removal help.
Conclusion
If you find a white screen keep coming up on android device, you should first think twice before you do anything like search around on the Internet for the information about this white screen warning, even though it claims you're doing illegal activities like watching porn material, downloading pirated contents like music and video or distributing copyrighted contents as so on. Don't be scared by its looking labeled with logo of FBI, NSA, Cyber Police, Interpol Police, ICSPA or AFP etc. you should think logically that those government department or law enforcement agency will not punish someone who break the laws online. If you really do illegal activates to break the law, the real police will go through the legal procedures to show your illegal evidence face to face. So don't such a fool to drop into this kind of scam trap. You'll just lose money but don't get help to unlock your android from that white screen warning if you really submit so-called fine of $500.
Suggestion: Have spent a lot of time but can't get out of white screen warning Scam Virus on your mobile device? Contact online experts for tech support now!


Published by Tony Shepherd & last updated on June 3, 2016 9:35 am