Is VyprVPN free trial available? Do you now want a free trial to test and experience if VyprVPN is your best fit? VyprVPN closed 3-day free trial account for common users, instead, it is offering 30-day risk-free trial account. But you still can get a free trial from VyprVPN for Business or Business Cloud. Every basic plan provided by VyprVPN included a 3-day free trial before, but it doesn't offer it now, and they don't have VyprVPN Premium yearly plan and VyprVPN Premium Monthly plan. Instead, they are offering tree different plans: 1-month plan, 1-year plan and 2-year plan. All services plans are 30-day Money-Back guarantee, you cancel it any time or keep it when you are satisfied after experiencing 30-day risk-free trial on yearly plan. Of course, you can get VyprVPN free trial account but only on business plans.

About VyprVPN
VyprVPN is one product of Golden Frog GmbH which is located in Switzerland. Switzerland has a long history of respecting privacy and has established a legal framework to protect it. So, VyprVPN can give customers complete privacy and security on the internet. Your private information and internet traffic will never be collected or monitored by anyone there. Besides, VyprVPN also has a strict zero-logging policy which means Golden Frog GmbH never records or retains any data when customers use the VyprVPN service. VyprVPN separately gave 3 and 5 simultaneous connections for VyprVPN plan and VyprVPN Premium plan before but now it gives 5 simultaneous connections for all service plans. VyprVPN has expanded their network to over 700 servers covering in over 70 countries across 6 continents. VyprVPN develops cutting-edge and easy-to-use apps for Windows, macOS, iOS, Android, TV and router. VyprVPN gives unlimited server switching. VyprVPN operates zero-knowledge DNS called VyprDNS which is developed by Golden Frog. There is no third party, so you can get complete privacy on the internet with VyprVPN. Besides, there is an additional security layer called NAT firewall used by VyprVPN to protect your VPN connection. And this NAT firewall protects your router and mobile device. Different protocols including OpenVPN, L2TP/IPSec, PPTP and Chameleon are adopted to give fast connection speed and strong protection.

Learn About VyprVPN Plans
1-Month Plan $12.95/Month ($12.95 billed every month; 5 simultaneous connections)
1-Year Plan $3.75/Month ($45.00 billed every year, SAVE 71%; 5 simultaneous connections)
2-Year Plan $2.50/Month ($45.00 billed every two years, SAVE 81%; 5 simultaneous connections)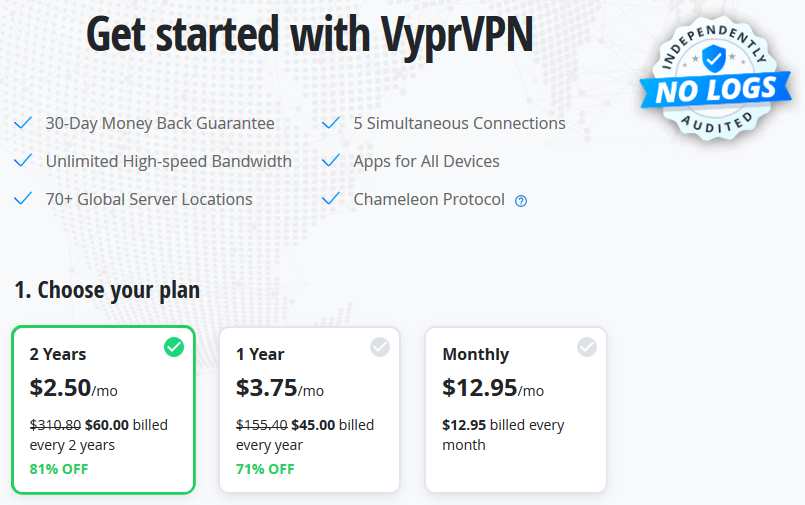 Now VyprVPN provides up to 81% discount on their yearly plan. If you choose the VyprVPN 2-year plan, you will be charged US$60.00 for the two years.
Formerly, VyprVPN Premium plan was better than the basic one, because Premium plan gave up to 5 simultaneous connections, VyprVPN proprietary Chameleon Protocol, VyprVPN Cloud. That means you can connect on five devices at once, and now it covers on all service plans. Chameleon protocol has a strong ability to defeat VPN blocking to bypass restrictive censorship. VyprVPN Cloud controls your own dedicated cloud VPN server.
VyprVPN for Business
Who Needs a VPN for Business? VyprVPN for Business offers Internet privacy, security and freedom for your employees and business. You can secure your business communications and take control of your network with VyprVPN business plans. Before you sign up for a business plan you can get a VyprVPN free trial account by contacting their support team. What you need to do is just fill out the form and submit.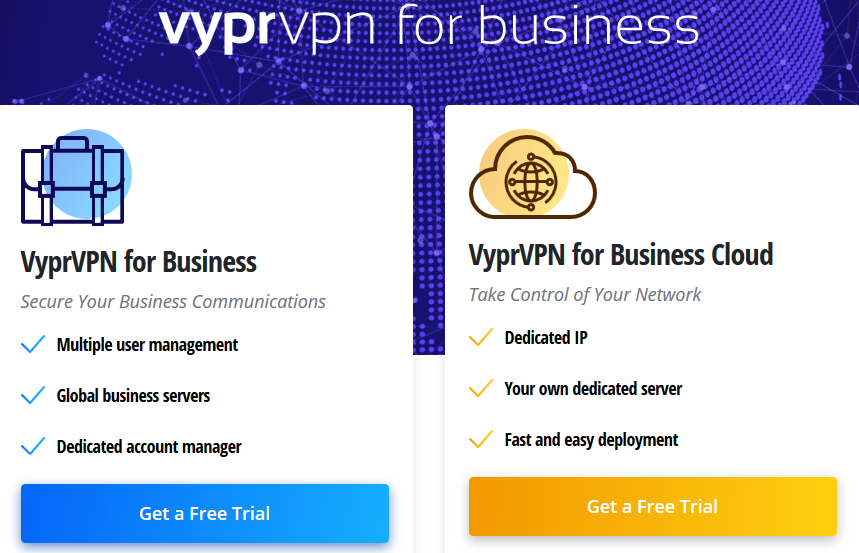 What Features You Can Test or Experience During 30-Day Risk-Free Trial?
VyprVPN has multiple features and technologies to ensure online security, privacy, anonymity and freedom. You can choose and connect to their fast network with over 70 server locations. VyprVPN is equipped with such powerful and remarkable technologies as VyprDNS – Zero-Knowledge DNS, NAT Firewall, Chameleon™ Defeating VPN Blocking and more. You are able to use the VyprVPN apps on your favorite devices like PC, Mac, smartphone, iPhone, iPad, routers and other platforms. VyprVPN provides multiple protocols including OpenVPN, L2TP/IPSec, PPTP and proprietary Chameleon. You are allowed to choose your favorite level of encryption, speed and protection for your VPN connection. You will be able to experience and enjoy VyprVPN's exclusive features and proprietary technologies and features available in your 30-day risk-free trial.
VyprVPN has their own servers and DNS, so that they can give customers fast speed. VyprVPN expands their network with over 700 servers in more than 70 locations worldwide. Once you use VyprVPN service, you can connect to the fastest VPN service worldwide. VyprVPN ultra-fast servers are scattered in North America, Central America, South America, Europe, Asia, Oceania, Africa, and the Middle East. You can connect servers located in Canada, Mexico, United States, Panama, Brazil, Argentina, Austria, Belgium, Denmark, Finland, Russia, Germany, Switzerland, Netherlands, Italy, Australia, Hong Kong, India, Pakistan, Philippines, South Korea, Israel, UAE and more. There is unlimited server switching and unlimited speed. You can choose your favorite servers with over 200000 IP addresses. You can use VyprVPN to connect to the server location you need and access any websites, stream any contents from anywhere.
VyprVPN creates Apps and software working on different devices based on different systems including Windows, macOS, Android, and iOS, which are all major and popular systems we usually use. VyprVPN is also compatible with other platforms like Router, TV, QNAP, Blackphone, Anonabox, DD-WRT, OpenWRT, ASUSWRT, Boxee, Synology NAS, Blackberry. VyprVPN utilizes the strongest AES-256 encryption to protect internet user's online traffic even though they connect to the unsecured and unknown WiFi hotspots. VyprVPN secures the connection through devices, changes the IP address, and goes around net censorship to help internet users access any websites and contents anywhere. You can get 30 days risk-free on its regular plan, if you want to get VyprVPN free trial account, you can consider its business plans, free trial just works on VyprVPN Business or Business Clound.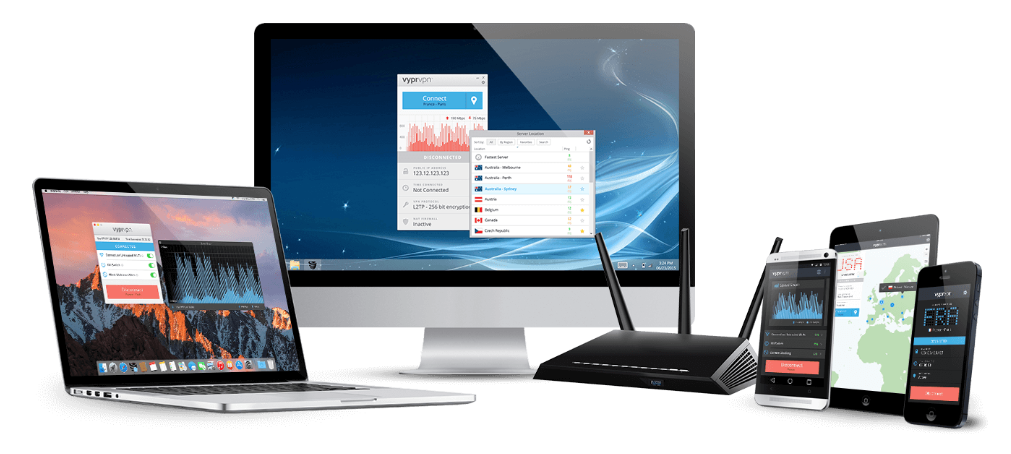 VyprDNS – Zero-Knowledge DNS
VyprDNS is developed by VyprVPN themselves. VyprDNS can greatly increase user privacy and strongly defeat censorship across the world. Unlike other VPN providers, VyprVPN uses their own Zero-Knowledge DNS not the third party DNS. VyprDNS is owned and operated by Golden Frog and exclusive for VyprVPN users. VyprDNS can't be used separately form VyprVPN. Some VPN providers use third party DNS which will not be secure and can't give you privacy and security actually, because the third party DNS will monitor, log and collect user's internet traffic and other personal information. It may rout DNS traffic to malicious sites that requires users' sensitive information. The DNS query will be also collected by the third party DNS. However, VyprVPN operates their own DNS, VyprDNS will receive DNS requests through the Golden Frog network, and the requests will not be monitored, logged or manipulated by any others. VyprDNS is specifically designed to defeat DNS censorship and promote online freedom. Internet censored countries like China, Iran, UAE and Turkey can intercept your DNS request if you try to access blocked foreign websites like Twitter, YouTube, WhatsApp and redirect you to an error page. VyprDNS is a Zero-knowledge DNS that means Golden Frog never collects or stores your hostnames, IP addresses, websites visited or geolocation data. VyprDNS does not implant ads into your DNS requests, and never manipulates websites you visit. Instead, all your data goes through an encrypted tunnel which will not allow anyone to examine or intercept.

NAT Firewall adds one more layer of security for VyprVPN connection. This feature mainly blocks unrequested inbound traffic happening when are connecting to VyprVPN. Usually hackers and other prying eyes can check if there is flaw or bugs happening on your device, and they can use these flaws to insert identity theft and spamming things. Hackers can easily access your system via the internet connection left open by applications. Once the hackers can access your network, it will be easy for hackers to install anything malicious like malware, ransomware, identity theft and more to collect your personal sensitive information. However, if your internet connection has a feature called NAT Firewall, this firewall can soon shield you from any kinds of scans conducted by cyber hackers to reach your devices when you are connecting to VyprVPN. It is necessary to have a NAT firewall when you connect to the Internet via wireless router if there is no VPN protection. But VyprVPN has the VPN tunnel travelled through your wireless router, which give you dedicated connection to the internet. What's more, NAT Firewall protects you from unrequested inbound scans when you connect to VyprVPN. VyprVPN connection will never be shared or injected with malicious ads. In a word, NAT Firewall blocks any kinds of malicious scans in order to stop those malware and identity theft. It is a strong firewall to stop any potentially malicious connections to steal personal information. NAT Firewall is a must-have feature for a strong VPN.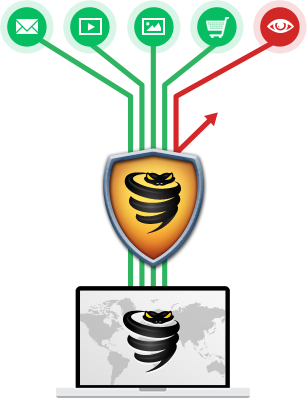 VyprVPN Chameleon VPN Technology
Chameleon technology is developed and engineered by Golden Frog. It is a remarkable and proprietary technology. Chameleon technology is actually a kind of obfuscation which can scrambles OpenVPN packet metadata to ensure it's not recognizable through deep packet inspection (DPI). Chameleon technology integrates OpenVPN 256-bit protocol for the underlying data encryption. Chameleon is actually a protocol or VPN service which can disguise VPN traffic as regular web traffic, even when it is subjected to deep packet inspection by network administration or firewall. Chameleon protocol can mask your VPN traffic and make it look like a normal HTTPS traffic to bypass the detection of firewall and internet censorship. That means the censorship or other internet regulations will not be able to recognize that you are connecting to a VPN network. HTTPS traffic is more easily recognized and confirmed by a router or firewall, and go around the detection of a firewall or firewall of your network. Chameleon technology can first mask the header of your traffic which contains information identifying VPN encryption by using obfuscation skill. In a word, Chameleon technology can strongly scramble or disguise your VPN traffic. Therefore, VyprVPN users can bypass restrictive networks and other censorship practiced by government, corporations, ISPs, schools, and university to achieve more freedom on internet. Chameleon technology is proven to a strong function to help users living in or travelling to internet censored countries like China, Russia, India, Turkey, Iran and Syria, because, Chameleon technology can defeat VPN blocking and any kinds of internet censorship. Chameleon technology defeats VPN blocking vid DPI, deals with bandwidth throttling and bypass censorship anywhere in the world.

VyprVPN is the Best VPN for China
Before we go ahead to tell more about if VyprVPN free trial is still available, let us learn if it is good in China. As well all know that China practices the strongest and most sophisticated Internet Censorship in the world to control and supervise their national network security. The Internet censorship in China strictly controls and limits where and what people can browse, discuss and publish on the internet. The strict internet censorship of China is called the Great Firewall by netizens. The Great Firewall particularly blocks foreign social media, messaging, news, photo sharing, streaming and other social networking sites and apps. So you will find those popular and most-often-use apps like Facebook, Twitter, YouTube, WhatsApp, Snapchat, Viber, Spotify, Instagram, Flickr and more are not allowed to use in China. When you just come to China, you will not be able to access these apps and website with a China IP address. Popular social media websites and apps allows different internet users to speak and post everything they can freely. But some potentially bad people like terrorists would take this chance to post and propagandize their political views and ideas to interrupt other internet users, which may even cause a riot and even more serious events. And these potentially unfavorable even bad views will be a big threat to society security actually. However, China government can't control and manage those platforms. Therefore, they have to use the internet censorship to prohibit people accessing these social media websites and apps from foreign countries. That's why those popular social networking apps can't be used in China.
However, it is not convenient for people to contact their friends or families if these apps and websites can't be access in China. To solve this problem, internet users has to use a VPN tool to help them bypass the internet censorship and access their apps successfully. VyprVPN is one of the best VPNs to circumvent censorship and access any websites and contents in China. VyprVPN has a powerful and remarkable technology called Chameleon technology which is actually a kind of obfuscation feature. It strongly masks your VPN traffic and makes it look like a normal HTTPS traffic, so that your VPN traffic will not be able to be identified and recognized to be VPN network but a normal traffic. And HTTPS traffic is recognized as a secure traffic by internet censorship by default. Chameleon technology makes VyprVPN strong enough to bypass the VPN blocking and any kinds of detections performed by the Great Firewall of China. What's more, VyprVPN is proven to be the powerful VPN to work in other internet censored countries like Russia, India, Iran, Syria, UAE and more. That means you can access any websites and contents even you go to these countries with strict internet censorship if you are using VyprVPN on your devices.
VyprVPN also can help people to bypass any internet restriction imposed by schools, corporation, university or workplaces. VyprVPN masks your real IP address and assigns you with another new IP address form any of their 70+ worldwide server locations. In addition, VyprVPN proprietary Chameleon VPN technology defeats VPN-blocking. Internet users can use the VyprVPN apps to circumvent censorship from any location in the world. You are strongly suggested to use this VyprVPN to bypass blocked websites and contents and maintain access to an unrestricted internet.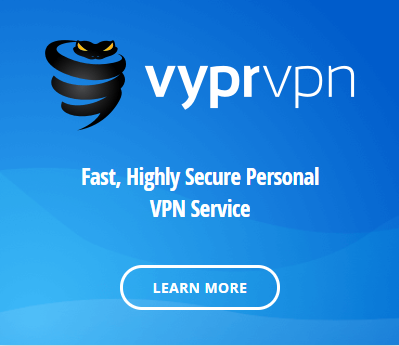 Video Shows VyprVPN 3-Day Free Trial (Expired)
Summary
VyprVPN free trial is a test for new users to experience the excellent features and technologies provided by VyprVPN on business plan. During the free trial, you can test and experience VyprVPN's huge and fast network, Chameleon technology, zero-knowledge VyprDNS, NAT Firewall and more features. You won't be offered free trial account on regular plans and you will be billed $60.00 for the first year and $80.00 annually thereafter on VyprVPN premium yearly plan. VyprVPN is particularly the best VPN for people living or travelling to internet censored countries like China, Russia, India, UAE, Iran and others as it has strong performance and technique called Chameleon technology. It can make your VPN network look like a normal and secure HTTPS traffic to bypass the detection of VPN blocking and censorship. You can use VyprVPN to stream favorite contents, access blocked websites and other contents blocked by internet censorship anywhere all over the world. VyprVPN defeats throttling. Therefore, when you are connecting to VyprVPN, your ISP only sees an encrypted traffic but don't know it is a VPN network. Then you can enjoy faster, unrestricted internet speeds on Netflix, YouTube, Hulu, BBC iPlayer and more. Besides, VyprVPN's engineers build and manage their global VPN network to provide the fastest throughput to your location. VyprVPN encrypts and protects your internet connection, safeguards your personal information, communications and data. VyprVPN also provides the lightening-fast speed when you are streaming popular movies, TV shows, broadcast live programmes and others. You can freely connect to any of VyprVPN's 70+ server locations worldwide. VyprVPN gives complete online privacy, security and anonymity. It is a wise decision to use VyprVPN free trial to experience Golden Frog's fast VPN service and restore your freedom and go around net censorship worldwide.

Published by Tony Shepherd & last updated on November 27, 2020 6:55 am