I need help to get rid of the Virus:Win64/Rovnix.gen!C pop up on my computer. It keeps being quarantined by MSE but will reappear on the system when I thought it was removed after reboot. I keep receiving numerous alerts on the PC and am having troubles to run it as normal. I have lots of important work on the computer which I can't afford to lose. Can this infection hack into my data? What can I do to remove Win64/rovnix.gen!c virus pop up?

Virus:Win64/Rovnix.gen!C – Remove Trojan Infection
Virus:Win64/Rovnix.gen!C is a pop up threat that has been detected on many Windows computers lately to cause huge troubles for PC users. It is a type of Trojan horse that comes from the Rovnix category. According to records, this type of Trojan horse cannot be successfully removed by most anti-virus programs even if it's stated to be deleted off of the system. Users usually will notice the constant coming back of the Trojan after a system reboot. Similar to many other risky Trojan viruses, this Trojan infection pop up is not only able to weaken the system security to bring in other potential threats, but steal sensitive records on the infected systems to benefit unknown online third-party who created or released the virus. If you are currently having a hard time to remove Virus Win64/Rovnix.gen!C pop up, try to do it manually. The passage below will provide a manual guide to help victims get rid of this Trojan threat.

There are many possibilities for Windows users to be attacked by this nasty Trojan virus, especially when they do not behave according on the Internet. The Virus:Win64/Rovnix.gen!C is believed to be able to get on your computer in any bundle with freeware (mostly files and programs of unknown resources online). It can also hide in online pop-up advertisements to hack into your computer once the pop ups are clicked to open. We have found out that this Rovnix variant is not able to be completely eliminated by many security programs. For some, they can't even detect the threat in your system. By modifying the system defaults and adjusting security settings, the Trojan virus can stay long enough to cause lots of troubles:
System defaults can be automatically adjusted to provide convenience for other threats.
Numerous security popups can be seen on the computer constantly.
Unknown downloads can be automatically started without consent.
System becomes rather sluggish.
BSOD can be expected.
Computer automatically shuts down every once in a while.
…
How to get rid of Virus Win64/Rovnix.gen!C completely without reappearing?
Some computer users often think that the threat is deleted by anti-virus once detected. Then they find themselves wrong again as the Virus:Win64/Rovnix.gen!C will usually reappear after a system reboot. In this case, a complete removal of this Trojan virus is suggested to be done via manual process which guarantees a successful and complete removal of both the Trojan and other potential Rovnix variants on the computer. The manual process including locating, identifying and deleting program files and registry entries requires certain computer skills to follow. Otherwise, any mistake could cause more problems including a complete system crash.
Suggestion: If you are not qualified with advanced computer skills, contact YooSecurity Online PC Experts now to get help to get rid of Win64/Rovnix.gen!C virus pop up:


A Screenshot of The Trojan Detection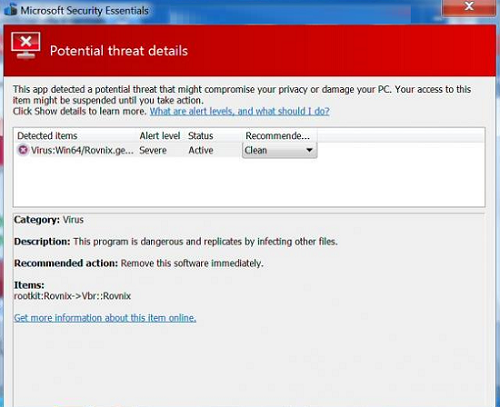 Guide to Remove Win64/Rovnix.gen!C Trojan Manually
Step-by-step manual removal guide:
*Special hints: Below are some general steps on how to get rid of Virus:Win64/Rovnix.gen!C pop up manually. But as mentioned before, the virus files and locations can change from time to time in order to hide itself deep inside the system. If you are having troubles identifying the files to delete, look closely and pay attention to those similar system files with different paths. This Trojan horse is capable of renaming its files quite similarly with system files. Confusing letters or digits like "1" and "I", "0" and "o" may be used.
1. Windows Task Manager.


Press CTRL+ALT+DELETE or CTRL+SHIFT+ESC; or pull up Run box from Start menu to type in taskmgr
Click on Processes tab
End process of items related to the Trojan virus
Or
Click on Applications tab
Right click on the items you want to End
Go To Process
End Processes
2. Delete virus files and registries from system.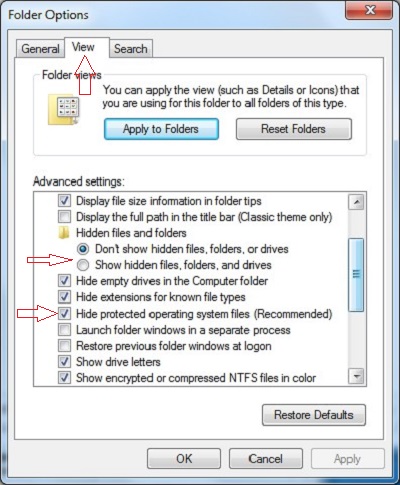 Click on Start button
Control Panel
Search for "folder options" on top right corner
Click on View tab
Show hidden files, folders, and drives
C:\Users\user name\AppData\local\temp\-
C:\Users\user name\appdata\local\-\cache\random.exe.
HKCU\Software\Microsoft\Windows\CurrentVersion\Run\-
…
Similar video guide to modify Windows registry:

Conclusion
Virus:Win64/Rovnix.gen!C is a stubborn Trojan horse infection that needs to be removed manually. It can be detected by some anti-virus programs but can't be deleted by them successfully. The Trojan infection can get onto your computer in any bundle with programs or files you download from unknown resources on the Internet. Being able to escape or even disable security programs installed on the infected computer, the virus will modify the system defaults first to further compromise the system. Not only potential malware problems can be brought onto the computer, but sensitive data of users may be collected to help cyber criminals. Once being identified, the Trojan virus pop up should be removed in time in order to avoid these further consequences.
Note: Have a hard time to follow on-site instructions to get rid of the Virus Win64/Rovnix.gen!C threat from system? To save your PC from all the damages, Contact YooSecurity Online PC Experts to get help now to restore computer from all the potential problems:


Published by Tony Shepherd & last updated on January 23, 2014 8:56 am