People who are short of vigilance may be attacked by ransomware, The main reason may be that surfing the internet is the only way to communicate, trade, entertain and do some other activities with other objects on the networks. As long as the network is in active state such ransomware can make an incursion in the background. Policia de segurança publica Portuguesa is sweeping its way to launch a global offensive. Be careful!
What is GOVERNQ DE PORTUGAL Locked PC Virus? How to get rid of it from my computer?
Policia De Segurança Publica Portuguesa Virus, is a very dangerous Ukash Winlocker virus Which can trick victim users for money and severely makes the system compromise to the worst performance. Like Canadian Security Intelligence Service (CSIS) Ukash virus, it is known as ransomware which hijack users' computer to ask for a ransom or forfeit. In order to unlock their computer, the users have to do as the ransomware says. However, it does not only invade personal computers in Portuguese areas. It has different interface and language depending on the country of attack. Mostly, the ransomware pretends to be the national government offices. Once infected with Policia De Segurança Publica Portuguesa virus all the icons or the files on your computer have been changed and the size properties have been hanged too and the wording on the files say "locked" and then the file name. Policia De Segurança Publica Portuguesa virus is the name of the malware or so called government scam in Portuguese areas. There're various names of it in other country like Strathclyde Police Ukash Virus, Scotland Yards Ukash Virus, Guardia di Finanza Ransomware, Gendarmerie Nationale Ransomware, Police Central e-crime Unit (PCEU) Ransomware or 'Die offizielle Mitteilung des Bundeskriminalamtes Trojan. Until recently, the infamous Ukash virus had only attacked computer systems located in Europe, but it spreads fast to Canada, America, aAustralia, like the one Royal Canadian Mounted Police Ukash Virus. Not for a long time, it will be a huge threat for people all over the world. It brings lots of PC owners trouble and pains as well as money loss.
Here are one picture showing how the ransomware works: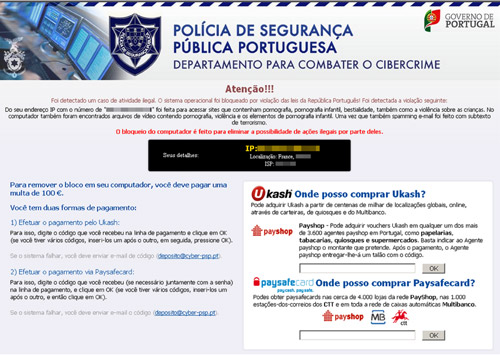 To save your computer, Live Chat with YooSecurity Expert Now, or you can follow the manual removal guide below to get your problem fixed. (For advanced computer users)


How does Policia De Segurança Publica Portuguesa Virus lock personal computers?
Like other versions of the Ukash virus or ransomware, the policia de segurança publica portuguesa Virus hijacks users' computer and blocks all access to the Task Manager and to the infected computer's desktop by pop-up alert claiming to be authorized by the Policia De Segurança Publica Portuguesa (in French also known as Service canadien du renseignement de sécurité), then tells you that your computer connecting network containing illegal pornographic. If the users don't pay some money for penalty, the users will be prosecuted by related department.
In most situations, the threat alert information may like this: Attention! Your computer has been locked! Your computer has been locked due to violation of the law. Your activities such the film shooting, registration or transfer of documents with pornographic content involving minors, child pornography, sodomy and violence against children violate National Law. To unlock your computer, you have to pay a fine in accordance with Stastes law in the amount of 100 euros. A penalty in the form of fine is possible only if it is your first violation. Repeated violation entails criminal liability. If you do not pay the fine, your computer will be confiscated and your case will be referred to the Court. And you are threatened to do those things: To pay the fine through our partner or by using Ukash voucher. You can get Ukash voucher for the amount of $250, then fill in the form, specifying a voucher code and then click on the "Pay the fine" button. Please never believe this kind of information, it's totally fake and even if you pay for it, your computer will be still locked.
Best way to remove Policia De Segurança Publica Portuguesa Virus efficiently
Since your computer is locked by such nasty virus, you have to delete the virus manually with professional computer knowledge. Policia De Segurança Publica Portuguesa virus locked my computer? Ukash virus removal in Portuguese areas? How to get unlock my files being locked by policia de segurança publica virus?
Step A: Restart your computer in safe mode. To do this, please press F8 key before the system is started like this: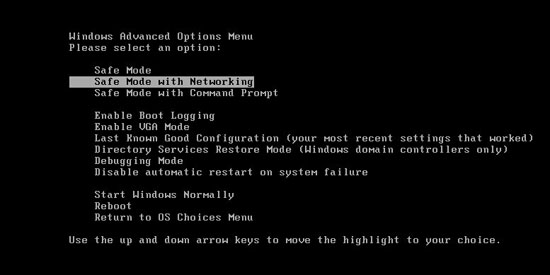 Step B: Press Ctrl+Alt+Del keys to open the Task manager to stop the progress of Policia De Segurança Publica Portuguesa Ukash Virus Ransomware. Because the name will be changed fast, it will be show with different name.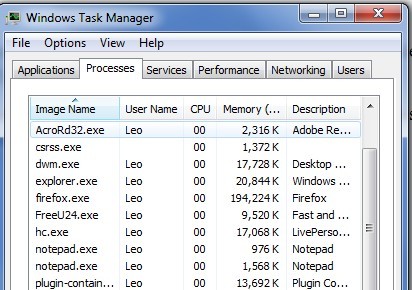 Step C: Delete all the files related to GOVERNQ DE PORTUGAL Vírus Ukash virus
Step D: Delete GOVERNQ DE PORTUGAL  Ukash Virus register entries created in computer system.
By the way: Manually remove Policia De Segurança Publica Portuguesa Ransomware is a rather difficult work, if you are not a professional computer expert. To avoid any mistakes damaging your system you are welcome to get help from YooCare experts 24/7 online in time. This is the real fastest and safe way to remove it.
Similar Video Guide to Remove Policia De Segurança Publica Portuguesa Ukash Virus
Special tips: Spending a lot of time fixing your computer but in vain? Still be confused with the whole removal process? Need help removing the Policia De Segurança Publica Portuguesa virus? Just click here for further help now:

Published by Tony Shepherd & last updated on May 10, 2012 5:06 pm