Do you get a pop up from http://updating-your-browser.org constantly? Does this pop up keep telling you that you have an outdated browser and you need to update it in order to enjoy a full experience of searching online? Why does this pop up on browser keep reappearing once in a while to block you from accessing web sites online? Is the browser hacked? Do you keep failing to uninstall this webpage from Control Panel? How to remove this pop up from browser successfully?

Updating-your-browser.org – How to Remove Browser Hijacker
The pop-up Updating-your-browser.org webpage telling you that your browser is out of date and you need to update it is a misleading message distributed by an adware problem on your computer. It's used by online third-party to trick computer users into downloading unknown malware onto the computers for criminal usage later on. This kind of pop up on browser is categorized as a browser hijacker problem which has been detected on lots of computers (including Windows and Mac OS) attacking browsing applications such as Google Chrome, Internet Explorer and Mozilla Firefox. It's a constant pop-up ad generated from unknown adware platform. The affected browsers will be totally messed up by this kind of browser problem.

Computer users normally don't know when they are attacked by this adware hijacker problem as the install of this webpage does not need permissions from them. But if you did download or update certain programs on the computer or visit some unusual links the other day, you may consider them as the resources to get this Updating-your-browser.org in. As mentioned above, browsers are the major targets of this hijacker. It can reset and disable the defaults and abilities of the browsers and cause constant chaos on the computer to block users' online session from different aspects:
It automatically changes the home page and resets other defaults of the browser.
It pops up constantly persuading users to download unknown applications on the computer.
It blocks users from accessing other web sites properly.
It slows down the general speed of the browser.
It records users' browsing histories for cyber criminal usage.
…
How to remove Updating-your-browser.org?
Are you having troubles to get rid of this pop up by running security programs? Can you not uninstall it from Control Panel? Will the problem be fixed by deleting the browser? A browser hijacker adware can usually escape from antivirus security programs as it's not picked up as virus. Users may also find certain toolbars reappear constantly after they are uninstalled from Control Panel. Other browsers on the computer may be infected by this problem if it can't be removed completely off. Hence, to remove this adware pop up from computer, a manual removal is more effective.
Suggestions: Not a computer literate? Is this your first time to have this browser hijacker problem on computer? Contact YooSecurity Online PC Experts for help now to remove the unwanted pop up from your computer ASAP:


The Hijacker Popup Screenshot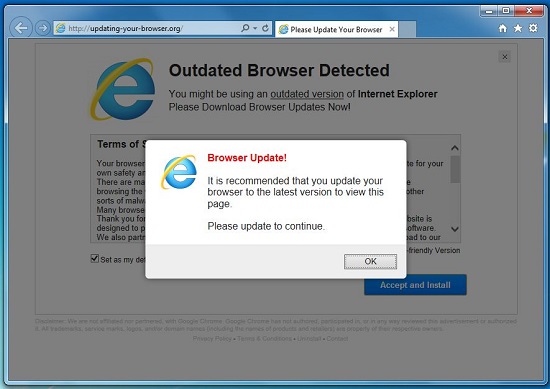 * Even though it's just a pop up reporting you have an out-of-date browser, the hijacker is able to prompt other potential threats to damage the system later on. Average computer users often get tricked by its normal and deceitful appearance. The problem will not be fixed if you update your browser according to the pop up. And you will have a more messed-up system due to this hijacker issue.
Can't get rid of updating-your-browser.org? How to remove?
Is your browser hacked? Are you unable to access websites each time you open the browser? Do you also get a different home page on browser each time you launch it? These are all the common characters of a browser hijacker adware. It's full of misleading information and annoying pop ups to scam computer users. One should not believe anything the pop ups say. To block these annoying pop ups on browser, manually delete Updating-your-browser.org hijacker immediately.
Browser Hijacker Manual Removal Instructions
A step-by-step guide to remove the hijacker popups manually from Mozilla Firefox:
1. Windows Task Manager.


Press CTRL+ALT+DELETE or CTRL+SHIFT+ESC; or pull up Run box from Start menu to type in taskmgr
Right click on items you want to end, select Go To Process
Click on End Process
or
Click on Processes tab
End process of all Firefox items
2. Delete virus files and adjust registries from system.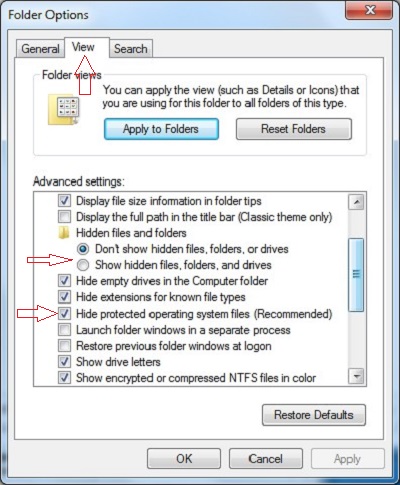 Click on Start button
Control Panel
Search for "folder options" on top right corner
Click on View tab
Show hidden files, folders, and drives
C:\Users\profile name here\AppData\-
HKCU\Software\Microsoft\Windows\CurrentVersion\Run\-
* Files and registries of the Updating-your-browser.org hijacker can be changed or renamed time from time in order to keep the infection functioning longer. If you are not able to identify the related items, contact online experts for help instantly.
3. Reset Firefox.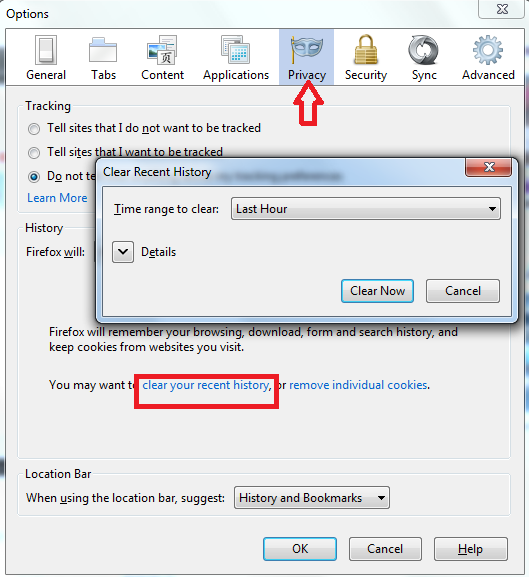 Click on Tools – Options
Under General tab – reset home page on Firefox
Under Privacy tab – clear browsing histories
4. Close out all the windows and restart the system to take effects.
Similar video on browser hijacker removal:

Conclusion
If you are currently seeing this Updating-your-browser.org pop up on your browser each time you launch the program, you can be dealing with a browser hijacker problem. Even though it's not detected by antivirus programs as a computer virus, the hijacker pop up is still a dangerous adware problem which can not only affect browsers but help unknown third-party online to scam computer users. It is a very regular browser problem that needs to be fixed manually with advanced computer skills. If the problem stays unsolved for long, not only browsers will be badly messed up, but system can be hacked by malware problems and users' confidential information be stolen and used by cyber criminals. Do not trust this constantly showing up message on browser, especially when it's aggressively persuading you to download certain programs. Users need to verify the sources before making any changes to the system.
Note: Have a problem with an unwanted browser pop up thing? Can't get rid of the pop up? Please contact YooSecurity Online Experts for help now to remove this potential threat on browser safely:


Published by Tony Shepherd & last updated on January 9, 2014 2:07 am