Uninstalling unwanted programs is one of the ways to speed up your computer system and free up disk space. Most Windows users just uninstall programs by launching their uninstallers from the Add/Remove Programs Control Panel. However, this way cannot remove a program completely. It can leave some entries in Windows Registry or some files in various folders in your hard disk drives, thus influencing your system's stability and slowing down your computer. And the worse thing is uninstalling programs from the built-in Control Panel utility doesn't work all the time. Some potentially unwanted programs may come back each time you restart the computer after removal or throw you error message pop-ups to stop the uninstalling process. Given this situation, you need to use a third-party uninstaller like Uninstallor to help you prevent useless files from building up and programs from leaving useless libraries and other files behind. In this post, I will be reviewing this tool, examining the many benefits to this application, so you'll know how good Uninstallor is, and why it stands out from various removing utilities available online.
Uninstallor –  The Best Uninstaller for Windows and Mac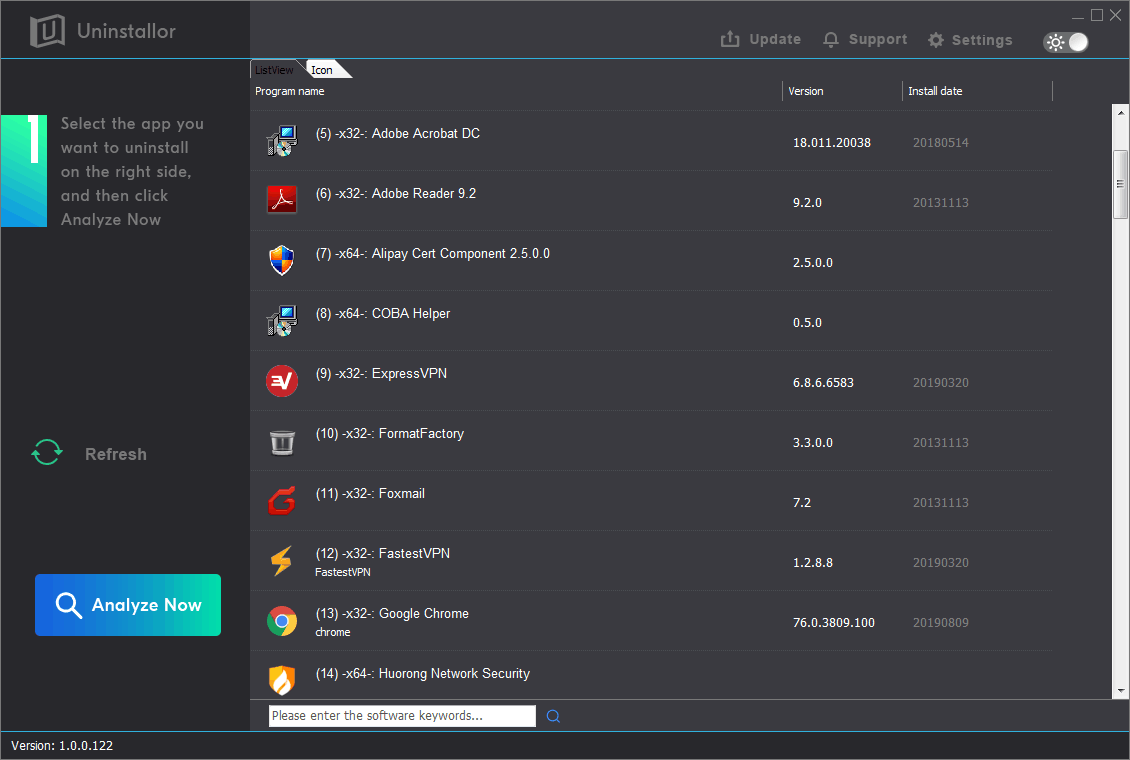 Uninstallor is a powerful uninstaller that provides the easiest, most effective ways for people to remove unwanted apps from their computer completely. Unlike the built-in Control Panel utility, Uninstallor can scrub away every trace of unwanted programs – even the really tricky ones. This tool can run on 32-bit and 64-bit versions of Windows 10, Windows 8, Windows 7, Windows Vista and Windows XP. It is even available on Mac. Installation of Uninstallor is straightforward, and the only option you have is to let you save a program shortcut to the desktop. Uninstallor has a modern and user-friendly interface. According to your preference, you can select the dark or bright theme as you wish. The program doesn't take up much system space so it will not affect your PC performance. When you run Uninstallor, it analyzes an application's data before uninstall and scans for remnants after the uninstall of a program. After the program's regular uninstaller runs, you can remove additional unnecessary files, folders, registry keys and values that are usually left over on your computer. So, you can perform a complete uninstall without having to rely on the supplied built-in program which can leave traces behind. Uninstallor even features a build-in search bar to let you find the software that you want to remove quickly according to your keywords instead of scrolling down the list. It is a deep cleaning uninstallation utility that does more than just remove a program from the surface.
With Uninstallor, you can easily remove unnecessary programs, Windows Apps, malicious/ads plugins and even Microsoft built-in programs. By removing programs you're not using, you not only add hard drive space, but also obtain a clean PC and a secure and smooth online surfing experience. This uninstaller provides a range of options for permanently deleting unnecessary files, cleaning your Registry, optimizing your Registry and removing unwanted software from your machine. In case you can't remove some stubborn programs with Uninstallor, Uninstallor thoughtfully provides customer with custom fixes. With this feature you can remove programs that do not show up in your program list. And for Pro & Business plan subscriber, there will be remote fixes in your subscription, which you can let technicians do a manual removal for you. Uninstallor come with 30 days money-back guarantee. If you are not completely satisfied within 30 days, you will be refunded with full amount. No question asked. Use Uninstallor to delete programs completely with high speed and efficiency now!

Uninstallor Pricing Plans: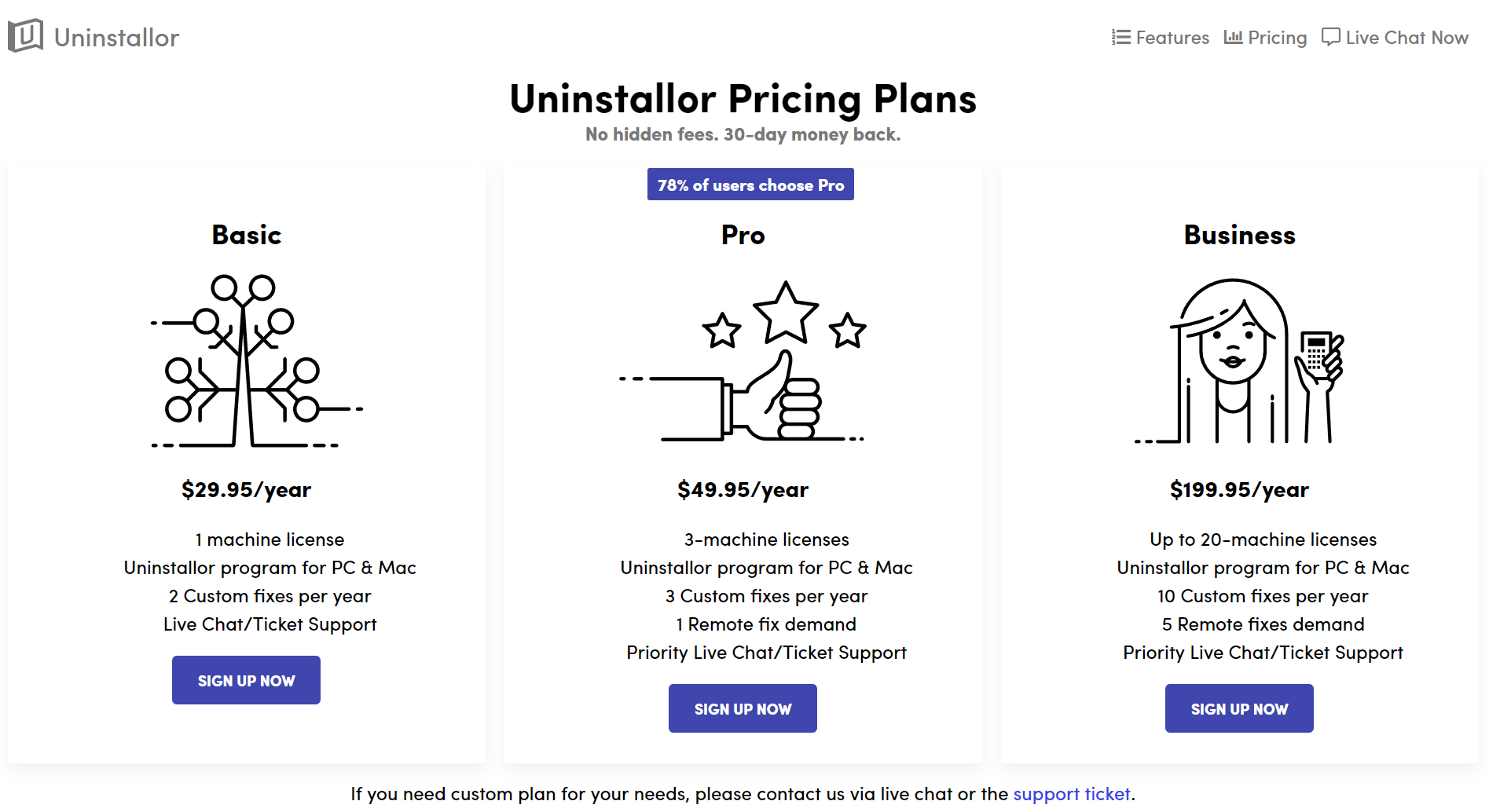 If you need a robust PC cleaning tool for your machine, then Uninstallor is a good way to go. It is available in three pricing plans: Basic, Standard and Business. Let's take a look for the pricing details:
Basic Plan (1 machine license): $29.95/year
Pro Plan (3-machine licenses): $49.95/year
Business Plan (up to 20-machine licenses): $199.95/year
Uninstallor basic plan starts at $29.95/year for one computer, be it Windows or Mac. If you are not a person who frequently install or uninstall programs, then this plan is good to you. It contains 2 custom fixes per year, which can help you completely remove the stubborn program that can't be listed in Uninstallor program. The next level, Unstallor Pro, is the most popular plan that over 78% of users will choose. It costs $49.95/year with 3 custom fixes per year and 1 remote fix demand. The Pro Plan can work on 3 different machines, so your computer, or your family's computers are all covered. In addition, you will get priority support that gives you quick access to Uninstallor Tech Support. Uninstallor also offers a Business Plan that allows you to use its uninstaller on up to 20 machines. The plan which covers 10 custom fixes per year, 5 remote fixes and priority live chat or ticket support costs $199.95/year.
Uninstallor team has always been dedicated to provide the most convenient solutions for computer users to uninstall any type of application/program easily. Its offerings are top-notch. Since the service comes with 30 days money-back guarantee, so you can buy without risk. If you're not satisfied in the first 30 days, they'll refund your money.
Do You Recommend Uninstallor?
Yes, when a program won't uninstall normally or when you suspect that a program didn't uninstall completely. Uninstallor is a complete powerful uninstaller that helps you remove programs thoroughly without leaving any invalid remnant to slow down your system gradually. It is also very effective with adware removal after we test. The program is well-designed and it is easy to navigate. Even you are not a geek, you still can handle Uninstallor and remove every trace of a program with just a few clicks of your mouse. Uninstallor is packed with many great features to ensure all leftovers to be removed thoroughly from your machine just like they've never existed. All in a file less than 10 MB in size so it will not decrease your PC performance. Uninstallor team has an excellent tech support. Agents are friendly and eager to assist you when you need help in getting started, finding a bug, or have trouble using Uninstallor. Make your machine clean and even faster with Uninstallor now!

Published by Tony Shepherd & last updated on August 23, 2019 6:41 am