"I have been trying to uninstall Wondershare PDFelement the whole day but it didn't work anyway. I attempted to uninstall it via Control Panel and I got the message that it has been removed, but it is still sitting there after numerous attempts. How do I uninstall Wondershare PDFelement completely from my Windows computer? Please help!" How to uninstall WondersharePDF? As a result of installing and then uninstalling properly PDFelement and Wondershare my PDF files are now all corrupt and I can't view them. How do I fully uninstall this product? Which files am I looking for in the Registry Editor?
The majority of us remove a program in Windows is from Add/Remove Programs option in the Control Panel, but the fact is this method cannot always remove a  program completely because it could leave some entries in Windows Registry and/or some files in various folders in your hard disk drives. If you are having problems in removing Wondershare PDFelement or you are just looking for the best way to delete any unnecessary leftover data, try the following instructions. This article will guide you through the process of uninstalling.
What's Wondershare PDFelement?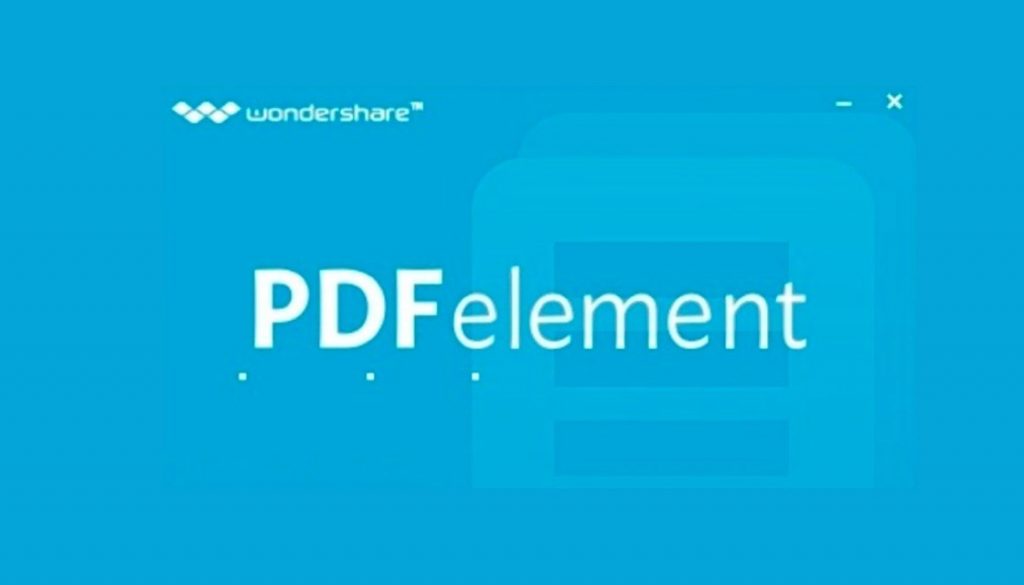 Wondershare PDFelement is a good PDF editor that provides the easiest way to let you create, edit, convert and sign PDF documents on Windows and Mac, without specific knowledge requirements. It is the best alternative to Adobe Acrobat DC. Wondershare PDFelement comes with a very intuitive and easy-to-use interface, with a menu bar, a toolbar, a navigation panel and work area, and it integrates with powerful editing and conversion tools that help facilitate and streamline teamwork, regardless of whether the project is small or large. With Wondershare PDFelement, you can handle PDF files in an easier way. The tool allows you to produce great looking PDF documents and edit them quickly, affordably, and securely. You can delete text, images, add comments or watermarks without any difficulty. In addition, Wondershare PDFelement allows you to convert a PDF file into various types of formats such as Word, Excel, PowerPoint, Text, HTML and lots of other common file formats without losing fonts and formats. Being as a thoughtfully designed and very capable PDF editor, Wondershare PDFelement enables you to protect your files with passwords, and you can even set passwords to restrict painting, copying and altering. This will prevent third party users from making any unauthorized changes to your documents. Wondershare PDFelement also supports annotations, text editing, form creation, data extraction and digital signature creation. For individuals, a standard license for Wondershare PDFelement is $49/year while the PDFelement Pro costs $79/year. And there are plans for business, students and faculty as well.
About Wondershare PDFelement Uninstalling Problems:
Wondershare PDFelement is probably one of the best PDF solutions there because it allows you to easily create, edit, convert, annotate, protect, merge, watermark, compress, and sign industry-standard PDF files. However, some people still need to uninstall this all-in-one PDF solution. The main reasons for uninstalling PDFelement include:
It crashes a lot.
It is complicated to use.
It is not free or too expensive.
Wondershare PDFelement doesn't have the features they need.
License expired and want to switch to other better PDF viewers.
Need to uninstall the old version and download the latest version instead.
Just need Wondershare PDFelement for a trial or testing.
The program is corrupted and need to reinstall.
When it comes to uninstall Wondershare PDFelement from Windows, the Windows Control Panel is usually the first port of call. You just need to go to the Control Panel and remove software from the Programs and Features section, which usually fires up the uninstaller for Wondershare PDFelement and then it will be gone. However, this method could leave numerous files and entries in the system, which could threaten the stability of the system. And sometimes Wondershare PDFelement doesn't seem to be uninstalling from the control panel by giving you unexpected errors. Thus, to completely remove Wondershare PDFelement and its components, you not only have to uninstall the software itself but also wipe out its associated files and registry entries. That ensures a complete uninstallation. Follow the below instructions to get rid of Wondershare PDFelement entirely. You can choose to uninstall Wondershare PDFelement manually if you are an advanced user, or rely on a third-party uninstaller for a quick fix.
How to Completely Uninstall Wondershare PDFelement on Windows 10?
If you are new to Windows 10, you may not know how to uninstall a program or app. Windows 10 includes an uninstaller option available through the Start Menu and via Settings -> Apps & Features window, not to mention Control Panel, which is still alive and kicking. Choose a method that you prefer to uninstall Wondershare PDFelement. And to make sure Wondershare PDFelement is removed completely and no traces are left behind, you have to manually delete its files and registry entries after the program is uninstalled. Now let's get started.
Method 1: Uninstall from Start Menu
Windows 10 added an option to uninstall apps with a right-click in the Start menu. To do this, go to Start > All apps and find Wondershare PDFelement. Right-click on it and then click Uninstall from the drop-down menu that appears. If you can't find Wondershare PDFelement in the Start menu, you can try other methods listed below.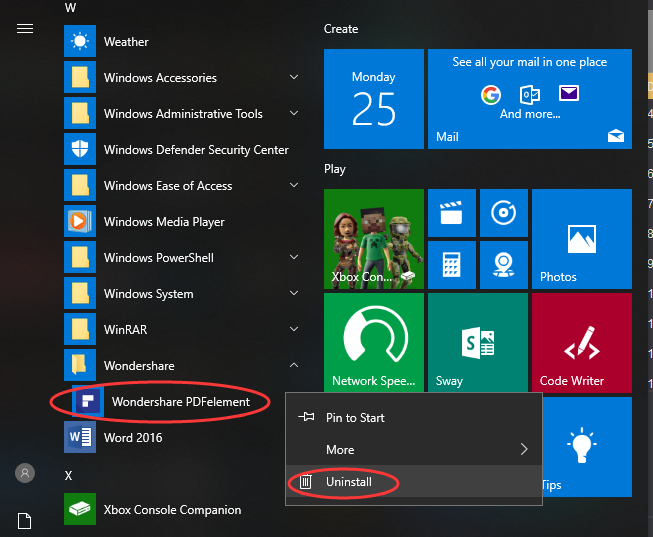 Method 2: Uninstall with Apps & Features
In some cases, you cannot find an app or program that you want to uninstall in the Start menu. So, you can try to open the "Apps & Features" page in the Settings app and uninstall Wondershare PDFelement from there.
1. Go to Start->Settings.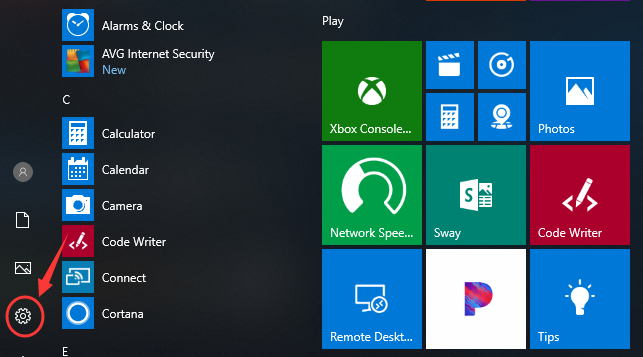 2. Choose System and then click Apps & Features from the left pane. You will see a list of all installed apps appear in the right pane, sorted by size, name or install date.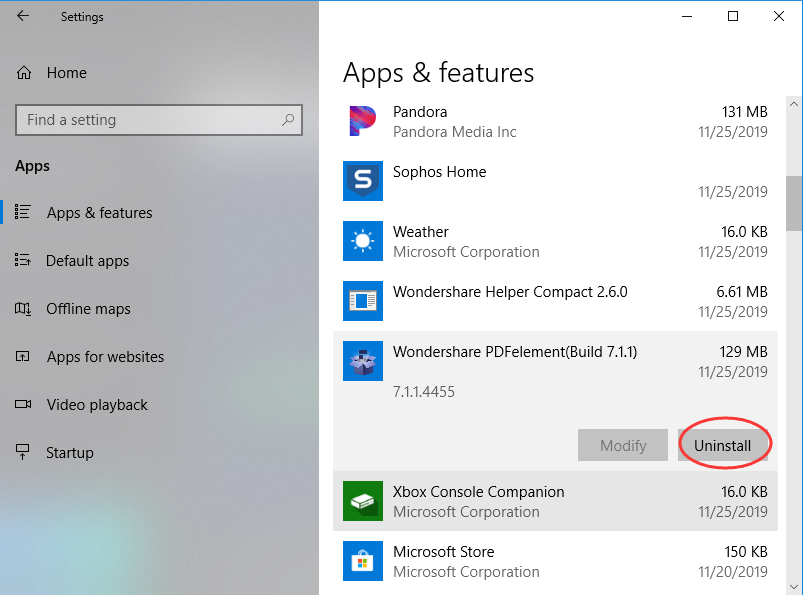 3. Select Wondershare PDFelement and Click Uninstall to start the removal process. You may need to confirm the removal by clicking Uninstall in the pop-up window. When it's completed, Wondershare PDFelement will disappear from the list.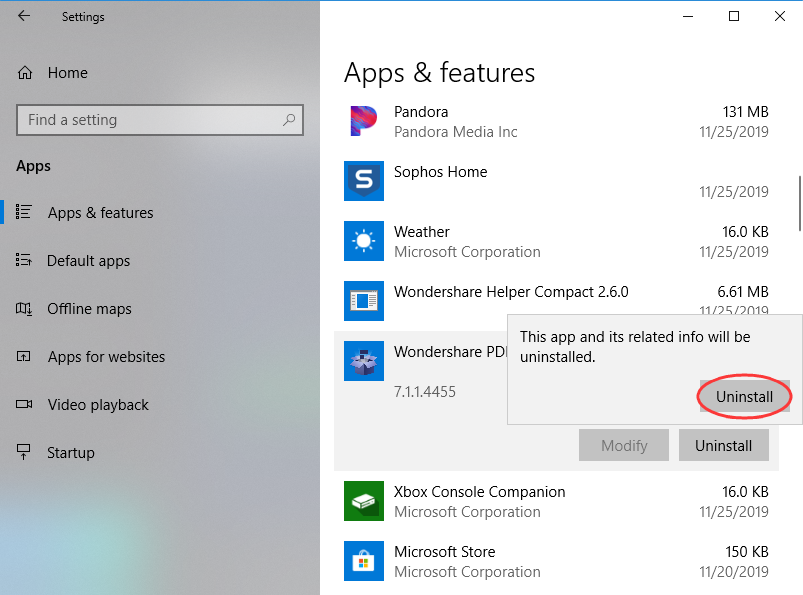 Method 3: Uninstall through Programs & Features in Control Panel
If you're really devoted to using the Control Panel for uninstalling Wondershare PDFelement on Windows 10, that still works too. But please note it only works for traditional desktop programs, not apps. Do the following:
1. In Windows 10, click the search box on the taskbar. Then type control panel and click the Control Panel search result.
2. Go to Programs and Features (or go to Uninstall a Program if your Control Panel is in the category view).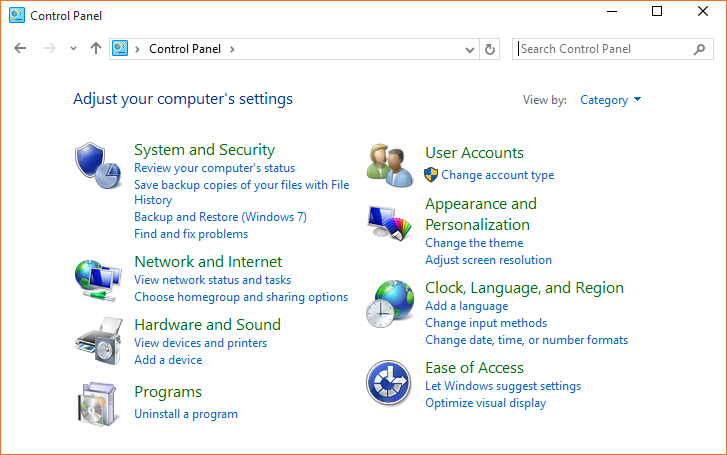 3. This tool will pull a complete list of programs installed on your computer. Scroll through the list until you find Wondershare PDFelement. Right-click Wondershare PDFelement and select Uninstall. You'll see a pop-up window asking if you're sure you want to uninstall this program, click Yes to proceed the uninstallation. After it is done, you have to reboot your PC to take effect.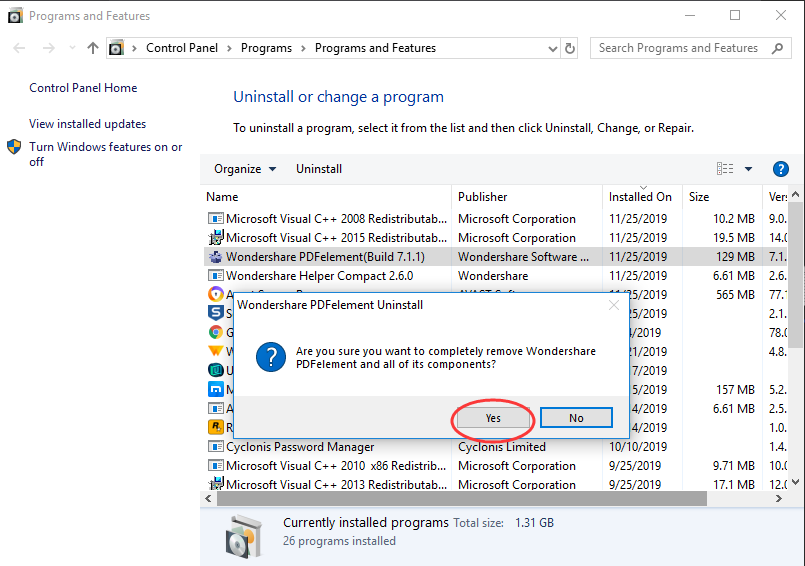 (IMPORTANT) One More Step – To Manually Delete Wondershare PDFelement Leftovers:
Warning: This manual removal instruction contains information about modifying the registry so it is for ADVANCED USERS only. If you use Registry Editor incorrectly, you may cause serious problems that may require you to reinstall your operating system. Make sure to back up the registry before you get started. And you need to understand how to restore the registry if a problem occurs.
Check the following folders and delete associated files first.
C:\Users\[your username]\AppData\Roaming\Microsoft\Windows\Start Menu
C:\Program Files (x86)\Wondershare PDFelement
Next, you have to delete Wondershare PDFelement entries from Windows registry.
Press Windows + R, and type in regedit in RUN box, then press Enter. It'll open Registry Editor.
Locate the following keys:
HKEY_LOCAL_MACHINE\SOFTWARE\Microsoft\Windows\CurrentVersion\Uninstall
If you find any keys with the name of Wondershare PDFelement, just delete such keys.
If the above methods are not working, or you have no experience in editing registry or handling system files and folders, you can contact our expects for help, or use a third-party uninstaller instead.
Method 4: Uninstall Wondershare PDFelement Automatically with Uninstallor (Recommended)
There are many third-party uninstallers for Windows 10 that are designed specifically to make it not only possible but also easier for users to uninstall unwanted applications, and Uninstallor happens to be one of the best. Uninstallor is so helpful when Wondershare PDFelement won't uninstall normally or when you suspect that Wondershare PDFelement didn't uninstall completely. See how it works:
1. Analyze
Double-click Uninstallor icon to launch the program first. It will display all the programs installed on your computer. Select Wondershare PDFelement and click on Analyze Now button, then it will analyze all the data associated with Wondershare PDFelement and searches for all its leftover files automatically.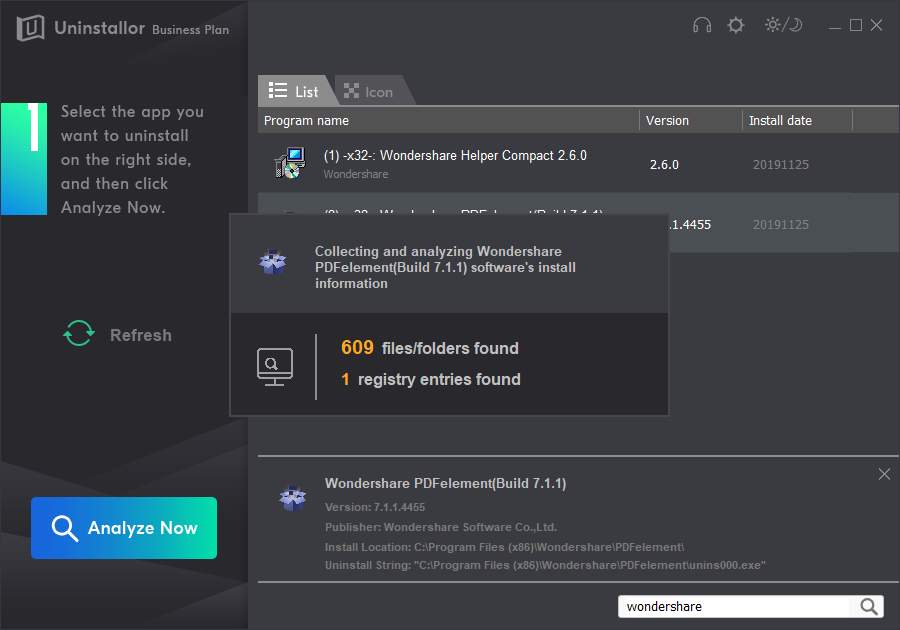 2. Uninstall.
Click on Uninstall Now button to start the Wondershare PDFelement uninstallation with Uninstallor. Next, you need to click on Yes to confirm the removal.
3. Remove.
Click Remove Now to clear all the components for Wondershare PDFelement, and you'll get a warning asking if you are sure to remove PDFelement's leftover files and registry entries, simply click on Yes to confirm the removal. Next, a report will be displayed telling you how many items have been cleaned up from your Windows machine. Reboot your computer to take effect.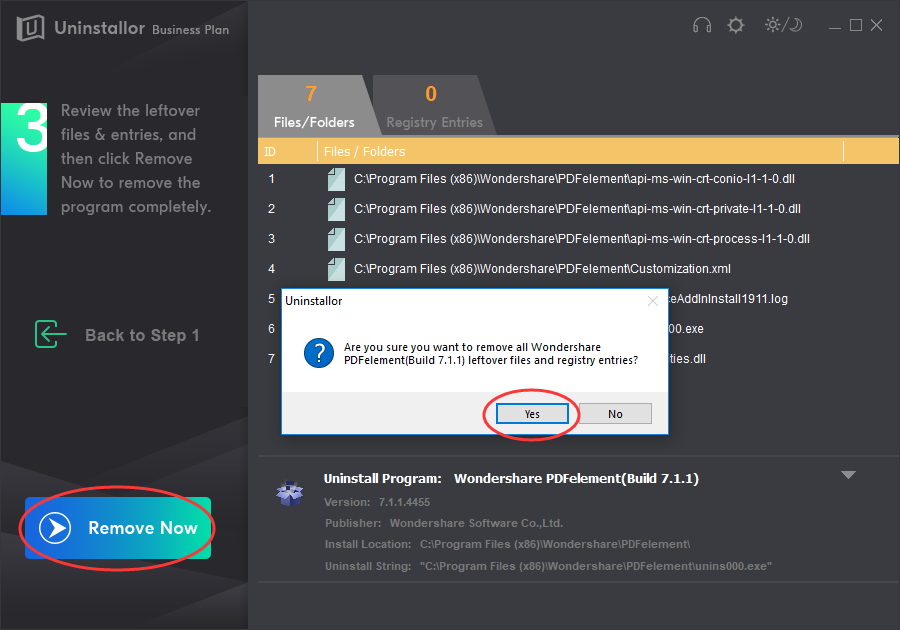 Video Guide on How to Uninstall Wondershare PDFelement
Conclusion:
Occasionally, Wondershare PDFelement may not be uninstalled completely and its leftovers still reside in the hard drive eating up system resources. Therefore, to completely uninstall Wondershare PDFelement from your machine, you can try either removing it manually, or use a reliable uninstaller to uninstall it automatically. Although the first method is convenient as it doesn't involve installations of third-party applications, it is not suitable for everyone. A small mistake while editing registry entries might adversely affect the functioning of your machine. If you are not an advanced user, we recommend you use a powerful uninstall tool like Uninstallor to get the removal job done perfectly. Uninstallor is a fast and effective uninstaller for your computer that works on both Windows and Mac. It is lightweight and doesn't affect your PC performance. With Uninstallor, you can easily uninstall any unwanted programs, Windows apps, toolbars and plug-ins without leaving a trace. It provides a simplified uninstall and auto leftover scan to ensure thorough removal. Try Uninstallor now to make the Wondershare PDFelement uninstallation much easier!
Published by Tony Shepherd & last updated on May 8, 2020 10:17 am