Can't uninstall VIPRE Advanced Security from your computer completely? Why VIPRE Advanced Security won't go away using the standard way (from the ADD/REMOVE PROGRAMS in control panel)? If you decide to say goodbye with VIPRE and are experiencing a hard time in removing it from your machine, then this page will help you. It contains the detailed uninstall tutorial that ensures you to uninstall VIPRE Advanced Security entirely without leaving any remaining registry entries, files and folders. Read it carefully.
About VIPRE Advanced Security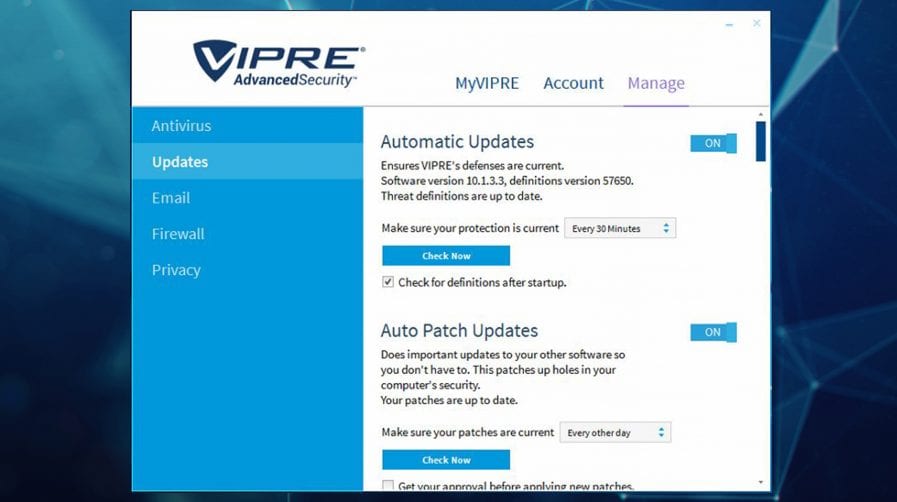 VIPRE is an American cybersecurity company that has been providing award-winning internet security products for businesses and home users for more than 20 years. The company is based in Clearwater, Florida, and has operations in Washington D.C., Vancouver B.C., Spain, the UK, and the Philippines. VIPRE Advanced Security is one of the best-selling products designed for home users available for PCs and Macs. It is simple to use, fast to deploy, and easy to maintain, with a user-friendly interface. Even if you are new to this software, you should be able to navigate it fairly successfully. Most of its functions are straightforward to find and use on its main homepage. VIPRE Advanced Security safeguards your private information and personal data. It uses cutting-edge machine learning, one of the world's largest threat intelligence clouds, and real-time behavior analysis to protect you from all kinds of cyber threats like trojans, worms, keyloggers, zero-day attacks, phishing, and even Ransomware. VIPRE's mission is to give you the best ever protection as well as protect your data from any online threats.
VIPRE Advanced Security combines a powerful firewall that monitors and controls incoming and outgoing network traffic effectively, a decent antivirus that stops you from viruses, malware, ransomware, Trojans and phishing threats, as well as a simple, accurate spam filter which scans incoming email to prevent unsolicited mail and filter out spam. Its real-time protection feature is running in the background without slowing down your computer system. In addition, VIPRE Advanced Security keeps installed applications on your computer up to date which reduces overall vulnerabilities in your security profile. It even has a social media tool that scans your Facebook timeline to see if anyone has posted a malicious link. VIPRE Advanced Security safeguards your PCs and Macs at an affordable price. Starting at $54.99/year, you will gain access to more features like software security updates, anti-spam protection, and an improved firewall, leaving all of your machines better protected. VIPRE does offer a free trial to let you test out its service. Overall, if you are not a technical person and looking for a simple antivirus program to boost your security, VIPRE Advanced Security could be one of your best options.
Why Some People Uninstall VIPRE Advanced Security?
VIPRE Advanced Security could be an awesome anti-virus program that helps you shield your system from external strikes, however, you might experience times that you have no choice but to uninstall VIPRE. What are the main reasons that people usually uninstall VIPRE Advanced Security?
VIPRE Advanced Security is not working somehow by giving you error messages like 'VIPRE Services is not running' or 'VIPRE Advanced Security is not responding'.
VIPRE cannot quarantine or remove the virus that you got.
The antivirus program notably slows down your computer.
No safe banking features and password manager included in your VIPRE subscription and you have to look for better alternatives.
VIPRE Advanced Security also doesn't have a system vulnerability scan.
You want to upgrade to the latest VIPRE Advanced Security version and you are unable to do so without uninstalling the current version.
VIPRE conflicts with other programs.
It can be frustrating if you are experiencing any of the above problems while using VIPRE Advanced Security. Whatever your reason for uninstalling VIPRE on PCs or Mac, it is important to remove the software completely and correctly.
Why Does VIPRE Fail to Uninstall?
While VIPRE Advanced Security is very useful when it is active in your PC, but in some cases, there is the need to completely uninstall VIPRE in order to reinstall it from scratch or to install another antivirus product on our computer. However, uninstalling antivirus program is not as easy as you think. It can be a pain when you find VIPRE Advanced Security cannot uninstall on your computer.
The normal uninstall method that you might use is to go to Programs and Features in Control Panel and uninstall VIPRE Advanced Security from there. Yes, most of the time, it did work to remove VIPRE Advanced Security from the program list. However, this method could leave many leftovers in your hard disk drives. Generally speaking, the time you install VIPRE software side by side it also installs many related files on your device for the smooth functioning of it. Common leftovers include VIPRE Advanced Security's registration files, empty folders, dll files, invalid registry entries and more. These components could make the system slow day after day and even affect the functioning of your machine if you don't delete them in time. So, you have to clean up these leftovers as well.
Don't know how to remove VIPRE Software and its traces completely? Well, if you cannot uninstall VIPRE Advanced Security using the Add or Remove Programs utility available in the Control Panel, or you suspect VIPRE is not completely removed, follow the steps below or contact experts for help.
How to Completely Uninstall VIPRE Advanced Security on Windows 10?
Step 1: Uninstall VIPRE Advanced Security program itself. (Choose one of the three options to follow)
There are several methods that you can use to uninstall VIPRE Advanced Security from your PC. Before you start any of the methods below, you need to quit VIPRE Advanced Security first and make sure its services are not running in the background, or else the uninstallation could be failed.
(a) Removal from Start Menu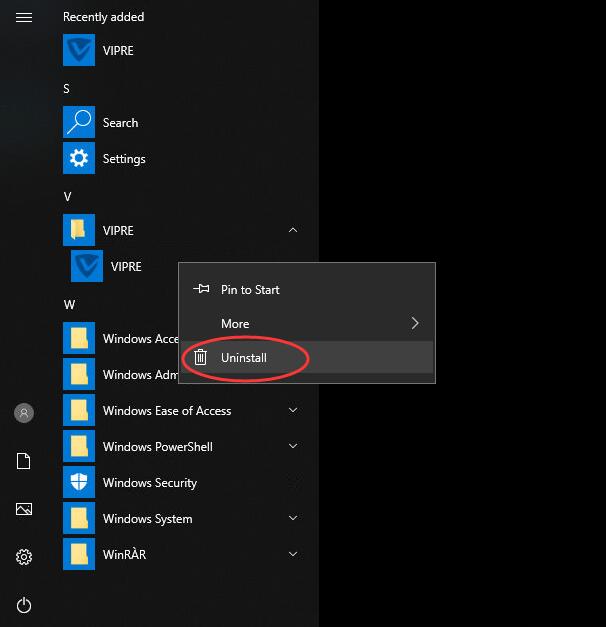 You can uninstall VIPRE Advanced Security directly from the Start menu. To do this, go to Start > All apps and find the VIPRE Advanced Security. Right-click on it and then click Uninstall from the drop-down menu that appears. If you can't find VIPRE Advanced Security in the Start menu, you can try other methods listed below.
(b) Removal from The Settings Menu
In some cases, you cannot find an app or program that you want to uninstall in the Start menu. So, you can try this way to remove it from the Settings Menu.
Here's what you need to do:
1. Go to Start->Settings.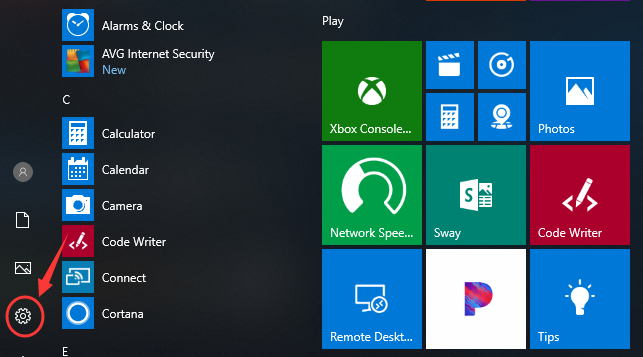 2. Choose System and then click Apps & features. A list of installed applications should now be displayed. Scroll down until you locate the one labeled VIPRE Advanced Security. Next, click Uninstall option.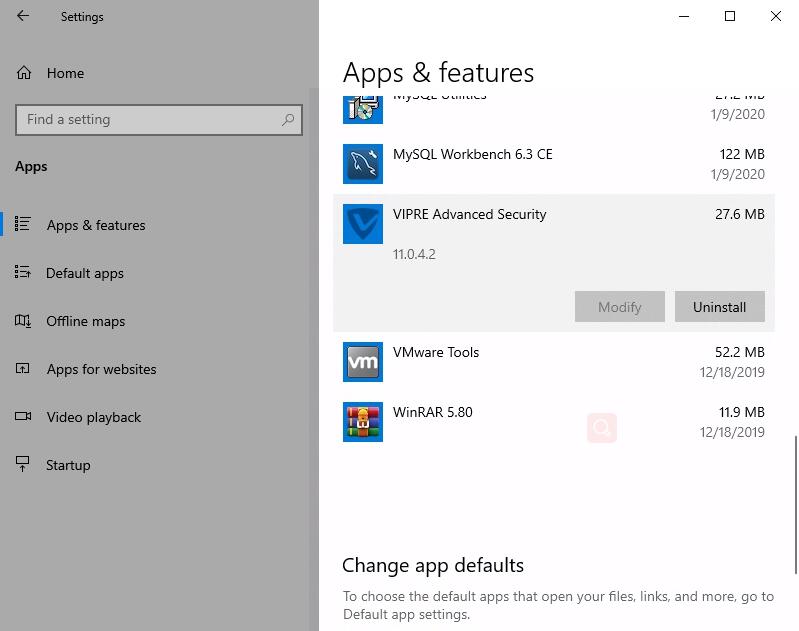 3. A message pops up informing that this app and its related info will be uninstalled. Hit Uninstall to confirm the removal.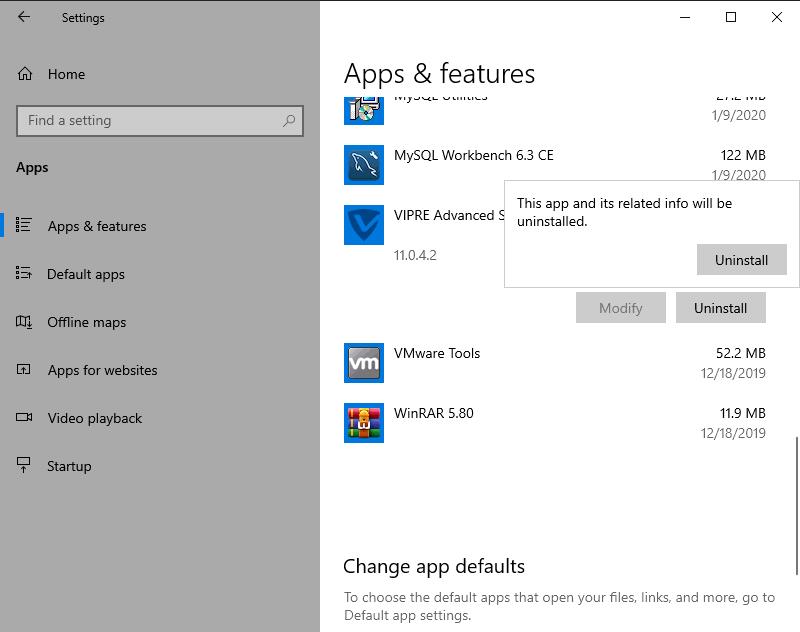 (c) Removal through the Programs and Features in Control Panel
If you prefer using Control Panel, that option is still available in the latest edition of Windows 10. However, from the Control Panel, you can only uninstall the desktop programs, not apps. Do the following:
1. Right-click on the Start button (Windows logo button at the bottom-left corner of the desktop) and then click Control Panel to open it.
2. Go to Programs and Features (or go to Uninstall a Program if your Control Panel is in the category view).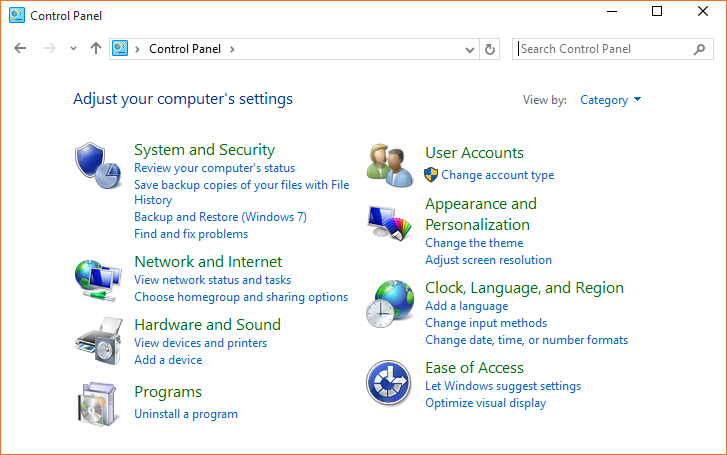 3. Right-click VIPRE Advanced Security and select Uninstall. You'll see a pop-up window asking if you're sure you want to uninstall this program, click Yes and click through the uninstall wizard, if applicable.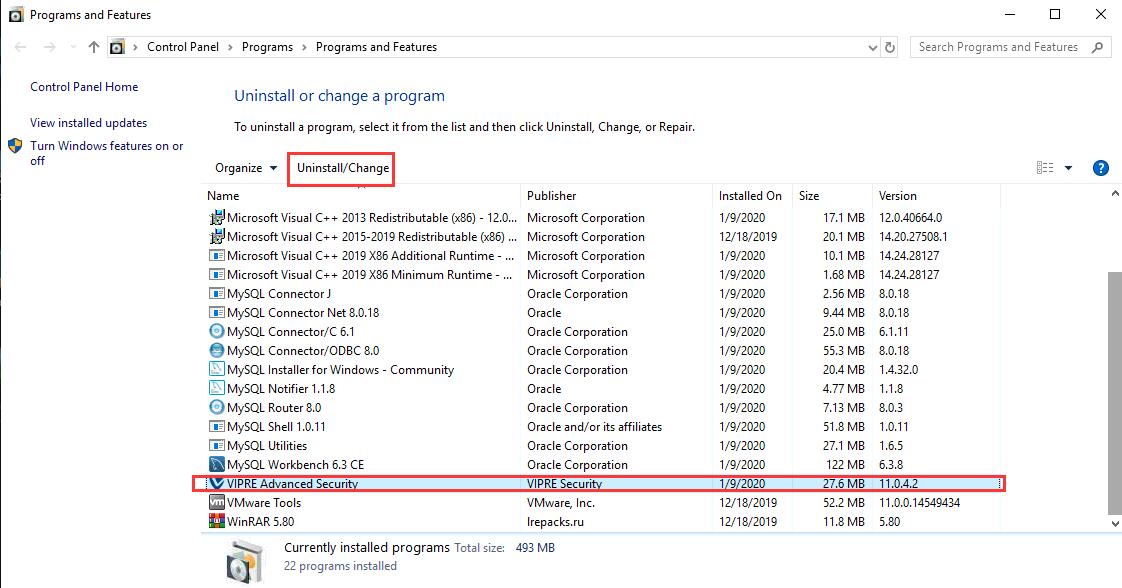 Step 2: Get rid of VIPRE Advanced Security leftovers manually. (IMPORTANT STEP)
To find the residual files related to VIPRE Advanced Security:
Press the Windows + R keys and type in %programfiles%, %AppData%, and %Temp% in sequence in the dialog box that appears. It will open ProgramData folder, AppData folder and Temp folder. Just check if there are any folders there that have the name of VIPRE Advanced Security. Delete such folders or files.
Next, you have to delete VIPRE Advanced Security entries from Windows registry:
Press Windows + R, and type in regedit in RUN box, then press Enter. It'll open Registry Editor. Within the editor, use the left-hand navigation pane to navigate the directory structure of the registry to these locations: HKEY_LOCAL_MACHINE\Software\Microsoft\Windows\CurrentVersion\Run\; HKEY_LOCAL_MACHINE\SOFTWARE; HKEY_CURRENT_USER\Software  If you can find any keys with the name of VIPRE Advanced Security, just delete such keys.
Note:
The manual uninstall method stated above is a bit difficult and dangerous. You might be facing BSOD or system crash problem if you delete any wrong items. If you cannot handle it, we kindly suggest you use an uninstaller tool to automatically remove all remnants of VIPRE Advanced Security at one time. On the market, there are many good uninstallers, for example, Uninstallor is the industry-leading third-party uninstaller that removes fragments of deleted software, usually with just one system scan. Why not giving it a shot?

How to Uninstall VIPRE Advanced Security Effectively With A Tool?
1. Download & Launch Uninstallor. Uninstallor is simple to manipulate. All you need to do is to select VIPRE Advanced Security and hit "Analyze Now" button and it will automatically scan for program components.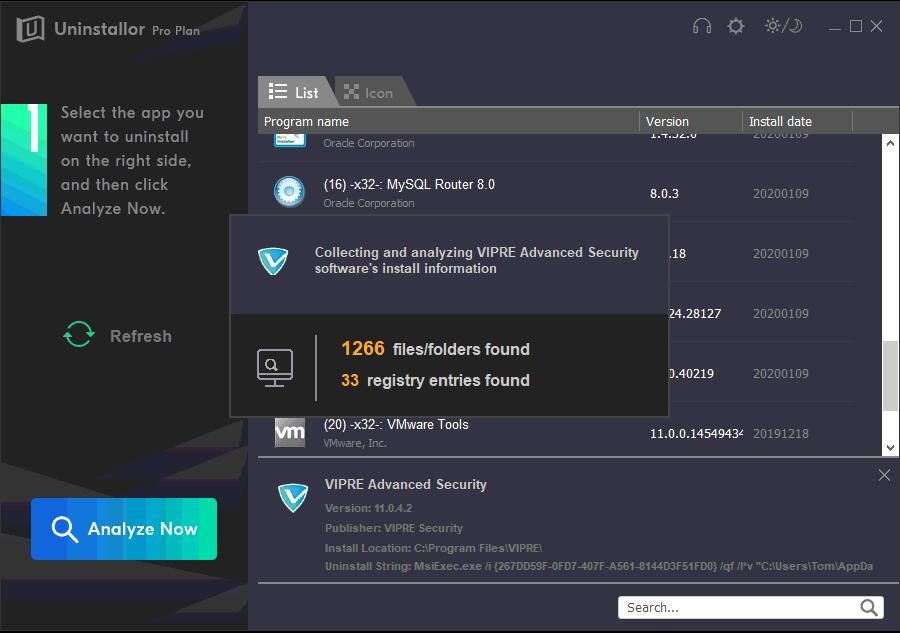 2. Uninstall program components. Next, you will be shown how many components have been found from the scan results and you just need to select "Uninstall Now" and click "Yes" option to clean up all of them.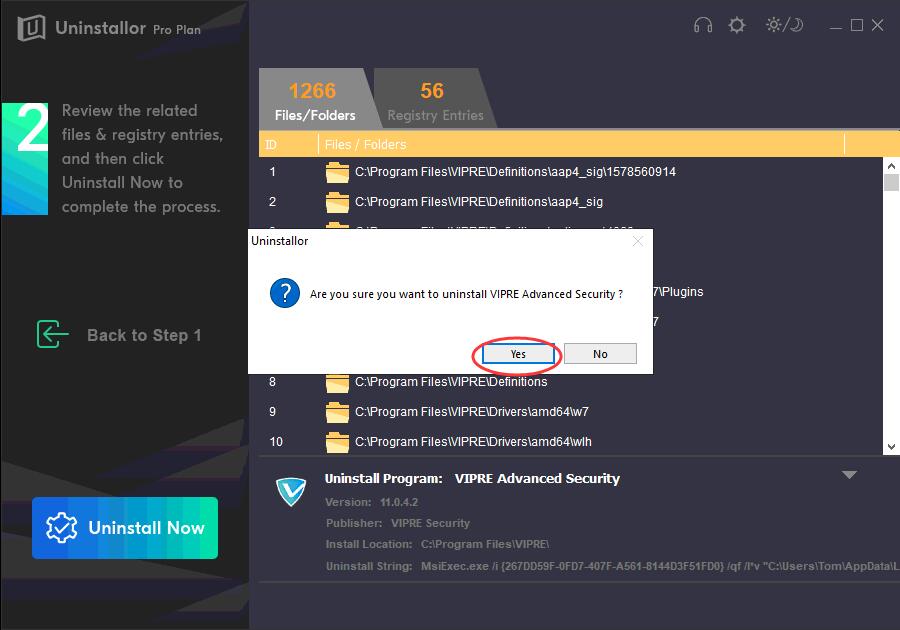 3. Perform complete removal. Click on "Remove Now" button to delete VIPRE Advanced Security leftovers completely.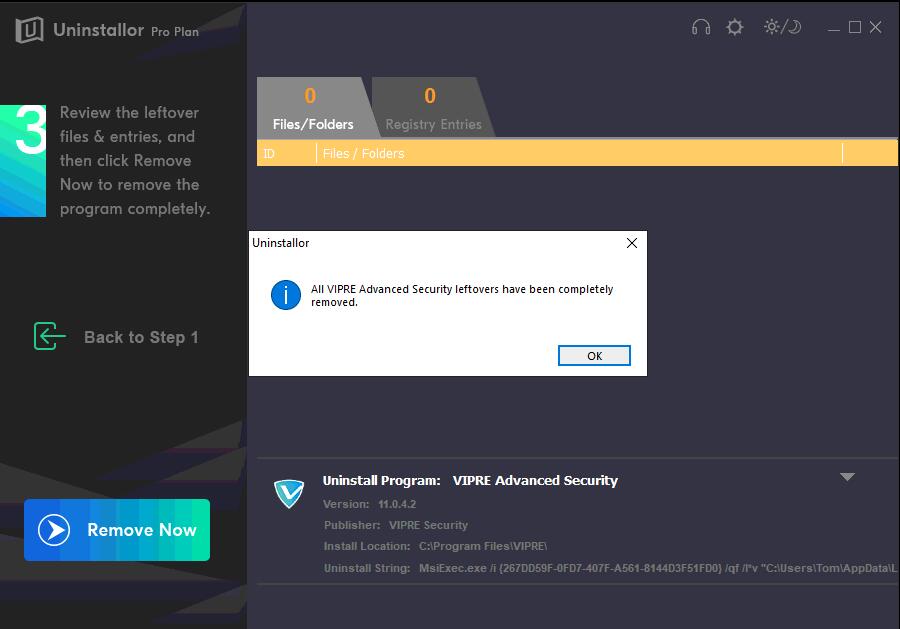 4. All Done. Just restart your computer to take effect.
Video Guide on How to Uninstall VIPRE Advanced Security
Conclusion:
If for some reason you have no other choices but to uninstall VIPRE Advanced Security, do remember to uninstall it entirely. That means, not just remove the program itself, but also delete its connections and traces, including its database, program files, configuration files, registry entries, dll files and more. Incomplete uninstall could leave serious problems for your computer systems. It even stops you from installing a new security product. So, this article is written for helping those who face problems using the normal uninstall method and teaching them how to uninstall VIPRE Advanced Security and its components permanently. If you are the person who has experience in handling registry entries, you can try the manual uninstall guide yourself. The method is not suitable for every person, it is tricky to figure out which registry is related to the program that you want to uninstall. But thankfully, you can tell in about 15 seconds with the best accuracy possible with the best uninstaller tool in the market. Uninstallor will automatically scan your system folders and registry, then detect the leftover files and registry entries related to VIPRE Advanced Security for you in less than one minute. During this process, all you need to do is to a few clicks on a button, and that's all. As easy as a pie. Regardless of your computer skills, you can easily uninstall VIPRE Advanced Security and its traces for good. Just try Uninstallor to fully uninstall a program if you have a need!
Published by Tony Shepherd & last updated on February 26, 2020 4:52 am