What happens if I uninstall TeamViewer? I have used the software for many years but now i want to uninstall TeamViewer completely as i don't need it, what are the risks if i can not remove it thoroughly? How do I completely remove TeamViewer from Windows 10?
Want to know the detailed analysis of TeamViewer
TeamViewer is a popular remote access program available at no cost. This online meeting and video conferencing solution connects any server, mobile, and personal computer to each other worldwide in a few seconds. This feature-rich and beginner-friendly remote desktop management software boasts the best security features, a good selection of additional screen sharing and conferencing tools, and an intuitive interface. Every user of this enterprise-capable and full-featured remote access and shared-meeting app gets 100% satisfaction. This is because this app runs under any mobile platform and the desktop platform.
The best-in-class features of the TeamViewer
Many users of the Internet in our time make use of the TeamViewer. This versatile program enables every user to access the network machines, computers, mobile devices, and other things from anywhere at any time. This program brings so many security features to the party like the brute force protection, and end-to-end AES encryption. This program lets users to transfer files between all connected devices, troubleshoot problems from chosen system, and screen share with no complexity.
Cloud-based solutions used by the TeamViewer are very helpful in different aspects in particular enabling the online support via so many product portfolios and collaborating in real-time worldwide. You can concentrate on the recent version of this tool and take note of suggestions about how to use this tool in an efficient way. You will make a good decision and get the desired benefits from this tool.
Different plans of TeamViewer
There are four plans of the TeamViewer program available today. These plans are free, a single user plan, a multi user plan, and for teams plan. The cost of a single user plan per month is $49.00. The cost of a multi user plan per month is $99.00. In this plan, more than one user can conveniently create a session. The cost of plan per month is $199.00. This plan lets several teams to work with multiple connections via up to 3 open sessions.
TeamViewer provides the remote access and screen share tools. This tool is available with loads of modern features. This tool enables the streamlined cross-platform access. Every user of this tool can access an Apple or Windows computer from an Android or iOS device and vice versa. This tool lets multiple support technicians and other users of the systems connected with it to log into the same session. This facility is very helpful to quickly and efficiently solve complex things.
The most outstanding facilities in the TeamViewer
All users of the TeamViewer can transfer files between their devices with the user-friendly interface. They connect using the file transfer option and follow the prompts. They feel happy about exclusive things about this tool. For example, TeamViewer is compatible with so many network and IoT devices. You can make use of the TeamViewer and monitor and control across the device network with no complexity.
All beginners to the TeamViewer are eager to know about the overall deployment and support of this tool. The deployment of this tool includes ,but not limited to the cloud, SaaS, web-based, desktop – Mac, Windows, and Linux, on-premise-Windows and Linux, Mobile – Android, iPhone, and iPad. TeamViewer support facilities are the email/ help desk, FAQs / forum, knowledge base, and phone support. The training options are in-person, live online, videos, and documentation.
New and regular users of the TeamViewer are happy and confident to use and suggest it for others. They are amazed about the diagnostic and collaboration tools in the TeamViewer. You can use the TeamViewer for file sharing, accessing controls or permissions, file transferring, remote printing, reporting or analytics, remote accessing or controlling, screen sharing, troubleshooting, mobile access, real-time chat, session recording, and session transfer. You can use the software, you can also uninstall TeamViewer completely if you hate it.
Advantages
Anyone with an expectation to know about the main advantages of the TeamViewer can explore the following details. If you are aware of the overall favourable things associated with the TeamViewer usage, then you can make a well-informed decision and begin a step to use it with no complexity.
TeamViewer is completely free to use. This is the main reason behind the increased eagerness of many people to try this tool. TeamViewer supports chat in the form of the video, text, and voice over IP. Every user of this tool is happy as it lets remote printing and supports wake-on-LAN.
There is no port forwarding configurations required for using the TeamViewer. This famous tool works with several monitors and provides the spontaneous support. You can use this tool and control the remote computer via the Internet browser, mobile device, and the desktop program.
Disadvantages
TeamViewer cannot be used in commercial settings for free. This tool might stop functioning when it thinks you use it for the commercial purpose. The permanent identification number associated with this tool might change unexpectedly. The license of the TeamViewer can be a little expensive.
TeamViewer tool may lag when the client you connect with is outdated. Almost every user of the TeamViewer must be very conscious about the licenses. This is because even the cheapest TeamViewer plan users have to be specific on how many users use the license and one person can use it at the time.
The cost of the TeamViewer is high when you consider buying the profession version of this tool. This software by mistakes thinks you try to cheat the overall system and use it as a professional sometimes. Security features of the TeamViewer are annoying. Some options in this tool are difficult to find.
If you hate to use it, you can uninstall TeamViewer completely any time you want, just follow the removal guides here.
How to Uninstall TeamViewer from Windows Operating System
Manually Uninstall TeamViewer from Windows 10 Step by Step (For Advanced Users Only)
Step 1: Uninstall TeamViewer from startup.
a) Uninstall the TeamViewer from Start menu by clicking on start icon, right click on it on the pop-up window, and then click "Uninstall".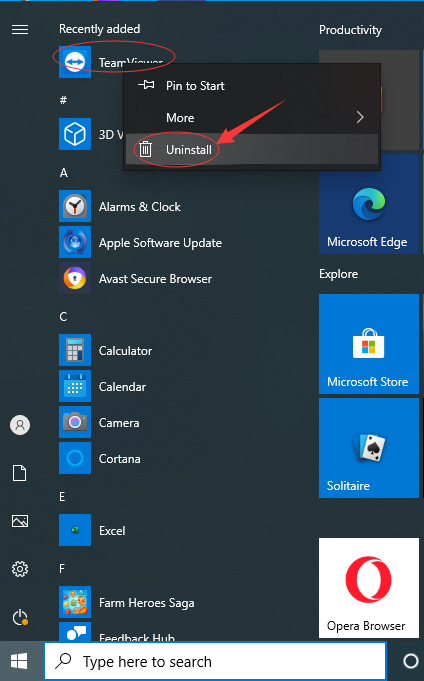 b) Uninstall TeamViewer via the Apps & Features. Just input Apps into search box, then choose "Settings", and then click on "Apps", select the software then click on "Uninstall".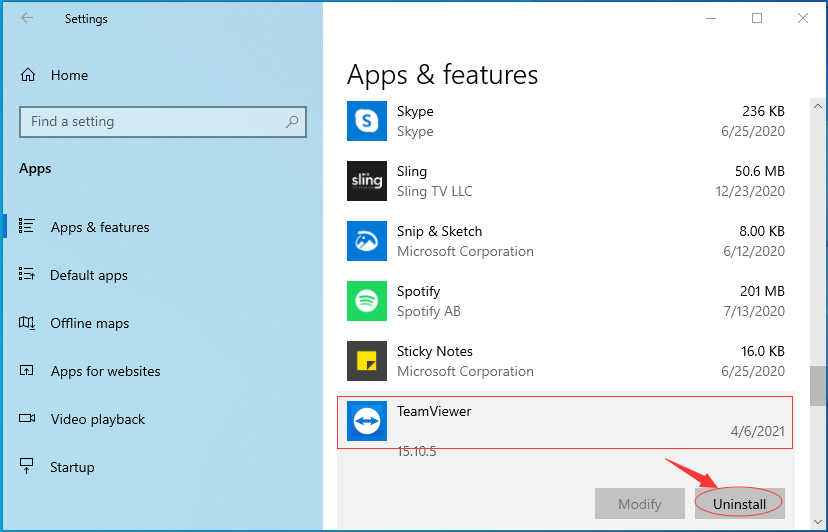 c) Uninstall TeamViewer via Control Panel. Input "Control Panel" into search box then click on it, click on "Uninstall a Program", click on it then click on "Uninstall".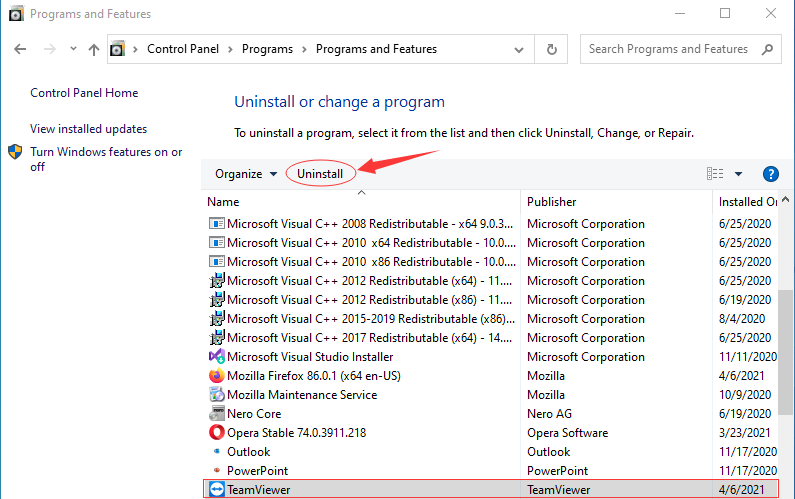 Step 2: Manually clean all leftovers from regedit. (IMPORTANT STEP)
*For added protection, please back up the registry before you modify it.*
Check the following folders and delete associated files first.
C:\Program Files (x86)\xxx
C:\Users\[Your User Name]\AppData\Roaming\
C:\ProgramData\Microsoft\Windows\Start Menu\Programs\Startup
Next, you have to remove all its entries from Windows registry.
Press Windows + R, and type in regedit in RUN box, then press Enter. It'll open Registry Editor.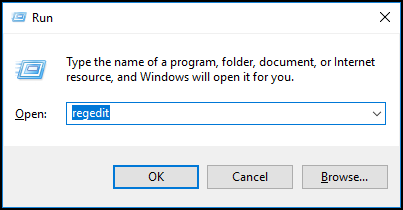 Navigate to the Registry key: (You do this by clicking on the plus sign next to each key in the path to expand the path below it. )
HKEY_LOCAL_MACHINE\SOFTWARE\Microsoft\Windows\CurrentVersion\Uninstall\ (For 32-bit system users)
HKEY_LOCAL_MACHINE\SOFTWARE\Wow6432Node\Microsoft\Windows\CurrentVersion\Uninstall\ (For 64-bit system users)
Kindly Reminder: You are welcome to contact online support if you need any assistance, just click the below button for help.
Automatically Uninstall TeamViewer with a Third-Party Uninstaller – Uninstallor (RECOMMENDED)
Step 1. Download and install Uninstallor on your computer, launch it and select TeamViewer, click on "Analyze Now" to start analyzing.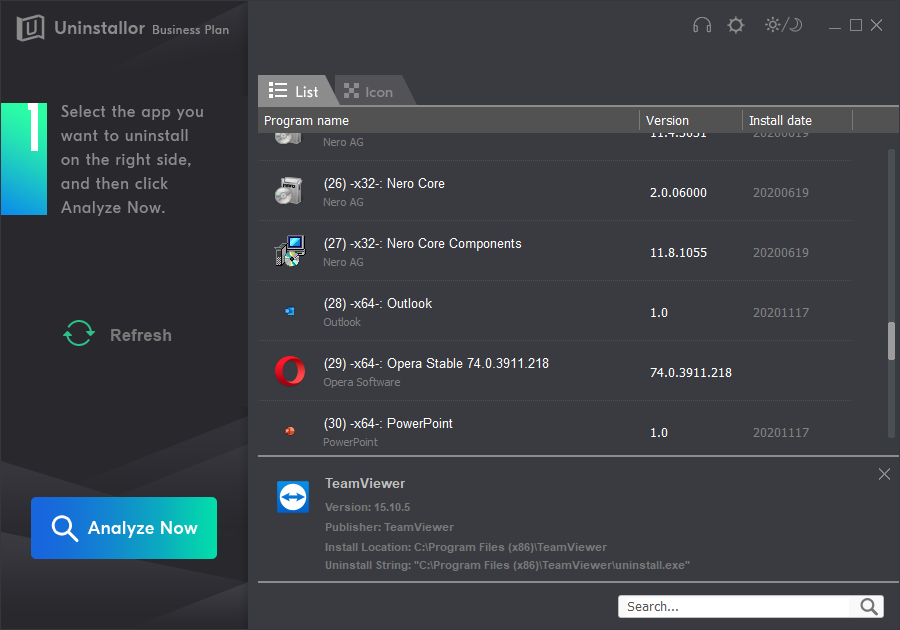 Step 2. Uninstall Now. Click on this button to go ahead.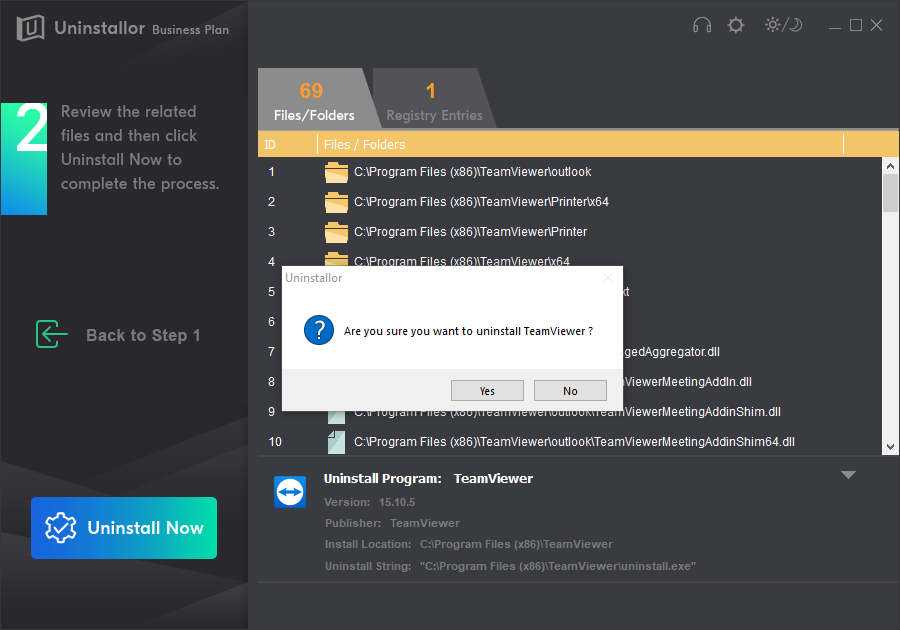 Step 3. Remove Now. Remove all leftover files from your system.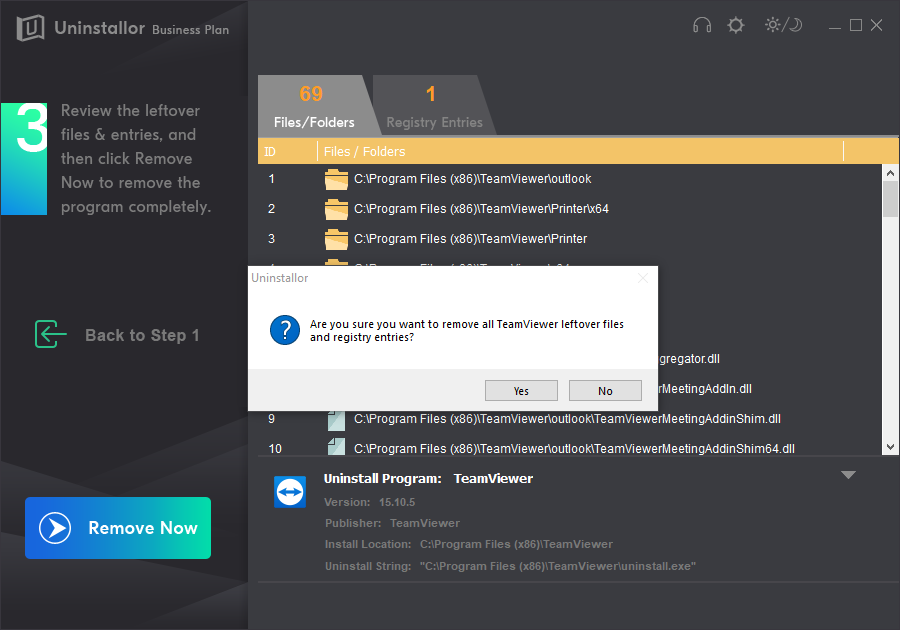 TeamViewer has been removed completely.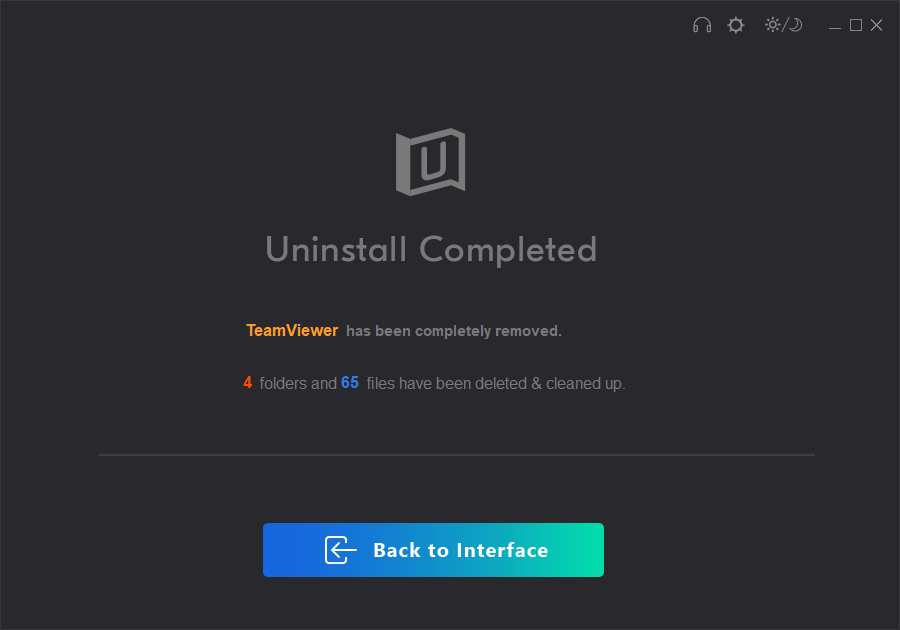 Conclusion
TeamViewer is one of the best remote desktop programs and known for its extraordinary features. You can research the basics and modern features of this tool. Regular improvements in the facilities associated with this tool give confidence to everyone to prefer and use it. The main features of this tool like document management, remote control, chat and messaging and screen sharing give 100% satisfaction to all users. Instant messaging facilities of this tool cover so many things like group chats, offline messaging, web-based chats, chat history, customer-initiated chat from service cases, and persistent chat groups.
Kindly Reminder: If you don't want this software and don't know how to uninstall TeamViewer completely from your Windows computer or Macbook, you are suggested to use Uninstallor, which will help you do all things.
Published by Tony Shepherd & last updated on April 8, 2021 1:25 pm