What do you think about Sophos antivirus? Is is good or not so good? Sophos antivirus is used by many users to protect their computers. Some like it and there still don't want to keep it after using for some days, and want to remove Sophos Antivirus from their Windows or Mac system. Is there a best way on how to uninstall Sophos antivirus from Windows or Mac?
Learn About Sophos Antivirus
We have completely transformed into a digital world and everything we do now days is related to digital media in some way or the other. With so much of personal and official data all over the internet and on computer systems, it becomes extremely important to protect this data from hackers and malicious software that want to misuse this data. In such a case it is extremely important these days to have an Antivirus system on your computer. One of the antivirus software which is trending a lot these days is the Sophos antivirus. In this article, I would like to discuss a review of this antivirus and explain each and every detail about it.
I will start at the home screen. On the home screen, you do not find a lot of features but a simple clean my computer button. After accessing the clean my computer button, the software runs an extensive and detailed check on the files and folders on your computer and make sure to scan for every kind of virus present. It searches for potentially unwanted applications and also searches for malicious software on all the server platforms on your system. There is an inbuilt system to protect you from new viruses and unwanted applications to enter your computer and this acts as a guard while you are online to protect your computer and your data.
Although most of the tools and their features of the software are not stored locally but on the cloud. There is an option for various Parental Control tools which help you block certain features of your computer and also prevents entry of malicious elements from specific data entry points in your computer. There is a separate section for safe online banking which is designed specifically to protect you while you access your online banking features. All the other advanced security features that we look for in an antivirus are all embedded in the panel of the software that is available on the cloud. This has been done intentionally to provide an easy MI user interface for people meanwhile keeping all the technical aspects to the cloud.
Previous sections and types of protection that it offers. Among them is real-time protection which basically means battery uses its various features proof track the basic activity of the user and prevent any entry of malicious elements. Then there is something called malicious traffic prevention which basically rice and prevents connection to the malicious server which may bring in harmful software for a file from the internet while we browse.
Another kind of protection offered in the software is called webcam protection. As you know that its video is the most personal form of data for everybody and it is very common these days for hackers to hack and get control of your webcam and it can be used to record videos of yourself. This feature is specifically designed to protect you from such risks. It makes sure that nobody gets remote access to your webcam and it gets used only when you want to and gives specific permissions to your system. It also has a predictable AI detection system that protects you from artificial intelligence threats as there are many hackers that now use artificial intelligence to find a way to a system and steal the data. This is a new kind of fraud and is very prevalent and contains a lot of risks as artificial intelligence is a very sophisticated technology and we need protection from this.
Why Some People Still Need to Uninstall Sophos Antivirus?
I tried to run a test of my own and check all the features that we have mentioned. To my surprise, the Sophos antivirus missed the virus present on my computer and I want you to run a basic test. It basically gives me a Red flag as normal antivirus software should have detected that virus and informed me about its presence and should have started the process of removing it from my system.
Then there is the presence of another section on the software which is called the alerts log. This is the section that is meant for reporting and gives you the exact data of all the viruses or malicious elements that it has been protecting your system from. It will give you real-time data and also alert you about all the activities run by Sophos antivirus software to protect you against that specific virus. I would also like to discuss and inform the readers about the process of installation. It has a very basic installation system and it took me literally 5 minutes to install the software. The reason for the same is that all the information about the software is on the cloud and it does not keep much of the files on the system of the user hence it does not occupy much space and installs within 5 minutes on most of the systems available these days.
The company also has a dedicated support team which makes sure to give you every necessary support to get the most benefits out of the software. It contains a submit request button on which you can click and submit your request alongside attachment and pictures to explain your scenario. An option of live chat is also available in the same portal. Although initially, it is difficult to find you can always use it to chat with one of the representatives. I also tried their support so that I can give you a genuine review of the service and I would like to say that they have a very courteous staff who replied patiently to all my queries and took all the steps necessary to solve my problems. So in the case of support, I would give a big Thumbs up to the company.
Although this software is very good, but everyone's point of view is different, there are always some people don't like it, think it is not good to use what, or they think after using it is not as good as they thought, want to try other, so they plan to uninstall it. Then how to uninstall Sophos Antivirus from your Windows or Mac? You will get the methods below.
Uninstall Sophos Antivirus from Windows
Uninstall Sophos Antivirus Manually on Windows 10 (For Advanced Users Only)
Step 1: Uninstall Sophos Antivirus itself. (Choose one of the three options to follow)
a) Click on Windows Start menu ->; Choose All Apps-> Locate Sophos Antivirus. Right-click on Sophos Home Antivirus and choose Uninstall.
b) Or you can click Start menu -> choose Settings (the gear in the left) -> System -> Click Apps & Features. This will open a list of all your applications. Highlight Sophos Antivirus and select Uninstall. You will see a pop-up window informing you that the app and its related info will be uninstalled, then you just need to hit Uninstall to confirm the removal.
c) You also can uninstall Sophos Antivirus using Add/Remove Programs feature in Control Panel. To do this, Right-click on the Start button -> click Control Panel -> Click Programs and Features (or Uninstall a Program if your Control Panel is in the category view) -> Select Sophos Home Antivirus and click Uninstall. You'll see a pop-up window asking if you're sure you want to uninstall this program, click Uninstall and Check the "Also delete browsing data" box to go through the uninstall wizard.
Step 2: Delete Sophos Antivirus leftovers manually. (IMPORTANT STEP)
*For added protection, please back up the registry before you modify it.*
Check the following folders and delete associated files first.
C:\Program Files (x86)\Sophos
C:\Users\[Your User Name]\AppData\Roaming\
C:\ProgramData\Microsoft\Windows\Start Menu\Programs\Startup
Next, you have to get rid of Sophos Antivirus entries from Windows registry.
Press Windows + R, and type in regedit in RUN box, then press Enter. It'll open Registry Editor.
Navigate to the Registry key: (You do this by clicking on the plus sign next to each key in the path to expand the path below it. )
HKEY_LOCAL_MACHINE\Software\Microsoft\Windows\CurrentVersion\Uninstall.
HKEY_LOCAL_MACHINE\SOFTWARE\Microsoft\Windows\CurrentVersion\Uninstall\ (For 32-bit system users)
HKEY_LOCAL_MACHINE\SOFTWARE\Wow6432Node\Microsoft\Windows\CurrentVersion\Uninstall\ (For 64-bit system users)
Kindly Reminder: You are welcome to contact online support if you need any assistance, just click the below button for help.
Uninstall Sophos Antivirus Automatically with a Third-Party Uninstaller (RECOMMENDED)
Sometimes, it will be more easy to remove the Sophos Antivirus with a third-party uninstall software like Uninstallor. It uses advanced algorithms to scan all the leftovers automatically and helps you remove any unneeded, problematic or stubborn apps in a second.
Step 1. Download and install Uninstallor onto your desktop, next launch it. Select "Sophos Home" then click on "Analyze Now" to start.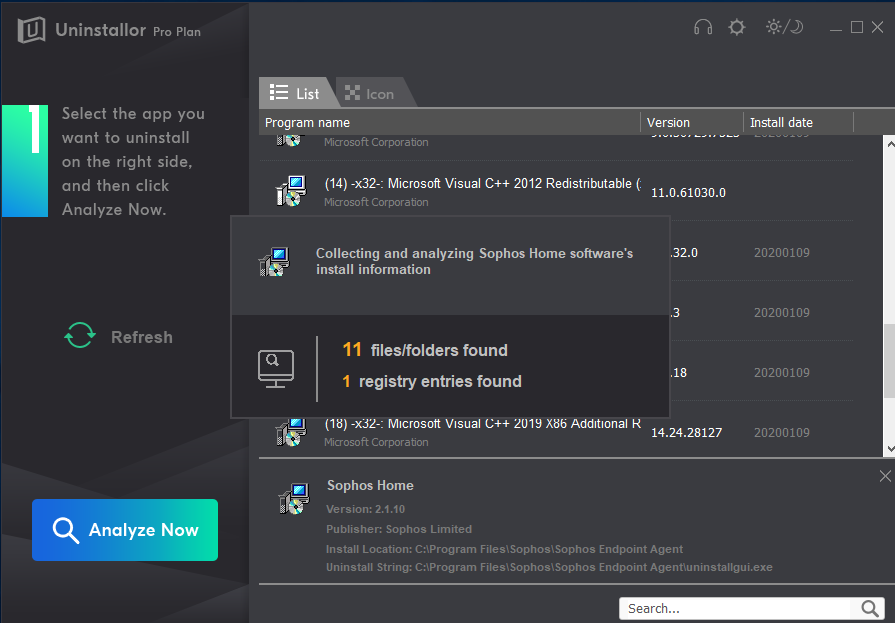 Step 2. Uninstall Now.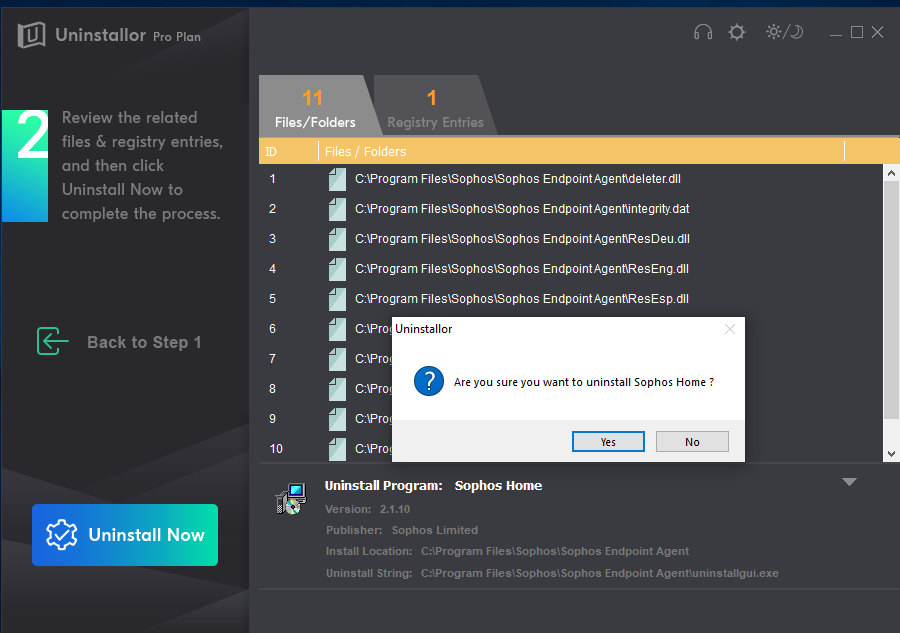 Step 3. Remove Now. Remove all Sophos antivirus leftover files and registry entries.
Click on Uninstall Now button to uninstall Sophos antivirus completely. Next, you need to click on "Yes" to confirm the removal.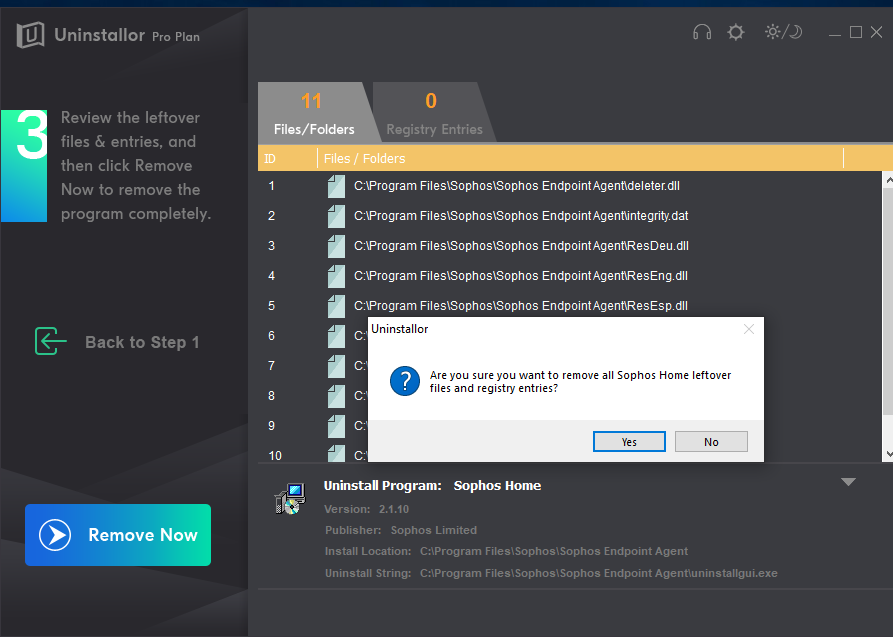 Step 4. Uninstall Completed. Sophos antivirus has been removed completely.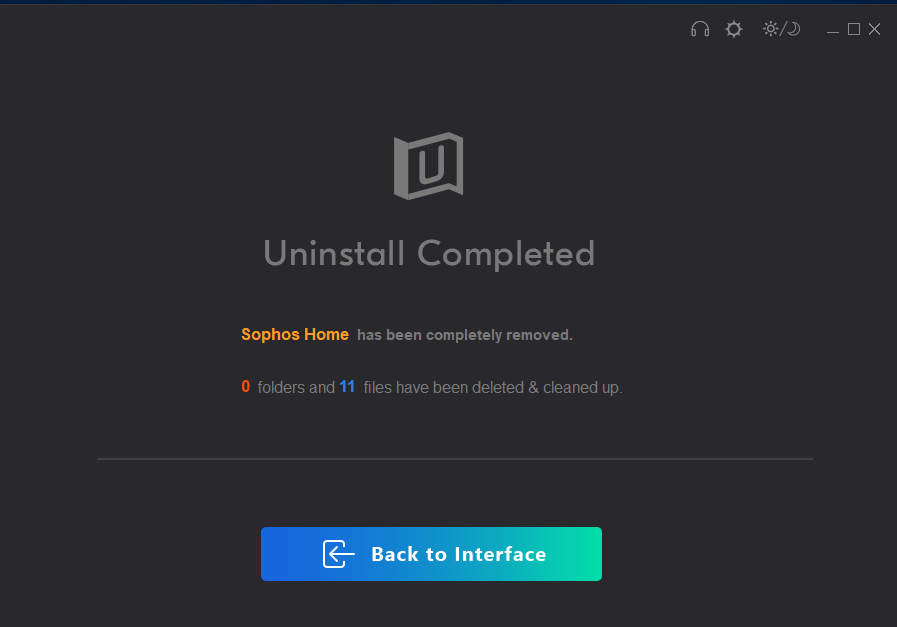 Conclusion:
Sophos Antivirus is a good software to protect your computer. It is also very necessary for me to comment on the pricing. Surprising to be quite honest is a bargain when we consider the fact that it allows multiple devices to be attached to the same software and it provides protection for all of these connected devices. The home premium license covers 10 devices and this is the best feature as it is the perfect software for somebody who is looking for security for all the home devices which may extend up to 10 devices. But if you still want to uninstall Sophos Antivirus from your computer, then you can follow the guides here. We are sure you are now understand how to uninstall Sophos Antivirus completely from your system.
Published by Tony Shepherd & last updated on April 8, 2020 8:52 am