Is PrimoPDF free? Can PrimoPDF convert PDF files back to Microsoft Office formats? How do i uninstall PrimoPDF from my computer if i don't want to use it?
PrimoPDF Review
In 2020, when the lockdown was started due to the covid-19 situation, the importance of a pdf scanner or pdf making tool, is felt by maximum students. The situation got heated up when the renowned pdf tools got banned. So many alternatives have come since then. However, there is no need to mention separately, most of these free tools don't have proper Security encryption and give good quality at all. However, there are some names, which have both qualities present in them. Primo PDF is one of them.
What is Primo PDF? Primo PDF is a simple PDF-making tool, having the features to convert any type of document into a proper pdf. Go to your storage device, select the file, whatever it is .doc, .docx, .jpg, .jpeg, .png and so on, you can make a full Security encrypted pdf file. However, there is a restriction that is common for most PDF maker files. You can't add two or more two documents in a single pdf and can't edit a pdf. Sometimes it becomes very urgent for us to make some changes in PDF. With PrimoPDF, you won't get that facility. Let's know its advantages and disadvantages in detail.
What are the Advantages of PrimoPDF?
While going to discuss some special features about Primo PDF, it can be easily differentiated from others. Despite being a one-purpose tool, some gifts from this tool make all the users habituated with it. The advantages are as follows.
● As already mentioned, you can select a wide range of files to turn those into a PDF file. Some Formats that you can turn into PDF are .doc, .docx, .png, .jpg, .jpeg, .txt and others. With this wide range of formats, you can use it efficiently.
● The pdf making speed is very fast and incredible. It won't affect the quality of the pixel of the PDF you are making. Just select the clicked photos or the documents, then just click on the Make PDF option. Within seconds it will be ready.
● This tool can be used in any device, in any operating system. Windows, Windows 10, Windows XP, Windows 7, and Windows Vista have shown great performance while this tool is being installed.
● PrimoPDF can make pdf for any. Like if you want to make an eBook, prepress, custom, or display it on the screen, you can do it through this application. Even you can print the page as a PDF. There will be three buttons which will give you three options. To email someone, to print it, or to do nothing, these options will be there. You can do whatever you want.
● Primo PDF is the first tool that allows you to do drag and drop features while making pdf. Generally, after selecting a file or image we have to select the next one. Here, in the recent tab, you can see all the recently made files. Just drag these with your mouse pointer and drop gradually. Your primary setup will be built.
● While making PDFs, Security checking is important. However, there are some other definitions of security in the case of pdf. Some images or documents may contain viruses. While making it into PDF, if you use PrimoPDF, it will be safe. Another example of Security is, there is no Effect on external links or viruses on this tool directly. The encrypted feature of this tool allows you to have a safe experience.
● The pdf file will have size according to your documents or image size. You can compress the size of the PDF without hampering the quality of the pdf pages.
● Lastly, the design of this tool is very user-friendly. It's so simple that anyone who hasn't used a computer can do it. Just select the file or images you want to turn into PDF and you'll have it.
These are some advantages that you can have with PrimoPDF. Before you make your mind whether you will uninstall PrimoPDF completely or let it stays in your system, you can go further to read some disadvantages of the software.
What are the Disadvantages of Primo PDF?
While using this application on your device, you can face some negative consequences too. The Disadvantages of using this application are very less and negligible compared to other sites. However, some of the cons are not negligible. Those are as follows.
● This application is very old. It was good on those old generation computers. However, the design used in it was never updated. That's why using this application on modern computers can be a problem for you. Being outdated is a serious issue regarding this application.
● The second problem is related to the first one. Since, the application has not been updated for many years, using this application can cause crashing your system. It may cause freezing or hanging problems in the Device.
● Primo PDF is a free tool to use as a PDF maker. But the ads showing features are getting out of hand. Lots of ads are popping up while doing any Important work. Naturally, it creates a disturbance. Users are getting irritated even if this application is free.
● This tool won't allow the users to edit PDF. Even you can't add multiple PDFs in a single PDF. Nowadays, every tool has this feature. Offering no updates can be the reason for this problem.
● Last but not the least, the guide system is even ridiculous. While anybody clicks on the guide to know some extra features, the outdated links won't work properly. Again system hanging and freezing happen.
If you think it is not so good, you can uninstall PrimoPDF completely any time you want, just follow the removal guides here.
How to Uninstall PrimoPDF from Windows Operating System
Manually Uninstall PrimoPDF from Windows 10 Step by Step (For Advanced Users Only)
Step 1: Uninstall PrimoPDF from startup.
a) Uninstall this software from Start menu by clicking on start icon, right click on it on the pop-up window, and then click "Uninstall".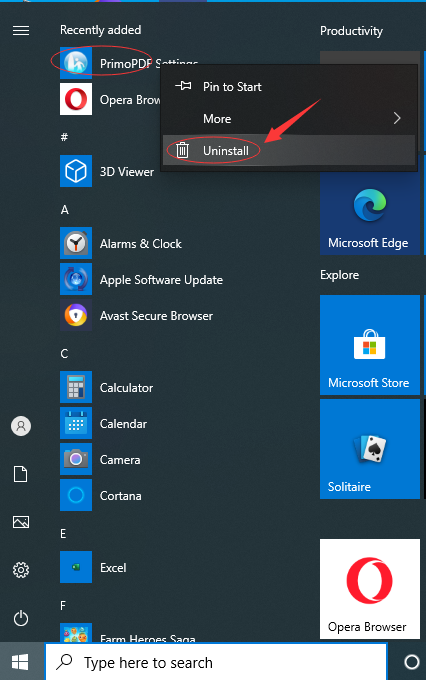 b) Uninstall it via the Apps & Features. Just input Apps into search box, then choose "Settings", and then click on "Apps", select the app then click on "Uninstall".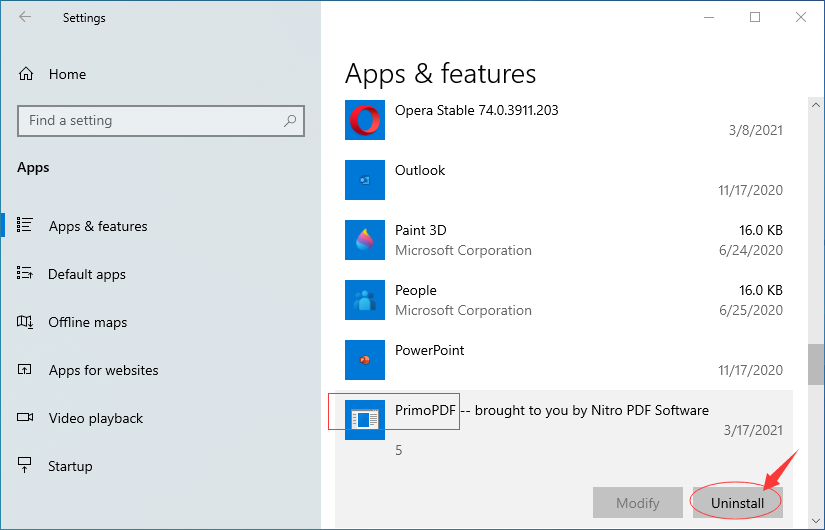 c) Uninstall PrimoPDF via Control Panel. Input "Control Panel" into search box then click on it, click on "Uninstall a Program", click on it then click on "Uninstall".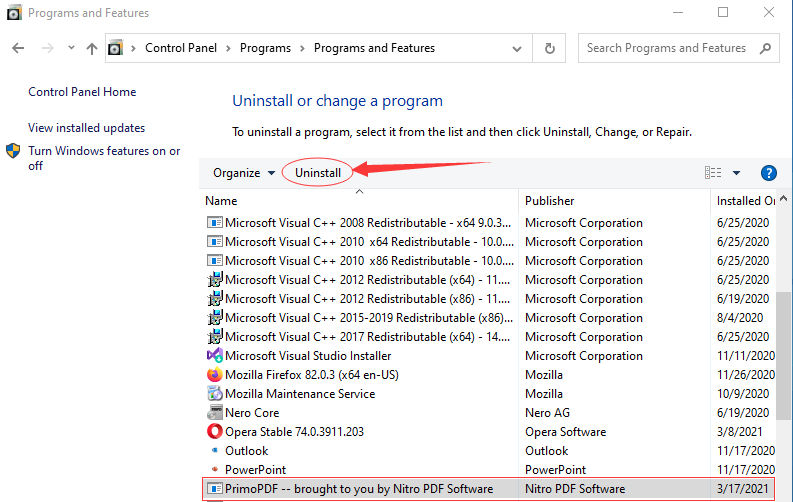 Step 2: Manually clean all leftovers from regedit. (IMPORTANT STEP)
*For added protection, please back up the registry before you modify it.*
Check the following folders and delete associated files first.
C:\Program Files (x86)\xxx
C:\Users\[Your User Name]\AppData\Roaming\
C:\ProgramData\Microsoft\Windows\Start Menu\Programs\Startup
Next, you have to remove all its entries from Windows registry.
Press Windows + R, and type in regedit in RUN box, then press Enter. It'll open Registry Editor.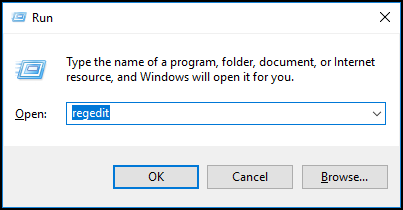 Navigate to the Registry key: (You do this by clicking on the plus sign next to each key in the path to expand the path below it. )
HKEY_LOCAL_MACHINE\SOFTWARE\Microsoft\Windows\CurrentVersion\Uninstall\ (For 32-bit system users)
HKEY_LOCAL_MACHINE\SOFTWARE\Wow6432Node\Microsoft\Windows\CurrentVersion\Uninstall\ (For 64-bit system users)
Kindly Reminder: You are welcome to contact online support if you need any assistance, just click the below button for help.
Automatically Uninstall PrimoPDF with a Third-Party Uninstaller – Uninstallor (RECOMMENDED)
Step 1. Download and install Uninstallor on your system, launch it and click on PrimoPDF, click on "Analyze Now" to start.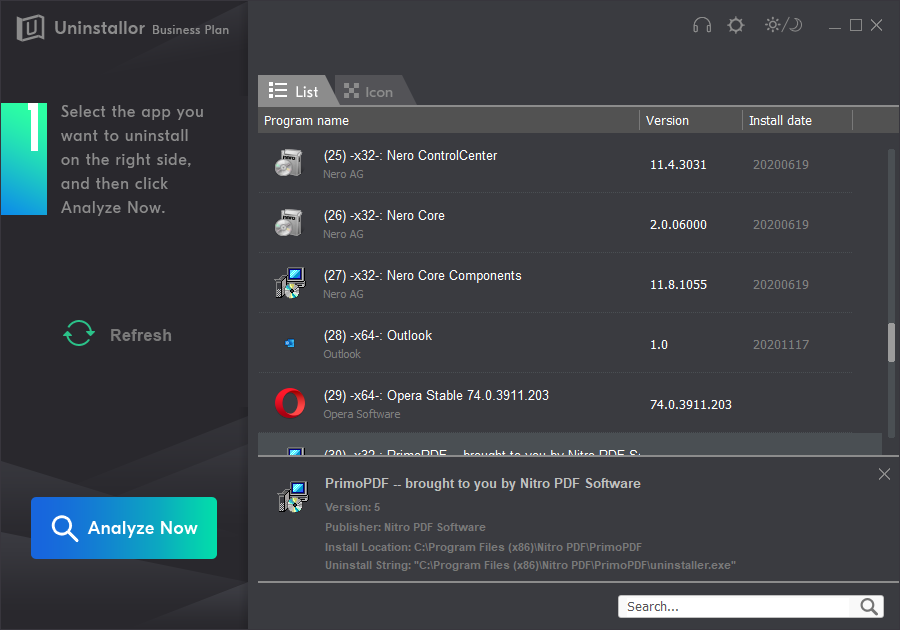 Step 2. Uninstall Now. Click on this button for further uninstalling.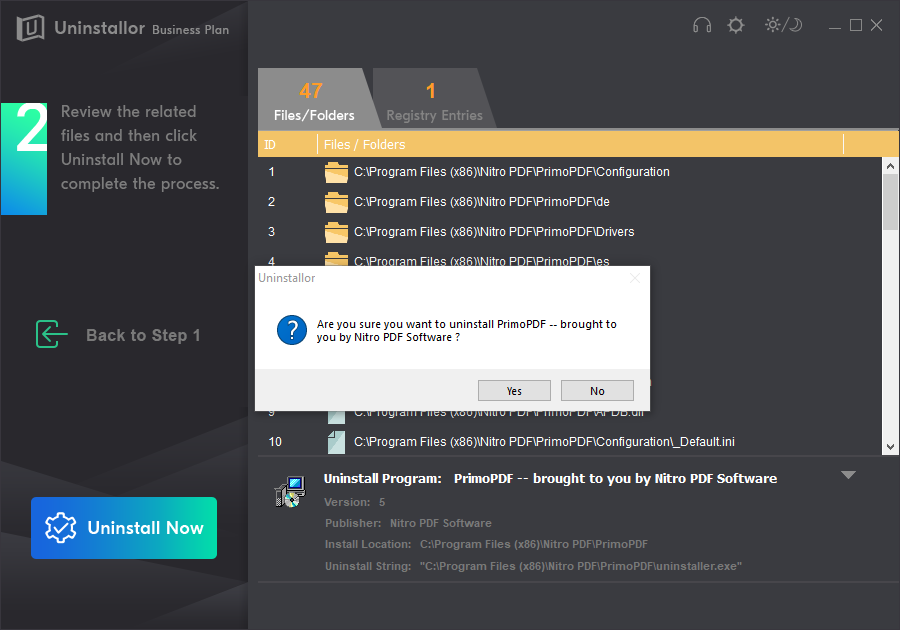 Step 3. Remove Now. Remove all leftovers of PrimoPDF from your system.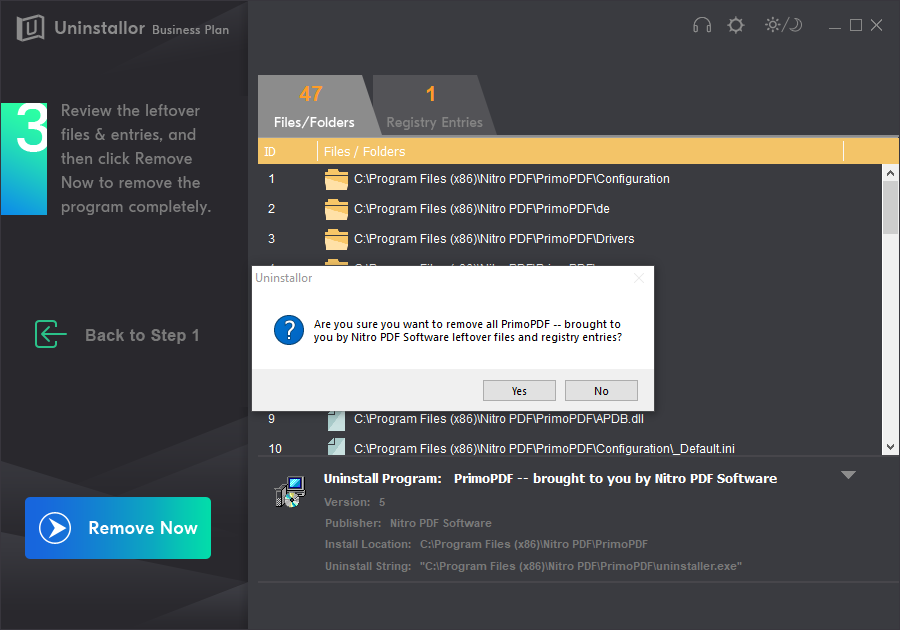 PrimoPDF has been uninstalled completely.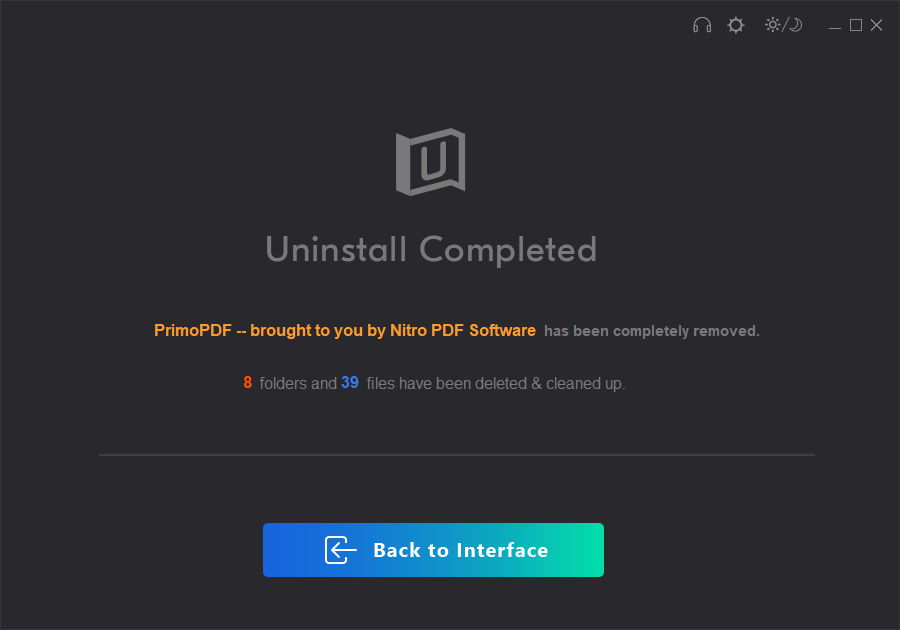 Conclusion
PrimoPDF once was the greatest application for PC users. It can generate PDFs swiftly. As you can see the features very well, you can have an idea how amazing it was. The most important thing is, with these great qualities, this application is available free of cost. However, now these offers have no value if we can't have the output properly.
It is expected from the authority to give some updates and renew some features. Only then, this application can get back its previous values to its users. Minimizing the number of ads is also necessary. If all of these qualities are being satisfied, Primo PDF will be used widely again.
Kindly Reminder: If you don't want this software and don't know how to uninstall PrimoPDF permanently from your Windows computer or Macbook, you are suggested to use Uninstallor, which will help you do all things.
Published by Tony Shepherd & last updated on March 30, 2021 12:39 pm