Don't know how to uninstall Nero 2020 completely in Windows 10? Have tried to uninstall the program via control panel but failed? Is there a method or a great removal tool can help me do the job? You will get the best way to get rid of the software here.
A Complete Guide of Nero 2020
Nero also called as Nero burning ROM and it is a kind of software which is used to create CD's and DVD's. Nero users can add their data, videos and audio files to their CDs and also DVDs and they can also copy one disc to another disc easily. This software also helps the users to create their own bootable CDs, users can even create rip audio CDs and there is also an option to create discs with the help of ISO images. There are many other vital advantages found while using Nero software and the important criteria is that the ease of using methodology has attracted many computer users to make use of that particular software.
In 1997 this Nero was first released and then many updates were made on this particular software. Now in this 2020 Nero has been reformed with many useful updates and it is now considered as the successful all rounder for many computer users. There are numerous advantages which are associated with this single software making many users to turn towards it. Also there are few demerits but all such facts are not highly notable as it diminishes with its exciting merits. Here is the compiled comprehensive guide regarding the advantages and disadvantages of this Nero 2020 software which is created with the hope of helping users to understand the both sides of this particular all rounder software. This will help you make your mind whether you will uninstall Nero 2020 from your computer or continue to keep it.
7 in 1 Courageous Programs in Nero 2020 – Excellent Advantages
There are nearly 7 powerful programs in Nero 2020 which are high lightened as the most important benefits of the users and so let us see all those 7 programs which may be useful for the users practically.
Reliably and quickly cleaning the photo archive
Nero 2020 duplicate photo manager helps to quickly clean all the archived photos if needed. At certain times people may suffer hard to remove multiple copies which are created during editing tasks or HDR and Nero duplicate photo manager greatly help to pick out the similar images and it differentiates it from the duplicate one. Then it quickly archives all such photos securely.
Create, edit and import
The editing option given in Nero helps the users to perform unbelievable creative tasks and it delivers an excellent film project at the end. Slideshows, movies and images can be created with all desired options. 1 click video format is another essential benefit found in Nero which will greatly help the users to create beautiful videos very quickly. More than 1000 effects are provided in this software and the user can add all his preferable music to his video to make it still more interesting. Also there is an option of importing the upright videos and pictures from the phone and it can be edited as vertical video easily. There are also options like creating and burning high quality blue ray discs and high quality DVD videos and there are uncountable templates which can be added while editing a photo or a video.
AI photo tagger
With the help of brand new artificial intelligence photo tagger found in Nero, the photos in the PC can be tagged easily and automatically. This will be really an interesting option as tagging photos will be more time consuming when done individually and this Nero 2020 does this job bravely by making use of updated Artificial Intelligence platform.
Secured back up
Nero 2020 allows the users to back up all their files, photos and videos securely as this Nero 2020 software is been integrated with BackItUp options. The user can now sit comfortably and need not worry about their pictures and videos as they are backed up more comfortably and securely. The user has to just click upon the single button which will set up the backup option and then it starts protecting the files continuously or at desired intervals. Also there are options to backup the favorite files to the cloud services which greatly enhances the users experience in their backup process.
Ticket for all the music in the world
The music recorder option included in this software helps the users to listen to all the hit songs and music and also it enables the user to download the songs easily and quickly. Even radio stations can be activated here as it has nearly 1, 00,000 online radio stations and so it is also easy to access radio stations here.
Advantages
Nero 2020 is also used as burning software and it helps to secure all essential files easily. With a single license key it is easy to organize all the essential activities easily. There are about 23 languages added to it to support the global organizations. Managing the burn rights is also very easy here and the updates made are given for free. There are also options to perform software maintenance. Do you still wanna uninstall Nero 2020 from your Windows 10 operating system?
Disadvantages
There are few disadvantages like ones the burning task is performed it cannot be done again and Nero 2020 has few unused tools which may take up more space in the hard drive. For low income people buying the full version will be quite difficult as it is expensive. At certain situations conversion process takes more time and it gives reports with error but it is sure this issue will be resolved in the updated version. Other than these demerits the other important one is that when a video is been converted and when it is transformed to other device it fails to support certain formats. When talking about burning process, at certain times it becomes slow and it is due to the capacity of the drive which is being burned.
Conclusion
All these are about Nero 2020 and altogether it is really excellent software which must be used by all people so as to minimize time in performing several essential tasks. In spite of its disadvantages all the advantages are making people to buy this software. Now at present many well developed institutions and companies have started using this updated version to schedule their work without any flaw. Hence for the people who are new to this software, it is worthy enough to buy this software from any online store. If you have used the software for some time and want to uninstall it away, but you don't know how to uninstall Nero 2020 completely from your dell computer in Windows 10, you can follow the removal guides below.
How to Uninstall Nero 2020 from Windows Operating System
Manually uninstall Nero 2020 from Windows 10 (For Advanced Users Only)
Step 1: Uninstall from startup.
a) Uninstall it from Start menu. Click on Start then right click on "Nero 2020" then click on Uninstall.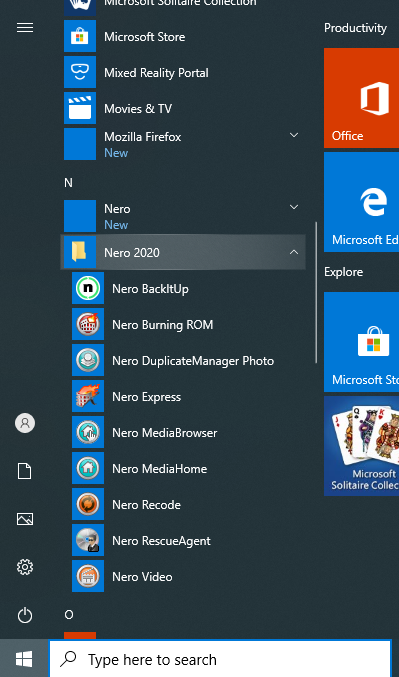 b) Uninstall it from Apps & Features. Follow the guide on the picture.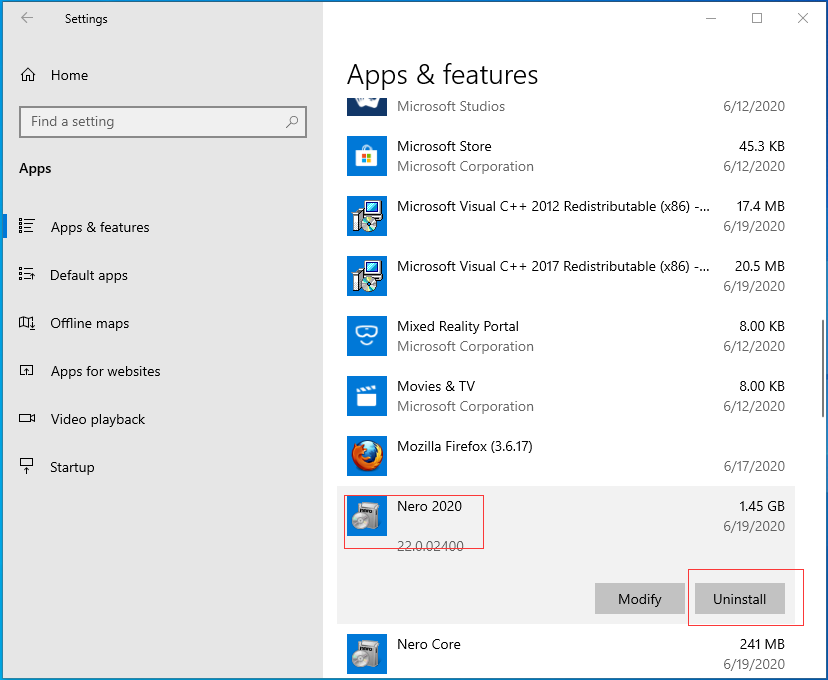 c) Uninstall Nero 2020 from Control Panel. Click on "Control Panel", click on "Uninstall a Program", click on "Nero 2020" then click on "Uninstall".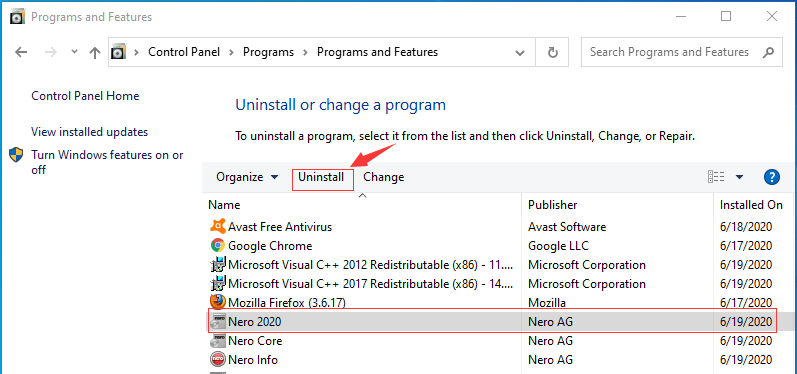 Step 2: Manually get rid of all leftovers of Nero 2020 from regedit. (IMPORTANT STEP)
*For added protection, please back up the registry before you modify it.*
Check the following folders and delete associated files first.
C:\Program Files (x86)\Nero 2020
C:\Users\[Your User Name]\AppData\Roaming\
C:\ProgramData\Microsoft\Windows\Start Menu\Programs\Startup
Next, you have to get rid of Nero 2020 and all its entries from Windows registry.
Press Windows + R, and type in regedit in RUN box, then press Enter. It'll open Registry Editor.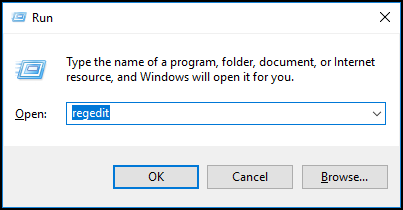 Navigate to the Registry key: (You do this by clicking on the plus sign next to each key in the path to expand the path below it. )
HKEY_LOCAL_MACHINE\SOFTWARE\Microsoft\Windows\CurrentVersion\Uninstall\ (For 32-bit system users)
HKEY_LOCAL_MACHINE\SOFTWARE\Wow6432Node\Microsoft\Windows\CurrentVersion\Uninstall\ (For 64-bit system users)
Kindly Reminder: You are welcome to contact online support if you need any assistance, just click the below button for help.
Automatically Uninstall Nero 2020 with a Third-Party Uninstaller – Uninstallor (RECOMMENDED)
Step 1. Download, install and activate the Uninstallor. Next run it then select "Nero 2020", then click on "Analyze Now" to start.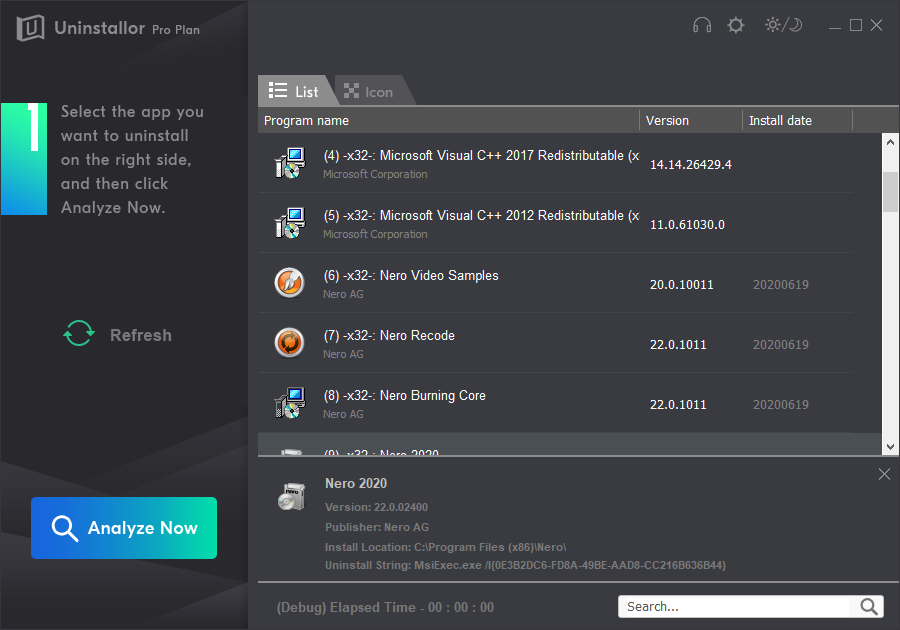 Step 2. Uninstall Now.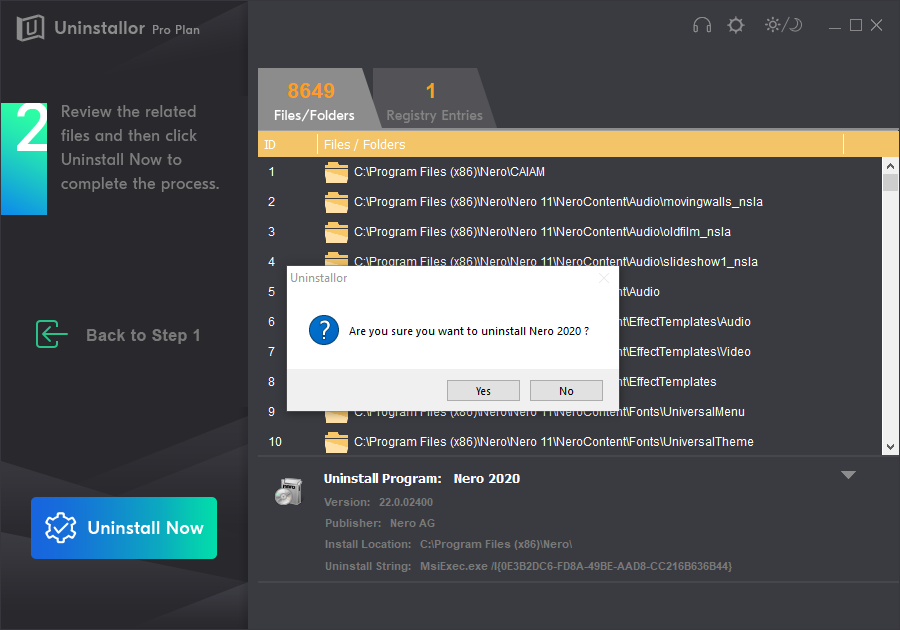 Step 3. Remove Now.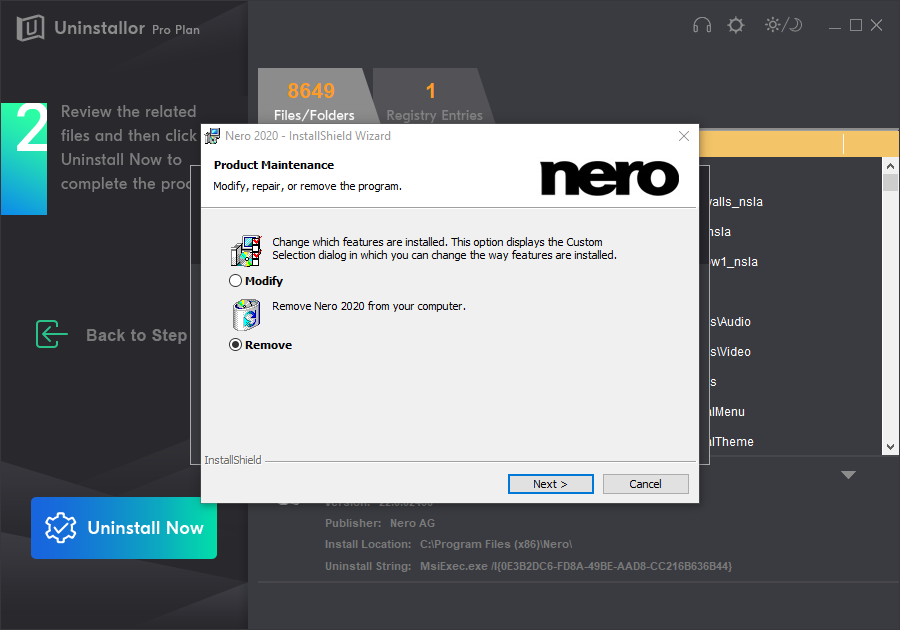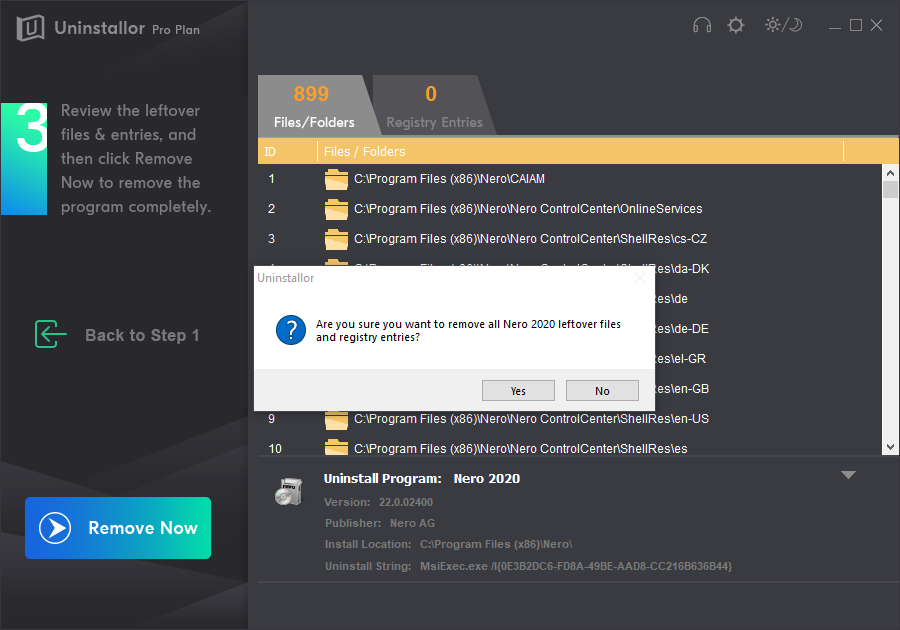 Uninstall Completed! Nero 2020 has been removed completely.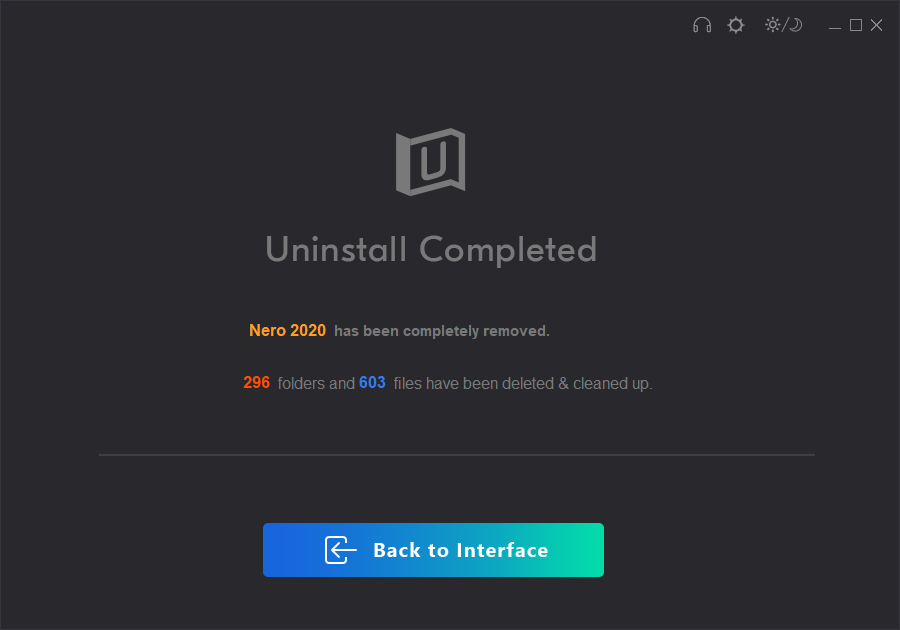 Video Guide for Uninstalling Nero 2020
Kindly Reminder: If you having problems in uninstalling Nero 2020 from your computer like Windows or Mac, you are suggested try the great removal tool – Uninstallor, which will help you do all things.
Published by Matt Johnston & last updated on June 23, 2020 9:54 am