Can't uninstall Microsoft Silverlight from your computer? Do you have tried many times but failed to uninstall this software away? How to uninstall Microsoft Silverlight completely from Windows 10 on your desktop? Manual removal or use an effective uninstaller too to get rid of such thing? You will get what you expect below.
A Detailed Review about the Microsoft Silverlight
Before you make a decision whether to uninstall Microsoft Silverlight from your computer or just keep it, please read some information about it first. Microsoft Silverlight is a popular deprecated application framework designed for writing and running any rich Internet application. This framework is similar to the Adobe Flash. An advanced plugin for this application framework is still available for some browsers. Though the initial versions of this application framework are only focused on streaming media, the modern versions supported the animation, graphics and multimedia.
Silverlight seemed to be a huge success when it was launched in 2007. However, it was short lived as the problems quickly surfaced. There were some bugs existing in different applications. Microsoft had no clear strategy about what the market required. This project was struggled internally and developers of this tool get ever-increasing challenges to learn how to make it successful.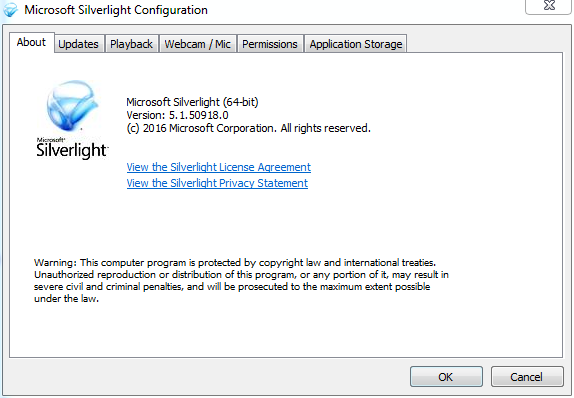 Basics of the Silverlight
Silverlight is an all-purpose plugin designed for streaming the videos, animations, live streams and vibrant graphics to the devices. On the other hand, this plug-in heavily relies on the text-based mark-up language namely XAML of the Microsoft for the purpose of the user interface, vector graphics and animations. This plugin is also based on the .NET Framework of the Microsoft. This system lets developers to use any tool which supports the .NET language.
Web developers who use the Silverlight can get enough assistance to enable rich animations by properly using the Windows based formats instead of Flash. The Silverlight supports the MPG3, Advanced Audio Coding, H.264 video, Windows Media Audio and Windows Media Video. There is no requirement of the traditional Windows based player for this plugin.
Explore the Microsoft Silverlight
Microsoft Silverlight is a powerful tool designed for creating and delivering the rich Internet applications as well as media experiences on the web as expected by its users. Users of the Silverlight 5 get an array of benefits. This is because this system builds on the foundation of the popular Silverlight 4 which is very useful for building business apps and also providing premium media experiences.
You may think about the special things associated with the Silverlight 5 at this time. Silverlight 5 introduces over 40 new features include the performance enhancements, dramatic video quality and the overall elements required for enhancing the productivity of the developers. You can spend enough time and keep up-to-date with the features and benefits of the Silverlight 5. You will make a good decision to access and use this powerful tool without delay.
The Recent Update of the Silverlight
Many people think about when the Microsoft ends its support for the Silverlight 5. The company officially ends its support for the final version of this tool on October 12, 2021. This tool would not receive any quality enhancements and also security updates officially from the Microsoft after this time. The installer also would not be available after this time.
The last browser to support this tool is the Internet Explorer 11 for the Windows 10 as the Internet Explorer 10 on Windows 8 dropping this tool on the end of January 2020. Silverlight disappeared on both iOS and Android around 2015. This tool was the main development environment on the mobile Microsoft's Windows Phone. This phone was succeeded by the Windows 10 Mobile and discontinued in the end of the year 2019.
People who wish to access and use the Silverlight can feel free to access and download it until October 2021. Though you would not get the desired experience from this tool, you can get an overview of the current state of this tool. Do not forget that this tool has not been real worth using in the upcoming years.
Many people consider that there is no reason to access this tool outside of any technical exercise. You can prefer and use the HTML 5 when you require an application framework for the purpose of the web development. You will get different benefits in particular a certain amount of future-proofing and enough assistance to handle the current Internet situation.
How to Install the Latest Silverlight
You may be one among individuals who still insist on the installation of the later version of the Silverlight. You have to install and use this tool in the safe environment devoid of sensitive data like any virtual machine. This is because the active support and also the overall updates for this tool stopped back in the year 2012. Bugs in this software are fixed periodically; there is no prompt support to deal with the existing bug as quickly as possible. Remember that OS support for the Silverlight tool is a miss or hit at this time.
Pros
• Developers can target a single and consistent runtime for any browser-based app instead of dealing with the complex aspects of several browsers in different versions
• Execution of the .NET code devoid of deploying the .NET runtime
• Promising performance
• Silverlight interprets the XAML directly
• Any third-party component vendor is already ell on with add-ons of this tool
• Take your .NET code cross platform
• An efficient use of the visual studio
• Facility to choose your language
• An easy way to get the local file access because the isolated storage
Cons
• There is no chance that Apple lets the Silverlight on the iPhone
• Silverlight is late to the game as the Flash is well-trusted, ubiquitous and mature
• Expression blend and expression design tools
• A hassle of having to use two separate tools when there is a niggling incompatibility
• No support for the well-known H.264 video codec
• Another effort for promoting the proprietary technology instead of open standards
• Linux implementation will lag behind the Mac and Windows
• Silverlight does not have an optimised binary protocol
• Browser only solution
• Users of the silver light have to develop on Windows as designers have an unreasonably high number of Macs.
Conclusion
Silverlight is a good tool for creating and also delivering the first-class Internet applications as well as media experiences on the web. However, there are loads of open source tools designed and regularly updated for fulfilling the Internet application design and development related expectations of users. But if you won't like it, how to uninstall it away from your PC? Good to tell you that you can try the below step by step guides to uninstall Microsoft Silverlight completely from your Windows 10 on your computer.
How to Uninstall Microsoft Silverlight from Windows Operating System
Manually uninstall Microsoft Silverlight from Windows 10 (For Advanced Users Only)
Step 1: Uninstall itself. (Choose one of the three options to follow)
a) Uninstall it from Start menu.
b) Uninstall it from Apps & Features. Click Start menu -> choose Settings (the gear in the left) -> System -> Click Apps & Features. Highlight Microsoft Silverlight and select Uninstall.
c) Uninstall Microsoft Silverlight in Control Panel. Follow the tips on the picture below -> Remember to select Microsoft Silverlight and click Uninstall.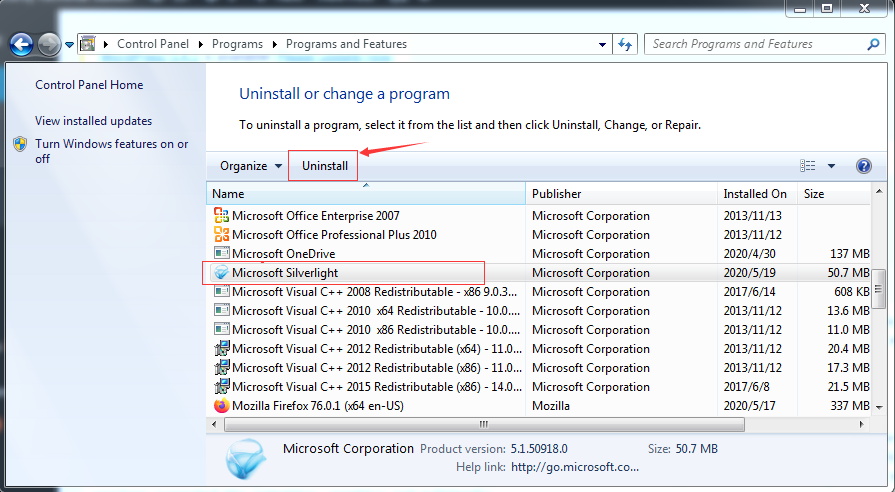 Step 2: Manually get rid of Microsoft Silverlight's leftovers away. (IMPORTANT STEP)
*For added protection, please back up the registry before you modify it.*
Check the following folders and delete associated files first.
C:\Program Files (x86)\Microsoft Silverlight
C:\Users\[Your User Name]\AppData\Roaming\
C:\ProgramData\Microsoft\Windows\Start Menu\Programs\Startup
Next, you have to get rid of Microsoft Silverlight's all entries from Windows registry.
Press Windows + R, and type in regedit in RUN box, then press Enter. It'll open Registry Editor.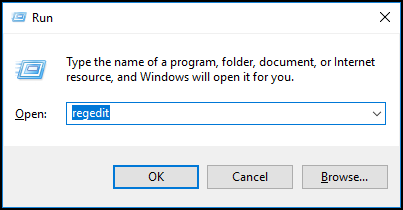 Navigate to the Registry key: (You do this by clicking on the plus sign next to each key in the path to expand the path below it. )
HKEY_LOCAL_MACHINE\Software\Microsoft\Windows\CurrentVersion\Uninstall.
HKEY_LOCAL_MACHINE\SOFTWARE\Microsoft\Windows\CurrentVersion\Uninstall\ (For 32-bit system users)
HKEY_LOCAL_MACHINE\SOFTWARE\Wow6432Node\Microsoft\Windows\CurrentVersion\Uninstall\ (For 64-bit system users)
Kindly Reminder: You are welcome to contact online support if you need any assistance, just click the below button for help.
Automatically Uninstall Microsoft Silverlight with a Third-Party Uninstaller – Uninstallor (RECOMMENDED)
Step 1. Free download the Uninstallor on your computer and activate it. Launch it then select "Microsoft Silverlight" from right side list, then click on "Analyze Now" to start.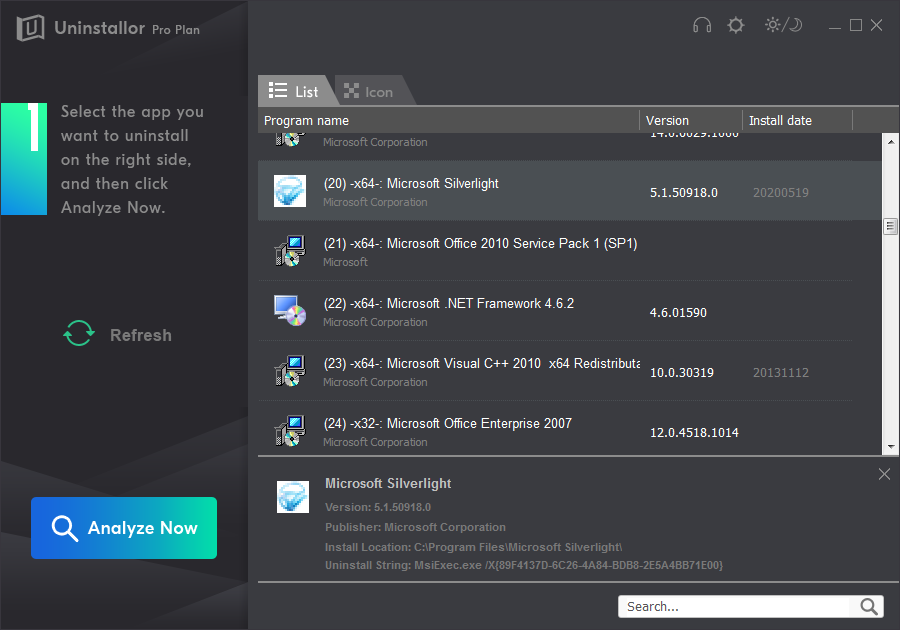 Step 2. Uninstall Now. To completely uninstall Microsoft Silverlight from your desktop.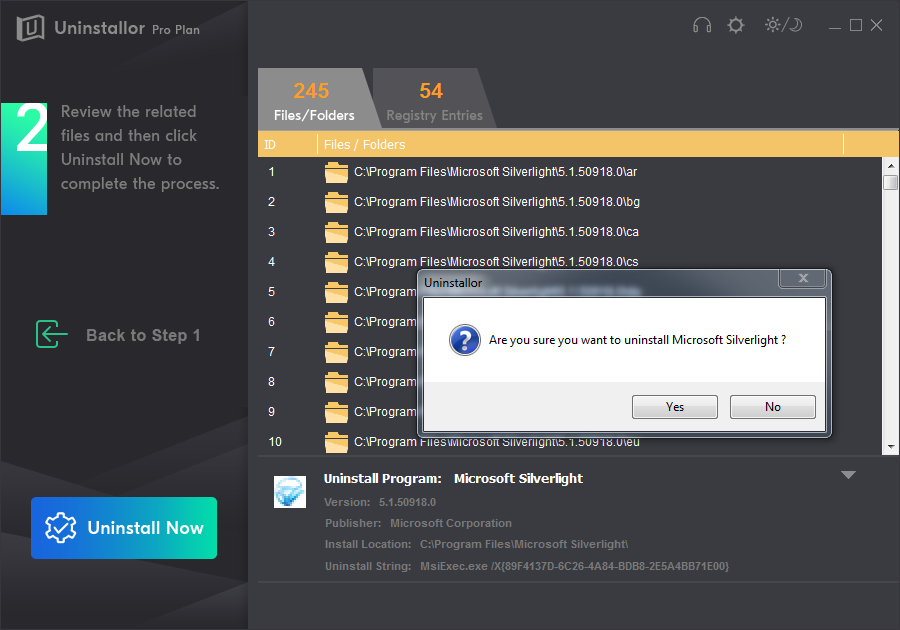 Step 3. Remove Now. This way all leftover files and registry entries of the Microsoft Silverlight will be removed completely.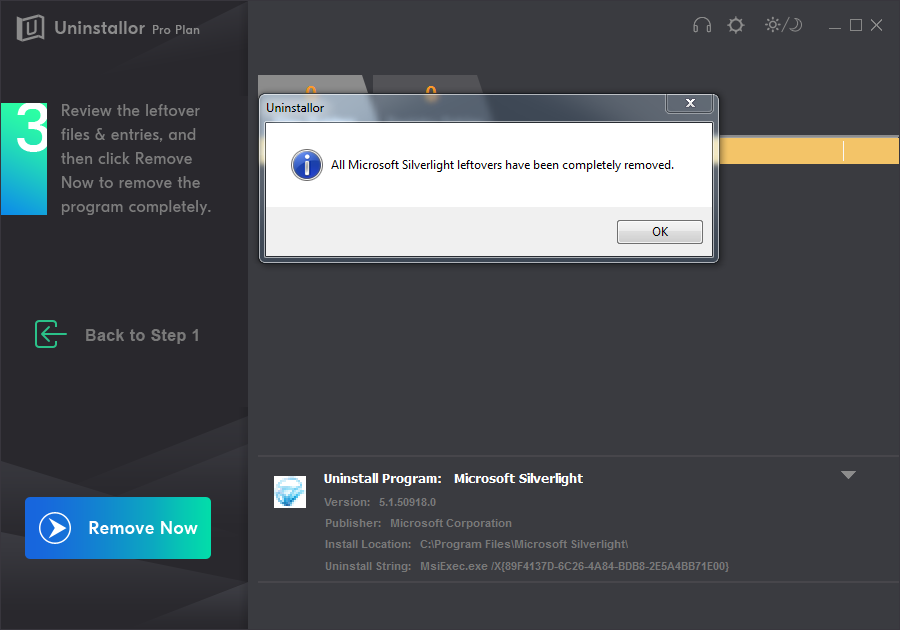 Kindly Reminder: If you want to easily and safely remove/uninstall Microsoft Silverlight from your computer successfully like Windows or Mac, you are suggested to try Uninstallor, which will help you do all things.
Published by Tony Shepherd & last updated on May 19, 2020 8:06 am