Can not uninstall McAfee WebAdvisor from Windows 10 or Mac computer? I'm so Frustrated for this thing. It comes every day at the bottom of the Bar. I always click the X I want it gone forever. I want to uninstall to remove it. What is the best way to uninstall McAfee WebAdvisor completely? Is there a good removal tool? Read an unbiased review of the McAfee WebAdvisor and get the removal guides here.
About McAfee WebAdvisor
McAfee WebAdvisor is a reliable service which reports regarding the websites' safety by crawling the web and testing the websites to find any spam and malware. This service was formerly known as McAfee SiteAdvisor. The overall functionality of this program could be accessed by users prior to mid-October 2014 by submitting the URL to the website at the official website. However, this service can be accessed nowadays via a downloadable Browser Plug-in. Free and paid versions of the McAfee WebAdvisor encourage many people to explore its features and make certain about how to properly get loads of benefits from it.
All visitors to the official website of the McAfee can download the free McAfee WebAdvisor almost immediately as expected. Once they have installed this product in their computer, they can search confidently and also browse as safe as possible.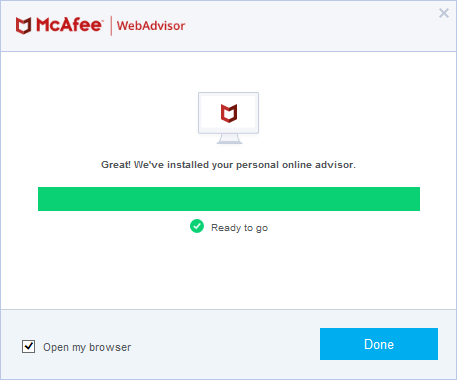 Get the Complete Protection from Threats with McAfee WebAdvisor
McAfee WebAdvisor is a trusted companion and designed to assist its users to keep them safe from all the threats while they browse and search the web. You can prefer and use this product to get the complete protection from the malware and phishing attempts while surfing the web devoid of any negative impact on the browsing experience or performance. And it has many functions as following:
Misclick protection
Misclick protection is one of the main attractions of the McAfee WebAdvisor beyond doubt. This feature blocks phishing sites and malware elements when users accidently click on a malicious link.
Typo protection
Typo protection in the McAfee WebAdvisor supports every user to get an alert when they type a web address in the incorrect way. This feature helps users to surf in the right direction on a regular basis.
Safer downloads
All users of the McAfee WebAdvisor nowadays take advantage of the safe and successful downloads. This is because this product scans users' downloads and alerts them when there is any known risk.
Security Check
Security check in the McAfee WebAdvisor inspects to see whether users' firewall and also antivirus program are activated before surfing the web.
Safe Browsing
Safe browsing of the McAfee WebAdvisor uses the color coded system and let users know which links are really safe to click.
So do you still want to uninstall McAfee WebAdvisor from your computer as it looks great, and it can protect your PC from threats.
Begin a Step to Use the Award-winning Product for the Internet security
Almost every user of the Internet in recent years is very conscious about their privacy and data protection. They can explore the overall features and facilities of the McAfee WebAdvisor right now. Once they have begun using this award-winning Internet security product, they can get the complete assistance and get their devices well protected as expected.
Readers of honest reviews regarding the McAfee WebAdvisor on online these days make a well-informed decision to access and download the free version of this product. You can confidently click the link to download this product from the official website and protect yourself from all malicious websites which could contain viruses, spyware, adware and phishing scams.
All users of this product these days get 100% satisfaction. This is because they start worry-free web browsing at no cost. These users are confident to recommend this product for those who like to be safe and smart while browsing anything on online from anywhere at any time. McAfee WebAdvisor nowadays uses the TrustedSource website reputation organization designed to act like cloud intelligence software. This facility plays a leading role behind how this software gets the most up-to-date information about the websites.
There are so many awards for the McAfee WebAdvisor. For example, McAfee WebAdvisor is one among 50 coolest websites of 2006 named by Time Magazine. In the Computing category award for 2006, The Popular Science awarded the product McAfee WebAdvisor as the "Best of What's New" award. You can spend enough time and research the McAfee WebAdvisor to get an overview about how to properly use it and just to uninstall McAfee WebAdvisor from your system so quick if you have installed it onto your desktop, if you have not yer, go ahead to get more review.
How to Download and Install the McAfee WebAdvisor
• Click free download link in the official website of the McAfee WebAdvisor
• Click save and choose a location on your system to save the setup file of this product
• Once the download process has completed, open the setup program and follow instructions appear on the screen to install the McAfee WebAdvisor.
Be Aware of the System Requirements for McAfee WebAdvisor
McAfee WebAdvisor supports the operating system Windows 7, 8, 8.1 and 10. The following browsers are supported by the McAfee WebAdvisor.
• Google Chrome
• Mozilla Firefox
• Chromium based Microsoft Edge
• Microsoft Edge Windows 10 only and Fall Creators Update needed
• Internet Explorer 10.0 or later
Benefits of McAfee WebAdvisor
• Real-time website safety ratings
• Anti-malware and also anti-phishing protection
• Gain an extra measure of protection on online
• Advanced warnings are helpful a lot for safe browsing
• An easy way to get a safety rating for each search result
• A successful way to get the latest threat alerts
• Gain valuable insights almost immediately
• A hassle-free method to ensure the policy compliance
• Support multiple search engines and browsers
Drawbacks of McAfee WebAdvisor
• Some criticisms regarding McAfee WebAdvisor's improper rating for some sites
• More than usual time required for McAfee WebAdvisor to resolve complaints
• McAfee WebAdvisor is incorrectly flagging websites with a warning or caution label
• A green rating after McAfee WebAdvisor testing does not guarantee 100% safety as such green rating is not up-to-date and a false sense of security
• The process time takes from 10 days to a year based on the threat's nature after the website is re-crawled.
• McAfee WebAdvisor program reinstalls when a customer of McAfee updates the total protection package of McAfee WebAdvisor.
Conclusion
Extraordinary features of the McAfee WebAdvisor in our time encourage many people to prefer and use it to get the maximum protection as long as they surf the Internet. However, every beginner to this product is advised to explore its features in detail and enhance their proficiency about how to use such facilities. It is the suitable time to keep up-to-date with the smart methods to browse and use the professional guidance for using the reliable software. If you feel like it is not so good and want to get rid of it but don't know how to uninstall McAfee WebAdvisor completely from your computer like Windows PC or Macbook, you can try the methods here.
How to Uninstall McAfee WebAdvisor from Windows Operating System
Manually uninstall McAfee WebAdvisor from Windows 10 (For Advanced Users Only)
Step 1: Uninstall from startup.
b) Uninstall it from Apps & Features. Click on search bar then input apps and click on it.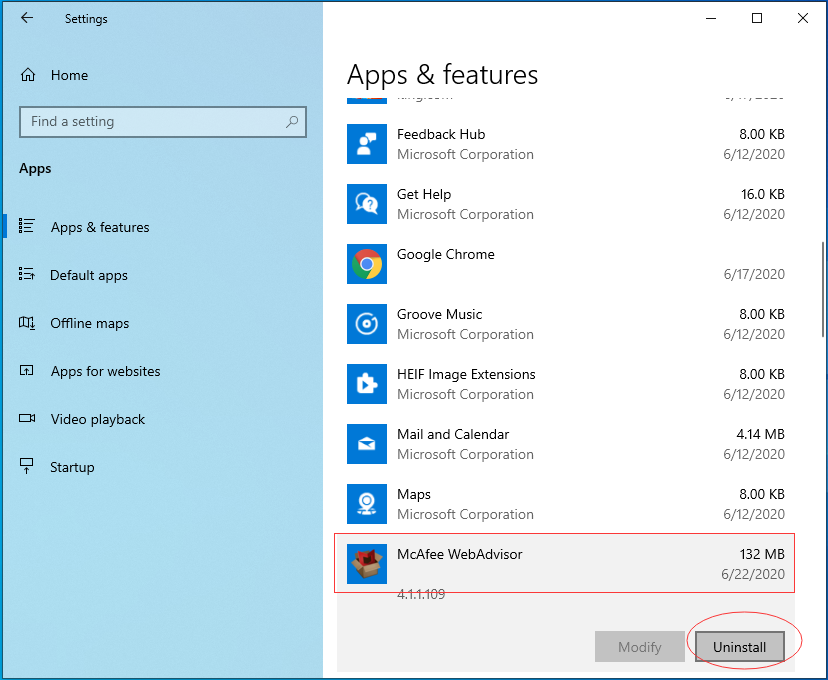 c) Uninstall McAfee WebAdvisor via Control Panel. Click on "Control Panel", click on "Uninstall a Program", click on "McAfee WebAdvisor" then select "Uninstall".

Step 2: Manually get rid of all leftovers of McAfee WebAdvisor from regedit. (IMPORTANT STEP)
*For added protection, please back up the registry before you modify it.*
Check the following folders and delete associated files first.
C:\Program Files (x86)\McAfee WebAdvisor
C:\Users\[Your User Name]\AppData\Roaming\
C:\ProgramData\Microsoft\Windows\Start Menu\Programs\Startup
Next, you have to get rid of McAfee WebAdvisor and all its entries from Windows registry.
Press Windows + R, and type in regedit in RUN box, then press Enter. It'll open Registry Editor.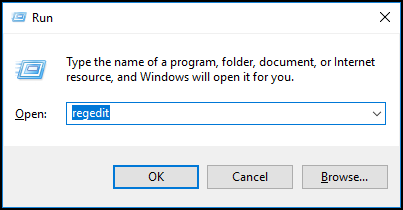 Navigate to the Registry key: (You do this by clicking on the plus sign next to each key in the path to expand the path below it. )
HKEY_LOCAL_MACHINE\SOFTWARE\Microsoft\Windows\CurrentVersion\Uninstall\ (For 32-bit system users)
HKEY_LOCAL_MACHINE\SOFTWARE\Wow6432Node\Microsoft\Windows\CurrentVersion\Uninstall\ (For 64-bit system users)
Kindly Reminder: You are welcome to contact online support if you need any assistance, just click the below button for help.
Automatically Uninstall McAfee WebAdvisor with a Third-Party Tool – Uninstallor (RECOMMENDED)
Step 1. Download, install and activate the Uninstallor. Next run it then select "McAfee WebAdvisor", then click on "Analyze Now".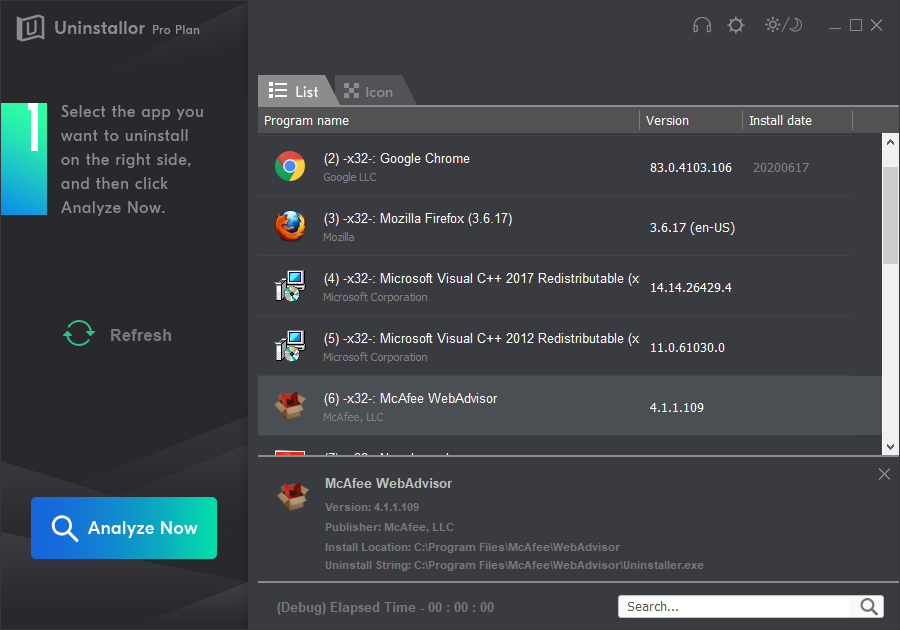 Step 2. Uninstall Now.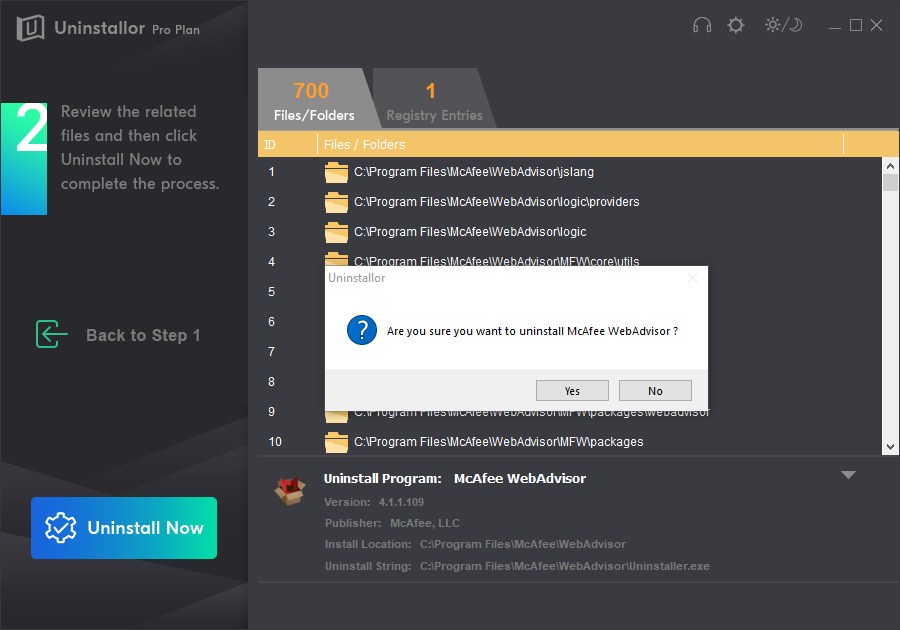 Step 3. Remove Now.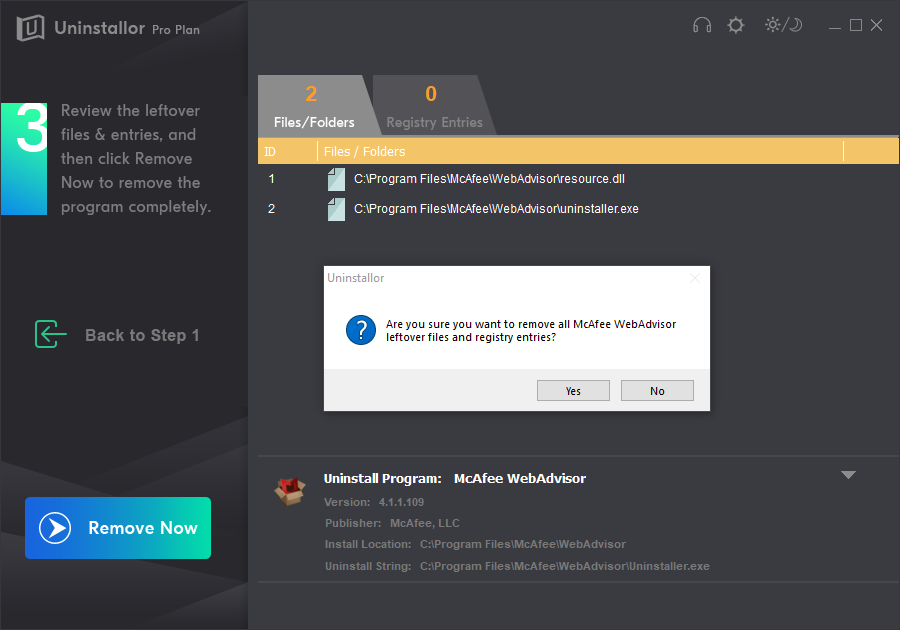 Uninstall Completed! McAfee WebAdvisor is gone.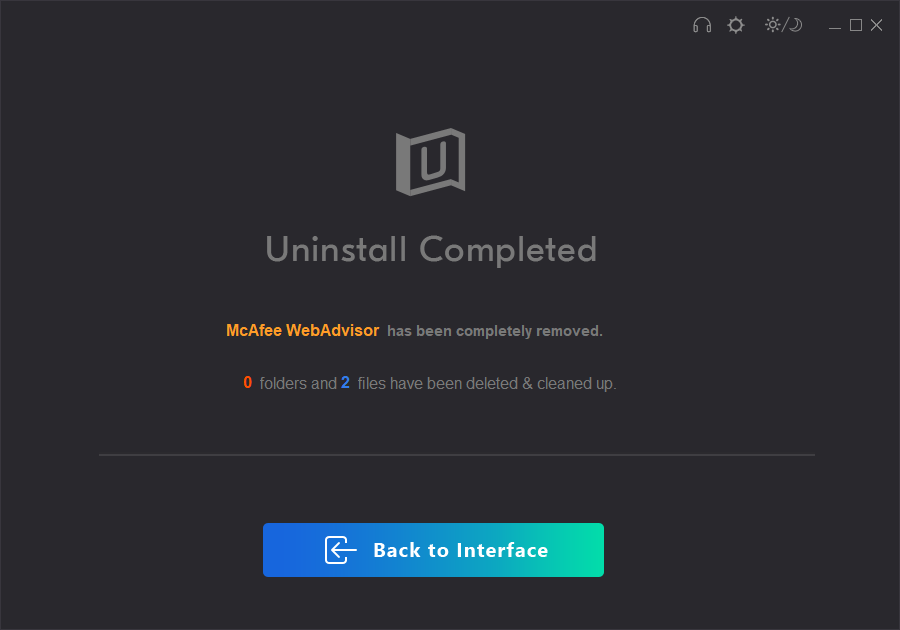 Kindly Reminder: If you having problems in uninstalling McAfee WebAdvisor from your computer like Windows or Mac, you are suggested try the great removal tool – Uninstallor, which will help you do all things.
Published by Tony Shepherd & last updated on June 22, 2020 2:37 pm