If i don't want to keep McAfee, how do you remove it away from your system? Is there an effective way on how to uninstall McAfee AntiVirus from Windows or Mac?
Learn About McAfee AntiVirus (McAfee Total Protection)
McAfee antivirus has been known as one of the most famous antivirus software for the last few years. After a few years of its launch, It was available in hundreds of thousands of computers all over the world. It has established itself as a brand name in antivirus software and it also started the evolution of many other companies making antivirus software.
Nowadays we live in a digital world and the protection of data is one of the most important tasks. In this article, I would like to review each and every component of McAfee's antivirus software so that we can have a detailed review of it. One of the most important features is that it has a pretty efficient Malware blocking Technology. It protects your computer from all kinds of Malware and makes sure to run regular scans and inform you from time to time about the presence of malware on your computer. It also contains a website protection tool that makes sure to protect you from malicious websites and does not allow these websites to download harmful software. It also includes a Firewall and remote management which makes it efficient to use. It contains a quick clean module fix make sure to delete unnecessary files from your computer and also clear your browsing history so that your computer does not slow down due to the presence of unnecessary files.
It becomes extremely handy when your computer is already infected with Malware. It has various inbuilt security measures that Run a constant scan on your computer and attacks each and every piece of malware and helps in removing it. It has a secure deletion process which makes sure to delete only the files contaminated with Malware and make sure to protect your data and does not cause any extra harm.
One of the good features about the pricing is that it gives you access to unlimited use in which you can use the software at all the devices at your home. Also, the support team at McCafe is quite experienced and friendly. They are available for every kind of support and make sure to resolve your queries. Their support team is one of the best support teams among all Antivirus software programs.
If we make an overall comparison of the Antivirus with its competitors we get to the conclusion that this is one of the best antivirus software for protecting your system from Malware before your computer has been infested. It is not quite effective to install the software on an already infected system but if it has been installed beforehand it makes sure to protect your computer from all kinds of Malware. This is the ideal kind of software for people who are looking for minimal protection and do not want to pay extra for advanced protection for their system. It is ideal for home use as it makes sure to protect your whole home network especially to protect your kids from getting into contact with thieves or viruses online. It also has a feature to wipe your data in emergencies to protect extremely important data which may include your private or office data.
Why Some People Want to Uninstall McAfee Antivirus?
But just like any other software in the world it also has some shortcomings and difficulties associated with it. The first one and the most major one is that it requires many hours of phone support to install software on an already infected system. When your computer already has Malware the software will take a lot of time and give errors before installation as the malware will try it's best that McAfee Antivirus does not get installed. You will need to communicate constantly with the support team to get instructions to install the software properly and remove the malware initially from your computer. In my case when I tried the initial clean up so even after it said that the Malware has been cleaned from your computer there were traces of the Malware left. I got trapped in an endless remove and reboot cycle which kept asking me to reboot but one specific threat remained in my system even after continuously trying. I tried and anti-phishing test on the website plugin that comes with the software but it did not pass the test and the fishing was not caught by the software. Another issue is that the control of the firewall is quite simple and nowadays a lot of complexities are required in a Firewall and a Firewall is supposed to complete a lot of tasks that this particular Firewall does not do.
One of the most important it and lucrative feature of the software is the protection it offers for social media users. Everybody is present on social media these days and it is very important to protect yourself while browsing social media websites and apps. McAfee does the job for you you as it makes so to protect you from Malware while browsing social media websites and apps and also make sure that malicious software does not get downloaded while you browse. This feature is important as sometimes kids can also use your phone or laptop and it is difficult for kids to recognize malicious software and they can fall into the Trap of downloading Malware which can compromise your personal data. Thus this feature helps you in overcoming this risk. That is why some people want to remove it away. How to uninstall McAfee Total Protection from Windows and how to uninstall McAfee AntiVirus from Mac? You will get guides below.
Uninstall McAfee Antivirus from Windows
Uninstall McAfee Total Protection Antivirus Manually on Windows 10 (For Advanced Users Only)
Step 1: Uninstall McAfee Total Protection itself. (Choose one of the three options to follow)
a) Click on Windows Start menu ->; Choose All Apps-> Locate McAfee Total Protection. Right-click on McAfee Total Protection and choose Uninstall.
b) Or you can click Start menu -> choose Settings (the gear in the left) -> System -> Click Apps & Features. This will open a list of all your applications. Highlight McAfee Total Protection and select Uninstall. You will see a pop-up window informing you that the app and its related info will be uninstalled, then you just need to hit Uninstall to confirm the removal.
c) You also can uninstall McAfee Total Protection Antivirus using Add/Remove Programs feature in Control Panel. To do this, Right-click on the Start button -> click Control Panel -> Click Programs and Features (or Uninstall a Program if your Control Panel is in the category view) -> Select McAfee Total Protection Antivirus and click Uninstall. You'll see a pop-up window asking if you're sure you want to uninstall this program, click Uninstall and Check the "Also delete browsing data" box to go through the uninstall wizard.
Step 2: Get rid of McAfee Antivirus leftovers manually. (IMPORTANT STEP)
*For added protection, please back up the registry before you modify it.*
Check the following folders and delete associated files first.
C:\Program Files (x86)\McAfee Total Protection
C:\Users\[Your User Name]\AppData\Roaming\
C:\ProgramData\Microsoft\Windows\Start Menu\Programs\Startup
Next, you have to get rid of McAfee Total Protection entries from Windows registry.
Press Windows + R, and type in regedit in RUN box, then press Enter. It'll open Registry Editor.
Navigate to the Registry key: (You do this by clicking on the plus sign next to each key in the path to expand the path below it. )
HKEY_LOCAL_MACHINE\Software\Microsoft\Windows\CurrentVersion\Uninstall.
HKEY_LOCAL_MACHINE\SOFTWARE\Microsoft\Windows\CurrentVersion\Uninstall\ (For 32-bit system users)
HKEY_LOCAL_MACHINE\SOFTWARE\Wow6432Node\Microsoft\Windows\CurrentVersion\Uninstall\ (For 64-bit system users)
Kindly Reminder: You are welcome to contact online support if you need any assistance, just click the below button for help.
Uninstall McAfee Antivirus Automatically with a Third-Party Uninstaller (RECOMMENDED)
Step 1. Download and install Uninstallor onto your desktop, next launch it. Select "McAfee Total Protection" then click on "Analyze Now" to start.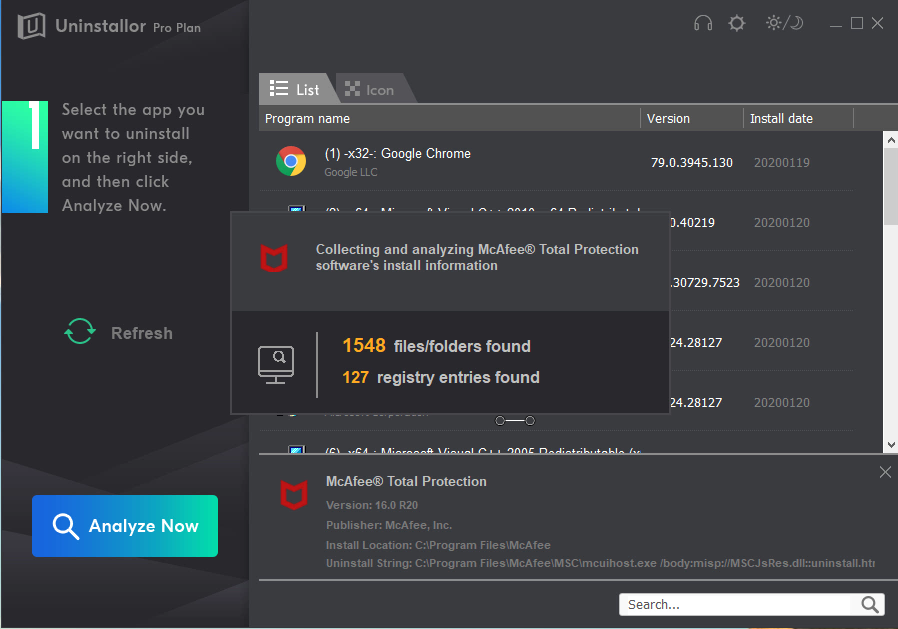 Step 2. Uninstall Now.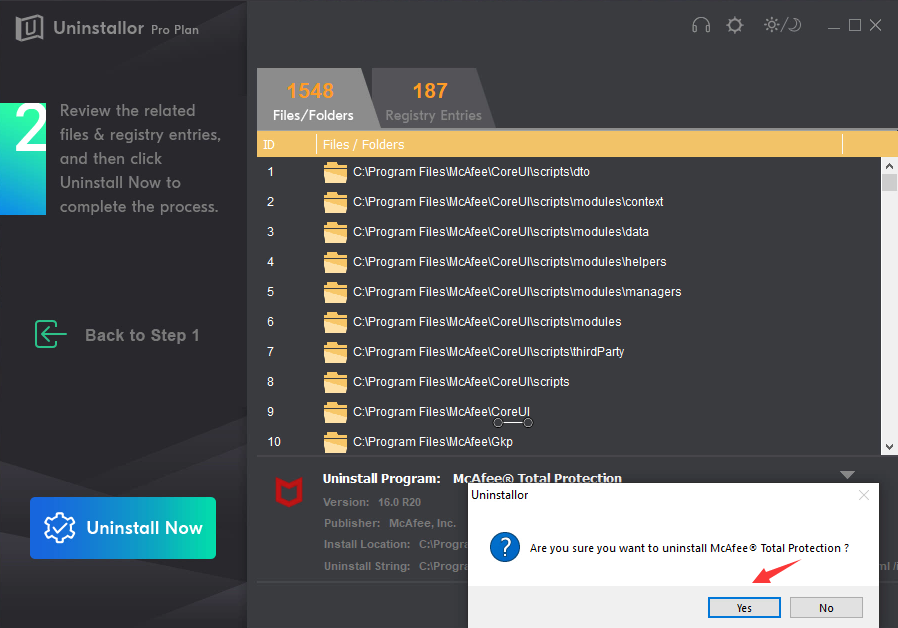 Step 3. Remove Now. Remove all McAfee Total Protection leftover files and registry entries. Click on Uninstall Now button to uninstall McAfee Total Protection Antivirus completely. Next, you need to click on "Yes" to confirm the removal.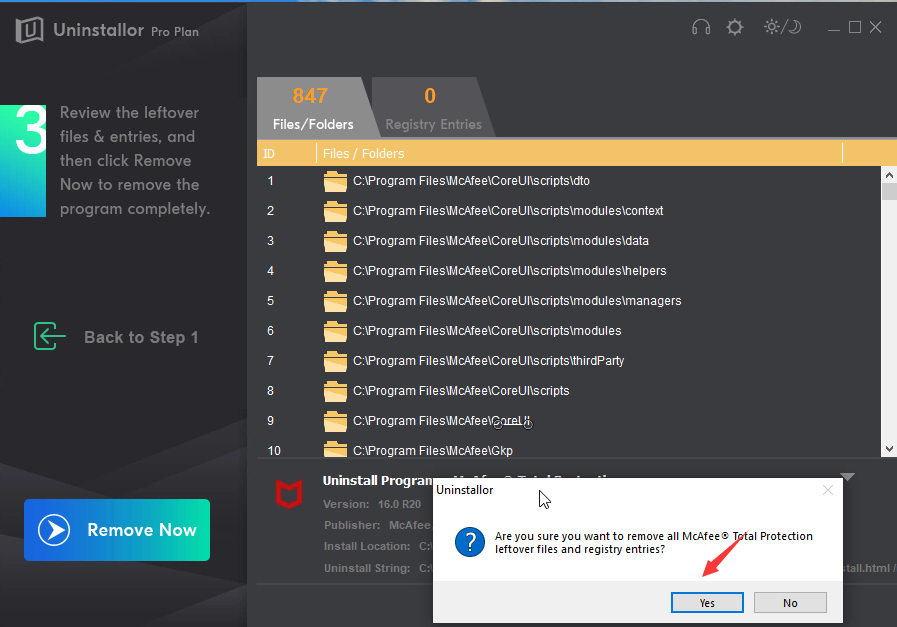 Uninstall Completed. McAfee Total Protection has been removed completely.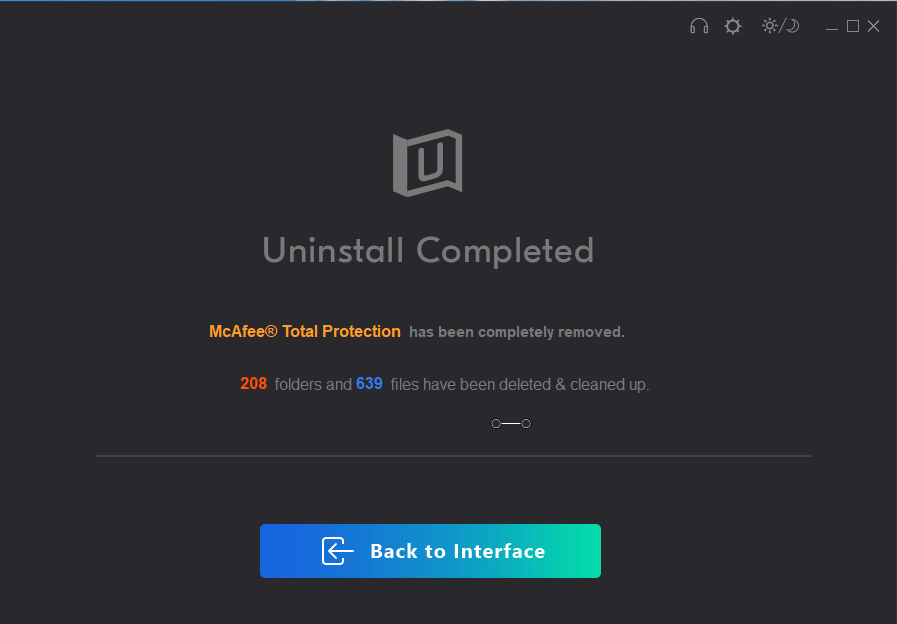 Conclusion:
The best thing that I like about this software is its reporting system. You get a detailed analysis of all the features of the software and also reports of the checks that it runs on your system. You will get a detailed analysis of the malware present in your system and how much of it has been removed by McCafe. It also suggests extra measures from time to time to give you extra protection. Overall you can obviously also contact the support If in case you face any problem. It has various tools with you can access even to get protection from emails and the explanation and the working of each and every tool will be clearly given to you. I would just suggest in the end that you must have a proper Antivirus system and also selected on the basis of their needs and McAfee Antivirus is the perfect one for you do if you want basic malware protection and protect yourself while browsing online.
If you still want to get rid of it and want to know how to uninstall McAfee Antivirus from Windows or Mac, you can try Uninstallor, which will help you do all things.
Published by Tony Shepherd & last updated on April 8, 2020 8:51 am