What is Kaspersky Secure Connection and is it safe to use? If i don't like it, do you know how to uninstall Kaspersky Secure Connection completely from Windows 10?
Are You Finding the Detailed Review of Kaspersky Secure Connection?
Whenever you are in need of VPN (Virtual Private Network) protection to access the internet, it is better to use Kaspersky Secure Connection. There are so many companies providing it in the best package to your inter or intra networks. In order to enhance your privacy on the web platform, a virtual private network is one and only an easier way. This Kaspersky Secure Connection actually is there as the best and well recognizable VPN in the industry. It offers the most affordable and simple private connections virtually online. All kaspersky users can able to access it anywhere of the world to enjoy the cheap VPN for your greater range of internet privacy.
When considering the Kaspersky Secure Connection virtual private network, it is the complete licensed version of the hotspot shield. It always provides the most secured connection using the hotspot shield server infrastructure. But at the same time, it also gives the different pricing, a branded interface, and also the various set of features. You can use both the free version and paid subscriptions of the Kaspersky Secure Connection. If you are new to use this VPN for secure internet connection, it is better going for the free version first. Free version of kaspersky is better choice to understand how it works and how to effectively use this VPN for your hidden and secure internet access. Then, you can go for the kaspersky connection with the monthly subscription starts at very lowest cost.
At the beginning stage, you should choose only the affordable monthly subscription to use this virtual private network access. Then, you can go for the annual plan for full year. If you are in a plan of using the VPN throughout the year or you require virtual private network for your business regularly, it is crucial having the annual plan of kaspersky VPN secure connection. There are different plans available for your yearly usage so that you should be very careful in selecting a right one by clarifying all your internet usage requirements. For the regular usage, the monthly kaspersky subscription makes you investing more costs whereas the yearly plan is affordable. You can definitely save more money when you are going to the kaspersky VPN's annual plan. Instead of signing up with the long term plan in the initial stage, you just start with the free plan, then short term subscription, and then long term yearly plan of using the VPN. It is absolutely beneficial to understand its usage and also save more money for you. If you don't want to keep it, you can uninstall Kaspersky Secure Connection away from your computer easily.
Advantages
When one internet user switches on the virtual private network like kaspersky, it actually makes an encrypted tunnel between the internet server and your computer. This tunnel is usually operated by the VPN company. The entire internet traffic travels only via this tunnel as it protects your network from the eyes of internet service providers or any other attackers connecting your wifi network. At the same time, this kind of the VPN also hides your IP address thus it is really very harder for tracking you online with this secure connection. Kaspersky VPN is a very useful tool but it is strongly recommended enabling the 2 important factor authentications wherever it exists. It happens with the help of the password manager in order to store the unique and strong passwords for every website or service you use. For this purpose, this VPN has the interconnected antivirus software to protect against all threats. The following are also the most considerable advantages of this Kaspersky VPN for your secure internet access. They include,
o Free version
o The most affordable for-pay virtual private network
o Pleasant and simple interface
If you are going with the free version of the kaspersky VPN secure connection, it limits the users only to use 200 MB data per day. At the same time, the selection of server is only up to the VPN and you can't able to choose your VPN server as you require. Whenever you are going to the monthly limit of kaspersky virtual private network, it is more generous than the free subscription as it allows you to use 500 MB data per day. According to your usage, you can select any kind of the Kaspersky Secure Connection product from a leading service provider.
The Kaspersky Secure Connection free version is also available in both kaspersky total security mega suite and kaspersky internet security entry level suite. But you still have a limitation of using only 200 MB per day. When you purchase these suites by spending some amount of cost per year, you can have little better data limitations for your regular usage. This is why it is highly suggested going for the kaspersky VPN yearly plan services. There are so many company devices are suitable to have this secure connection including,
• Encrypt.me VPN
• Avira Phantom VPN
• IPVanish from J2 Global
• Surfshark VPN
• Ghostery Midnight
• Windscribe VPN and more.
Similarly, there are several other options of the VPN companies include some of the extra tools in order to protect your internet privacy or create the VPN fit better for your regular usage.
Disadvantages
Whenever you are considering the disadvantages of the Kaspersky Secure Connection VPN, they are as follows,
• No extra privacy feature
• Only fewer server locations
• Disappointing speed test results
• No discounts while buying the kaspersky products
Kaspersky Secure Connection virtual private network is generally using the wonderful range of open VPN protocol in order to make its secure connections even on Android smart devices and Apple iOS iphones & ipads. If you want to enjoy the faster and newer VPN connection with the secure protocol, it is absolutely a right choice with all security benefits.
If you are not happy with it, you can uninstall Kaspersky Secure Connection immediately from your system by following the removal guides here.
How to Uninstall Kaspersky Secure Connection from Windows Operating System
Manually Uninstall Kaspersky Secure Connection from Windows 10 Step by Step (For Advanced Users Only)
Step 1: Uninstall it from startup.
a) Uninstall this software from Start menu by clicking on start icon, right click on it on the pop-up window, last click "Uninstall".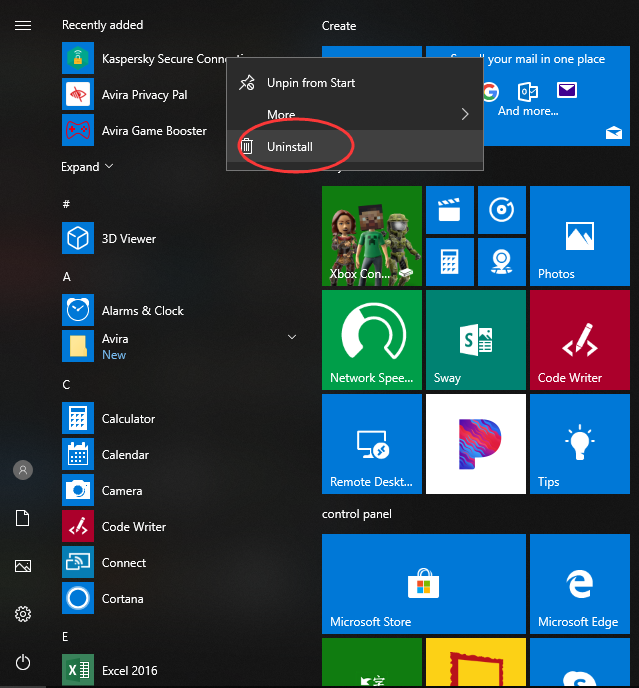 b) Uninstall Kaspersky Secure Connection via the Apps & Features. Just input Apps into search box, then choose "Settings", and then click on "Apps", select the app then click on "Uninstall".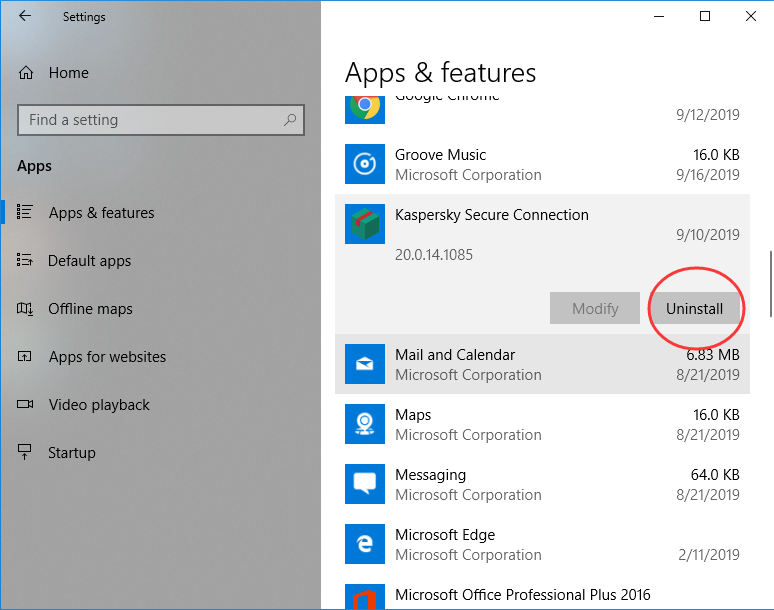 c) Uninstall the software via Control Panel. Input "Control Panel" into search box then click on it, click on "Uninstall a Program", click on it then click on "Uninstall".


Step 2: Manually clean all leftovers from regedit. (IMPORTANT STEP)
*For added protection, please back up the registry before you modify it.*
Check the following folders and delete associated files first.
C:\Program Files (x86)\Kaspersky Secure Connection
C:\Users\[Your User Name]\AppData\Roaming\
C:\ProgramData\Microsoft\Windows\Start Menu\Programs\Startup
Next, you have to remove all its entries from Windows registry.
Press Windows + R, and type in regedit in RUN box, then press Enter. It'll open Registry Editor.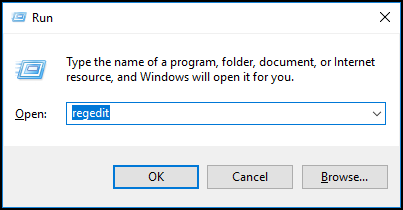 Navigate to the Registry key: (You do this by clicking on the plus sign next to each key in the path to expand the path below it. )
HKEY_LOCAL_MACHINE\SOFTWARE\Microsoft\Windows\CurrentVersion\Uninstall\ (For 32-bit system users)
HKEY_LOCAL_MACHINE\SOFTWARE\Wow6432Node\Microsoft\Windows\CurrentVersion\Uninstall\ (For 64-bit system users)
Kindly Reminder: You are welcome to contact online support if you need any assistance, just click the below button for help.
Automatically Uninstall Kaspersky Secure Connection with a Third-Party Uninstaller – Uninstallor (RECOMMENDED)
Step 1. Download and install Uninstallor on your system first, launch it and click on the name of the software that you want to uninstall, click on "Analyze Now" to start.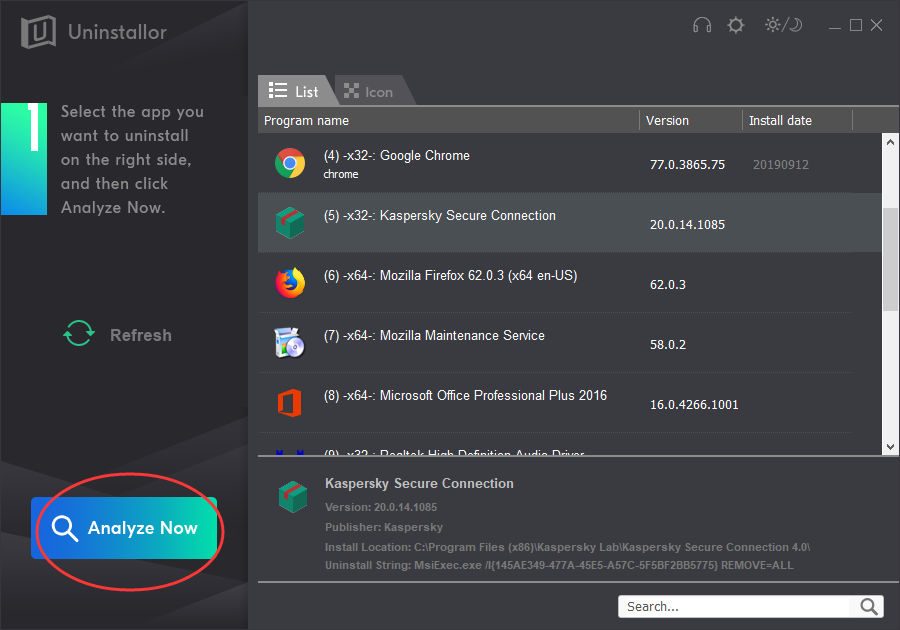 Step 2. Uninstall Now. Click on this button to process the uninstall work.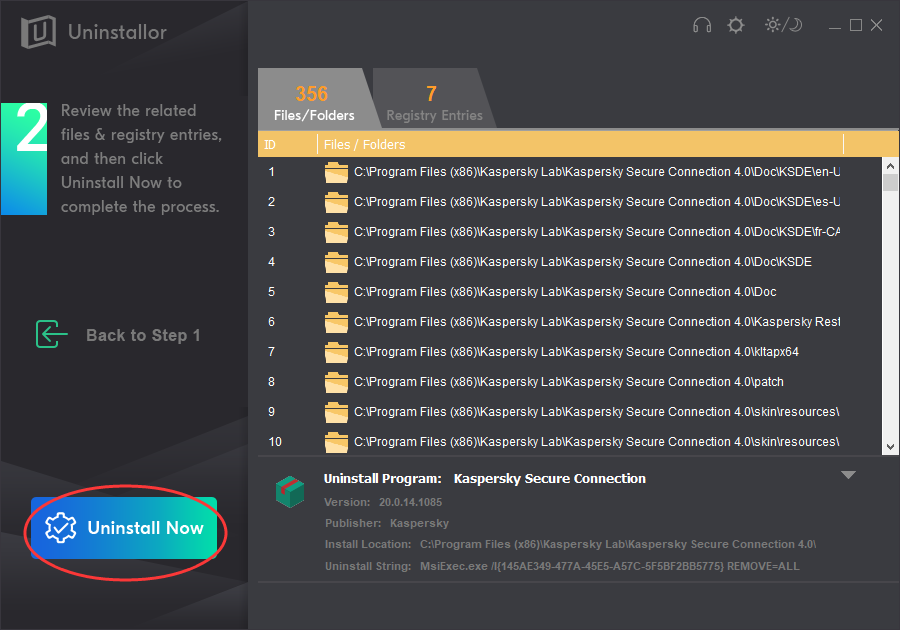 Step 3. Remove Now. Remove all leftovers of Kaspersky Secure Connection from your computer.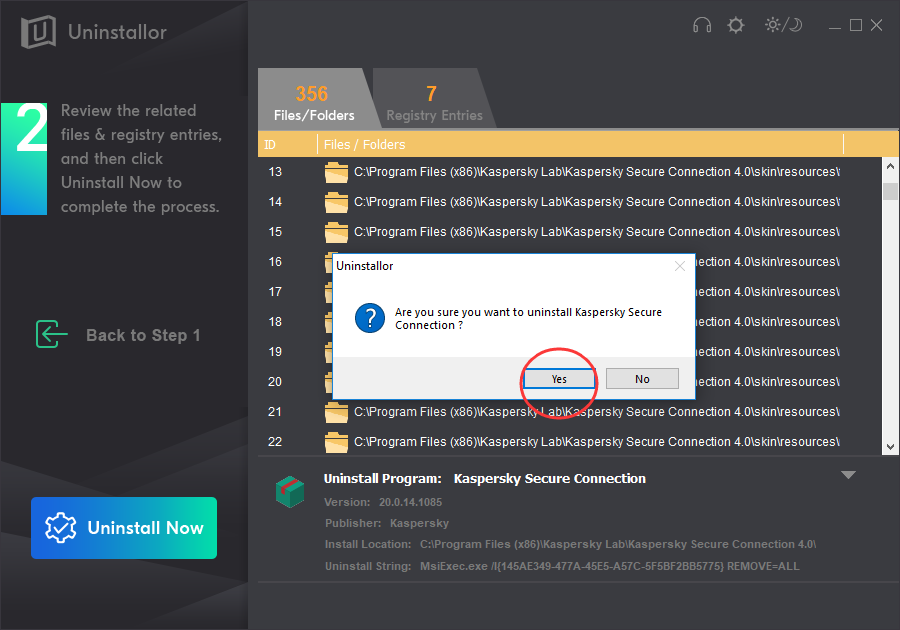 Conclusion
Kaspersky VPN offers the various ranges of servers in the different locations. It surely provides you the extraordinary range of opportunities to take-off your location in order to find the nearby VPN server while travelling. So, you can always be in the VPN connection with the use of Kaspersky Secure Connection app on your computer or mobile device.
Kindly Reminder: If you don't want this software and don't know how to uninstall Kaspersky Secure Connection from your Windows computer or Macbook, you are suggested to use Uninstallor, which will help you do all things.
Published by Tony Shepherd & last updated on December 30, 2020 8:30 am