Why I can not uninstall the Kaspersky anti-virus from my PC? Can you teach me on how to uninstall Kaspersky anti-virus on my PC? What is the best way to get rid of Kaspersky anti-virus program completely from my computer in Windows 10? The software doesn't have an option to uninstall. Is there a Kaspersky uninstall tool to use to remove it? I don't know what to do, please help.

What is Kaspersky Antivirus?
Kaspersky Anti-virus software is an anti-virus software from Russia. Kaspersky is developed by Kaspersky Labs. The software protects home users, workstations, mail systems and file servers, and gateways. In addition, it provides centralized management tools, anti-spam systems, personal firewalls and protection for mobile devices, including Palm operating systems, laptops and smartphones. Kaspersky anti-virus stand-alone version is a traditional anti-virus software with high technology, under the protection of kaspersky anti-virus stand-alone version, users can use the computer to work, communicate, surf the Internet and online games without worry. Kaspersky anti-virus stand-alone version combines traditional anti-virus methods with the latest active defense technology to protect your computer more effectively from viruses, Trojans, worms and various malicious programs.
In the history of antivirus software, there is such a world record: let an antivirus software without using the virus signature library, the scan engine scans a sample library containing all the viruses that are available at the time. As it turned out, the engine had a 95 percent detection rate, thanks only to "heuristic scanning" technology. The record was set by AVP. Kaspersky Labs, headquartered in Moscow, Russia, is an international leader in information security. The company offers anti-virus, anti-hacking and anti-spam products for individual users and corporate networks. After 14 years of fighting computer viruses, kaspersky gained unique knowledge and technology, making kaspersky a technical leader and expert in virus defense. The company's flagship product, the famous Kaspersky anti-virus (formerly known as AVP), has been praised by many computer professional media and anti-virus professional evaluation organizations as the best product of Virus protection. Why some users still want to uninstall Kaspersky anti-Virus from their computers? Even though kaspersky is a good anti-virus software, there are still users who want to uninstall it after using it for a while, because they want to try several other anti-virus software until they find one they like.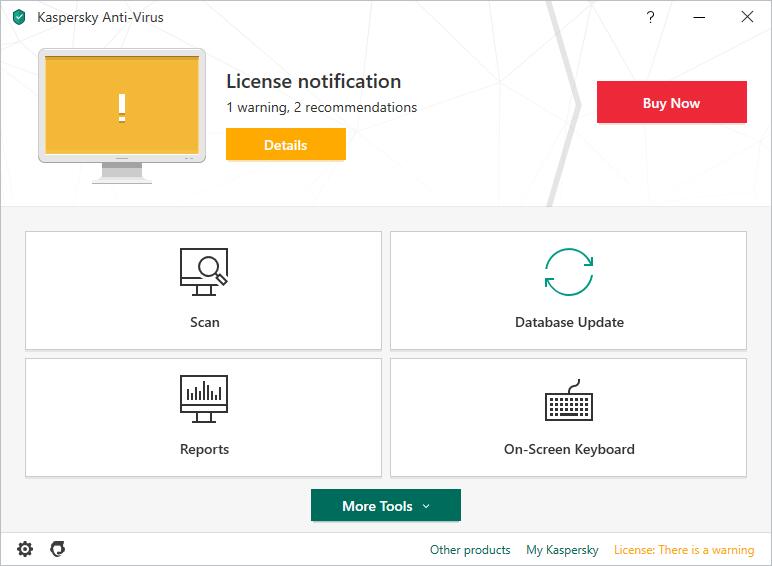 Popular Kaspersky Lab Global Products
Kaspersky Lab's history began in 1989, when the company's founder, Eugene Kaspersky, first encountered problems with computer viruses and later developed the first version of Kaspersky's anti-virus product. From 1991 to 1997, Kaspersky Lab was the anti-virus department of "Kami", a large computer company in Russia. At that time, AVP was used as the product name. In 1994, under the leadership of Natalya Kaspersky, the head of the department, gradually formed a professional management team and development team, and began to develop the sales network in Russia and abroad. At the same time, we have signed agreements with Finland's f-secure, Germany's g-date, Japan's Vintage Solutions and other foreign anti-virus manufacturers to use Kaspersky AV core modules in their products. In 1999, Kaspersky Lab became the leading anti-virus software provider in Russia due to the reliability of its products and the use of innovative technologies. There are some famous packages from Kaspersky:
Kaspersky Total Security: This is a kind of award winning software for all the family.
Kaspersky Internet Security: Comprehensive online security for all. Affordable protection keeping everyone safe.
Kaspersky Small Office Security: Users can use the product from 5 to 50 devices. Incredible package of products for business.
Kaspersky Anti Virus: Highly popular online safety with special features.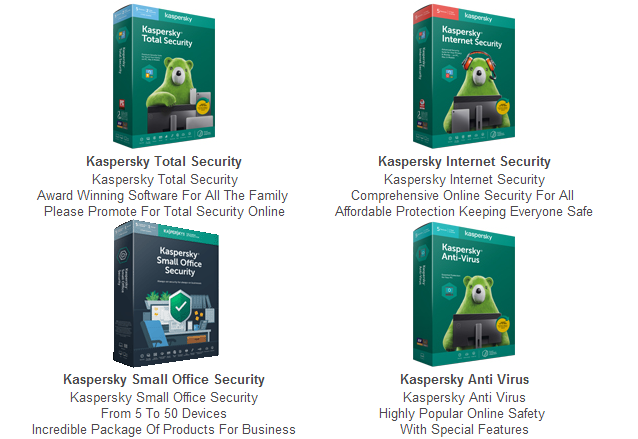 The Difference between the Free Version and The Paid Version of Kaspersky Anti-Virus
Kaspersky officially launched a personal Free version of anti-virus software, called "Kaspersky Free". The free version previously launched in Russia, Ukraine, China and Sweden was actually tested for a lot of purposes, and received a lot of positive reactions from users in the past half a year. After optimization, it is now officially announced worldwide. In terms of functions, the free version of caba provides file and web anti-virus, automatic update, automatic protection and so on. If you need Internet management, privacy security, online payment protection, Mac and android open platform, you have to buy the paid version. The company came up with the idea after kaspersky argued that many users could not afford high-end protection, so they had to use "unsafe" free software. In addition, free means more users, which can play a role in collecting large amounts of data to improve machine learning and obtain a safer environment. Kaspersky Free contains all the basic elements of anti-virus software: file, email, webpage anti-virus, automatic update, self-protection, isolation, etc. Kaspersky says the free version USES the same technology as paid personal products and includes all the important security features, including file and web antivirus (against malware and websites), automatic updates, automatic protection and more. But if you need web management, privacy security, online payment protection, Mac and android security, and technical support, you'll have to buy a premium version. The free version of Kaspersky anti-virus is smaller, faster, and works with other anti-virus software without conflict because it retains the main features while removing some additional features. But the paid version of Kaspersky anti-virus is more functional with more features that you can protect your computers well and keep them safe on your daily lives. Kaspersky anti-virus must be the best antivirus for your Windows PC. Once installed onto your computer, it can help to block the latest viruses, ransomware, spyware, cryptolockers and more, further, it keeps stopping cryptocurrency mining malware damaging your PC's performance.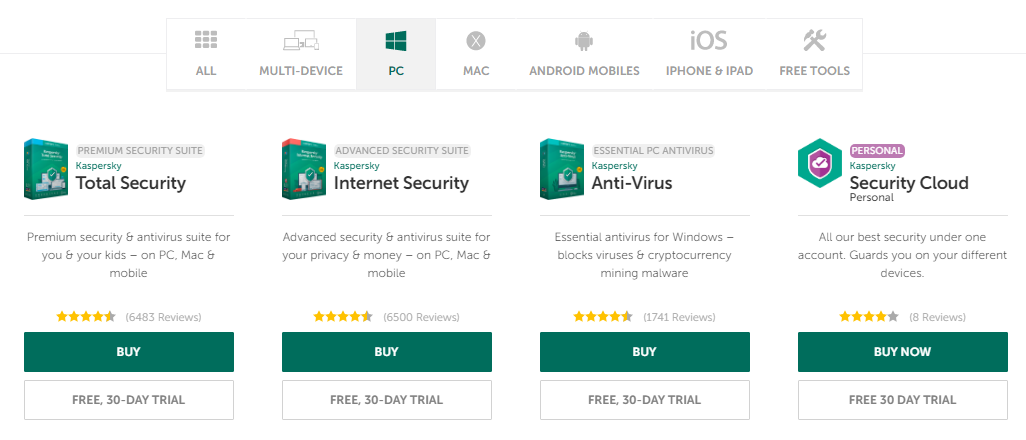 Why People Choose Kaspersky Anti-Virus and Some Uninstall It Away?
Kaspersky Anti-virus is a good internet security tool chosen by many users worldwide for it helps removing the threats from your computer. With Kaspersky installed on your computer, you will be protected with its real-time antivirus protection. Kaspersky is a good software, but scan speed is a little slow and take up a lot of memory. Kaspersky has the world's leading technology of virus running virtual machine, can automatically analyze about 70% of the behavior of unknown virus, plus a group of high-quality virus analysis experts, response speed is faster than others. Behind the hourly upgrade virus is a strong technical support. Anti-virus analysis is a tedious task. Kaspersky does not make no mistake, but correct it immediately after making a mistake. As long as the user points out by letter, the false report of manslaughter will be corrected immediately. Anything can not simply say good or bad, each antivirus software has its advantages and disadvantages, it has made a big mistake, is killed the system normal files, and can not recover. But Kaspersky is sensitive to virus, reports the virus immediately when detected, with the world's leading technology of virus running virtual machine. It can automatically analyze the behavior of unknown virus, every hour of timely update virus library so that you kill the virus more easily. If you are not satisfied after using it for a while, you can uninstall it.
How to Get Rid of Kaspersky Anti-virus? (Removal Guide)
Method 1: Uninstall Kaspersky Anti-Virus Manually Step by Step
Step 1: Navigate to Control Panel>>Programs>>Programs and Features, next click on "Kaspersky Anti-virus" then click on "Uninstall/Change" to start uninstalling.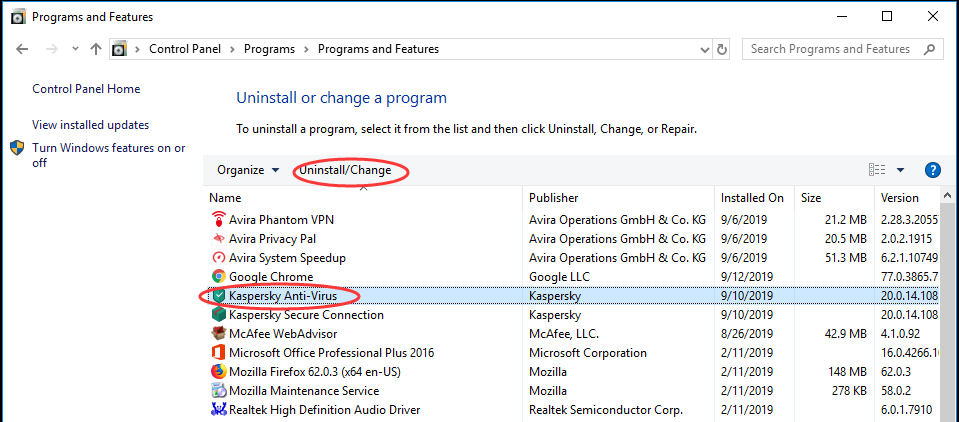 Step 2: During uninstall processes, click on "Delete" when you see a window pops up like the picture shown below. If you get a prompt telling "Are you sure that you want to uninstall Kaspersky Anti-virus? This action will reduce the protection of your computer." please click on "Continue" to go ahead.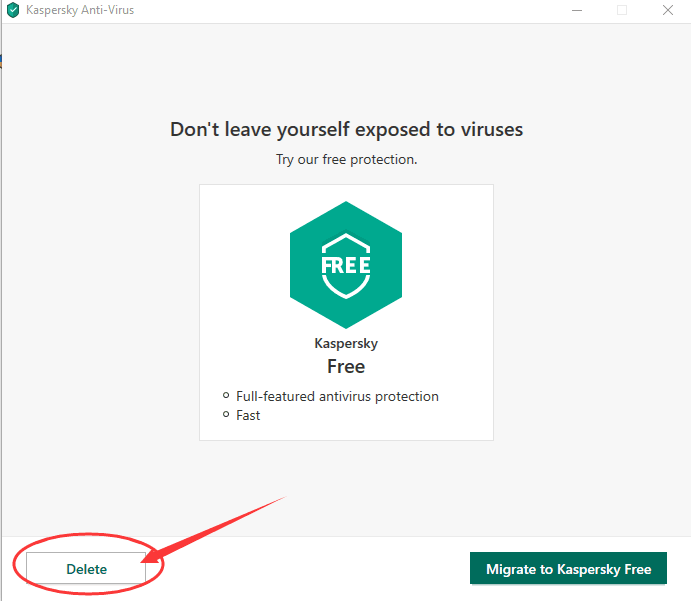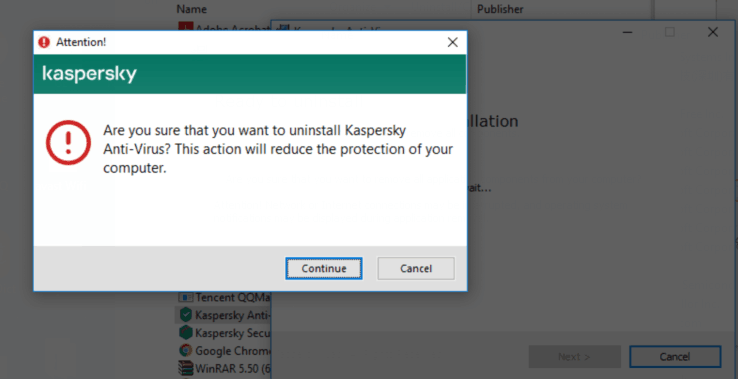 Step 3: Click on "Remove" to completely remove all the related files of Kaspersky program from your computer.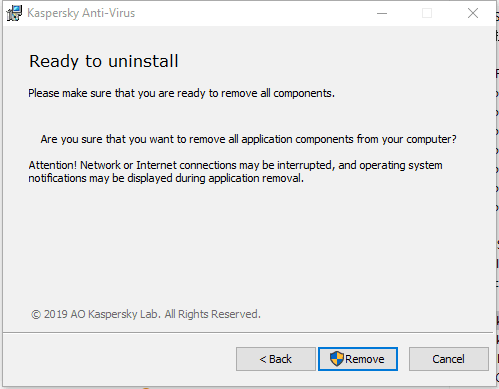 Method 2: Uninstall Kaspersky Anti-virus Software by Uninstallor Tool (Kaspersky Uninstall Tool)
Step 1: Run Uninstallor Removal Tool then click on "Kaspersky Anti-Virus" from list, next click on "Analyze Now" to start removing.


Step 2: Click on "Uninstall Now" after scanning, then follow the instructions it tells to continue to uninstall the anti-virus program.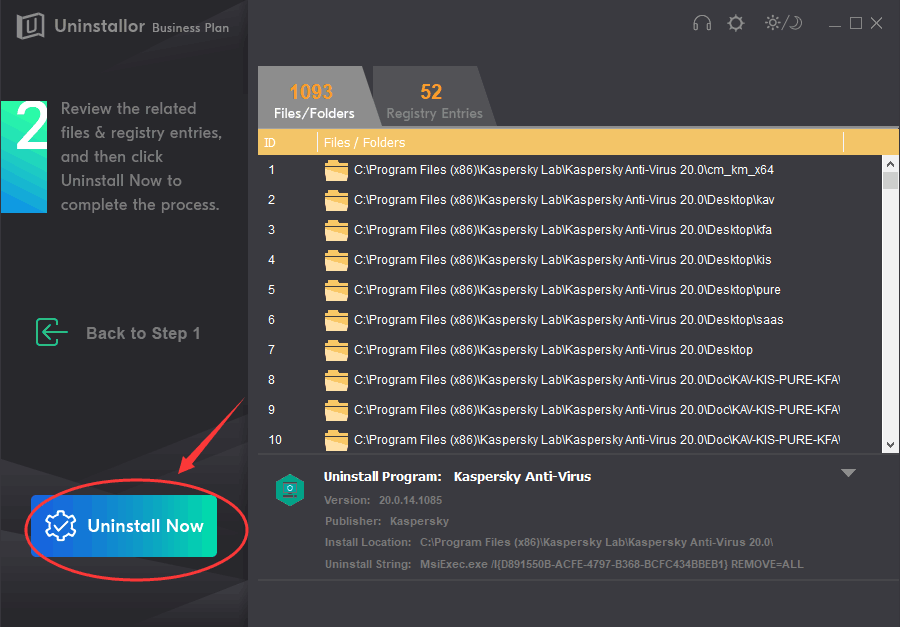 If it shows "You must restart the operating system to complete the installation/ uninstallation of the application", just click on "No". You don't need to restart your computer at the moment.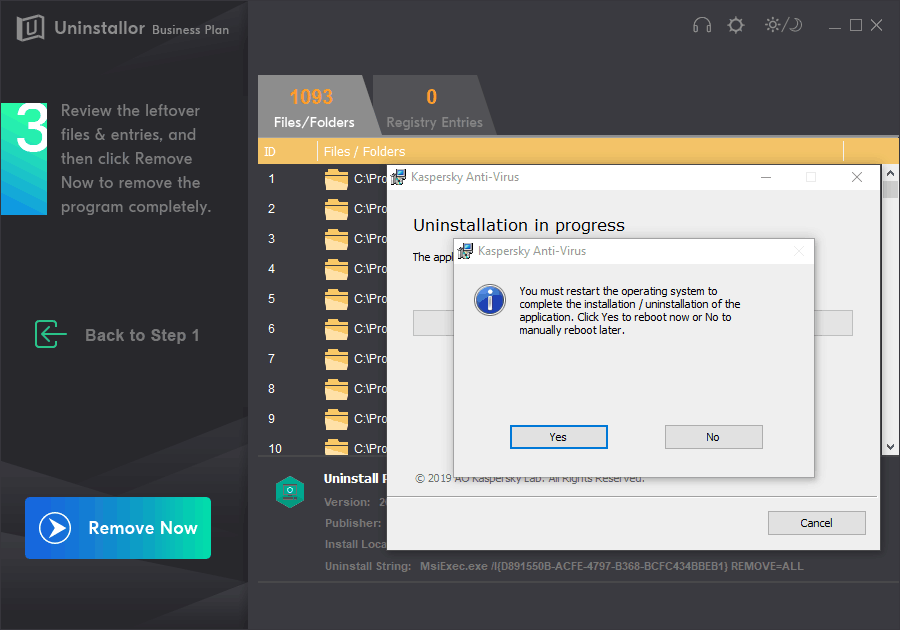 Step 3: Uninstall completed! Kaspersky Anti-Virus has been completely removed.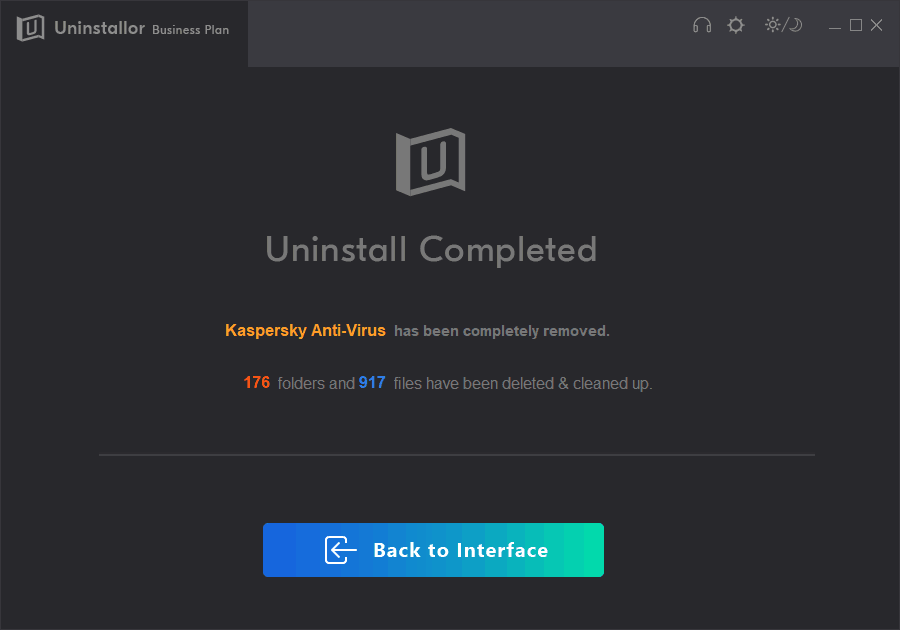 Video Guide on How to Uninstall Kaspersky Anti-Virus from PC
Summary
Although Kaspersky Anti-virus is a great virus protection tool, it occupies too much memory and leads to your computer runs slowly. In other words, Kaspersky anti-virus kills viruses very good, but it takes resources, this is the industry consensus. So some of the users decide to get rid of Kaspersky Anti-virus when they don't want it. Users can uninstall it by manual with the guides above if they feel you are good at computing, but sometimes it is not so easy to uninstall the Apps if you are not computer savvy, the best way to uninstall the antivirus program completely is to use a power uninstaller. You can try using Uninstallor to remove the anti-virus software permanently, and it is very easy for you as it takes just three steps to finish uninstalling. Still confuse on how to uninstall Kaspersky Anti-Virus completely? Why not just let Uninstallor do everything for you safely?
Published by Tony Shepherd & last updated on October 30, 2019 8:38 am