Are you going to uninstall iTunes completely from your computer in Windows 10? Why you want to remove this program from your system, is it not good enough? You don't know how to use it and won't need it? What is the best way to uninstall it then?
How to use iTunes in your Windows 10?
Everyone knows that iTunes is a famous and widely used media player from Apple Inc for all types of Apple iOS devices. It is also considered to be the internet radio broadcaster, media library, the client app, and also the mobile device management utility for iTunes Store. Several years back, this iTunes media player has been updated to use on Windows PCs. The latest version of the iTunes can be used even on your Windows 10 platform. Apple Company officially restructured its iTunes webpage in favour of the separate media apps and backup tools for the Microsoft Windows platforms. All the Windows users can have 3 different choices such as,
• 32 bit Windows apps
• 64 bit Windows apps
• Microsoft Store version
All these three choices actually built for S mode devices of the Microsoft Windows 10 platform. As the previous two links directly lead to the iTunes downloads, the MS Store includes a particular app landing page with some negative reviews at first. They include lack of regular updates to some kinds of problems with settings, stability, creating ringtones, and also multi device synchronization. Later, all the complaints would be overcome by the vast range of updates given by the iTunes Store for Windows 10 platform. Now, it has full of positive reviews and there are no regular complaints from the user side. We suggest your read more details about this software to make sure if you really want to uninstall iTunes from your computer.
Advantages
When considering iTunes media player for your Windows 10 platform, everybody has to consider the download size and necessary space on your PC. There are no too much difference between the desktop versions and Windows Store iTunes. The former version of iTunes usually required 216 MB download space as the recent version needs only 250 MB space to download from the online platform. Initially, iTunes started as the music management program with some of the business application for the entertainment industry. But now it has the biggest role to all iOS devices like iPads and iPhones as the useful tool for biggest companies and their employees in allowing them to exchange the audio recordings of their meetings & conferences.
At the same time, it is also very helpful to transcripts the audio across the multiple number of devices. As it contains so many numbers of the dual purpose applications, it is better to install iTunes in your commercial settings which requires considering its greatest advantages against the potential negatives. The following are some of the considerable advantages of the iTunes application for the Windows 10 platform. They include,
• Cost – iTunes for MS Windows 10 platform actually allows everyone to train your team with the software which manages both the video and audio media. Similarly, it makes a downloading process of company podcasts automatic. It also handles backing up and syncing the windows devices. It is totally free of cost to download from the iTunes Store for your different personal and commercial benefits.
• Good integration with Windows devices – iTunes is definitely the best software integrated with the latest Windows 10 desktop or laptop devices on the marketplace. Even though there are several numbers of third party programs available to upload the audio recordings to Windows 10 platforms, iTunes from Apple is absolutely a right program to handle coordinating all upgrades of operating system and also managing different apps. It makes exchange of business related media with your partners or employees easy at all.
• Access to business content – This media player also contains a vast range of content which will be really very useful to your company workers to provide the highly improved performance. Installing iTunes on Windows platform provides them a complete access to a wide range of the business classes and podcasts.
• Performance – One of the main reasons to choose iTunes on Windows software is that it works with the greatest audio performance. It consumes only minimum deal of your system RAM thus there are no performance issues with this audio player. It will make all of your business applications performing well with this software.
Non-commercial purpose – Instead of the business purposes, you can also make use of this iTunes software for the non-commercial purposes. The employees in company can also use it for non-business use as it usually consist of the storage of legitimate and also paid media on the Windows systems. You can use it to store your personal video or audio material in order to handle different types of the music transactions.
Disadvantages
When considering the disadvantages of the iTunes software for your Windows 10 platform, it will not perform well when you have slower computers with the reduced memory space. If you have a desktop or laptop computer with 1 or 2 GB RAM, it will become too slower. In such kinds of systems, iTunes will be problematic for your personal or business purposes. This is why it is always advised to use only the computers with highest RAM space like at least 4 GB RAM or more. With this vast RAM space, this software will work with the great speed for any kind of application.
If you are unhappy with it, you can uninstall iTunes immediately from your system by following the removal guides here.
How to Uninstall iTunes from Windows Operating System
Manually Uninstall iTunes from Windows 10 Step by Step (For Advanced Users Only)
Step 1: Uninstall it from startup.
a) Uninstall iTunes from Start menu by clicking on start icon, right click on it on the pop-up window, last click "Uninstall".

b) Uninstall iTunes via the Apps & Features. Just input Apps into search box, then choose "Settings", and then click on "Apps", select the app then click on "Uninstall".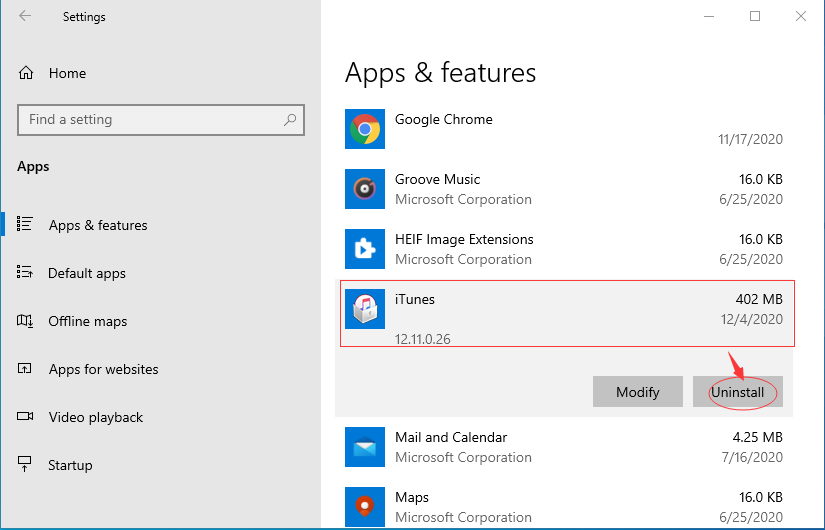 c) Uninstall iTunes via Control Panel. Input "Control Panel" into search box then click on it, click on "Uninstall a Program", click on it then click on "Uninstall".


Step 2: Manually clean all leftovers created by the iTunes from regedit. (IMPORTANT STEP)
*For added protection, please back up the registry before you modify it.*
Check the following folders and delete associated files first.
C:\Program Files (x86)\xxx
C:\Users\[Your User Name]\AppData\Roaming\
C:\ProgramData\Microsoft\Windows\Start Menu\Programs\Startup
Next, you have to remove all its entries from Windows registry.
Press Windows + R, and type in regedit in RUN box, then press Enter. It'll open Registry Editor.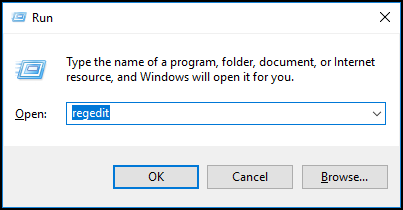 Navigate to the Registry key: (You do this by clicking on the plus sign next to each key in the path to expand the path below it. )
HKEY_LOCAL_MACHINE\SOFTWARE\Microsoft\Windows\CurrentVersion\Uninstall\ (For 32-bit system users)
HKEY_LOCAL_MACHINE\SOFTWARE\Wow6432Node\Microsoft\Windows\CurrentVersion\Uninstall\ (For 64-bit system users)
Kindly Reminder: You are welcome to contact online support if you need any assistance, just click the below button for help.
Automatically Uninstall iTunes with a Third-Party Uninstaller – Uninstallor (RECOMMENDED)
Step 1. Download and install Uninstallor on your PC, launch it and click on its name to select it, click on "Analyze Now" to start.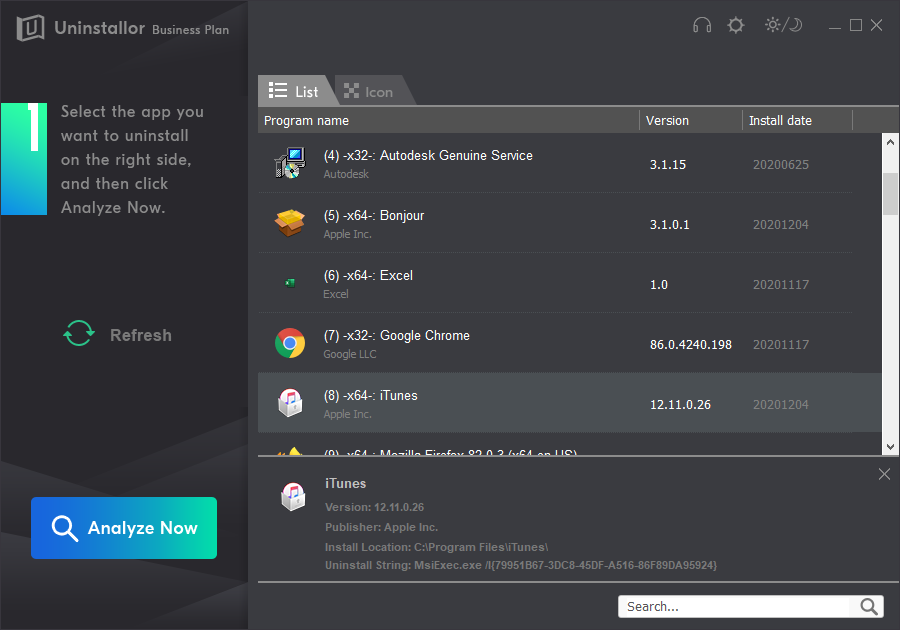 Step 2. Uninstall Now. Click on this button for further uninstalling.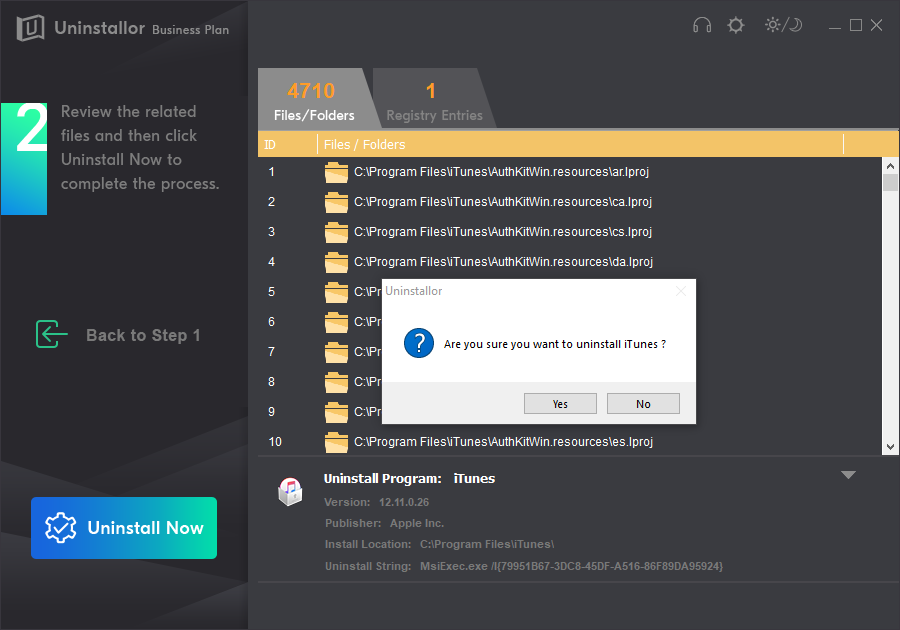 When there is a window saying "Repair or Remove itunes", please select "Remove" to go ahead.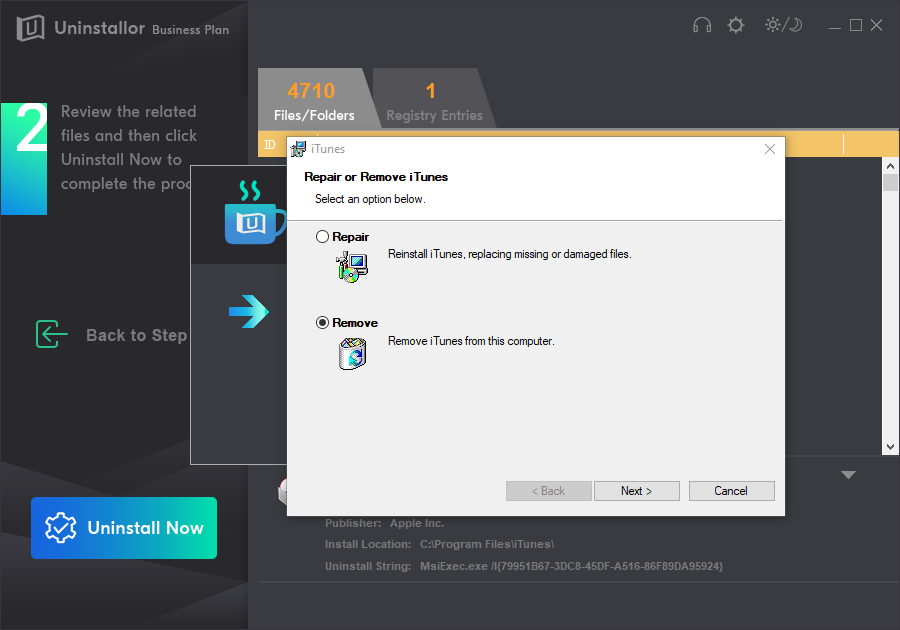 Step 3. Remove Now. Remove all leftovers of iTunes from your computer.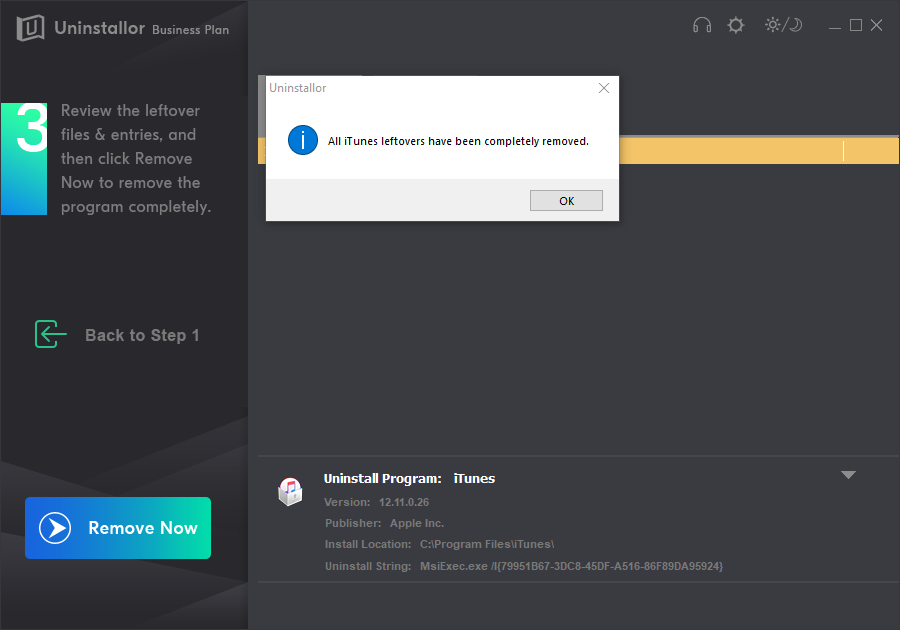 Conclusion
Some people say that iTunes is not suitable for the Windows platforms. But Microsoft Store version of iTunes has a lot of upgrades and improvements. Instead of looking at any other platform, you can directly download this media player from the MS Store to gain more benefits. Apple Inc Company currently offers the modern application version of iTunes in the MS Store. It is not like the bad typical desktop version and it contains a lot of updates and new features for the users. This is why all personal and commercial users are suggested to use the Microsoft store version of iTunes for all your music performances. It has the wonderful set of features than the standard iTunes program. Thus, it offers the biggest advantages and a great performance on Windows 10 platform. If you install the desktop version of iTunes program on Windows, it also includes Bonjour, Apple Software update, and also any other helper background processes or services.
Kindly Reminder: If you don't want this software and don't know how to uninstall iTunes from your Windows computer or Macbook, you are suggested to use Uninstallor, which will help you do all things.
Published by Matt Johnston & last updated on December 7, 2020 11:27 am