Can't uninstall GOM Player completely from your computer in Windows 10? Hi, I am just downloaded GOM Player on my PC, and I don't know how to get rid of it, can you help? How do you remove this software safely? Before you go ahead to get rid of GOM Player from your system, just take a look at a complete review about the GOM Player. And may be you will just keep it on or find out an effective way to rip it off.
As a beginner to the GOM Player, you may seek essentials and complex aspects of this media player. GOM Player is an outstanding media player predominantly designed for Windows users. GOM & Company of South Korea has developed this media player.
The main features of this media player are the ability to play broken media files and the best approach to find missing codecs via a codec finder service. Individuals who explore different aspects of this future-proof free media player get several benefits. They make a well-informed decision to use this media player and get the desired enhancement in their entertainment.
Focus on the Basics of the GOM Player
Users of the capable audio and video player GOM Player get 100% satisfaction and ever-increasing desires to successfully use it. They think smart and follow the best suggestions to use this software as efficient as possible. The best features of this media player encourage almost everyone to directly recommend it to others. The free version of the GOM Player can handle any format. For example, this media player supports 360-degree VR video.
Users of this media player can directly play online videos from YouTube and also any interactive video users have shot themselves. A couple of extraordinary search tools of the GOM Player play an important role behind the increased convenience of every user and their interests to suggest this media player to others.
GOM Player supports the subtitles which is idea for accessibility. You can watch videos without sound, use your own search facility for tracking content down and add such elements to the video instead of hunting high and low on the interest. The media formats supported by the GOM Player include, but not limited to the DVD, video CD, SVCD, Audio CD, ASF/MP3/OGG/AVI files on the HTTP streaming connection and via realplayer, quicktime and directshow.
GOM Player has the first-class features to play broken, incomplete or damaged AVI files. This is because this system skips the bad frames and rebuilds the index of the file whenever necessary. Peer-to-peer video streaming is also supported by the GOM Player via an official add-on namely GOMTV Streamer. That is why many people choose it and use it to play videos, if you don't like it and don't know how to uninstall GOM Player completely from your computer in Windows 10, you can get methods here, just go ahead.
Use the GOM Player As Per Your Wishes
As a free alterative desktop version of the multimedia tool, GOM Player gets ever-increasing popularity and encourages many people to directly access and use it in the successful way. This well-known program provides the best support for the maximum range of file types, a library of subtitles, customizable skins and 360 degree VR video.
Many users of the Windows computer worldwide these days are eager and confident to download this tool on online. This is because they find and double-check real benefits of properly using the remarkable features of this alternative desktop multimedia tool. You can spend enough time to consider every feature of this renowned media player and get an overview about how to successfully use it hereafter. You will get loads of favourable things when you properly use this media player.
GOM Player automatically adds files with the same name to the playlist. This auto adds playlist feature makes this media player popular and satisfies its users. The skin engine of the GOM Player really works out well. All the skins on this media player feel quite natural and are very responsive as expected by every user. The entire media player does not feel bloated when skins in use.
Users of the GOM Player can rename the file while playing such file. You may unable the rename the currently playing file on your existing media player and think about how to overcome this difficulty. You can make use of the GOM Player and get the desired benefits hereafter. You will become one among satisfied users of this media player and feel confidence to recommend it to others.
Make An Informed Decision
Want to uninstall GOM Player completely from your PC or keep it? You can make a decision by reading the content below. Easy playback control facilities of the GOM Player catch the attention of people who read honest reviews of this media player on online. You can focus on how to access, use and reap benefits from the easy playback control nature of this leading media player right now. You will get more than expected comfort when you deal with any playback size, aspect ratio and audio channel. This is because all such things can be done through the keyboard shortcuts, context menu or mouse clicks when configured. Though users of the old version of the GOM Player software are happy about the lightweight nature, the recent version of this media player is a bit bulkier than before it was.
Many people use one of the oldest versions of the GOM Player and play both mkv and mp4 file as excellent as possible. Do not forget about the requirement of some firewall tweaking to throw out all occasional ads in the free version of the media player GOM Player. You can contact and discuss with regular users of this media player at any time you like to successfully find real benefits and drawbacks of this software. You will make an informed decision and use this software in the best possible way.
Benefits
• The best graphical user interface
• Plenty of settings
• Fast startup times
• Available with its own decoders
• Play images and music as well
• Lightweight package
• A nice all-in-one package required for daily use
• Codec search tool
• Excellent format support
• Subtitle finder
Drawbacks
• Interface is not intuitive
• Unwanted programs included potentially by the installer
Conclusion
GOM Player has extraordinary features in particular searching abilities such as searching for the missing codec. Users of this media player can view the properties of the video file and download it. They also view the unsupported video file. Many people worldwide use and recommend this media player to watch TV shows and movies with subtitles. A dedicated button in this media player lets users to turn it on or off as convenient as possible. This media player automatically searches online when a video does not include its subtitle file. This facility gives 100% satisfaction to its users. If you would like to uninstall GOM Player completely from your computer as you don't need it, you can try the guides below.
How to Uninstall GOM Player from Windows Operating System
Manually uninstall GOM Player from Windows 10 (For Advanced Users Only)
Step 1: Uninstall itself. (Choose one of the three options to follow)
a) Uninstall it from Start menu.
b) Uninstall it from Apps & Features. Click Start menu -> choose Settings (the gear in the left) -> System -> Click Apps & Features. Highlight GOM Player and select Uninstall.
c) Uninstall GOM Player from Control Panel. Follow the tips on the picture below -> Remember to select GOM Player and click Uninstall.
Step 2: Manually get rid of GOM Player and all its leftovers from regedit. (IMPORTANT STEP)
*For added protection, please back up the registry before you modify it.*
Check the following folders and delete associated files first.
C:\Program Files (x86)\xxx
C:\Users\[Your User Name]\AppData\Roaming\
C:\ProgramData\Microsoft\Windows\Start Menu\Programs\Startup
Next, you have to get rid of GOM Player and all its entries from Windows registry.
Press Windows + R, and type in regedit in RUN box, then press Enter. It'll open Registry Editor.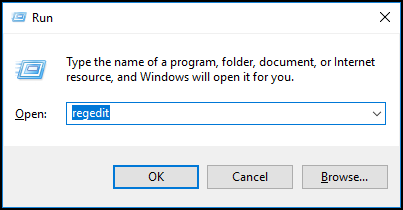 Navigate to the Registry key: (You do this by clicking on the plus sign next to each key in the path to expand the path below it. )
HKEY_LOCAL_MACHINE\Software\Microsoft\Windows\CurrentVersion\Uninstall.
HKEY_LOCAL_MACHINE\SOFTWARE\Microsoft\Windows\CurrentVersion\Uninstall\ (For 32-bit system users)
HKEY_LOCAL_MACHINE\SOFTWARE\Wow6432Node\Microsoft\Windows\CurrentVersion\Uninstall\ (For 64-bit system users)
Kindly Reminder: You are welcome to contact online support if you need any assistance, just click the below button for help.
Automatically Uninstall GOM Player with a Third-Party Uninstaller – Uninstallor (RECOMMENDED)
Step 1. Download the Uninstallor software and activate it. Next run it then select "GOM Player" from right side list, then click on "Analyze Now" to start.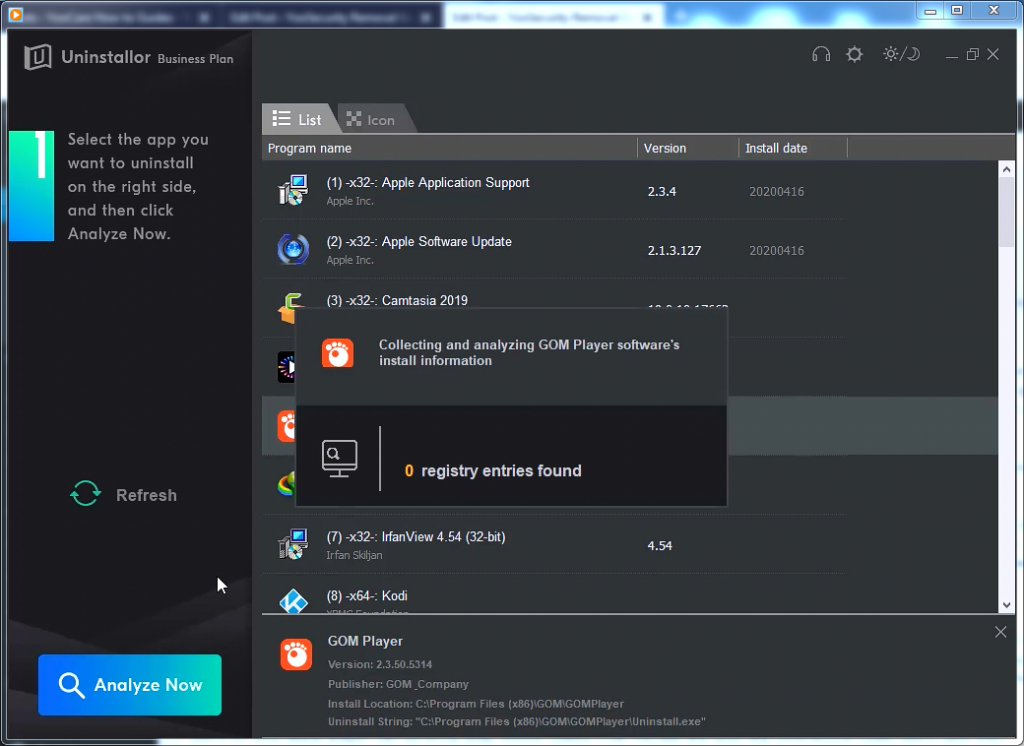 Step 2. Uninstall Now. To completely uninstall GOM Player from your Windows 10.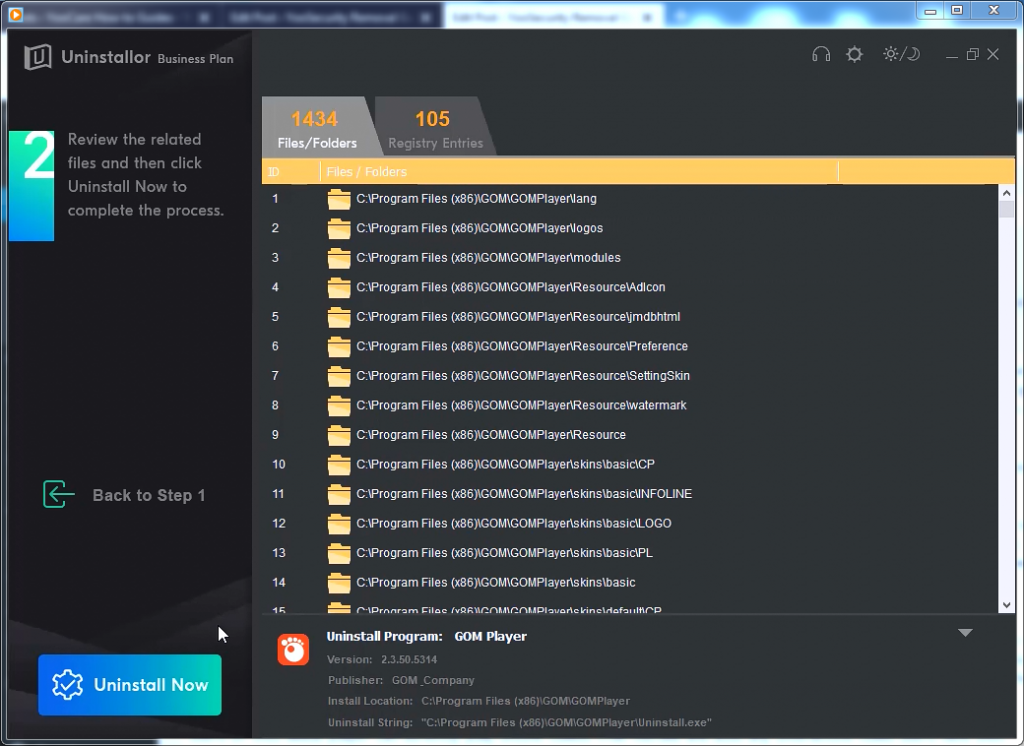 Step 3. Remove Now. To remove all leftover files and registry entries away.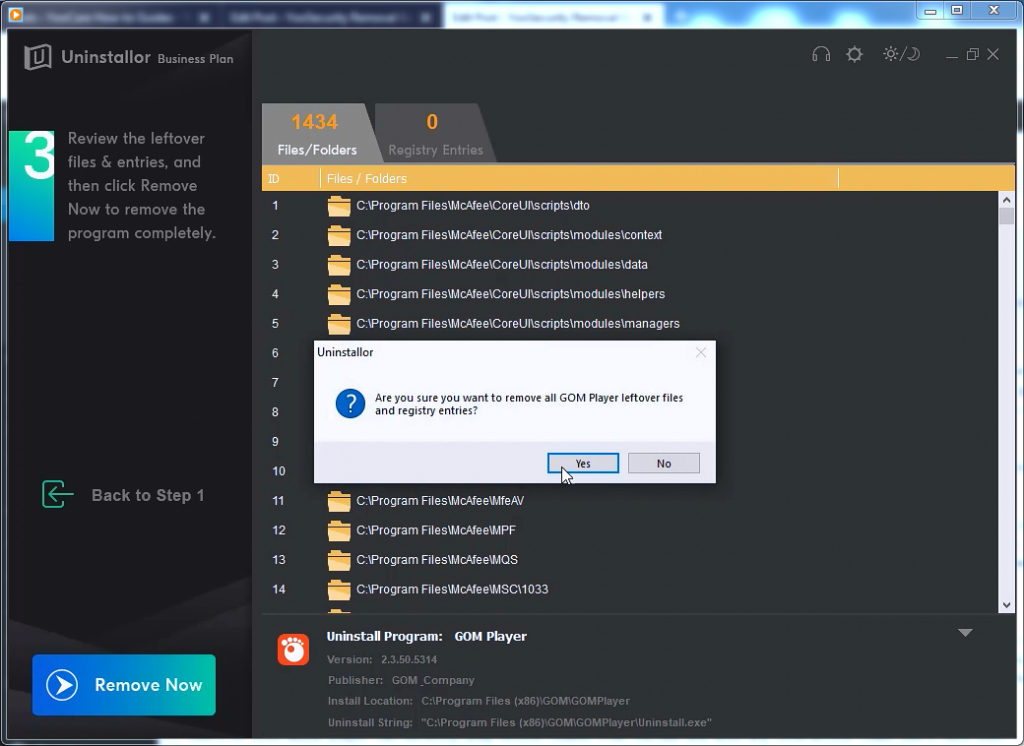 Uninstall Completed!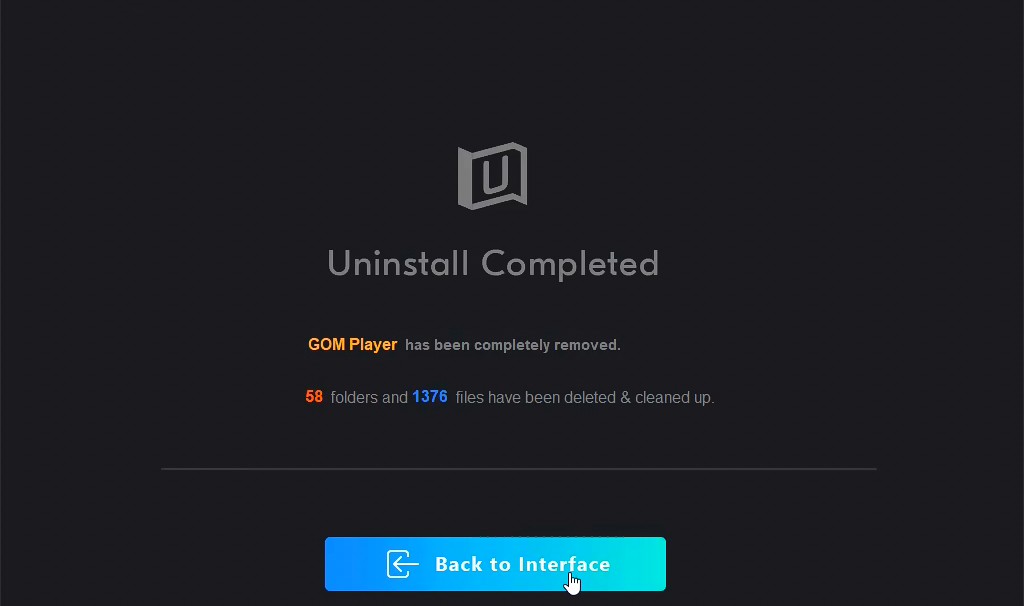 Video Guide for Uninstall GOM Player Removal Step by Step
Kindly Reminder: If you want to safely and completely remove/uninstall GOM Player from your computer like Windows or Mac, you are suggested to try Uninstallor, which will help you do all things.
Published by Tony Shepherd & last updated on June 23, 2020 9:52 am