How do i uninstall Glary Utilities completely from Windows 10? Can i uninstall more than one program at one time? Is it easy to get rid of this program manually? Can you use a great uninstaller to uninstall it safely?
Glary Utilities Review
Most of us are experiencing some problems after using our PC devices for so long. When we first use our device, it runs very swiftly. However after sometimes starting from slow reboot to taking too much time to turn off, and other problems occur. What's the reason? Because of our carelessness. We thought our device has the ultimate power to fight any virus, any software which doesn't have any authenticity, and can bear any type of physical pressure from us. These are the reasons why we start to open arbitrary web browsers, installing games, installing apps from unknown sources while there is no protection on our device.
Because of this, after a certain time, the efficiency of our desktop and laptop got reduced. Now, if we think of the above-mentioned circumstances properly, not all of us, do it. Sometimes sites redirect us to arbitrarY sites and make us distracted. Whatever the situation is, our main goal has to be clearing all Unnecessary data and giving our device full attention and care. Glary Utilities will help you in this case. This is a system optimization tool that helps to increase the performance rate and reliability of our device by taking necessary actions. While explaining a tool, it's better to have a look at the advantages and disadvantages before you make your mind to uninstall Glary Utilities completely from your system. Let's see.

What are the Advantages of Glary Utilities?
Before going into detail, discuss how Glary Utilities can help you. Let's first know where you can use it. You can use it on any Windows operating system. Like Windows 10, Windows XP, Windows 7, Windows 8, Windows Vista, and so on. The advantages of Glary Utilities are as follows.
● You can have a 1-Click Maintenance feature with this application which will help you to scan your device from the root. If you don't have the time to stay for long in front of your device, just select the section you want to scan. Individual section scanning features will help you in this case. Again, you'll see a Repair option is there. If you want to clean all the junk files unarranged all over your device, then the repair button will take care of it. A backdated PC was tested for the speed check of this application. It took hardly 1 hour to do the task. So, for modern generation PCs, it will hardly take 15 to 20 minutes.
● Through this tool, you can delete the applications or unnecessary software from your device. There is a back-up option available on your Glary Utilities. Click on it, the application will take a back-up of the deleted software. You can restore those applications whenever you want. But make sure, your backup is enabled.
● No matters how old your devices are, Glary Utilities will make them efficient. There is a constant update speed given to this application. Whenever the authority realizes the drivers for the application are getting outdated, they'll send you the newest update. It will replace the old driver with a new one. So, whatever job you are willing to do on your device, whether it is hardware-related or software-related, Glary Utilities will never let you down.
● Cleaning and repairing may take some time, as mentioned above. But what if you had to go for urgent work? Don't worry, you can pause it up to when it was completed. Again, if you want to set a particular time when your device will automatically start the scanning, you'll have that option too.
● They are providing an easy-to-understand guide to their users. Give a read to their guide, it will give you the explanation of every key with a diagram. Again, the blue and white theme of the tool won't affect your eyes too much. Such arrangement, availability of important keys will help you have a great experience.
● Lastly, there is a point worth mentioning. That's the price. Probably, you know it's not a free application, it's a paid version. But the price is very less compared to others. It's only $39.99 per year. You'll be given the official license to access the tool on your device properly.
What are The Disadvantages of Glary Utilities?
Some of the Disadvantages or it would be better to call drawbacks of this application are as follows.
● If you want to install the application on multiple devices, you may face problems. What? If you use the same license number? No, if you have used the license number on a device, it will remember your IP address. So, you won't be allowed to use it anywhere else.
● Whenever you are deleting software, if you don't allow the back-up to be on, you can't get back those files later. One other Disadvantage is, they won't give you any description of the application. Sometimes it is important to know what's the function of the app, what will be the problems one can face after deleting it, how much storage it will consume, and so on. Without this information, deleting a file can be risky.
● Another drawback of this tool is, they don't ask your permission whenever starting an update. Not everyone has an unlimited source of data. So, it may cause a problem for them. However, there is an easy solution to this problem. Go to the device manager and disable the auto-update system from there. You can also make it manual though.
If this program is not good, you can uninstall Glary Utilities completely any time you want, just follow the removal guides here.
How to Uninstall Glary Utilities from Windows Operating System
Manually Uninstall Glary Utilities from Windows 10 Step by Step (For Advanced Users Only)
Step 1: Uninstall the Glary Utilities program from startup.
a) Uninstall it from Start menu by clicking on start icon, right click on it on the pop-up window, and then click "Uninstall".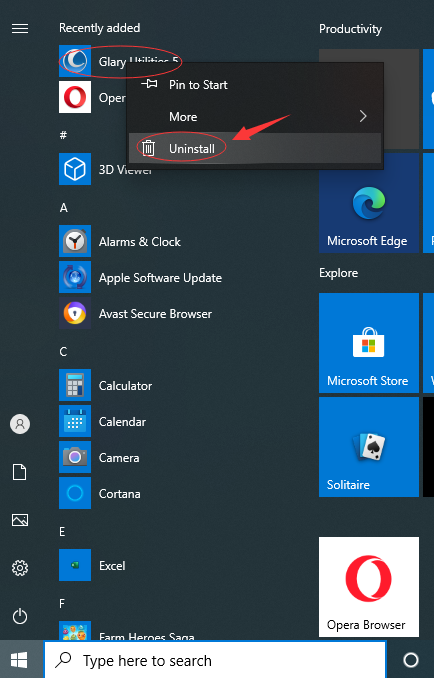 b) Uninstall it via the Apps & Features. Just input Apps into search box, then choose "Settings", and then click on "Apps", select the software then click on "Uninstall".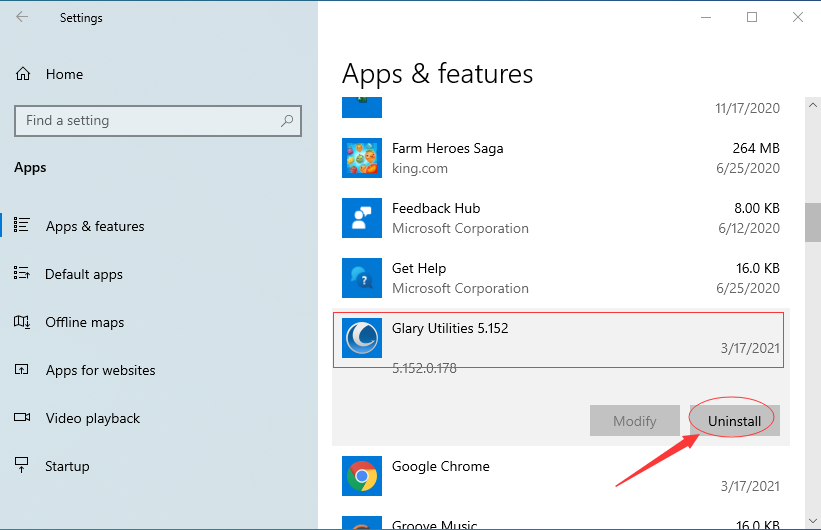 c) Uninstall Glary Utilities via Control Panel. Input "Control Panel" into search box then click on it, click on "Uninstall a Program", click on it then click on "Uninstall".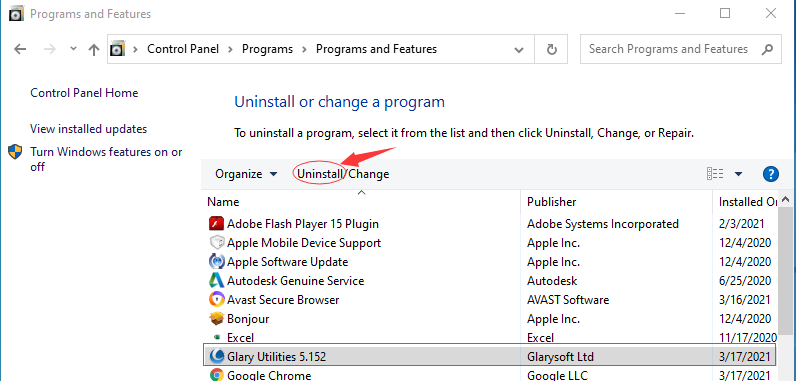 Step 2: Manually clean all leftovers from regedit. (IMPORTANT STEP)
*For added protection, please back up the registry before you modify it.*
Check the following folders and delete associated files first.
C:\Program Files (x86)\xxx
C:\Users\[Your User Name]\AppData\Roaming\
C:\ProgramData\Microsoft\Windows\Start Menu\Programs\Startup
Next, you have to remove all its entries from Windows registry.
Press Windows + R, and type in regedit in RUN box, then press Enter. It'll open Registry Editor.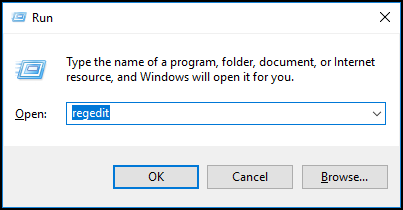 Navigate to the Registry key: (You do this by clicking on the plus sign next to each key in the path to expand the path below it. )
HKEY_LOCAL_MACHINE\SOFTWARE\Microsoft\Windows\CurrentVersion\Uninstall\ (For 32-bit system users)
HKEY_LOCAL_MACHINE\SOFTWARE\Wow6432Node\Microsoft\Windows\CurrentVersion\Uninstall\ (For 64-bit system users)
Kindly Reminder: You are welcome to contact online support if you need any assistance, just click the below button for help.
Automatically Uninstall Glary Utilities with a Third-Party Uninstaller – Uninstallor (RECOMMENDED)
Step 1. Download and install Uninstallor on your computer, launch it and select the software you wanna remove, click on "Analyze Now" to start.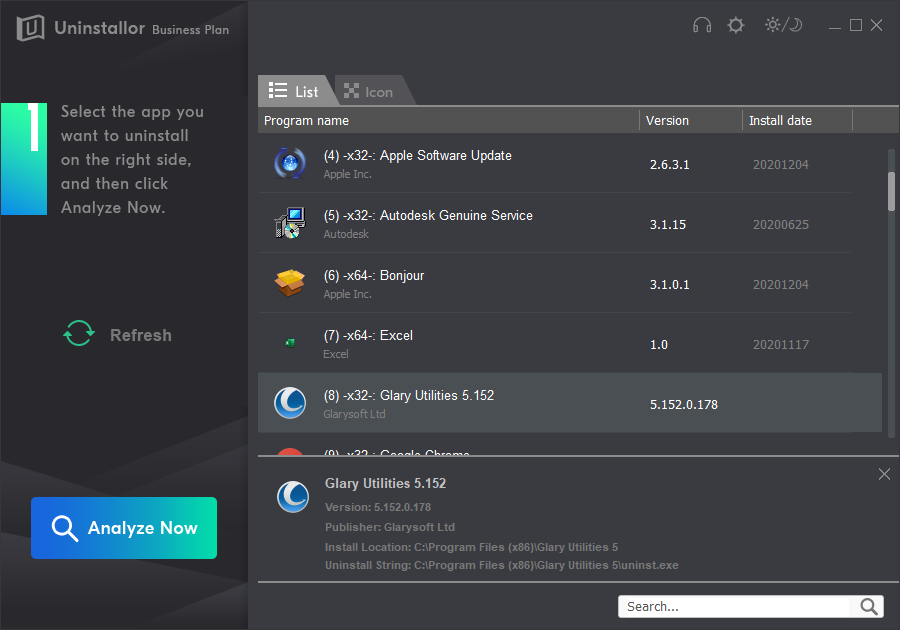 Step 2. Uninstall Now. Click on this button to process uninstalling.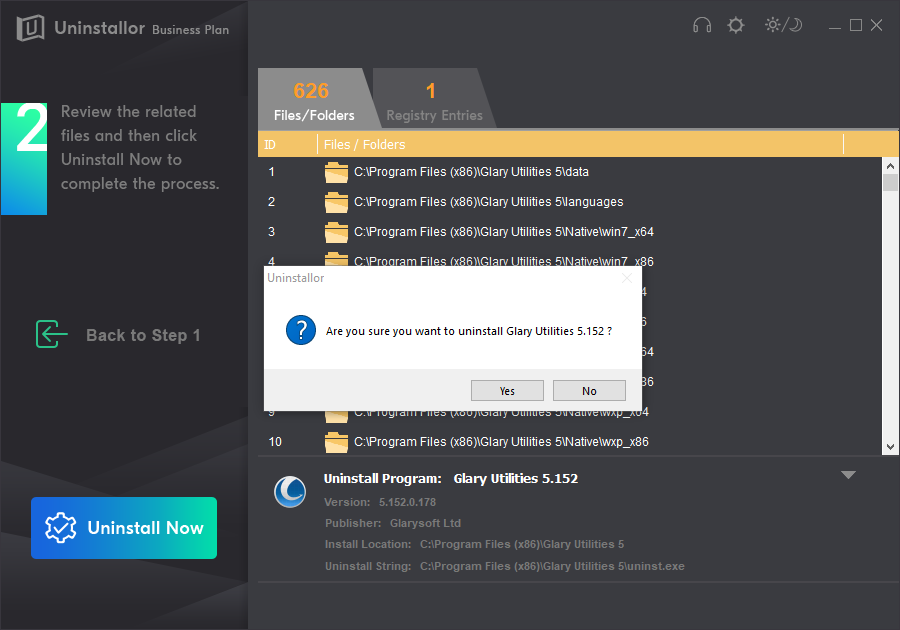 Step 3. Remove Now. Remove all leftover files from your system.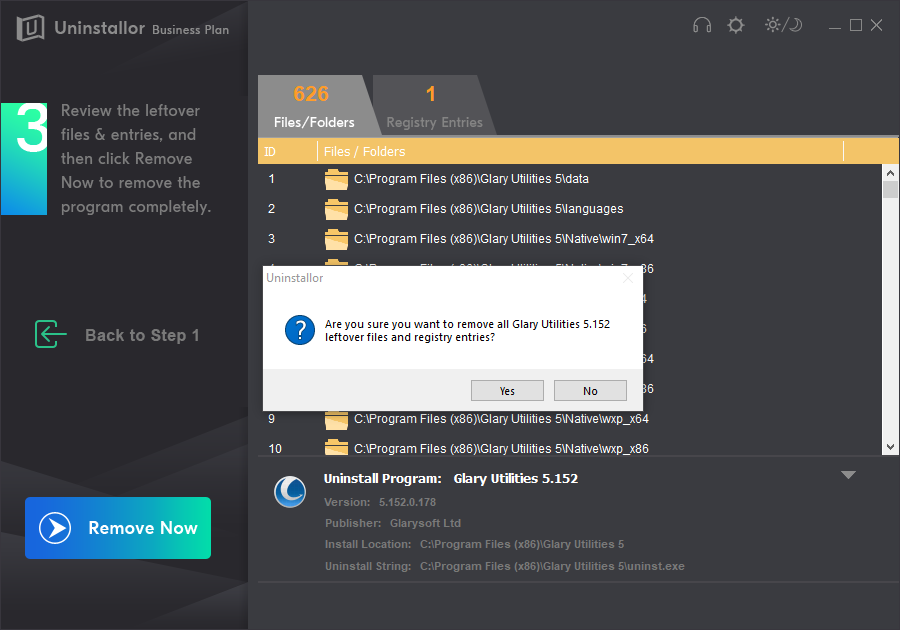 Glary Utilities has been removed completely.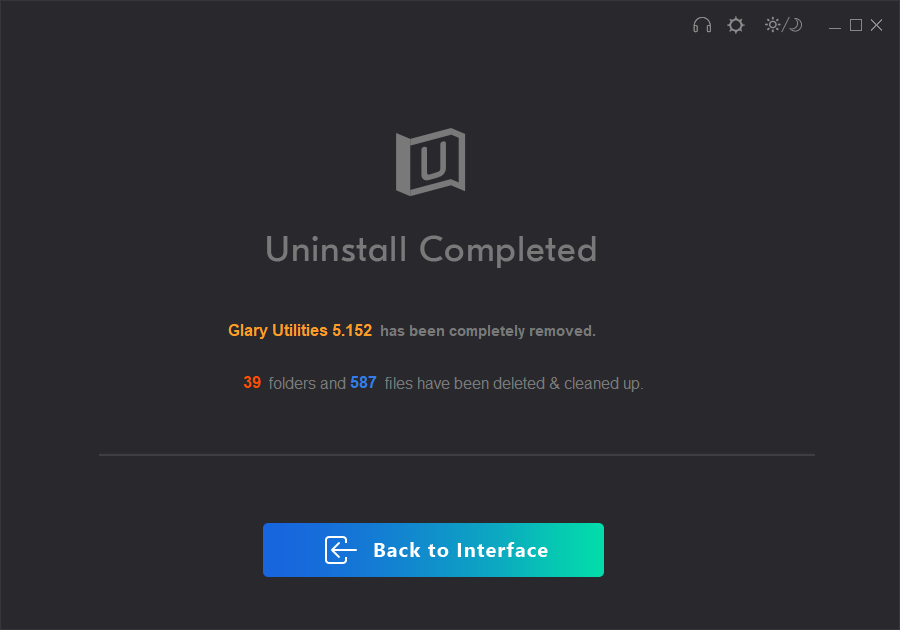 Conclusion
Like every coin has two sides, everything in this world has advantages and disadvantages. And software is not an expectation at all. However, we need to focus on which application is providing fewer drawbacks. Undoubtedly, of those applications which are offering the same features as Glary Utilities, only Glary Utilities has the most perfect services. The ratio for advantages to disadvantages is very high for Glary Utilities.
We hope they will keep updating their features for users like us. This application is secure, safe for your drivers, and reduces the booting time of your device. So, if you want to give your device ultimate protection, install Glary Utilities. We hope you'll have a great experience as everyone has.
Kindly Reminder: If you don't want this software and don't know how to uninstall Glary Utilities completely from your Windows computer or Macbook, you are suggested to use Uninstallor, which will help you do all things.
Published by Tony Shepherd & last updated on March 30, 2021 12:48 pm