Need help to uninstall Garmin Express completely from your computer? How do you remove Garmin Express manually step by step or use a removal tool to automatically uninstall it?
A Complete Review of Garmin Express
Garmin Express is an extraordinary application designed for managing the overall Garmin devices. This application is mainly used for the Garmin device registration, map and software updates and syncing fitness data with Garmin Connect. Garmin Company has developed this software to let its users to manage the Garmin GPS device for their computer. All users of this app can successfully update their software and maps. They can also register their device, install free voices and vehicles, download product manuals and backup, transfer and restore favourite things from the comfort of their place.
Users of the Windows can download the latest version of the Garmin Express and install it in their computer without delay and difficulty. They can visit the website http://garmin.com/express and click the option Download for Windows. They can run the file GarminExpress.exe for starting the installation process. They must check the box to accept the terms and conditions. Advanced users can prefer the options button and change the location of installation of this application as per their requirements. They have to press the button Install and then launch button to open this application.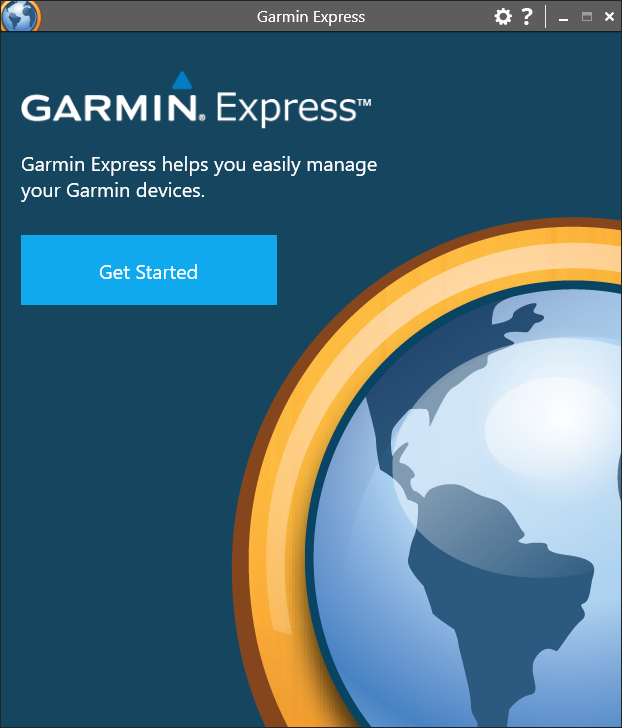 You may be a Mac OS user and think about how to install the Garmin Express in your computer. You can visit the official website of the Garmin Express application at http://garmin.com/express and click the option Download for Mac. Now, open the GarminExpress.dmg from the Downloads section or download location. The next step is to double-click on the Install Garmin icon in the new window. You have to follow all the installation instructions in the installer and close the installer after a successful completion of the installation process. After, open the software folder and double-click on the application icon. Once the Garmin Express is successfully installed, it can be used with any compatible GPS device. You can uninstall Garmin Express completely if you don't like the current version and then find another version app to reinstall.
You may be one among users of the maps on a regular basis and search for the one-stop-shop to keep all your maps updated. You can prefer and use the best-in-class nature of the Garmin Express right now. This app assists its users to download all available map updates to the computer without any human intervention. This app alerts users when new maps are available to install. Users of this app can control the overall download schedules and transfer their favourite content from one device to another with just a click without possibilities of data loss again. This app makes it very easy to backup and restore the saved routes, addresses and waypoints to and from the computer beyond expectations of its users.
Everyone who explores the overall specifications of the free software can make a good decision and begin their step to install it in their computer. They can prefer and download the most recent version of this software to get an array of advantageous things. If you are a beginner to the Garmin Express, then you may think about what you have to do with this free software. You can use this software to update maps, activities to Garmin Connect and golf course maps. You can also use this application to register your products.
As a beginner to the Garmin Express, you have to be aware of how to plug in the system in the successful way. Turn the device on at first and connect it to the computer by using the USB cable. Your device may come with the ANT stick. You can simply turn on the device and plug such ANT stick into the USB port of the computer. Once you have done it, you have to download and install this application on your computer as per guidelines.
It is the right time to find how to add your device. You can open the Garmin Express application and follow the instructions to successfully set up as well as register the device. You can use the Garmin Express and install the device updates without any complexity and delay. You will get 100% satisfaction from a proper use of this application and be encouraged to recommend it to likeminded users of the Garmin devices.
There are several things to consider before downloading the Garmin Express. For example, you have to know about the last updated date, developer, license, OS support, file size, total number of downloads and user ratings. Easy-to-understand details about this free software encourage many people worldwide to prefer and use it. You can read honest reviews of this application in detail and make certain about how to successfully use this app as per your requirements. You will get exceptional benefits from a proper use of this software and be confident to suggest it to others. You will be keen to use this software to manage your Garmin devices as per your requirements and complete your works easily.
Many people use the Garmin Golf Device and think about how to be comfortable and smart in their way to update this device. They can prefer and use the application Garmin Express to update the Golf Device. This application provides free Course view maps and assists all users to update the Garmin Golf Device without complexity in any aspect. New and regular users of this application download as well as store the charts on their memory card. They use this application to keep all their software from the Garmin up-to-date.
Advantages
• User-friendly graphical user interface
• Chart update
• Maps update
• Timely software update
• Golf course update
Disadvantages
• Out-of-date software
• Poor communications with a connected device
Garmin Express is the best software to manage any Garmin Device. GPS technology has successfully revolutionized our way to commute. We do not require the physical maps or direction from anyone to reach any unexplored destination. Garmin gets very good recognition as it provides all the essential information like maps, traffic, parking details, food joints and other things on a mere click of a button. However, if you won't need it, you can easily uninstall Garmin Express from your system by following the guides below.
How to Uninstall Garmin Express from Windows Operating System
Manually uninstall Garmin Express from Windows 10 (For Advanced Users Only)
Part I:
a) Uninstall this program from Start menu, right click on it and select "Uninstall".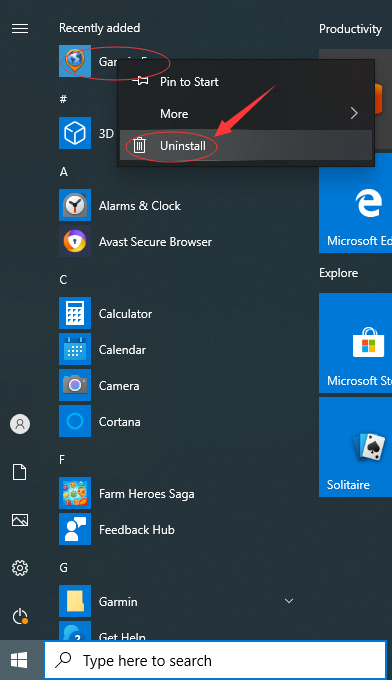 b) Uninstall Garmin Express via the Apps & Features. Input Apps into search box, then select "Settings", next click on "Apps", and click on it then click on "Uninstall".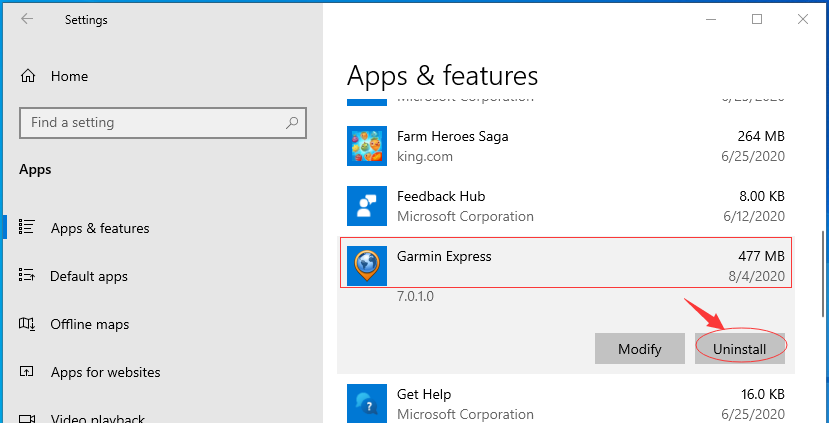 c) Uninstall it via Control Panel. Input "Control Panel" into search box then click on it, click on "Uninstall a Program", select "Garmin Express" then click on "Uninstall".

Part II: Manually clean all leftovers from regedit. (IMPORTANT STEP)
*For added protection, please back up the registry before you modify it.*
Check the following folders and delete associated files first.
C:\Program Files (x86)\xxx
C:\Users\[Your User Name]\AppData\Roaming\
C:\ProgramData\Microsoft\Windows\Start Menu\Programs\Startup
Next, you have to remove all its entries from Windows registry.
Press Windows + R, and type in regedit in RUN box, then press Enter. It'll open Registry Editor.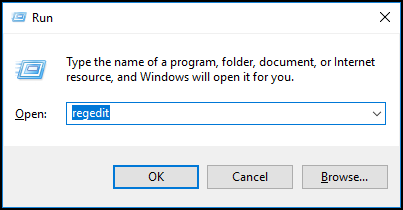 Navigate to the Registry key: (You do this by clicking on the plus sign next to each key in the path to expand the path below it. )
HKEY_LOCAL_MACHINE\SOFTWARE\Microsoft\Windows\CurrentVersion\Uninstall\ (For 32-bit system users)
HKEY_LOCAL_MACHINE\SOFTWARE\Wow6432Node\Microsoft\Windows\CurrentVersion\Uninstall\ (For 64-bit system users)
Kindly Reminder: You are welcome to contact online support if you need any assistance, just click the below button for help.
Automatically Uninstall Garmin Express with a Third-Party Uninstaller – Uninstallor (RECOMMENDED)
Step 1. Download, install and then launch Uninstallor, select "Garmin Express", then click on "Analyze Now" button for the analyzing.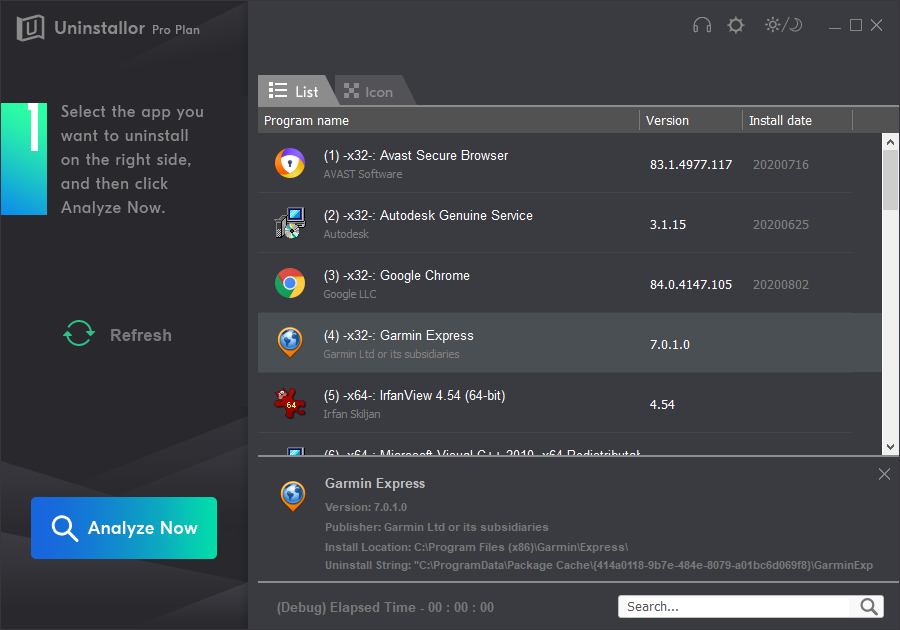 Step 2. Uninstall Now.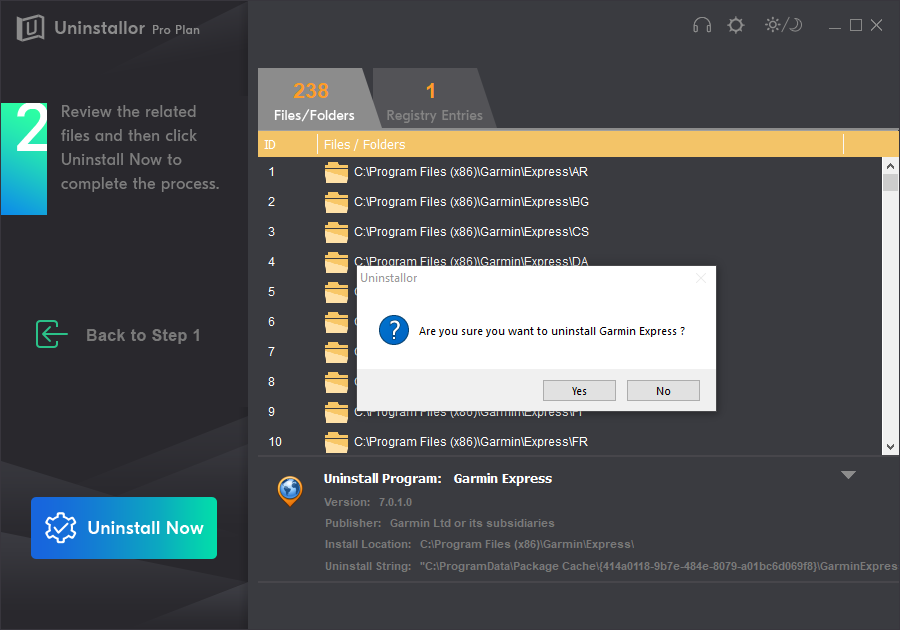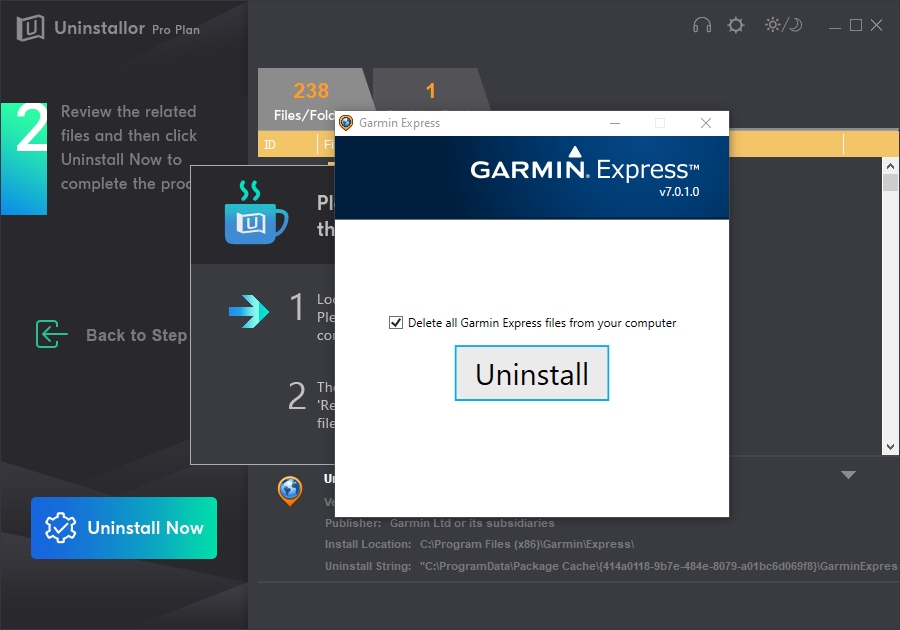 Step 3. Remove Now. Click on the button and then click on OK or Yes.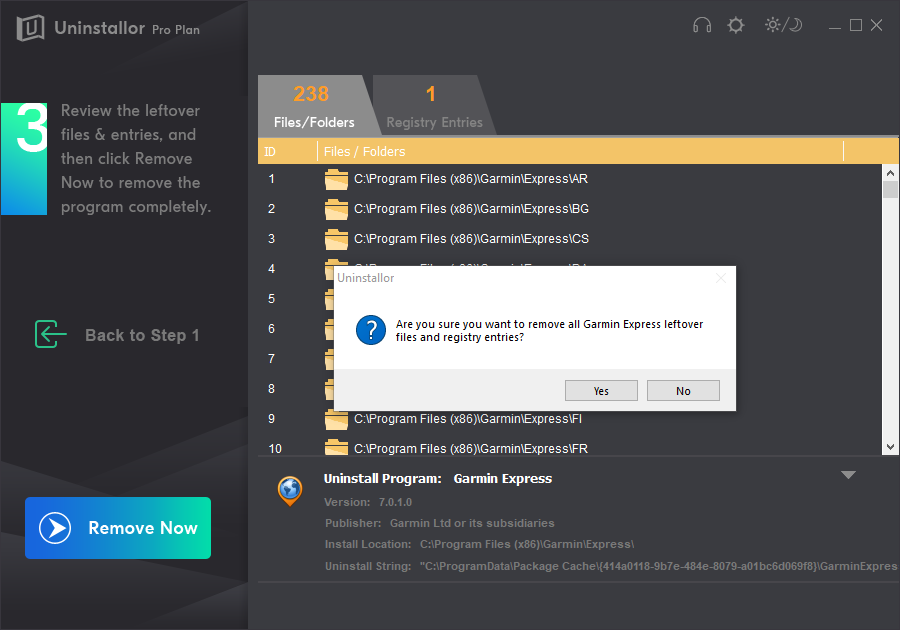 Uninstall Completed! Garmin Express has been completely Removed.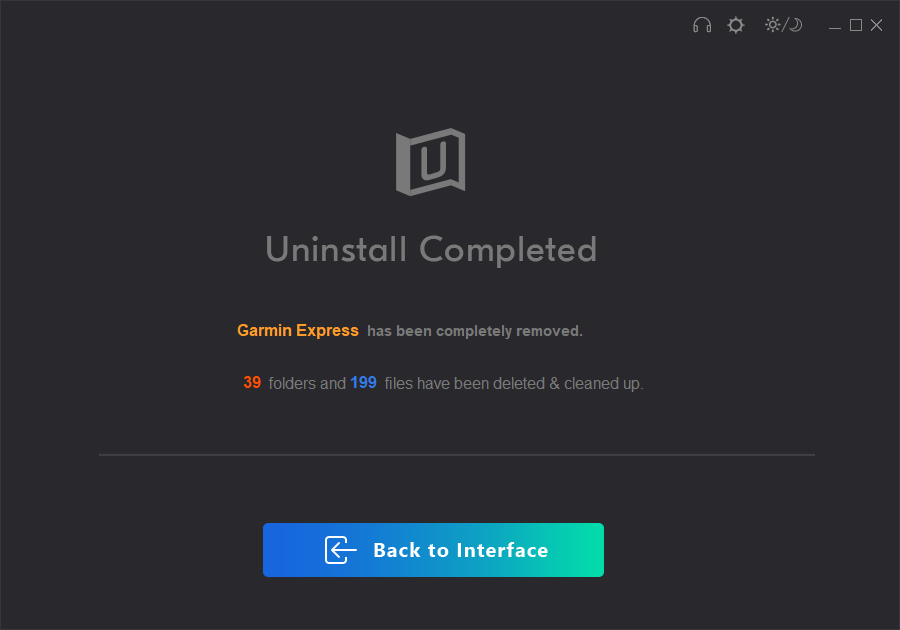 Conclusion
Garmin Express is a good collection of programs designed to update the maps and software on the Garmin Device. If you don't need it and have no idea to uninstall Garmin Express from your Windows computer or Macbook, you are suggested to use Uninstallor, which will help you do all things.
Published by Tony Shepherd & last updated on August 7, 2020 4:07 pm