How can you uninstall Flash Movie Player completely from your computer in Windows 10? It is a HP laptop and i don't know how to remove it safely, is there a step by step guide for the removal?
Flash Movie Player Review
When watching movies or playing video games, there is one thing that you definitely need – good graphics. You can't enjoy a good video or experience the thrill of playing a video game if the visuals are not up to the mark. Usually, one will watch videos or play games on their PC using the web browser. And to enjoy smooth visuals on your web browser, you need a flash player.
One such flash player is the Flash Movie Player. It is an independent player for Shockwave Flash (SWF) animations, which is based on the Macromedia Flash Player plug-in. Apart from the existing features and abilities of the Macromedia Flash Player, it has a lot of other features, like playlists, rewinding animations, full screen mode, support for .exe projectors, integration of browser cache and multilingual interface. Flash Movie Player can also extract flash movies from .exe projector files and save it in SWF format. Flash Movie Player also has hotkeys for all recurrent operations for watching flash animations conveniently.
Flash Movie Player was developed by Eolsoft and released in the year 2008. One can download this software for free. It has been given 4 star ratings by several users. You can operate this flash player on your Windows operating system devices. Flash Movie Player supports both SWF and EXE files. It enhances SWF files and allows you to rewind and fast forward videos on the player. You can even take snapshots on this movie player, the snapshots will be saved in JPEG or BMP format.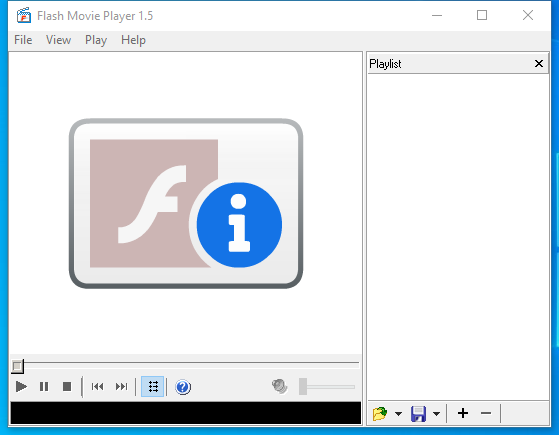 If you don't want to continue to use it, you can uninstall Flash Movie Player completely with the Uninstallor.
Advantages of Flash Movie Player:
● Create playlists: Flash Movie Player allows its users to create playlists of their choice. You can edit the playlist according to your need and save it. You can queue multiple SWF files to be played in the set order and even detach the playlist tab and place it elsewhere on the screen. You can add files to your playlist from your browser as well, making it very convenient to make the perfect playlist for yourself.
● Take screenshots: With Flash Movie Player, you can take snapshots of your screen and save it to your device. The software allows you to save the snapshots in two formats, namely JPEG and BMP. You can take screenshots in real-time by pressing the required hotkeys, the snapshot will be saved in the assigned folder on your device. You can also save the snapshot to a different folder each time.
● Better interface: Several users have said that they found the interface of the Flash Movie Player to be better than other flash players. You can conveniently select the number of movies you want to watch, you don't have to search every file individually when you want to watch it. It is easy to switch from regular view to full-screen mode in this flash player by pressing the right hotkeys.
● Cache integration: Flash Movie Player allows users to download files from the internet browser and play them on the player. This makes it very easy for users to view files on their PC without having to open the internet browser. You don't need an internet connection when you use this feature on the Flash Movie Player.
● Multiple languages: A unique feature of the Flash Movie Player is that its interface can be viewed in any of the 35 languages loaded in the software. You can view and read instructions and other functions in any one of the 35 languages, thereby eliminating the language barrier. So this flash player becomes user friendly to anyone and everyone, thanks to this feature.
● Smooth transitions: Another good feature of this flash player is that the functions on this player are performed smoothly. You can open and view files with just one click. The functions do not lag, thereby providing a smooth experience to its users. You can easily control the player according to your liking because of this.
Disadvantages of Flash Movie Player:
● Invasive marketing: The way this software has been posted on the internet may lead many people to believe that they are downloading the Adobe Flash player but in reality, this is completely different software. If you are specifically looking for the Adobe player, you might be disappointed when you end up with this software, but when it comes to its performance you might be satisfied.
● Limited formats: One drawback of this flash player is that although it allows you to save real-time screenshots to your device, it only allows you to save these screenshots in only two formats – JPEG and BMP. If you wish to save your snapshots and clips in formats other than JPEG and BMP, you will not be able to do so on this flash player.
● Only operates on Windows: Flash Movie Player is available to use only on devices with Windows operating systems. You can use this flash player on Windows 95, Windows 2000, Windows 98, Windows XP, Windows NT, and some other Windows, but that's about it. You can use this software on any other OS.
If you don't want to keep it, you can uninstall Flash Movie Player completely in any time you free, just follow the removal guides here.
How to Uninstall Flash Movie Player from Windows Operating System
Manually Uninstall Flash Movie Player from Windows 10 Step by Step (For Advanced Users Only)
Step 1: Uninstall Flash Movie Player from startup.
a) Uninstall the app from Start menu by clicking on start icon, right click on it on the pop-up window, and then click "Uninstall".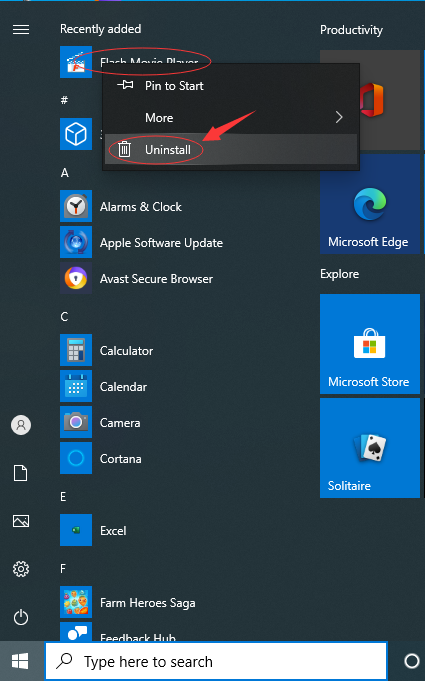 b) Uninstall it via the Apps & Features. Just input Apps into search box, then choose "Settings", and then click on "Apps", select the app then click on "Uninstall".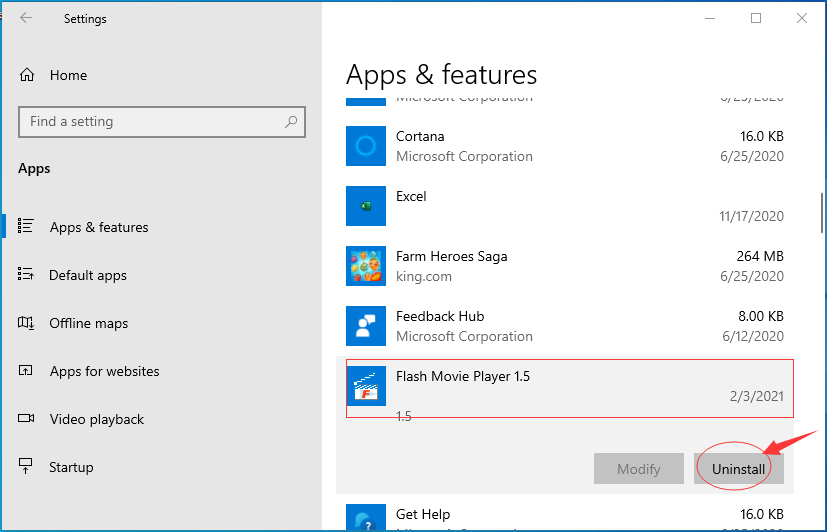 c) Uninstall this app via Control Panel. Input "Control Panel" into search box then click on it, click on "Uninstall a Program", click on it then click on "Uninstall".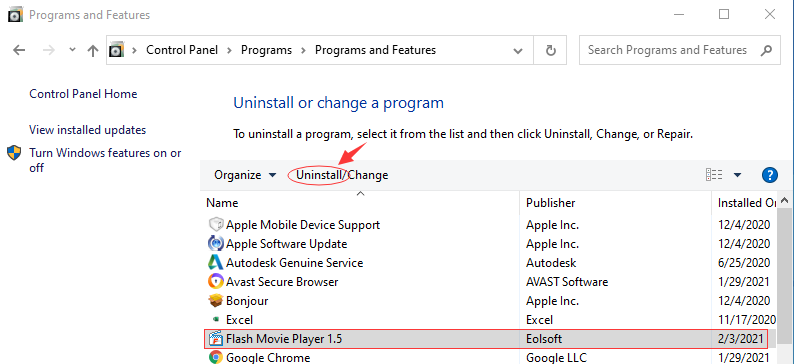 Step 2: Manually clean all leftovers created by the Flash Movie Player from regedit. (IMPORTANT STEP)
*For added protection, please back up the registry before you modify it.*
Check the following folders and delete associated files first.
C:\Program Files (x86)\xxx
C:\Users\[Your User Name]\AppData\Roaming\
C:\ProgramData\Microsoft\Windows\Start Menu\Programs\Startup
Next, you have to remove all its entries from Windows registry.
Press Windows + R, and type in regedit in RUN box, then press Enter. It'll open Registry Editor.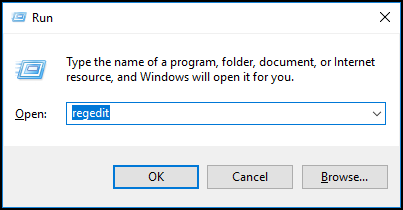 Navigate to the Registry key: (You do this by clicking on the plus sign next to each key in the path to expand the path below it. )
HKEY_LOCAL_MACHINE\SOFTWARE\Microsoft\Windows\CurrentVersion\Uninstall\ (For 32-bit system users)
HKEY_LOCAL_MACHINE\SOFTWARE\Wow6432Node\Microsoft\Windows\CurrentVersion\Uninstall\ (For 64-bit system users)
Kindly Reminder: You are welcome to contact online support if you need any assistance, just click the below button for help.
Automatically Uninstall Flash Movie Player with a Third-Party Uninstaller – Uninstallor (RECOMMENDED)
Step 1. Download and install Uninstallor on your PC, launch it and click on Flash Movie Player, click on "Analyze Now" to start.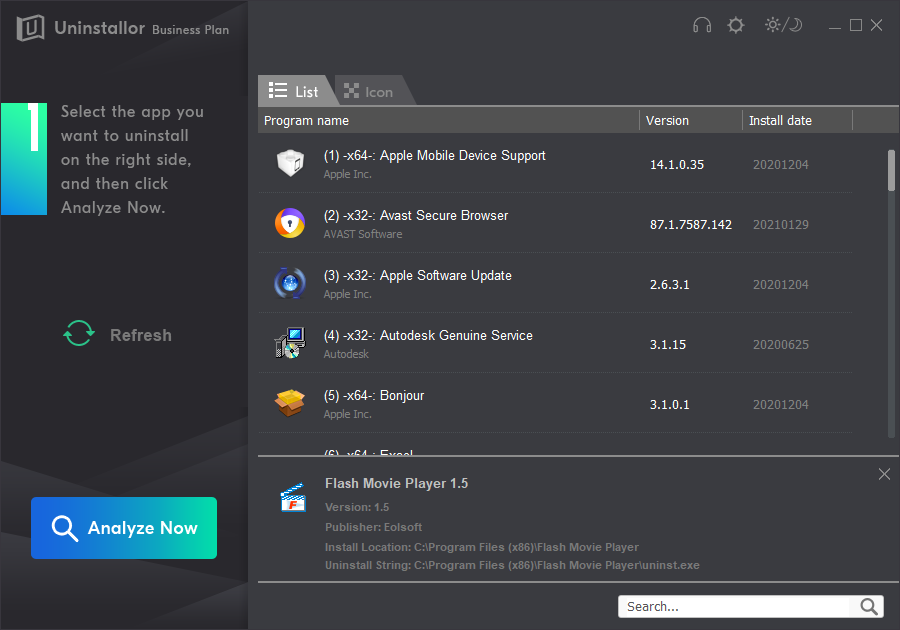 Step 2. Uninstall Now. Click on this button for further uninstalling.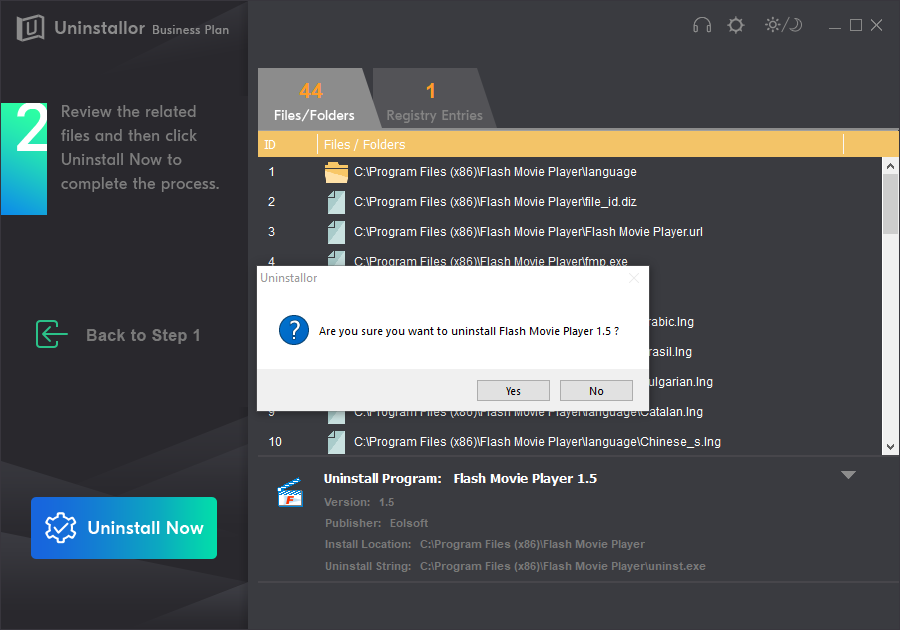 Step 3. Remove Now. Remove all leftovers of the software from your computer.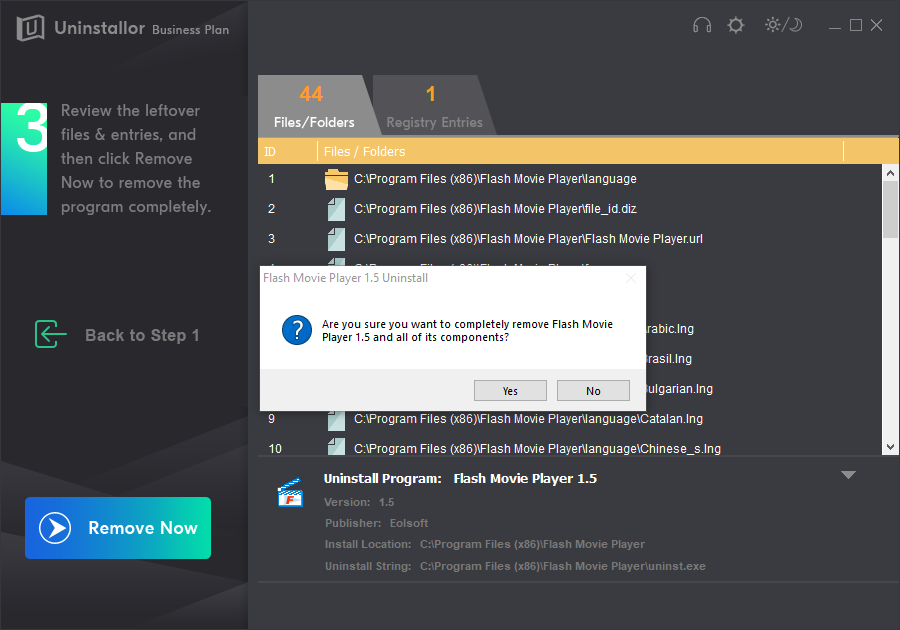 Flash Movie Player has been uninstalled completely.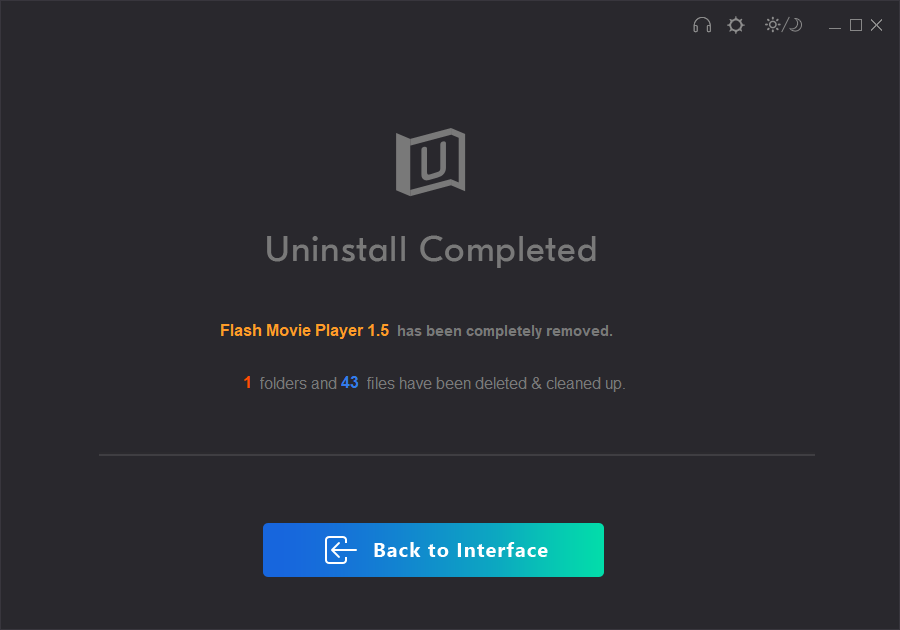 Conclusion:
There are many flash players available online, many of which are available for download for free. Many of these free browsers might not perform well, but Flash Movie Player is an exception. With so many features that are not available on other flash players, this software will be very useful for many users. From recording clips, taking snapshots, playing slideshows, creating playlists to loading data from the browser cache, this flash player can fulfill your needs from a flash player. Flash Movie Player lets you play SWF and EXE extension files, along with other flash files.
If you are okay with using a flash player of any kind, regardless of the company, you can easily go for this one. If you are looking for a specific flash player, this one may confuse you as its logo is similar to some others, so you may end up downloading this instead of the one you actually intended to download. Although this is not a serious issue, it may lead to some disappointment but it performs well.
Kindly Reminder: If you don't want this software and don't know how to uninstall Flash Movie Player from your Windows computer or Macbook, you are suggested to use Uninstallor, which will help you do all things.
Published by Tony Shepherd & last updated on February 3, 2021 7:05 am