Can't uninstall F-Secure SAFE from your PC in any ways? How do you remove F-Secure SAFE safely and thoroughly? These days many people faced the problem of uninstalling F-Secure SAFE from their system completely. Some said they can't find F-Secure SAFE on the remove/uninstall list in Control Panel while some others found the program has gone bad and refused to uninstall by giving unexpected errors. Given this situation, we have listed the most effective method on how to remove F-Secure SAFE and its traces completely. If you are also having problems in uninstall F-Secure SAFE or you still find its trace after the program is gone, this article might help you in solving the problem.


About F-Secure SAFE: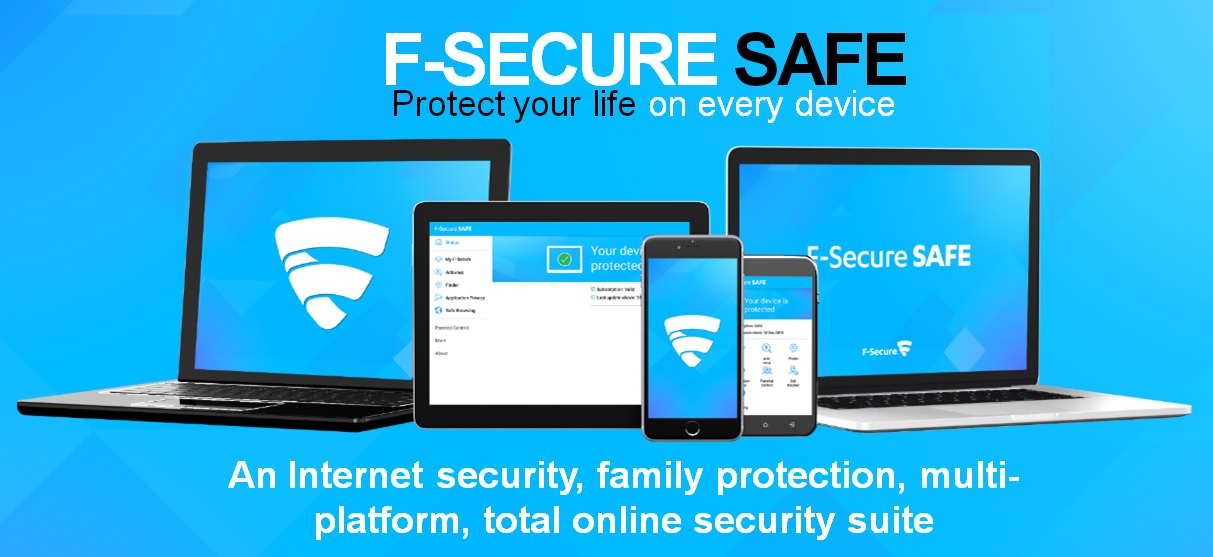 Speaking of internet security software packages, F-Secure SAFE is definitely one of the top performers that provides the most advanced protection for you and your whole family. In fact, F‑Secure have been making antivirus services for over 30 years, no wonder F-Secure SAFE has millions of active users worldwide today. This award-winning internet security suite even won the AV‑TEST Best protection award 2018. F-Secure SAFE not only protects computers, your tablets, and smartphones are all covered. It supports Windows, Mac OS, iOS and Android platforms and has the technology to stop threats before they even reach your computer. F-Secure SAFE uses an advanced Security Cloud to scan each file you are attempting to download before it reaches your computer, giving you the best possible security online. In addition, it offers many useful tools to let you stay safe while banking and surfing the web, even protects you from phishing and ransomware attacks. F-Secure SAFE allows you to set family rules that lets you look after your family's well-being by setting screen time limits, blocking access to undesirable websites and locating lost, stolen or misplaced devices. With the feature, you can give your children the freedom to explore the internet without worries. Overall, F-Secure SAFE provides the best protection to let you protect your digital life.
About F-Secure SAFE Removal:

F-Secure SAFE might be one of the best antivirus providers around that stops you from exposing yourself to various threats, but some users still want to uninstall the product. Some of the most common reasons why they find themselves needing to uninstall F-Secure SAFE include their F-Secure SAFE licenses expired, or F-Secure SAFE clashing with other elements on their computers and creating problems, F-Secure SAFE slows down the PC performance, and sometimes it is just the users simply not wanting F-Secure SAFE on their computers anymore. Whatever the reason might be, uninstalling F-Secure SAFE is no walk in the park. If you want to successfully and completely uninstall F-Secure SAFE from your computer, you not only need to uninstall the program but also get rid of all the residual files and settings that it leaves behind. Without a complete uninstallation, it will only cause trouble for you in the future. Therefore, follow the instructions below to uninstall F-Secure SAFE and its leftovers step by step.

Uninstall F-Secure SAFE Manually on Windows 10 (For Advanced Users)
Method 1: Removal from Start Menu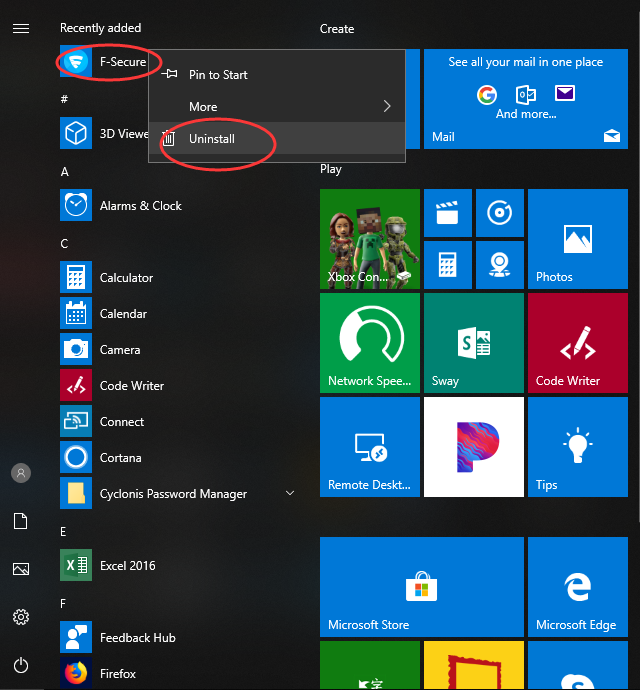 Windows 10 added an option to uninstall apps with a right-click in the Start menu, so you can uninstall F-Secure SAFE directly from there. To do this, go to Start > All apps and find the F-Secure SAFE. Right-click on it and then click Uninstall from the drop-down menu that appears. If you can't find F-Secure SAFE in the Start menu, or it won't let you uninstall, you can try other methods listed below.
Method 2: Removal from The Settings Menu
In some cases, you cannot find an app or program that you want to uninstall in the Start menu. So, you can try this way to remove it from the Settings Menu.
Here's what you need to do:
1. Open the Settings menu by pressing the Start icon and then the gear in the left.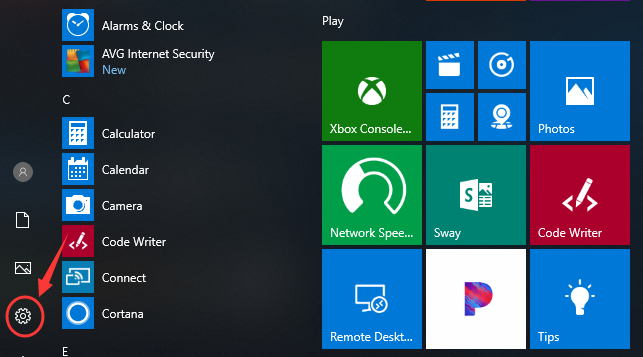 2. Choose System and then click Apps & features. This will open a list of all your applications. Find out F-Secure SAFE from the list.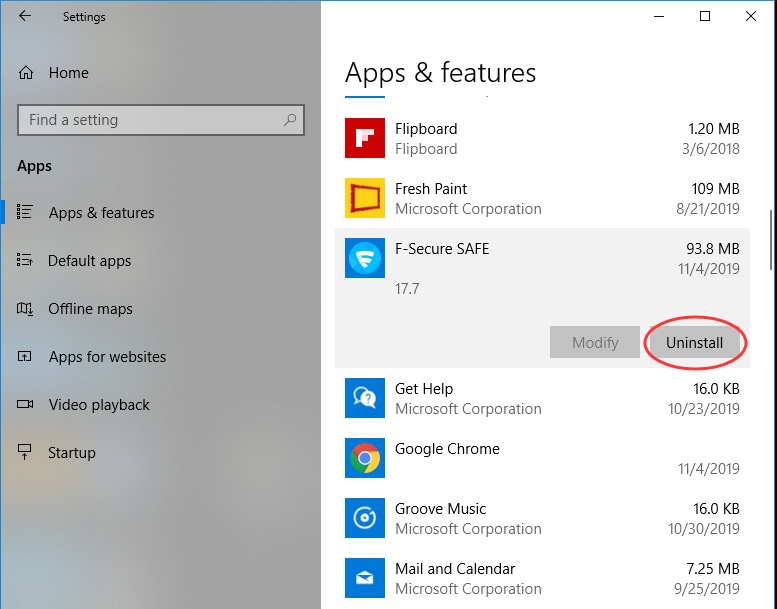 3. Select F-Secure SAFE and Click Uninstall to start the removal process. You will see a pop-up window informing you that the app and its related info will be uninstalled, then you just need to hit Uninstall to confirm the removal.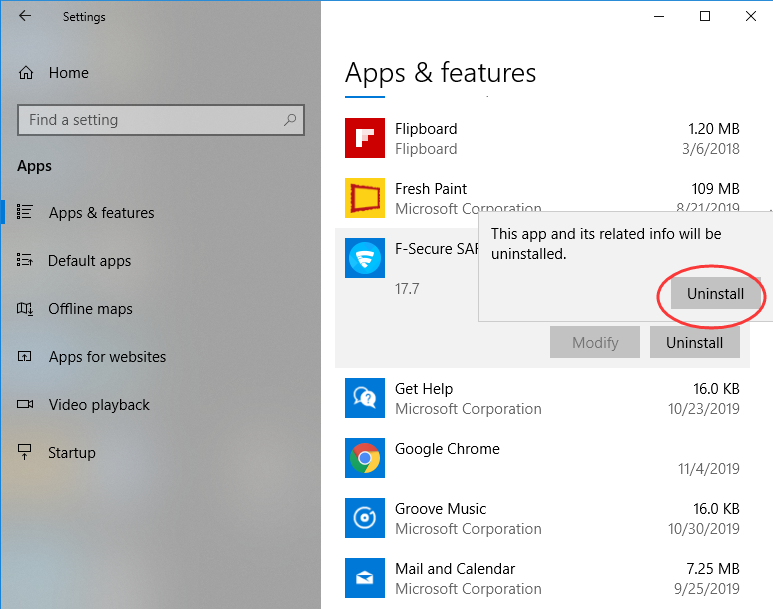 Method 3: Removal through the Add/Remove Programs Control Panel
If the above methods are not working, you can try uninstalling F-Secure SAFE from Control Panel first. Control Panel option is still available in the latest edition of Windows 10. Please note that you can only uninstall the desktop programs from here, but not apps. Do the following:
1. Right-click on the Start button (Windows logo button at the bottom-left corner of the desktop) and then click Control Panel to open it.
2. Go to Programs and Features (or go to Uninstall a Program if your Control Panel is in the category view).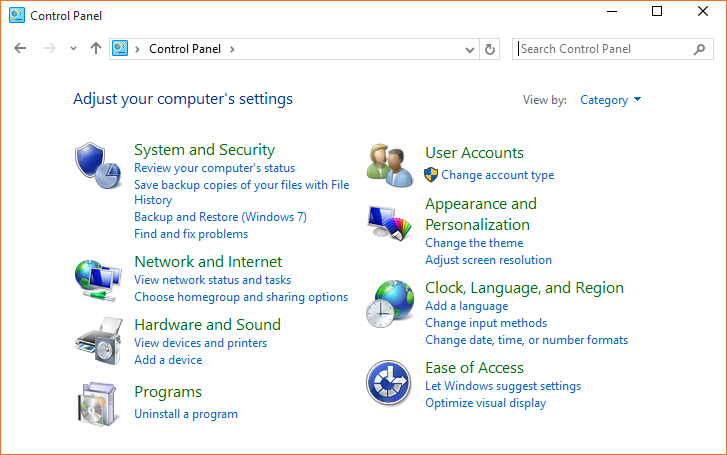 3. Right-click F-Secure SAFE and select Uninstall.
You'll see a pop-up window asking if you're sure you want to uninstall this program, click Yes and click through the uninstall wizard, if applicable. After it is done, it will prompt the users to Reboot their computer to take effect.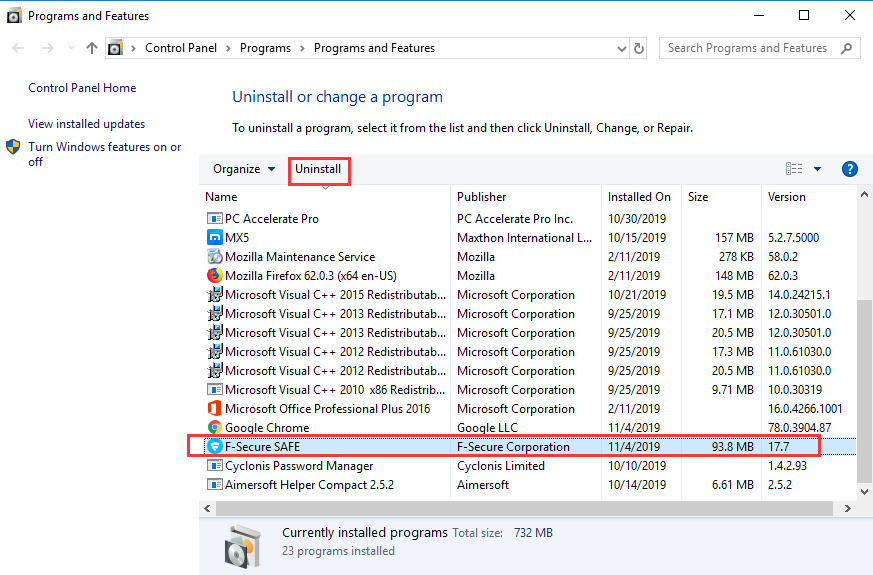 (IMPORTANT) One More Step – To Manually Delete F-Secure SAFE Leftovers:
The difficult part for uninstall a security tool like F-Secure SAFE is getting rid of all its residual files it leaves behind when it is uninstalled. If those leftovers reside on your PC,  when you attempt to install a new security product, it might cause conflicts, resulting in errors, slow performance, and failure to properly detect viruses.
Here is our detailed guide on how to manually remove F-Secure SAFE and all its traces:
1. Open the Start menu, type %programfiles% and %appdata% into the search bar – strictly one at a time – and hit enter.
This will open system folders where you can find the related folders for F-Secure SAFE. Delete the ones with the name of F-Secure SAFE from both system folders.
2. Next, you have to delete F-Secure SAFE entries from Windows registry.
Press Windows + R, and type in regedit in RUN box, then press Enter. It'll open Registry Editor.
Now navigate to the following registry key and expand it:
HKEY_CURRENT_USER\Software\F-Secure SAFE
HKEY_LOCAL_MACHINE\Software\Microsoft\Windows\CurrentVersion\
HKEY_LOCAL_MACHINE\Software\Wow6432Node\Microsoft\Windows\CurrentVersion\
If these branches have registry entries that are responsible for F-Secure SAFE, delete them. To do this, right-click on the desired file and click Delete.
Note:
Make sure to back up before deleting anything from Windows Registry so that you can restore it later if something goes wrong. If you are not an advanced user who can handle manual removal job and you don't want to mess around with the registry yourself, then you can consider a third-party uninstaller instead.
Uninstallor is a lightweight, effective and fast uninstaller, ideal for helping people remove regular software, stubborn crapware and even nasty toolbar quickly. It scans your computer and finds out what files and registry entries that F-Secure SAFE left, and then wipes out all of them and frees up valuable space for you. Meanwhile, Uninstallor ensures every trace of any program you decide to uninstall are gone completely so you won't run into problems when installing a new antivirus program later on. With 3 easy steps, F-Secure SAFE and its traces will be removed permanently.
Uninstall F-Secure SAFE Automatically with Uninstallor (RECOMMENDED)
Method 4: Uninstall F-Secure SAFE Using Uninstallor
Here's how it works:
1. Download & Install Uninstallor.
Uninstallor is quite lightweight and the installation is straightforward. The only option you have is to let you create a program shortcut to the desktop.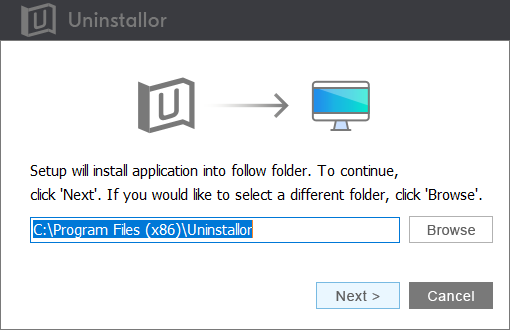 2. Analyze.
When Uninstallor is started, its main window fills with the programs installed on your computer. Select F-Secure SAFE and click on Analyze Now button, then it will analyze all the data associated with F-Secure SAFE and searches for all its leftover files.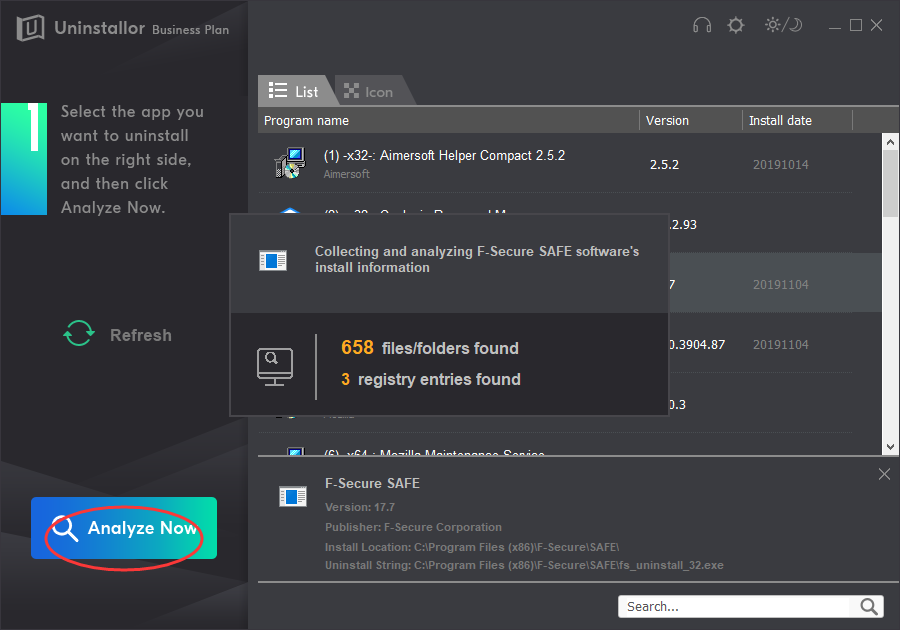 3. Uninstall.
Click on "Uninstall Now" button to uninstall F-Secure SAFE completely. Next, you need to click on "Yes" to confirm the removal.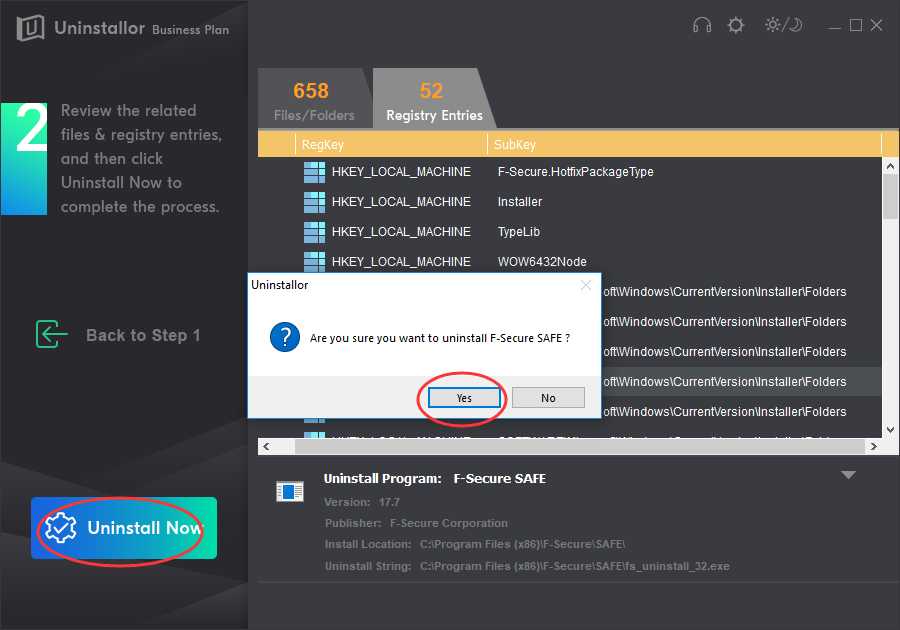 4. Remove.
Click Remove to clear all the components for F-Secure SAFE, you'll see the message telling you how many items of F-Secure SAFE have been completely removed. Roboot your computer to take effect.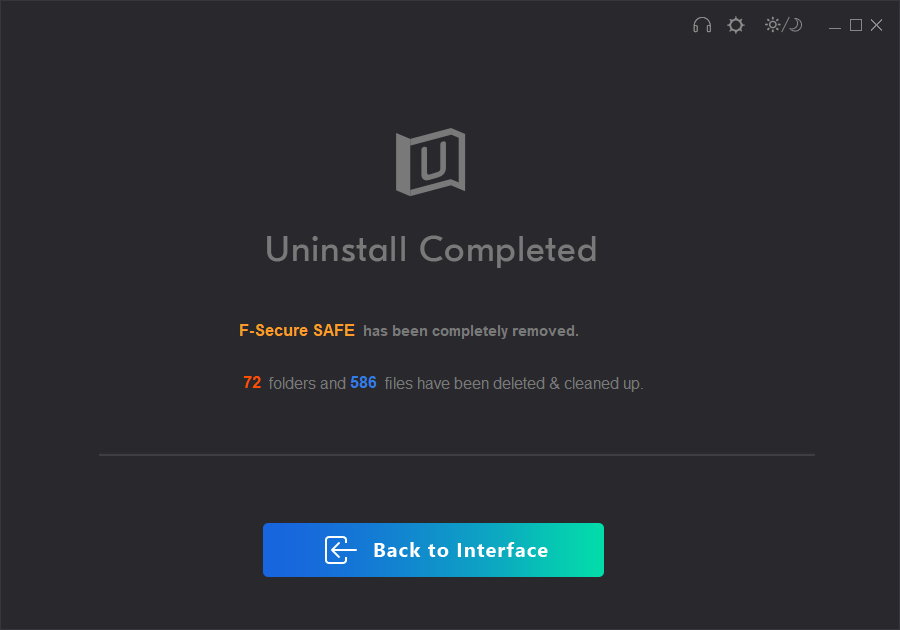 Video Guide on How to Uninstall F-Secure SAFE
Conclusion:
When you choose to uninstall F-Secure SAFE, you might encounter many problems. For example, F-Secure SAFE is not shown in the Programs & Features window, the Uninstall button is grayed out that stops you from performing any actions to uninstall F-Secure SAFE, or its trace like icons, folders are left behind your PC. But now you have mastered the correct procedures to uninstall F-Secure SAFE and learned how to delete its leftovers. It is worth mentioning that if you have never edited or cleaned your registries in the past, you'd better avoid doing it yourself because any mistake could kill your server, or any of its most important functions. Uninstallor will be a perfect software uninstallation tool that provides an easy and secure way to thoroughly get rid of F-Secure SAFE. It only takes a couple of minutes to finish the F-Secure SAFE removal. The tool is now available for Windows and Mac. Give it a whirl now! 30-Days Money Back Guarantee. For any further questions in uninstalling F-Secure SAFE, you are welcome to contact us and let us know.
Published by Michael Myn & last updated on November 14, 2019 2:04 am