Cannot uninstall Esset 30 day trial, doesn't show up on control panel list of programs, how do you uninstall ESET Smart Security Premium completely from your computer in Windows 10? Need the solutions urgently.
A Review about ESET Smart Security Premium
After the development of technology everything is made possible and simple with the support of internet connection. At the same time, it also creates lots of problems for the system users. They face lots of difficulties due to malware and virus attacks that damage their systems. To prevent the data and system from those attacks it is required for you to install the best ESET smart security premium in your device. It acts as a protective layer that fights and secures your system from different types of attacks.
Once when you installed the package in your system after that you can work freely in internet connection. Share your files or download your required software that you need, insert the other USB drive without thinking about the virus attacks. The ESET would block out the phishing attempts and it stops out the advanced exploits and ransomware. It offers four different security programs band. If you want to check out ESET security features then you can try for free trail pack that is available for you. After that when you are satisfied up with its features then you can pay for the pack and start enjoying its massive benefits. Once when your package got over you can again pay for the next plan and extend its validity period. If you are not happy with the software, you can uninstall ESET Smart Security Premium throughly from your PC any time you want.
Advantage of ESET Smart Security
• It provides multi platform protection that secures all your devices. It runs perfect for your Mac, windows or Linux.
• It secures up your digital identity and for processing your payments and it protects your system and laptop from the theft or loss.
• It encrypts your files and removes the media for getting ultra-security for your data and protects yourself in the case of data theft.
• The user interface has been significantly redesigned and it is simplified based on the results.
• It proactively detects out the clean and predicts out the unknown virus, worms and Trojans.
• Through regularly updating out the detection engine and program modules it acts as the best way for ensuring out your maximum level of security for your computer.
• It has a power for automatically detecting out the USB flash drives, memory cards and other removal media.
• Easy for you to customize out the behaviour of the system in performing out the greater task.
The ESET smart security premium provides the enormous support for the users. It provides the secured browser support for online banking payment gateways. The network signature allows for the fast identification and block out the malicious traffic that is coming to and from the user.
• It supports for speedy installation process.
• It has minimal performance impacts.
• It includes the sysRescue diagnostic tools.
• It has a bootable sysRescue disk for emergencies.
• The user interface hides out the complexity.
How this software render securities? For the window machines the ESET supports for hardened browser and for banking and buying online there it protects up with two ways firewall and it defences against the spam and botnets. Along with that it also has a parental controls and webcam protection and anti-theft trackers. It is easy for you to install the ESET software in your device. While you are installing carefully go through the instruction that is given over there. Then follow the same and once the software had installed in your device safely there you don't want to worry thinking about anything. Its interface works as same as like the other antivirus application. It has a simple dashboard display for setting up your current security status that you are launching in your system. There you can find out a side bar that enables you to browse the programs and the other features. If you like to scan something you can do it directly and the dashboard windows are resizable for instance and you can easily rearrange your layouts for matching.
Disadvantage of ESET Smart Security System
• When you like to scan a single directory or file there you have to do lot of clicking tasks.
• The cost of purchasing this software is little costlier.
• It takes lot of time for creating rules in it.
• Needs some more development in the interface.
• It does not offer you the online backup store.
• Setting up a remote management setup is little riskier.
• You would be disturbed in the middle with lots of popup messages.
• The program updating policies is little riskier because it cannot update by itself.
• This software could be improved through adding more firewall.
• Sometimes it slows down the speed of your system.
• It has only limited tool support.
• The detection of malware is flawless.
• It has no free antivirus programs.
These are the few drawbacks that you would face while you are installing and using this ESET smart security software. Other than that it suits perfect for the person to install them and to access it safely. Once you want to uninstall ESET Smart Security Premium away as you are not satisfied with the software, you can follow the below step by step guides.
How to Uninstall ESET Smart Security Premium Antivirus from Windows Operating System
Manually Uninstall ESET Smart Security Premium Antivirus from Windows 10 (For Advanced Users Only)
Step 1: Uninstall ESET Smart Security Premium Antivirus from startup.
a) Uninstall the app from Start menu by clicking on start icon, right click on it on the pop-up window, last click "Uninstall".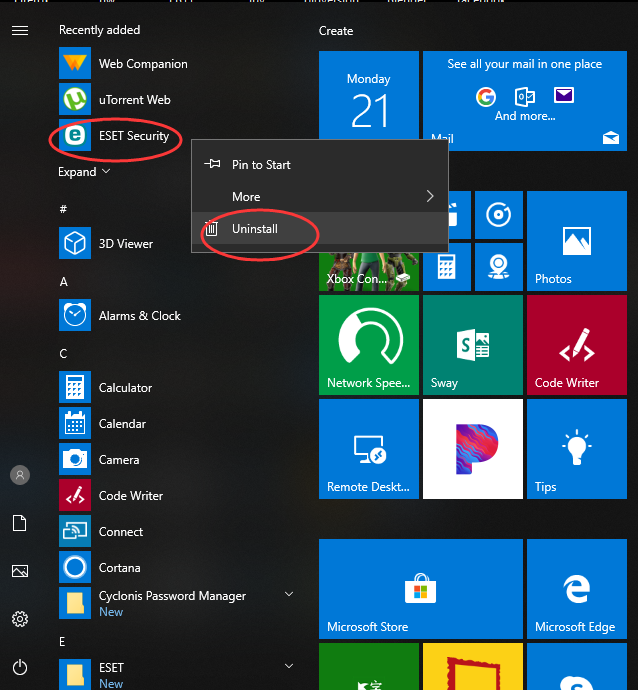 b) Uninstall ESET Smart Security Premium via the Apps & Features. Just input Apps into search box, then choose "Settings", and then click on "Apps", select the app then click on "Uninstall".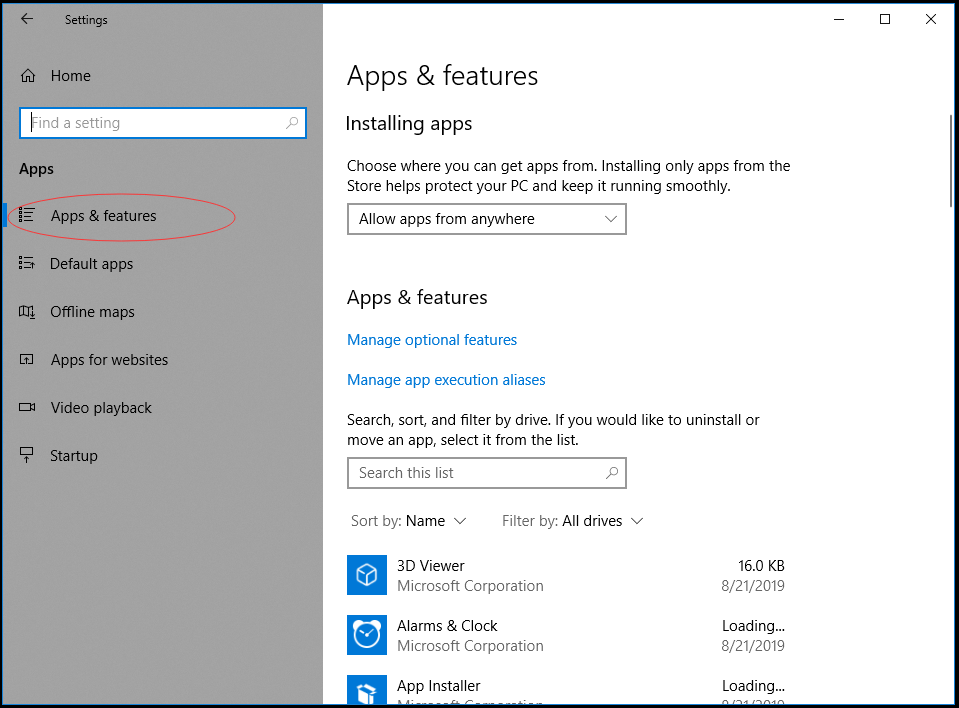 c) Uninstall ESET Smart Security Premium Antivirus via Control Panel. Input "Control Panel" into search box then click on it, click on "Uninstall a Program", click on it then click on "Uninstall".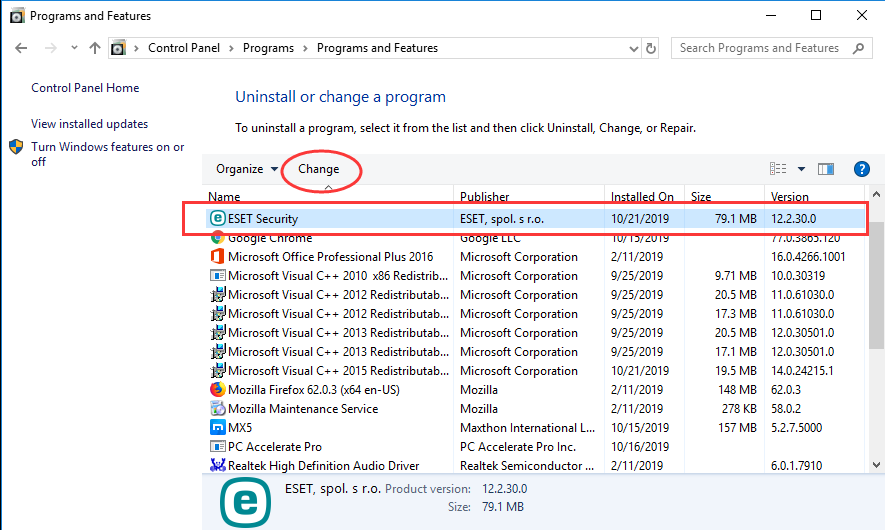 Step 2: Manually clean all leftovers from regedit. (IMPORTANT STEP)
*For added protection, please back up the registry before you modify it.*
Check the following folders and delete associated files first.
C:\Program Files (x86)\ESET Smart Security Premium
C:\Users\[Your User Name]\AppData\Roaming\
C:\ProgramData\Microsoft\Windows\Start Menu\Programs\Startup
Next, you have to remove all its entries from Windows registry.
Press Windows + R, and type in regedit in RUN box, then press Enter. It'll open Registry Editor.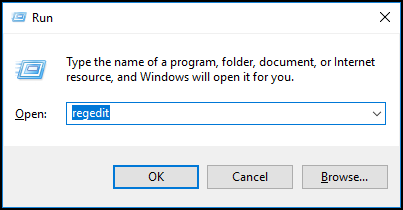 Navigate to the Registry key: (You do this by clicking on the plus sign next to each key in the path to expand the path below it. )
HKEY_LOCAL_MACHINE\SOFTWARE\Microsoft\Windows\CurrentVersion\Uninstall\ (For 32-bit system users)
HKEY_LOCAL_MACHINE\SOFTWARE\Wow6432Node\Microsoft\Windows\CurrentVersion\Uninstall\ (For 64-bit system users)
Kindly Reminder: You are welcome to contact online support if you need any assistance, just click the below button for help.
Automatically Uninstall ESET Smart Security Premium Antivirus with a Third-Party Uninstaller – Uninstallor (RECOMMENDED)
Step 1. Download and install Uninstallor onto your desktop, run it and select ESET Smart Security Premium, click on "Analyze Now" to begin your work.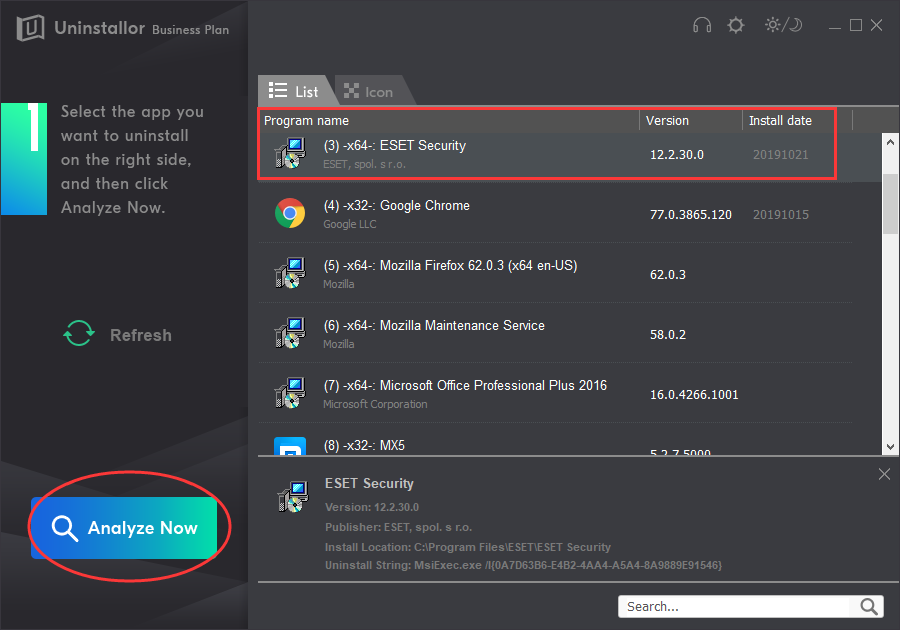 Step 2. Uninstall Now. This step will uninstall some files and folders created by ESET Smart Security Premium.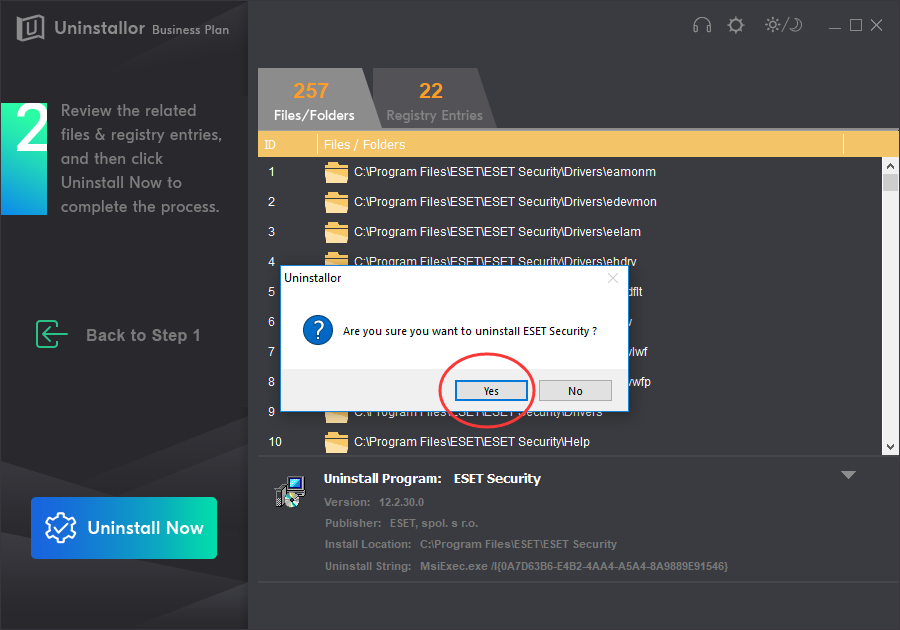 Step 3. Remove Now. Remove all leftovers generated by ESET Smart Security Premium Antivirus from your computer.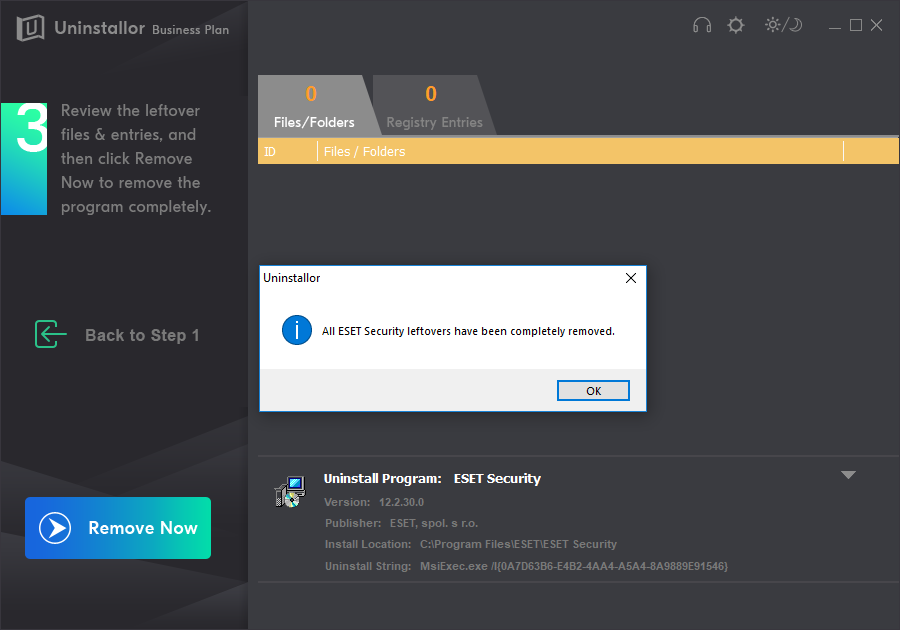 Uninstall Completed! ESET Smart Security Premium has been uninstalled completely from Windows 10.
Conclusion
Both the basic and the premium internet security packages would come out with the high level safety. When you add the URL for protecting the website lists for securing the browser for protecting out your personal information being get tracked. It includes the encryption method anything saved or shared on your desktop through online or USB would be safe. It represents out a new approach that truly integrated for providing security to your computer. It provides complete protection and a minimal system support and when you wish to check then install the trial version before choosing paid version.
Now you would have got a wider idea about the importance of the antivirus pack. Instead of taking risk by installing some other software that is unsafe for your system and worry, there you can try making use of the best effective software as like the ESET smart security premium pack and start gaining the benefits. It is the correct time for you to upgrade and protect your system through providing the best protective anti-virus as like ESET.
Kindly Reminder: If you failed to or don't know how to uninstall ESET Smart Security Premium Antivirus from your Windows computer or Macbook, you are suggested to use Uninstallor, which will help you do all things.
Published by Tony Shepherd & last updated on September 16, 2020 8:55 am